The Easiest Way to Obtain a Vermont Fishing License
You need a valid Vermont fishing license to have a taste of fishing in Vermont's unrivaled fishing spots stretching over more than 800 lakes and 7000 miles of streams and rivers.
The most popular spots include Connecticut, Black, and Clyde Rivers, and Lakes Bomoseen, Champlain, and Memphremagog. According to the latest angler survey, Vermont attracted 84.7% resident license buyers and 96.5% nonresident license buyers.
There are several ways to get a Vermont fishing license. Some are lengthy and tedious and others are inconvenient, to say the least. The good news is you don't have to worry about how to get a fishing license fast or the ins and outs of Vermont fishing licenses because we'll tell you all about that.
Who Is Eligible to Get a Fishing License?
Any person –resident or nonresident –engaged in fishing, hunting, or taking any wild animals must have a license from the Vermont Fish and Wildlife Department. There are a few exceptions to this rule:
When you're under 15 years
When you're a resident or nonresident landowner, their spouse or minor child fishing from a private pond
What Are the Different Types of Fishing Licenses?
Your Vermont fish and wildlife license type may be different from others depending on a few things. For instance:
Residency
Vermont residents qualify for a resident fishing license and pay less for it than nonresidents. A nonresident student who is studying in a Vermont high school, college, or university also qualifies for a resident fishing, hunting, or combination license.
Validity

You can get a one-day fishing license, 3 days, 5 years, permanent, or lifetime fishing license in Vermont.
Vermont residents aged 66 are eligible for a permanent license. However, this license doesn't provide duck stamps or entries into the moose and antlerless lotteries or permits.
Lifetime licenses are also available for both residents and non-residents.
Exemption From License Requirements
Some groups require different licenses than regular people. For example:
Persons aged between 15 and 17 require a youth fishing license
Resident military personnel participating in an operation for 120 days or more can get a free fishing or hunting license or a combination fishing and hunting license for free
Vermont also offers combination licenses such as a Vermont fish and game license for those who want to fish and hunt.
Permanent Disability Licenses
Also, persons living with disabilities may apply for the following licenses:
A Vermont resident who is legally blind may apply for a free permanent fishing license.
Vermont resident paraplegics in possession of physician certification confirming that they have permanent severe physical mobility disability can get free permanent fishing, hunting, or combination license.
Vermont residents who've served in the armed forces and sustained a 60% disability in the line of duty may receive a free fishing or combination license. (They need to present certification of their condition from the Department of Veteran Affairs)
Fishing License Costs in Vermont
Fishing licenses costs vary in the following ways:
| | | |
| --- | --- | --- |
| Duration of fishing | Cost for residents | Cost for nonresidents |
| 1 day | - | $21 |
| 3 days | $11 | $23 |
| 7 days | - | $31 |
| 5 years | $134 | $264 |
| Youth Fishing License | $8 | $15 |
Lifetime licenses cost way more than other licenses. Here's a breakdown:
8 times the current adult license price for children under 1 year
16 times the current adult license price for children between 1 and 15 years
31times the current adult license price for adults between 16 and 24 years
26 times the current adult license price for adults aged between 25 years and 64 years
How to Buy a Vermont Fishing License
After you've collected your arsenal of fishing gear, the next step is to buy a Vermont fishing license. In case you want to get the fishing license online, follow these steps:
Go online to the Vermont Fish and Wildlife department license center.
Provide your conservation ID no. if you have one.
If not, create a new profile.
Provide your identification details and contact information, save and continue.
Log in with your new credentials.
Click on purchase a license.
Choose the type of license you want (lifetime, combination fishing license, etc.).
Ensure you read the terms and regulations.
Provide a payment method.
Check out and print your license.
Alternative Means of Getting a Vermont Fishing License
If you can't buy your license online, you can get one at a physical store. Here's what you need to do:
Ensure you carry relevant identification documents like a driver's license and SSN if you're a first-timer, and proof of residency if you're a resident.
Present these documents to the clerk at the fishing license store or kiosk.
Provide details about where you want to fish, how long, the type of license you want, and the mode of payment.
Once the vendor has verified your info and your credit card payment checks out, you're good to go.
Unless you have a lot of time on your hands, buying a fishing license on your own takes more time than it should –but you don't have to deal with that if you use the DoNotPay.
Get a Vermont Fishing License Hassle-free Using DoNotPay
If you want to get your fishing license but don't know where to start, DoNotPay has you covered in 3 easy steps:
1. Search "fishing license" on DoNotPay and select the state you would like a fishing license for.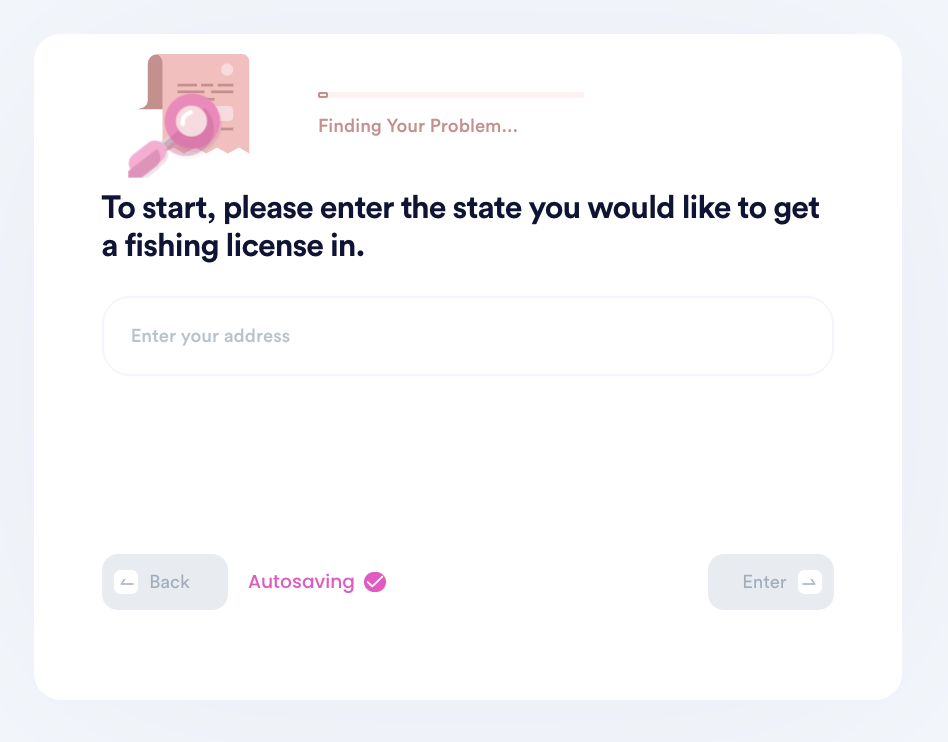 2. Indicate whether you are a resident or non-resident, and choose the type of license you want. For example, saltwater vs. freshwater license, three-day only pass, and more.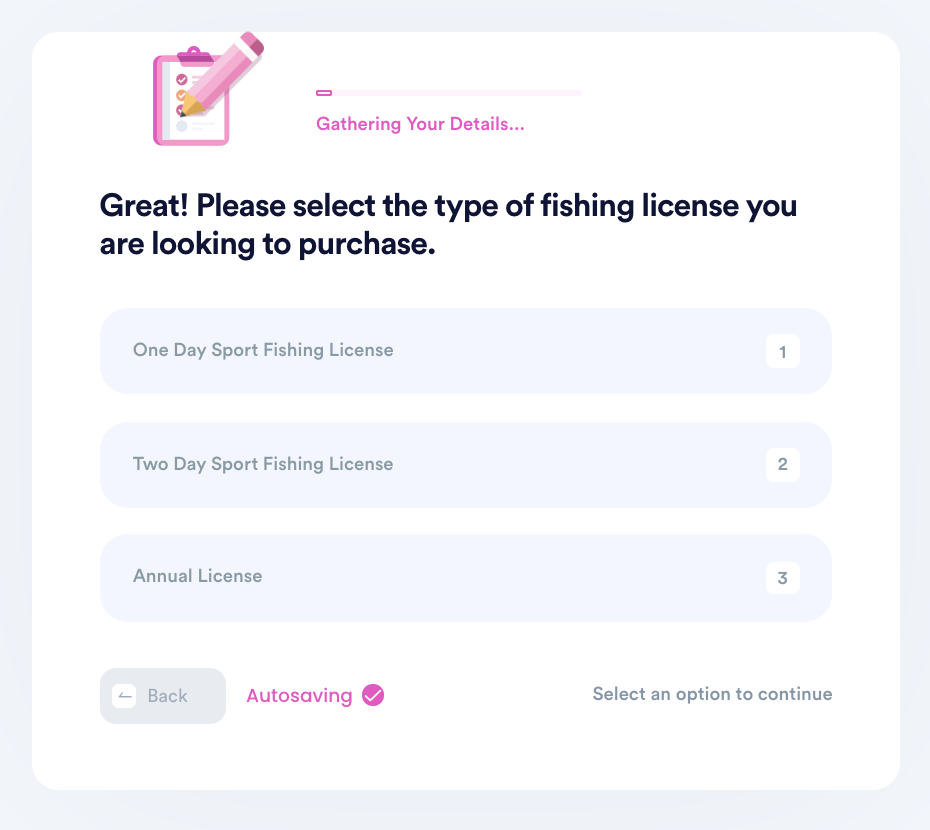 3. Provide your contact information, a copy of your government-issued ID, and pay the fee required by the state.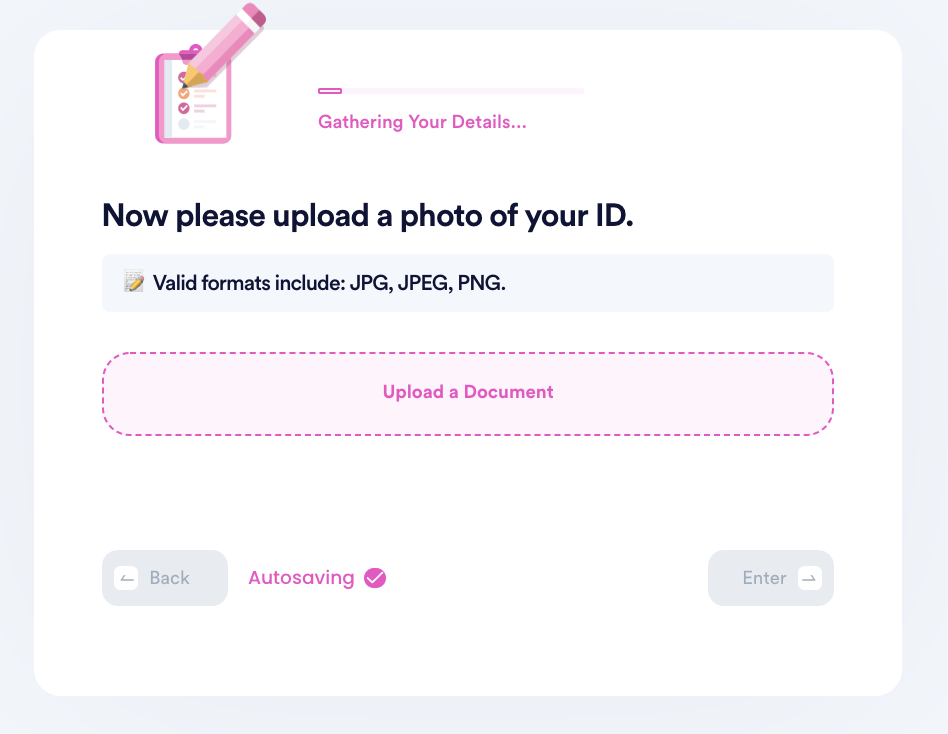 Why DoNotPay Is the Best Option for Getting a Vermont Fishing License
Buying fishing licenses became much easier with the help of AI. The DoNotPay app uses AI to get you the fishing license you need while eliminating the steps that lengthen that process. Here are the highlights of using this app:
Fast. There is no time wasted clicking through different web pages and sites.
Easy. We eliminate all the fluff questions and steps while making navigation on the app a cruise.
Successful. There's no chance of not getting your license.
DoNotPay Works Across All Companies/ Entities/ Groups
We're great at getting you out of pesky little situations and bigger situations. To do that successfully, we work with different companies across industries to help you with:
What Else Can DoNotPay Help Me With?
Additionally, you can rely on us for these hacks: