Get the Lowdown on Vermont Divorce Laws
Going through a divorce doesn't have to be the highest stress in your life. Get to know the filing process, prepare the right paperwork, and find out what the mandatory separation and waiting periods are.
You should gather information on Vermont divorce laws to finalize your marriage dissolution in a breeze and without breaking the bank. Besides providing essential details, DoNotPay helps you handle the required documentation.
Meet the Requirements for a Divorce in Vermont
To file for divorce in Vermont, you need to fulfill the following criteria:
Legal Requirements
Specifics
Residency requirements
You or your spouse must have:

Been a Vermont resident for at least six months
Lived continuously in the Green Mountain State for a minimum of one year before the final divorce hearing

Separation period
You and your spouse:

Are not likely to get back together
Need to live separate and apart for at least six consecutive months
Can file for divorce before, during, or after the required separation period

Grounds for divorce
If you'd like to prove your spouse's fault, here are some grounds you can cite:

Cruel treatment
Cheating, i.e., adultery
Willful desertion for seven years
Neglect and refusal to provide support even though your spouse can support you financially and physically
Confinement and hard labor in a state or federal prison:

For three or more years
At the time of filing for divorce

Permanently incapacitation because of a:

Mental condition
Psychiatric disability

As Vermont allows no-fault divorce, you can state irreconcilable differences and go for a friendly and uncontested divorce
How Long Does a Divorce in VT Take?
If you and your spouse have minor children, you'll need to wait for six months for the final hearing. The judge might allow it sooner if you have had a solid parenting agreement for a minimum of six months.
For your divorce to be final, you'll need to wait for three months after the final hearing. If you and your spouse both agree to shorten or waive this mandatory waiting time, you could let the judge know, and they may approve it.
A divorce can be quick, low-cost, and stress-free if you and your spouse reach an out-of-court settlement on all relevant issues, including:
A divorce will take much longer if you leave for the judge to decide on these matters.
If you and your spouse need help resolving certain divorce matters, you should consider mediation.
Complete the Right Vermont Divorce Forms
Depending on whether you've got children or not, here are sets of forms you need to fill out and file with the court:
Divorce With Underage Children
Divorce Without Children

Complaint for Divorce, Legal Separation, or Dissolution With Children
Information Sheet
Health Department information
Child Support Order
Income and Expense Affidavit
Property and Assets Affidavit

Complaint for Divorce, Legal Separation, or Dissolution Without Children
Information Sheet
Health Department information

If the court orders additional documents, you'll also need to complete:

Income and Expense Affidavit
Property and Assets Affidavit
Filing for divorce in VT doesn't have to be complicated since you can find all necessary forms on the Vermont Judiciary website.
What Steps To Take for an Uncontested Divorce in Vermont
For an uncontested divorce, you need to:
Download and fill out the court forms—You can do it alone, i.e., you don't need to hire a lawyer
Prepare a divorce settlement agreement—Register for DoNotPay to get efficient assistance
File the required paperwork—You can deliver or mail it to your or your spouse's county's court
DoNotPay Generates Rock-Solid Divorce Settlement Agreements in a Flash!
Since a divorce settlement agreement is one of the documents you'll present to the court, you should make sure it's prepared correctly. You don't have to pay a considerable lawyer's retainer fee to draw up this document—use DoNotPay instead!
Our AI-powered app scans the latest state laws to ensure your agreement complies with them.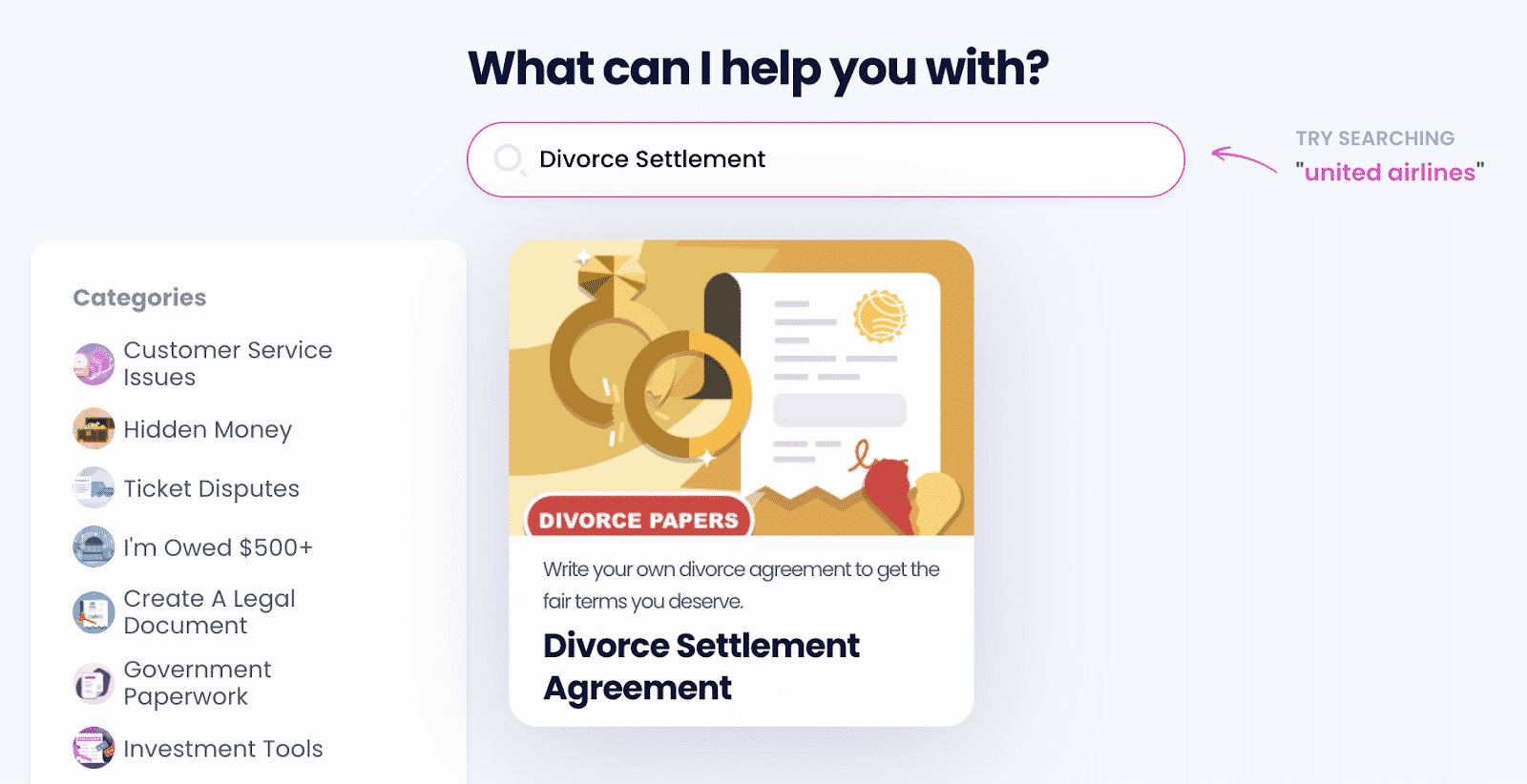 To get the document, sign up for DoNotPay and take these steps:
Select the Divorce Settlement Agreement feature
Provide information by answering our chatbot's questions
Choose if you'd like to have the document notarized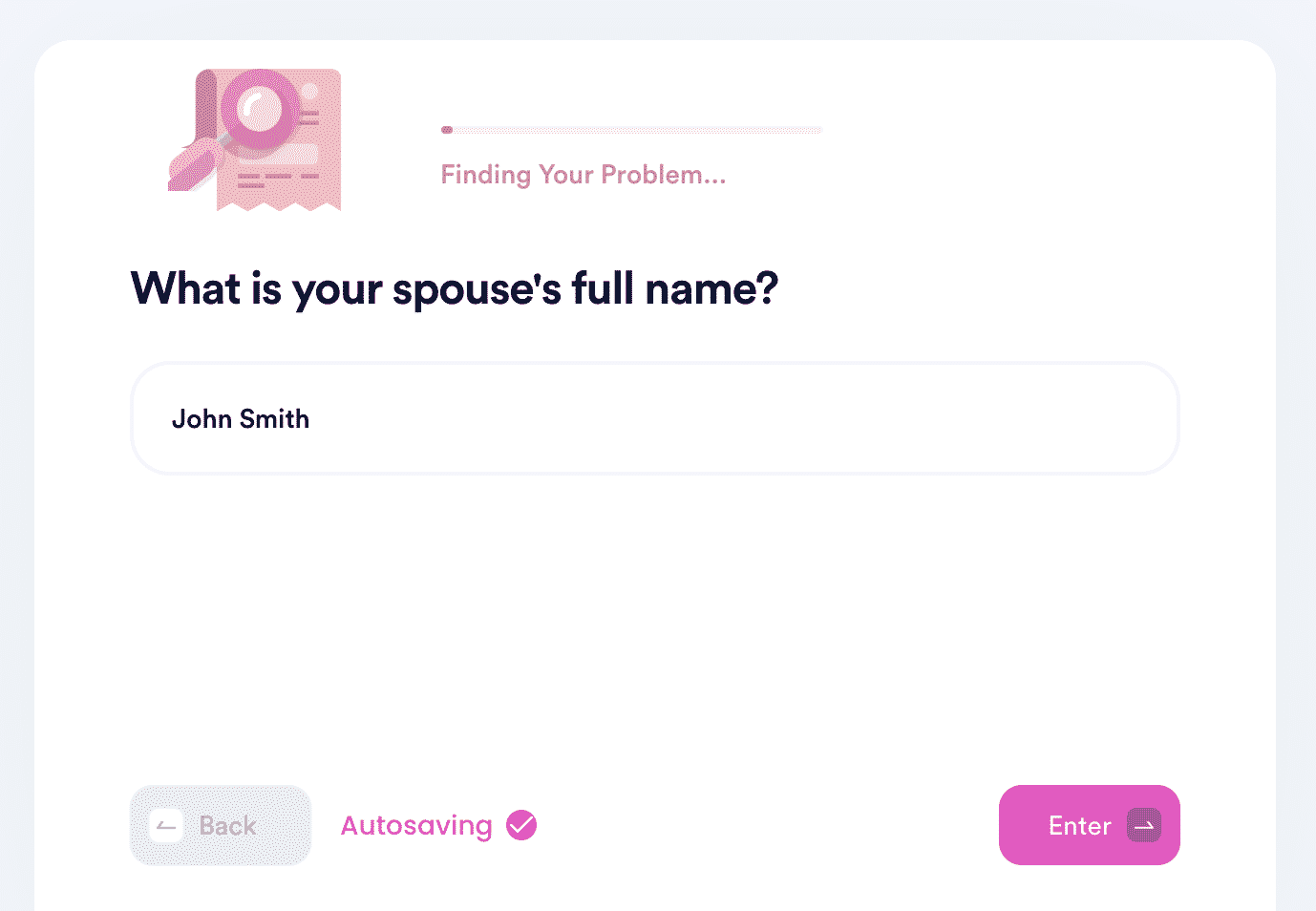 Browse through our guides if you need assistance with other divorce-related issues. We can answer numerous questions, such as:
DoNotPay Helps You Tackle All Kinds of Problems From the Comfort of Your Home
Are you too busy to go to Target, Walmart, or photo studios to get your passport photos taken? DoNotPay offers you the possibility of taking them yourself and having them edited without going anywhere!
Thanks to our app, you don't need to visit the post office if you want to initiate a return. You can also skip going to a notary office because we'll help you get your documents notarized.
Here are some other tasks you can complete with ease using DoNotPay:
We Help You Get Fuss-Free Subscriptions to Any Service
Interested in a specific service or platform? Make sure to get the best out of your free trial without getting charged and ending up with an unwanted paid membership. Even if you make a mistake, DoNotPay can end your subscription in a few simple steps!
Our system allows you to generate virtual credit card numbers to prevent platforms from getting your real bank details and using them for unauthorized transactions. We also offer burner phone numbers that will help you go through any subscription or verification procedure without disclosing personal details.