A Practical Guide to Creating a Solid Vermont Advance Directive
Medical emergencies and severe illnesses may come unexpectedly. On such occasions, patients may lose the ability to decide about their treatment and life support options. If you become incapacitated, you can make sure your health care wishes are honored by creating a solid advance directive.
All U.S. states have their version of this document. Our article explains the specifics of a Vermont advance directive and introduces you to the simplest way to create it—using DoNotPay!
Advance Directive in Vermont Defined
Vermont law defines an advance directive as a written record stating how you want to be treated by medical staff if you lose the ability to communicate your wishes. This document can be completed and signed at any moment a disease or accident occurs—not only in old age.
With an advance directive, you will:
Save your family from making tough decisions if something happens to you
Eliminate possible conflict among your loved ones
Ensure that your wishes are honored and acknowledged
Avoid unnecessary painful procedures, treatments, and unwanted life-sustaining care
VT Advance Directive Signing Requirements
According to Section §9703 of the Vermont Statutes, the criteria that must be fulfilled for signing an advance directive in Vermont are the following:
You—as the creator of the document—must be:

Older than 18
Mentally stable
Free from undue influence

Two or more witnesses above the age of 18 need to sign the document
You must authorize another person to sign the advance directive for you if you are physically unable to do it yourself
What Documents Does a Vermont Advance Directive for Health Care Consist Of?
Most available Vermont advance directive forms combine multiple documents, creating an all-in-one piece of paperwork you should complete. Here are the most common elements the final document consists of:
Appointment of an agent—transferring powers to decide on your medical care and end-of-life care to another person. In some states, it has the same meaning as a health care proxy or medical power of attorney, but it isn't the same as a regular power of attorney
Appointment of co-agents—choosing alternative agents if the primary one can't fulfill their duties
Medical staff choice
Personal values and goals
End-of-life decisions regarding:

Life-sustaining procedures
Organ donation
Funeral preferences and the disposition of your remains

Treatment preferences
You can choose what sections of the advance directive you want to fill out—no laws oblige you to complete all of them.
How To Compose a VT Advance Directive for Health Care
Here's a table with instructions on how to prepare the advance directive in Vermont:
Step
Explanation
Find a convenient form
The state doesn't require an official or specific advance directive form. You can find a version suitable for your situation
Complete the form carefully
In most cases, you will have to tick off the appropriate options regarding your health care preferences—double-check if you marked the right ones. You should also include valid personal details
Have the document signed and notarized
Besides your signature and the signatures of your agents and witnesses, the state of Vermont requires the notarization of your document
Register your advance directive
Registration is an optional step. You can perform it by mailing a signed and witnessed form to:

Vermont Advance Directive Registry

PO Box 2789

Westfield, NJ 07091-2789

or to the following email address: VADRSubmissions@uslwr.com
Get a Peace of Mind by Drafting Your Advance Directive With DoNotPay
Do you find creating a living will (health directive) and similar documents exhausting? DoNotPay has developed an affordable and user-friendly product that:
Gathers the essential info about your health care preferences
Composes a unique and personalized living will, medical proxy, and other documents based on the details provided
Matches you with a remote notary so you can have the document notarized easily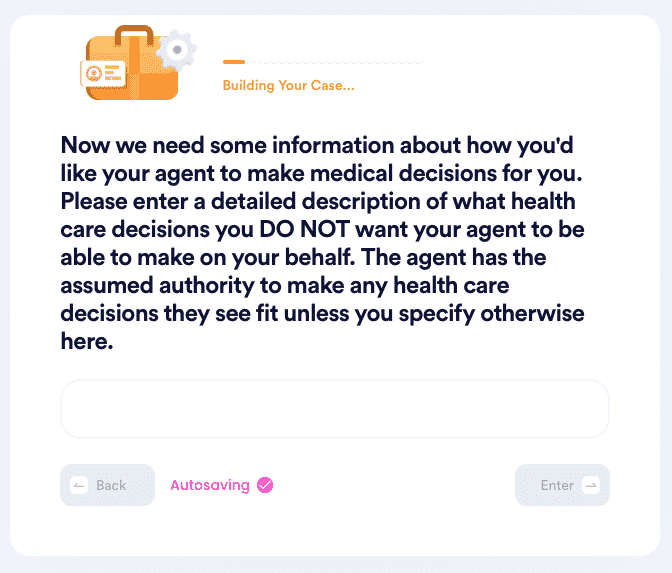 Here is what you need to do:
Go to DoNotPay and pick Advance Health Care Directive
Give us the names of your agents and witnesses
Answer a few medical care-related questions
Your document will be ready in less than five minutes!
Save Time and Money Using DoNotPay
Being on hold while trying to reach customer service is no picnic. With DoNotPay, you can jump the phone queue and reach a rep with ease. Are you contacting a company to request a refund or cancellation? No need for that! Our app can get it done in a few clicks. We can also help you return an item or handle a late delivery.
Dispute parking tickets, claim your warranty or insurance, set up a DMV appointment, contact an embassy, and deal with any other task with our assistance.
You can also request access to public records, apply for tourist visas, or file complaints with the help of our AI-powered app.
We're Not Done Helping You!
Our multifaceted app keeps getting new features that can streamline numerous tasks and solve all kinds of problems.
Would you like to join sweepstakes or giveaways? Are you up for participating in clinical trials and earning some money? Are you interested in sending mail without visiting the post office? We've got it covered!
We will help you protect your privacy by putting an end to spam emails, incessant text messages, and robocalls. If you think you're being stalked, you can count on our assistance. You can also use our app to perform a sex offender search, fight workplace discrimination, and handle annoying neighbors.