Learn How To File a Verizon Insurance Claim in a Few Clicks
Has your Verizon device been lost, stolen, or damaged? If you're paying for a device protection program, you should consider filing a Verizon insurance claim. DoNotPay can help you file an insurance claim and deal with other Verizon-related issues, such as reporting spam texts, claiming a Verizon iPhone warranty, etc.
Verizon Insurance Coverage From A to Z
Verizon and Asurion—Verizon's partner—insurance covers lost, stolen, or damaged devices and accessories. You can choose between two insurance plans:
Verizon Protect—available nationwide except in New York
Total Mobile Protection (TMP)—available nationwide, including New York
Number of Devices
Coverage
Monthly Charge
Single Device

Smartphones tier one and watches

Verizon Protect—$17

TMP—$15

Smartphones tier two, basic phones, and tablets

Verizon Protect—$14

TMP—$12

Multi-Device/MD (Account-Based Coverage)

Accounts with three lines with eligible devices

Verizon Protect—$50 per account

TMP—$45 per account

Additional Coverage (For Multi-Device Only)

Accounts with three to ten lines with eligible devices

Verizon Protect—$11 per additional line

TMP—$11 per additional line
Both insurance plans cover your devices while also protecting your data. By purchasing one of the plans, you'll be able to take advantage of the following perks:
Same-day replacement, setup, and data transfer

Battery replacement at a Verizon authorized repair facility

Cracked screen repairs for $29

Access to technical support experts

Various security features
Verizon Protect and Total Mobile Protection Explained
Both insurance plans are combinations of various products:
Insurance Plan
Products
Devices
Monthly Charge
Total Mobile Protection (TMP)

Wireless Phone Protection

(WPP)

Smartphones tier one and watches

$6.85

Smartphones tier two, basic phones, and tablets

$3.10

Extended Warranty (EX)

-

$5

Verizon Tech Coach

-

$9

Verizon Protect

TMP

See above

See above

Digital Secure

-

$5

Call Filter Plus

-

$2.99
You can purchase each of these products separately if you don't want to invest in an entire insurance plan.
What To Keep in Mind When Filing
Verizon Insurance Claims
Each plan and product has an insurance claim limit:
TMP, WPP, and Verizon Protect—Three claims in 12 months

TMP MD and Verizon Protect MD—Nine shared claims in 12 months

Additional Coverage—Three additional shared claims in 12 months

TMP MD for Business:

Nine shared claims for three to ten lines

33 shared claims for 11–24 lines

75 shared claims for 25–49 lines in 12 months
The price limit per claim is between $400 and $3,000, depending on the device in question. Every time you file a claim, you'll have to pay a certain amount for deductibles.
If you'd like to lower your monthly bill, you can cancel your Verizon insurance whenever you want and get a prorated refund.
How To File Your
Insurance Claim for Verizon
Do you want to file an Asurion insurance claim for a lost, stolen, or damaged device? You can call customer support at (888) 881-2622. If you're not a big fan of calling, you can file the claim through the My Verizon app by following these steps:
Tap on

Menu

Choose

Devices

Click on

Manage Device

next to the device in question

Pick the

Lost, stolen, or damaged device? Start a claim

option

Type in the necessary info

Follow the rest of the instructions
Should your device have a manufacturer's defect, you should contact Verizon to report it. Florida residents should call the Asurion customer support at (888) 881-2622.
DoNotPay Is the Best Way To Claim a Verizon Insurance Claim!
Filing an insurance claim can be a pesky task. Most companies will do everything in their power to avoid repairing or replacing your device for free. Some of them complicate the process hoping that the users will give up. offers an easy-to-use service that will help you file a Verizon insurance claim in less than two minutes:
Search for the insurance you want to claim on our platform

Type in the required info

Tell us why you want to file the claim and describe the incident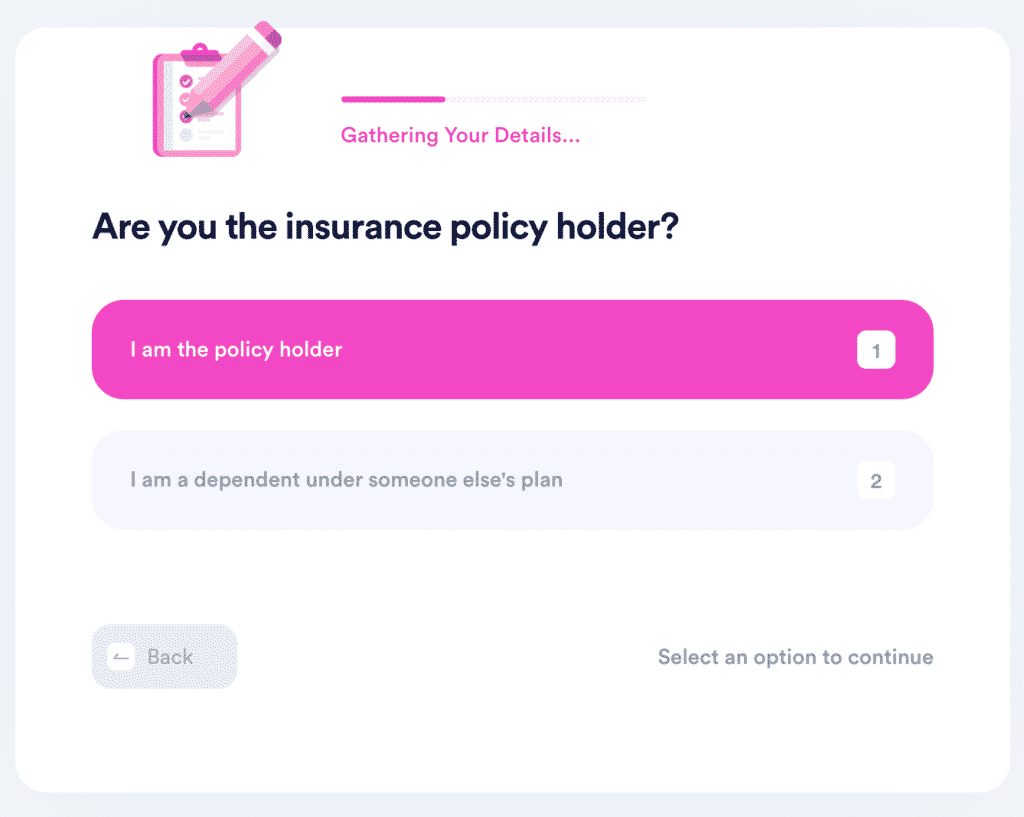 We will file the insurance claim on your behalf. Verizon will contact you directly regarding the claim.
Verizon insurance isn't the only claim we can help you with. DoNotPay will assist you in filing claims for any insurance, including:
DoNotPay Can Assist You in Appealing a Denied Verizon Insurance Claim Fast
Verizon might deny your insurance claim the first time you file it, and that's why offers the Appeal Denied Insurance Claim option. We will help you file a Verizon insurance appeal letter and increase your chances of having your device replaced or repaired.
Is Verizon Being Difficult? DoNotPay Will Help You Sue Them in Small Claims Court
DoNotPay is here to help you sue Verizon in small claims court. We will guide you through each step of this complex process and help you sue anyone who has wronged you.
Once we determine that your case qualifies for small claims court, we will assist you in writing the perfect demand letter. If you don't receive an answer from Verizon or they refuse to settle, DoNotPay will help you proceed with your lawsuit.
We will:
Tell you which documents to collect

Fill out the necessary paperwork

Assist you in writing your court statement

Give instructions on what to do or say in court according to every scenario
DoNotPay Never Ceases To Amaze
Where there's one useful feature, there are nifty features galore!
Use our Virtual Credit Card to sign up for free trials and stop robocalls and spam text messages from reaching your phone. If you feel a free trial unrightfully turned into an expensive paid membership, we can help you request a refund or chargeback for the inconvenience.
We can further assist you in exercising your consumer rights by making a warranty claim in your place and verifying your online accounts with temporary phone numbers.
We can also break down the Freedom of Information Act for you and introduce you to online fax options and property tax reductions.
Clear Your Schedule With the Help of DoNotPay
DoNotPay is renowned for making our users' lives infinitely easier. Not only can we root out unwanted subscriptions for you—you don't need to do it manually one by one any longer—but we can unsubscribe you from unwanted email and snail mail lists.
Fire up our app and let it navigate the phone tree instead of you or use it to make a DMV appointment at your earliest convenience. Forget about googling clinical trials near you—DoNotPay can sort them out according to your needs and their individual eligibility criteria.
We can fill out the paperwork that you need to file at your local small claims court to initiate a dispute. You can work around the U.S. penal system and have DoNotPay locate an imprisoned loved one instead of you trying to reach individual prisons attempting to do it yourself.
You don't need to go to great lengths to get in touch with a counselor to sign your college fee waiver either—DoNotPay does it for you and then forwards the necessary documents on your behalf.