How To Get a Stress-Free Ventura County Divorce
Ending a marriage is slightly less complicated and time-consuming when you're familiar with the process. To file for divorce in California, or more precisely, in Ventura County, you must gather details about the laws and regulations you should follow.
This guide will show you how to qualify for an uncontested dissolution, which documents you need to prepare, and how to file for a low-cost Ventura County divorce.
Getting a divorce without a lawyer doesn't mean you can't have a top-rate divorce settlement agreement—subscribe to DoNotPay and acquire it in a couple of clicks!
All About Divorce in Ventura County, CA
The first step to getting a divorce in Ventura County is checking the residency requirements. If you don't meet these criteria, the court doesn't have legal jurisdiction over your case and must dismiss it.
To get a divorce in Ventura County, either you or your spouse has to meet the following requirements:
Being a California resident for at least six consecutive months before petitioning
Living in Ventura County for a minimum of three months prior to filing for divorce
When filing for dissolution of marriage—regardless of the type—you need to state legal reasons for divorce. California is the first state to recognize and adopt the no-fault divorce idea that absolves both parties from guilt. This means that the court will grant you the dissolution if it finds that irreconcilable differences caused the breakdown of the marriage.
Can I Have a Cheap Ventura County Divorce?
With an average cost of $17,500, California takes first place as the most expensive state for divorce. The state has the highest filing fees ranging from $435 to $450. The filing fees are not to blame—attorneys' fees are. Another factor that determines the cost of a divorce is the method or the complexity of the case. The best way to lower your expenses is to file for a summary dissolution.
A summary dissolution is a type of uncontested divorce. It's a quicker and cheaper method than the regular divorce. It is an ideal option for couples who ended their marriage on amicable terms and can negotiate any issues between themselves.
You and your spouse qualify for a summary dissolution if you:
Have no children together—biological or adopted
Have been married for five years or less
Aren't requesting alimony
Don't have unpaid debts over $6,000
Have no marital assets over $45,000 in total
Have no separate assets worth over $45,000 total
If you don't qualify for a summary dissolution, don't fret! You can get a regular uncontested divorce, provided that you and your spouse can agree on the following:
Another important part of having an uncontested divorce is writing a divorce settlement agreement. This legal document serves as proof that you've settled your issues and agreed upon the terms of your divorce.
How To Prepare the Paperwork for an Uncontested Divorce in Ventura County
You can find the required documents on the California Courts and the County of Ventura government websites. Crucial uncontested divorce papers you need to find, fill out, and send are:
Petition—Marriage/Domestic Partnership (Form FL-100)
Summons
Proof of Service of Summons
Property Declaration
Divorce Settlement Agreement
If you're filing for an uncontested divorce with children, you should also include the following forms:
Declaration Under Uniform Child Custody Jurisdiction and Enforcement Act
Child Custody and Visitation Application Attachment (optional)
How To File for Divorce in Ventura County
After making sure you qualify for an uncontested dissolution and preparing the right paperwork, you can proceed to file for divorce. Here's how you can do it:
Make several copies of each divorce paper—You need at least one copy for your records and another for your spouse
File the original documents at the local clerk's office—Take the original documents and both copies and head down to the district court of Ventura County (Family Law Filing Window). Pay the filing fee or sign a fee waiver request if you cannot afford to pay the fee
Serve divorce papers to your spouse if you're not co-petitioners—Have someone older than 18 personally deliver copies of divorce papers to your spouse. After delivering the papers, the person who served your spouse must complete and sign the Proof of Service form
Attend the hearing or wait for the court-issued Judgment of Dissolution—Unless you're getting a summary dissolution, you should attend the hearing. The judge will examine your divorce settlement agreement and decide whether to finalize your divorce or not
DoNotPay Helps You Speed Up the Ventura County Divorce Process
A divorce settlement agreement must meet numerous requirements for a judge to approve it. To ensure the document is valid and enforceable, you should rely on DoNotPay's assistance. With our quick, simplified, and budget-friendly feature, you can end your marriage in a breeze!
Here's how to do it:
Choose the Divorce Settlement Agreement service
Answer our questions about your marriage
We'll draw up a divorce settlement agreement that meets both the state and case requirements. All there's left to do is sign the document—both you and your spouse—and have it notarized. We can help you with the latter. Specify that you need a notary, and we'll connect you with one promptly.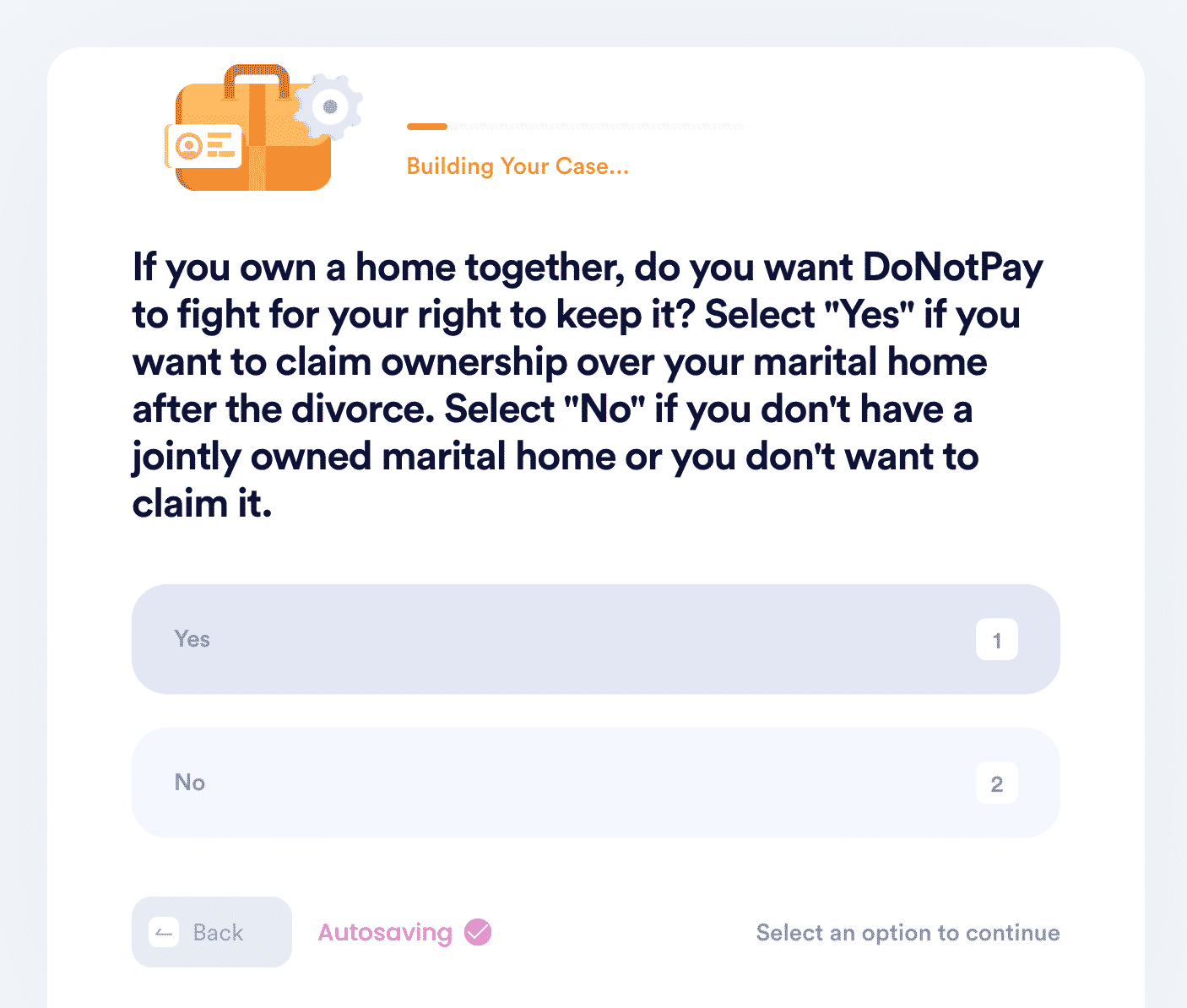 DoNotPay doesn't stop at drafting agreements! We provide answers to a myriad of divorce-related questions:
DoNotPay Can Help You With Almost Anything
DoNotPay's goal is to have a multitude of features that can be useful to you with handling various issues. Whether you want to apply for clinical trials, prepare for government tests, or even get in touch with your locked-up friends or family—DoNotPay has got you covered!
For a small yearly fee, our AI-based app will help you:
Want To Save and Earn Money at Once? Subscribe to DoNotPay
DoNotPay can help you earn and save a buck or two. We'll assist you in reducing your property taxes, canceling any unused subscriptions, and signing up for free trials with our virtual credit card.
As if that wasn't enough, we'll save you money and spare you from a headache if you receive any faulty deliveries by filing a refund or an item return request in your stead! This is just the tip of the iceberg of features that DoNotPay has in store for you.