The Fundamentals of a Solid Vendor Agreement
Regardless of whether you're buying or selling, you need a vendor agreement.
Before you download a questionable contract template or hire a pricey lawyer, you should understand the vendor agreement from top to bottom. This document should benefit and protect you and the other party.
This article will help you dissect vendor agreements and show you the best way to draw up all kinds of documents by signing up for DoNotPay.
Vendor Agreements Explained
Vendor agreements are legal documents stipulating the terms of a product or service purchase between the vendor and the customer. They are common for:
Office supplies

Equipment

Internet services

Phone services

Furniture

Catering

Decoration
A vendor agreement is most commonly used for events when the customer works with multiple vendors, so they need contracts to make everything go smoother. Sometimes, you may need an ongoing supplier or a one-time service, but an agreement is beneficial in both cases.
While some vendors use standard vendor agreements, tweaking the agreement to fit the specific purchase or project will be better for both parties. This way, there will be no surprises or misunderstandings.
Types of Vendor Agreements
Vendor agreements cover a range of documents that are used in events, day-to-day operations, or different projects. Here are some of the most common types:
Vendor Agreement Type

Brief Description

Indefinite Delivery Contract

There are no specific deliverables

Minimum and maximum expectations are set

Distribution Agreement Contract

This document is between the vendor and the distributor

It gives the distributor the right to sell and profit from the vendor's products

Cash Reimbursable Contract

A standard fee is determined

The vendor will also reimburse the seller for any additional work associated with the contract's fulfillment

Letter Subcontract

It is common when the contract details cannot be finalized before the start date

The buyer and seller agree that a percentage of the project will be completed during the subcontract phase

Time and Materials Contract

A specific hourly rate and time-frame are established

Consultants and freelancers typically use this agreement

Fixed Price Contract

The buyer and the seller agree on a fixed price of a product even if there are external influences, such as delays or market fluctuations

It is common with trusted buyers and in low-risk situations
What Should a Vendor Agreement Include?
Although there are different kinds of vendor agreements, you should be familiar with the essential terms that almost every type includes. Here's a breakdown of the most important vendor agreement sections:
Term

Explanation

Scope of the services or products

A detailed description of the products or services that will be provided

Duties and expectations

Contract length and other timing schedules

Start and end date

Delivery schedule

Payment schedule

Delays

Price and payment

Price

Deposit details if applicable

Payment method

Late fees

Termination

Clear end date

Requirements for finishing before the agreed date

Notice details

Dispute resolution

Breach of contract

Arbitration or litigation

Other consequences

Representations and warranties

Representations and warranties the vendor provides

Signatures

Date

Signatures of both parties
Vendor agreements may also include a non-disclosure or confidentiality clause, as well as an indemnification clause.
Making the Most of Your Vendor Agreement
Negotiating your vendor agreement will ensure you are satisfied with all its terms. Even before any negotiations, there are steps you can take to benefit from this agreement as much as possible:
Be honest and clear about due dates

Establish and describe the roles and responsibilities in detail

Make a plan to monitor and check the project so that the agreement is upheld
Need Other Documents? Turn to DoNotPay
In case you need a bill of sale or another document, DoNotPay can draw it up for you! Our Standardized Legal Documents product makes it possible to get a personalized contract or agreement in three steps.
Create your DoNotPay account and check out how easy it is:
Type in the name of the legal document you want to draw up

Answer a few questions

Download your contract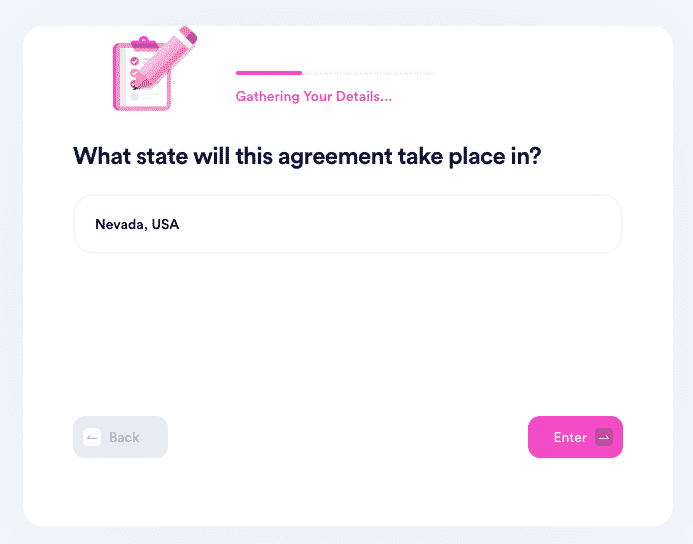 The best part about using DoNotPay to create legal documents is that you can benefit from other products that we offer. You can e-sign, fax, or notarize your document thanks to your trusted AI-powered app.
What Documents Can I Get From DoNotPay?
Whether you need additional documents for your sale or purchase or you require an agreement for a different matter entirely, we may be able to help. Here are the legal documents DoNotPay can create for you at the moment:
Types of Documents

List of Documents

Real Estate

Estoppel Certificate

Quitclaim Deed

Intent To Purchase Real Estate

Residential

Lease Agreement

Business

Bill of Sale

Non-Disclosure Agreement

General Business Contract

Other

General Affidavit

Promissory Note

Child Care Authorization Form
If you need guidance for creating or understanding certain contracts, you can check our learning center and find numerous rundowns on documents, such as:
Admin Issues Giving You a Headache? Resolve Them With DoNotPay!
Scheduling a DMV appointment, applying for clinical trials, requesting refunds from companies, and getting in touch with your loved ones in prison are all difficult and time-consuming tasks. You have to take many steps before you can get any of these over with, and that's why our robot lawyer app is here to help.
No matter if you need assistance with appealing parking tickets, signing up for free trials, canceling various subscription services, or maybe preparing for government tests, DoNotPay will provide you with easy solutions.
Having Financial Struggles? Rely on the World's First Robot Lawyer
Many Americans struggle to make their ends meet at the end of each month. With that in mind, we've created plenty of features that will save you both time and money in the most efficient way. 
Using our AI-driven app, you can get help with bills, get refunds from airlines, find unclaimed money in any state, or earn off annoying robocalls or stalkers and harassers. If you want to fight for your right, DoNotPay will also assist you in suing any person or company in small claims court.
No matter the admin task at hand, our robot lawyer will provide swift and effective assistance.