How To Make a Proper
Vehicle Lease Agreement
A vehicle lease is an ideal solution for anyone who needs a car or any vehicle but doesn't want to buy it. By choosing this option, you agree to pay a monthly fee for using a new or second-hand car offered by a leasing company. 
As with any other lease, you need a legal document—a vehicle lease agreement—designed to protect both parties' expectations and interests. If you aren't sure what it should contain or how to write it, we offer you answers to all the related questions. 
What Is a
Car Lease Agreement
?
A car lease agreement is a legal contract signed by the following parties:
Lessor

—An individual or a company that owns the vehicle

Lessee

— A person who pays the vehicle owner for using their car for an agreed period
The purpose of this document is to establish the main terms and conditions of the deal between the parties in as many details as possible. If you define the rules both entities find satisfying and comprehensible, there will be no reason for future disputes. 
Why Do You Need a Car Lease Agreement?
Besides being a firm guarantee for both parties, a vehicle lease agreement covers all necessary aspects you should consider once you decide to use the car lease option. Here is why you should sign it:
It clarifies all dilemmas and misunderstandings

—If you are unsure about the specific lease-related situations or terms, it's enough to check them in your copy of the agreement. It contains solutions for all potential problems that may occur and prevents miscommunication and arguments

The agreement allows you to lease a car or other vehicle without a car dealership

—Car dealerships usually provide a dealership lease form as a guarantee, but what if you want to use a car that belongs to an individual or a friend? In such cases, a car lease agreement can safeguard the rights of the involved parties

It will serve as evidence if something goes wrong

—If the other party breaks any rules stipulated in the contract, you can use it as proof in case you decide to file a lawsuit against them
Is an
Auto Lease Agreement
Legally Binding?
A car lease contract becomes legally enforceable only if both entities sign it and get it notarized. Depending on the particular state legislature, you may need a witness to sign the contract as well. 
What Sections Should a Vehicle Lease Agreement Contain?
Missing an important clause can make a huge difference and turn your contract into a vague and incomplete document. 
To prevent this, check out the table below showing all relevant sections you should put in your contract:
Section
Details

General sections

Full names, addresses, signatures, and contact information of the parties

Start and end date of the agreement

Vehicle information

Short vehicle description including:

Age

Make

Color

Model

VIN

Odometer

Retail value

Projected value

License plate number

Lease details

Duration of the lease

Payment terms—amount, schedule, etc.

Accepted payment methods

Interest rates

Indemnity

Termination terms and conditions

Penalties

Potential attorney/legal fees

Responsibilities of the lessee

Insurance details—bodily injury or property damage

Deductibles

Vehicle repairs

Mileage limitation

Vehicle maintenance

Excessive wear and tear

Equipment return rules
DoNotPay Is the Master of Legal Document Creation
Despite the accessibility of all the necessary information, creating a contract or any legal document is too demanding for most people. Filling out a simple contract template from unreliable websites isn't recommended, and neither is spending huge sums on a lawyer to write it in your stead.
For an affordable and efficient solution, rely on DoNotPay. Our database offers many standardized document templates you can modify and personalize based on your needs. By entering a few essential details about your case, you will get a fully customized document before you know it! 
To use our service, proceed as follows:
Sign in to DoNotPay using your preferred

web browser

Pinpoint the document you want to customize

Give us all the details you wish to include in your contract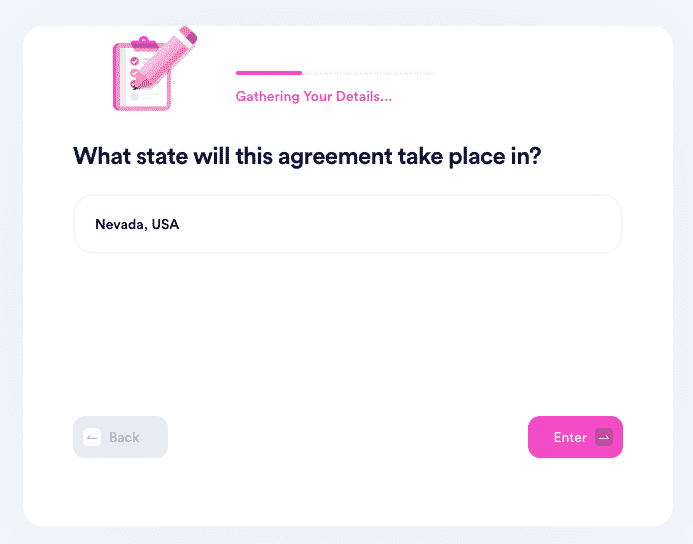 All you need to do is choose one of the templates we offer:
Quitclaim Deeds

Promissory Notes

General Affidavits

Estoppel Certificates

Child Care Authorization Form

Intent To Purchase Real Estate Documents

General Business Contracts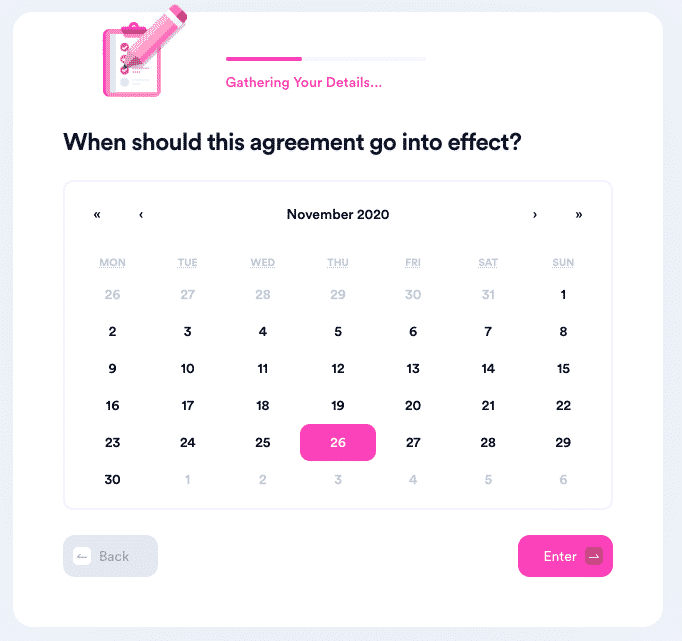 Use our app to find numerous handy articles about:
Need Help Fighting Bureaucracy? Use DoNotPay!
As the world's first robot lawyer, DoNotPay can help you resolve a plethora of tedious administrative issues. Our app will assist you in getting justice in small claims court, getting refunds from merchants, reporting annoying spam emails and text messages, reporting copyright infringement, bypassing phone number verification, and so much more!
You can also rely on DoNotPay's help when it comes to subscriptions. If you want to sign up for a free trial, cancel a service you no longer use, and skip the phone queue when doing so, our app will provide its assistance.
Our App Saves You Time and Money
Are you unable to pay your bills? Use the world's first robot lawyer app to cover them! Do you want to appeal your traffic or parking tickets? DoNotPay will help you appeal them in the blink of an eye.
Our app can do so much more than that, though—with DoNotPay by your side, you can sign up for clinical trials, ace government tests, claim any type of warranty, schedule an appointment with the DMV, and handle any other bureaucratic task.