Create a VA Advance Directive Hassle-Free
While preparing for getting ill or injured isn't anyone's favorite activity, it is a wise choice.
To prevent people you don't trust from making health care decisions for you when you aren't able to, you should draft a VA advance directive. This article explains what a living will and medical power of attorney are and how they are connected with an advance directive.
The Fundamentals of an Advance Directive in Virginia
A Virginia advance health care directive is a legal document that lets you name a person—called a health care agent or surrogate—to make decisions about medical treatments when you are too sick or unable to make them for yourself.
This form provides instructions for your agent and health care provider about the medical care you would and would not like to receive.
There are two types of VA advance directive forms:
Forms of Advance Directive in Virginia
Details
Durable power of attorney for health care
This VA medical power of attorney form allows you to:

Name an adult person as your health care agent
Grant powers to your agent to make medical decisions on your behalf

Living will
You should use a VA living will form to specify your wishes regarding:

Health care procedures you want or do not want to receive
Life-prolonging treatment
Medication
Organ donation
Keep in mind that:
You do not have to complete both of the above-listed VA advance directive forms
A power of attorney for health care goes under different names, such as:

Medical power of attorney (POA)—You shouldn't confuse health care or medical POA with a financial power of attorney
Health care proxy—Some states make a difference between a medical power of attorney and health care proxy
Who To Appoint as an Agent in a Virginia Advance Directive for Health Care
You should choose your health care agent carefully since that person will make decisions about your medical care when you are not able to do it by yourself.
That is why you should consider someone:
You trust and share the same views and values with
Who understands your wishes and will act in your best interest
You may choose, for instance, your:
Life partner
Child
Friend
Relative
Colleague
Keep in mind that if you don't create a Virginia advance medical directive and name your agent, your health care provider will select one of the following (in this order):
Legal guardian
Spouse
Child
Parent
Sibling
Grandparent
Adult grandchild
Close friend
How To Prepare a VA Advance Directive
The following table helps you understand how to create your advance directive document:
Steps To Follow
Specifics
Consider health care treatments
The first stage is thinking about the medical care you would (not) like to get if you cannot speak for yourself
Select a health care agent
Once you decide who to appoint as an agent, you need to communicate your health care preferences to them and see if they will accept the responsibility
Create an advance directive
To draft a Virginia advance directive, you could:

Hire a lawyer—Keep in mind that attorney's fees can be hefty
Download an online template—While you can create a living will or a POA by using online templates, you need to inspect them carefully since some can be too generic
Register for DoNotPay—Our AI-powered app can draw up an advance health care directive within minutes
Choose DoNotPay To Get an Advance Directive Tailored to Your Needs
Our robot lawyer is an affordable yet effective solution for your advance care planning matters. We know different state legislations on advance directives and will generate your document based on the official rules and your specific wishes.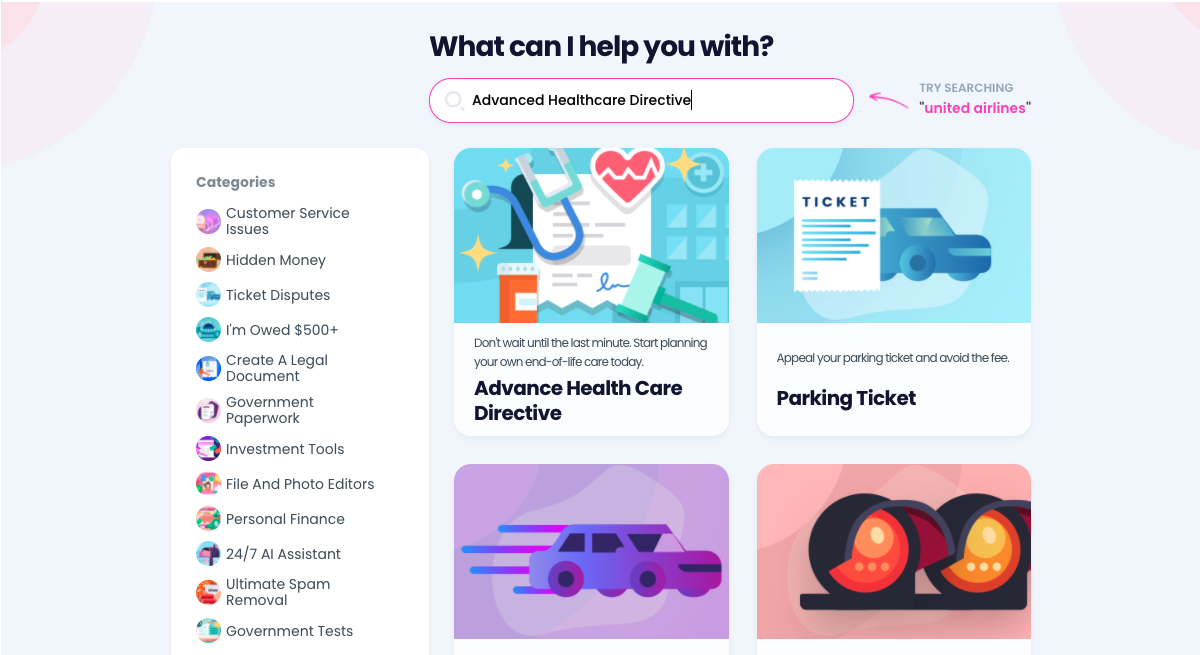 Type Advance Health Care Directive in the search box
Provide the name of your health care agent and specify your wishes regarding medical treatment
List the powers you are granting your agent and health care procedures you authorize
Enter the names of the witnesses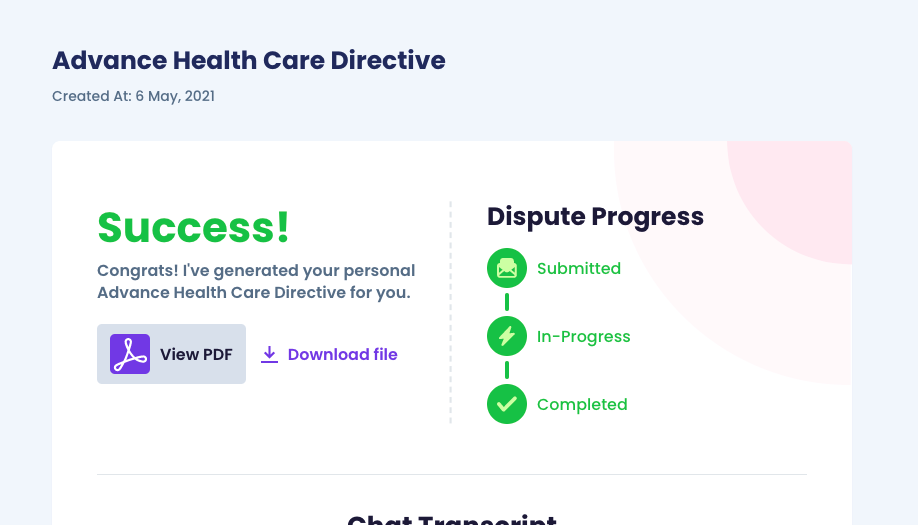 If you'd like to get your VA advance directive notarized, DoNotPay can help you complete that task, too.
Solve Any Problem Within a Few Clicks
DoNotPay keeps adding new features that are designed to help you navigate your tasks and resolve issues. You can rely on your AI-powered app whenever you need to:
Earn and Save Money Using DoNotPay
When money is tight, every penny counts. DoNotPay can help you get what you're owed and also some extra cash.
Here are some of the ways our app can help you get paid:
We can also assist you in searching for your unclaimed funds, demanding a college fee waiver, and joining clinical trials.
If a company refuses to give you what you're owed, don't hesitate to file a complaint and take it to small claims court.