Everything You Need To Know About a Utah Real Estate Purchase Contract
Buying real estate is a serious endeavor and needs to be regulated with an appropriate and legally binding document. 
Do you want to draw up a Utah real estate purchase contract? Or learn more about writing contracts in general? DoNotPay is your champion when it comes to dealing with legal documents!
What Is a Real Estate Purchase Contract?
A real estate purchase contract regulates the deal between the seller and the buyer for a purchase of a piece of property. The agreement is proposed by the buyer and is subject to the acceptance of the seller.
The contract is not the transfer of a property title. It covers the duties and responsibilities of one party to another regarding the transaction.
What Are the Prerequisites for a Real Estate Purchase Contract in Utah?
Since there are high stakes in property transfer, there are certain prerequisites for drawing up a real estate purchase contract:
Both parties must have the legal capacity to enter an agreement.

Individuals under 18 cannot enter such a contract, and if they do, the court can cancel it.

Agreements can also be void if a party has mental disabilities.

Since a person's state of mind may be difficult to determine, the court confirms whether an individual understands the terms of the settlement. If they don't, the contract is nullified 

The arrangement must be in writing and signed by both parties.

Verbal agreements do not suffice when it comes to real estate purchases. This requirement is mandatory as per the

Statute of Frauds

, which protects both parties when making a transaction of significant value
Key Elements To Include in Your Utah Purchase Agreement
Here are the key elements to include in your real estate purchase contract in Utah:
Names, contact information, and addresses of the buyer, seller, and witness

Details of the property, including any defects

Negotiated price and the payment method

Earnest money, a percentage of the actual cost that should confirm the buyer is interested in the property and is held in escrow by a neutral third party. If the buyer backs out without a valid reason, the money goes to the seller

Closing costs, such as home inspection fees, attorney fees, escrow deposits, and credit reports.

Typically, a buyer pays for the abovementioned costs, while the seller covers the real estate agent's commission

Liabilities and contingencies

The closing date when both parties sign the agreement and finalize the property transfer

The possession date. If it is not the same as the closing date, you should create a pre-closing or post-closing contract
Are There Any Required Disclosures During Property Sale in Utah?
Utah laws do not require property owners to let buyers know if their property has any defects. The responsibility falls on the buyer to be careful when inspecting a property they are interested in. 
If a real estate agent is in charge of the sale, it is their responsibility to let buyers know if there are any problems with the property. 
The factors that need to be disclosed include:
| | |
| --- | --- |
| Factor | Explanation |
| Lead-based paint disclosure | If a property built before 1978 contains lead paint, sellers need to inform potential buyers |
| Seller's property condition disclosure | Real estate agents need to disclose the actual state of the property |
| Buyer's due diligence checklist | Explains in detail how the buyer should carry out due diligence before buying a property |
Does a Utah Real Estate Purchase Contract Allow You To Back Out Without a Reason?
If both parties have signed the document, the real estate purchase contract is legally binding. If you choose to back out without a valid reason, you will be in breach of contract and liable to penalties and disciplinary action. 
The only other option you have is to conduct an out-of-court settlement with the seller. 
Use DoNotPay To Draw Up Legal Documents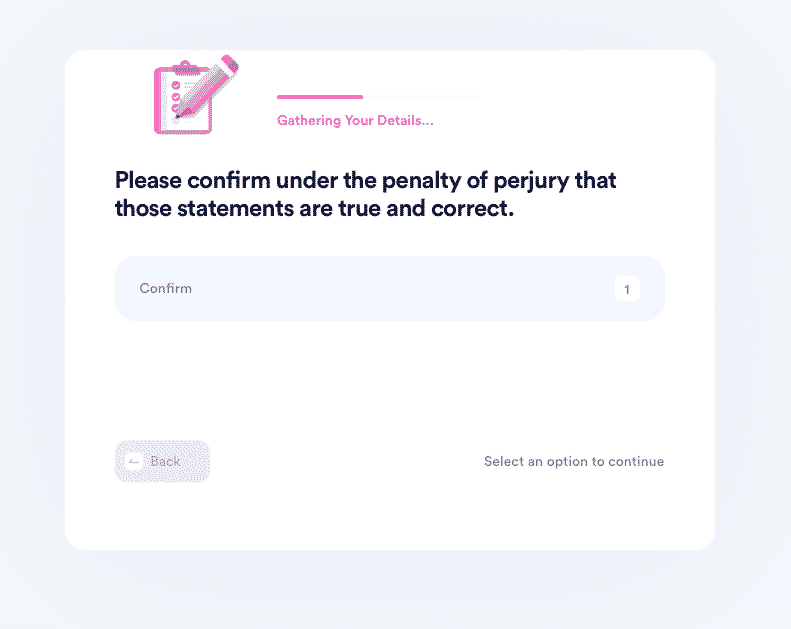 Are you interested in buying a property but don't know how to move forward with drafting the necessary agreement? You can hire an attorney, but they often charge exorbitant amounts. Online contract templates are often outdated and have little relevant information. 
Why trouble yourself with such a complicated procedure when you have DoNotPay? We can help you draft a document within minutes! All you have to do is:
Type the name of the document you need

Answer our chatbot's questions to personalize the document
And that's it! DoNotPay will create a tailor-made contract, ready for download and printing!
What Documents Can DoNotPay Create?
can create the following documents for you:
General Business Contract

Intent To Purchase Real Estate

Quitclaim Deed

General Affidavit

Promissory Note

Child Care Authorization Form
When You're In Over Your Head, DoNotPay Swoops In
With your virtual assistant extraordinaire, many tasks will be a breeze to deal with.
No fax machine? No problem! Use DoNotPay to send faxes online. If you don't want to waste time waiting in lines or on the phone, we come to the rescue with many of our products that will help you:
What Else Does DoNotPay Have in Store for You?
You can count on our assistance when you want to get rid of:
Our app has even more to offer—try out our hacks that will save you money and do the heavy lifting in numerous tasks:
| | |
| --- | --- |
| Using Money Hacks | Cutting Through the Red Tape |
| | |