How To Secure a Utah Property Tax Exemption
Owning real estate in Utah is a good situation to be in. Utah is one of the states with low property tax rates, on top of which it offers a range of exemptions to further ease your tax burden.
DoNotPay is your partner when it comes to reducing property tax, securing property tax discounts, and getting you help with paying property tax. Here are our tips for getting the best property tax deals in Utah.
Utah's Property Tax Calculations
Property taxes in Utah are administered by each of the state's 29 counties, although the state sets guidelines and helps with administering the collection process.
Utah property taxes are calculated by combining two factors, namely:
Tax rate

Property assessment
Tax Rate
Each county is responsible for setting the tax rate, but this can be a complicated process, given that there are over 1,000 tax authorities in the state.
A tax authority is a body that is allowed to levy property tax and can include cities, counties, school districts, and water districts. The tax rate you pay is the sum of the rates of all the tax authorities your property falls under.
Despite the complexity, Utah manages to keep its property tax rate down to 0.53%, well below the U.S. average of 1.07%.
Property Assessment
Similar to the tax rate, property assessments are the responsibility of each county, and assessors are required by state law to physically assess every property at least once every five years.
In the years between physical assessments, county assessors use a combination of approaches for residential property, as follows:
| | |
| --- | --- |
| Approach | Explanation |
| Sales comparison method | The assessor uses sales data from recent sales of similar properties in your area to determine your home's value |
| Cost-based method | The assessor estimates the cost of building your home from scratch at today's prices |
The good news is that the assessed value of your home is further discounted to arrive at its taxable value. The state automatically exempts every homeowner from 45% of the assessed value, meaning that a property worth $200,000 would only be taxed based on $110,000.
Does Utah Offer Any Property Tax Exemptions?
Yet more good news comes in the form of the Utah property tax exemptions available, with particular emphasis on senior citizens and those with disabilities.
Exemption

Explanation

Circuit breaker tax abatement

This is a credit against taxes levied and offers up to a 20% reduction in the fair market value of your property if you meet the following criteria:

Age 66 and over

Living in Utah for the entire calendar year

Owner of the property and using it as the primary residence

Household income did not exceed $34,167 in 2019

Indigent abatement

This is a further credit for those unable to pay property tax when it is due, offering up to 50% credit on any remaining tax due after other exemptions up to a maximum of $1,043. The following criteria apply:

Owner-occupier of the property for at least one calendar year

Age 65 or over

2019 income and assets not above $34,167

Hardship abatement

This abatement is the same as the indigent abatement but has no age restriction

Disabled veteran exemption

This offers an exemption of up to $271,736 on the taxable value of the applicant's principal residence if the following criteria are met:

Veteran having been over 10% disabled in the line of duty

Owner-occupier of the property that is the primary residence

Veteran active duty

This exemption offers a 100% exemption from property tax if the applicant has served 200 days or more in the last year on active duty outside Utah

Blind exemption

Up to $11,500 of the taxable value of a property can be exempted for a blind person, their surviving unremarried spouse, or surviving minor children as long as they own and occupy the property as their primary residence
Can DoNotPay Help You With Property Tax Exemptions in Utah?
DoNotPay is your go-to place to find exemptions you are eligible for in Utah.
If you are looking for customized advice, all you need to do is check out our property guide, which offers you two sections:
Property tax exemptions—what exemptions you are eligible for, what documents you need, and where you can apply

Property tax appeals—how to deal with assessors and where to lodge your appeal
Where Is DoNotPay's Property Guide Available?
Getting your customized guide is as easy as one, two, three:
Sign up for DoNotPay in your

web browser

and look for

Property Tax

Give us some details about your location and your property

Wait while we generate your bespoke guide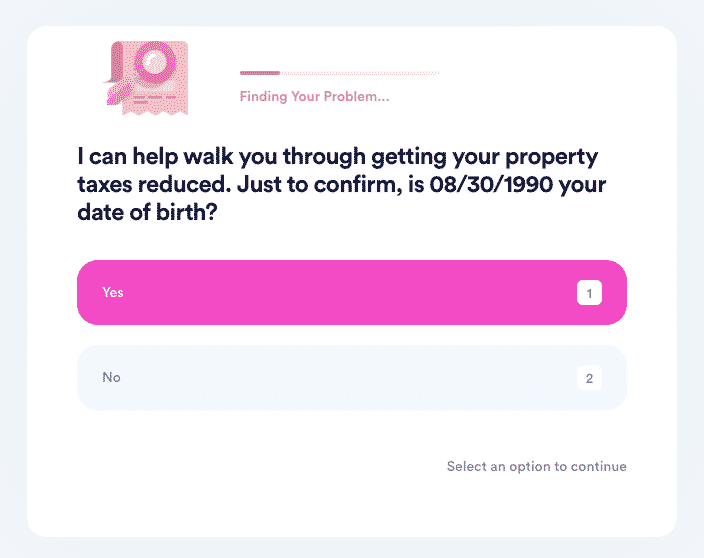 Is There Any Other Advice From DoNotPay?
If you have exhausted all other avenues and still think you are paying too much property tax, you can appeal your property tax assessment. DoNotPay will help you understand what you need to do, what documents you will require, and where you can launch your appeal.
Falling for Scams Is Less Likely With DoNotPay
Thanks to AI technology, DoNotPay is a great resource for protecting your privacy and finances from potential scammers. Our bots can help you report robocalls, keep your inbox clean from spam email and shady text messages, or even deal with stalking and harassment, if it comes to that. 
In case the issues escalate, skip the expensive lawyers and sue the offenders in small claims court with ease. 
Another great way to increase your online security is to use our virtual credit cards and sign up for any free trial without risking unwanted charges. You can even avoid sharing your contact info with our Burner Phone feature. 
The Solution to Your Driving Woes
DoNotPay provides invaluable help to future and current drivers. By helping you ace that driver's license test, scheduling a DMV appointment the easy way, or contesting parking tickets, our app saves you money and time. 
If you need to file a car warranty or an insurance claim, we will help you deal with the necessary paperwork within minutes. Trying to get out of a car wash membership? DoNotPay can cancel it in an instant. 
Our platform works above ground as well. You can use DoNotPay to secure refunds from airline companies or compensation for delayed and canceled flights.