The Utah DMV Practice Test Is a Few Clicks Away
Getting a driver's license can be nerve-wracking, but you can reduce your stress by practicing before the test. 
If you are looking for a reliable Utah DMV practice test, you can use DoNotPay to get the best ones. We are also here to help you learn more about what to expect on the Utah driving test. 
All You Need To Know About the Driving Test in Utah
The Utah residents who want to operate a vehicle need to pass the driving test. The examination involves:
Vision screening 

Knowledge test 

Road skills test
You can become eligible for a full driver's license only after you have had your learner's permit for at least six months. You need to be at least 15 years old to get a learner's permit.
Requirements for getting a driver's license in Utah depend on how old you are. If you are 18 or younger, you must complete the driver education program and apply for a learner's permit first. In case you are 19 or older, you have two choices:
Complete a driver education course and avoid the requirement of having a learner's permit for 90 days

Apply for a learner's permit, hold it for 90 days, and complete 40 hours of driving, ten of which should be at night
What Does the Utah Written Driving Test Consist Of?
The Utah driver's license written test examines your knowledge about the Utah traffic laws, road signs, signals, and safe driving practices. 
If you have never had a driver's license in Utah or any other state or country, you will need to complete a 50-question closed-book test. In case you already have a license from another state or country, you will get a 25-question open-book test. You need to answer 80% of the questions correctly to pass the written test.
What Can You Expect on the Utah Driving Skills Test?
On the Utah road test, you should show your ability to operate the vehicle properly. While driving, the examiner will pay attention to the way you approach intersections, use mirrors, and step on the brakes. You will also need to perform the following maneuvers:
U-turn

Backing

Left turns

Right turns

Uphill parking

Lane changes

Parallel parking

Three-point turn

Downhill parking

Steering coordination
You need to have a registered and well-functioning vehicle for your examination.
You should make your driving test appointment through the Utah Department of Public Safety, your high school driver education class, or a licensed third-party road tester.
How To Get Ready for the Utah DMV Driving Test
Passing the Utah driving test requires a lot of studying and practice. You can use the following to get ready for it:
Covers all the topics that can show up on your test, including:

Licensing requirements

License types

Aggressive driving

Safety belts

Car seats

Starting the engine

Turning

Intersections

Parking

Speed managing

Night driving

Other vehicles on the road

Signaling

Railroad crossings

Practice tests

Helps you check how much you learned from the handbook

Driving test checklist

Reminds you what you need to do and bring to the test
Access a Bunch of Utah Driver's License Practice Tests via DoNotPay
Don't waste your time googling Utah driver license practice tests—get all of them in one place with DoNotPay! You can find a myriad of driving practice tests in our extensive database. Our practice tests contain genuine questions that prepare you for the actual one.
To start your preparation for the Utah written driver's license test, do the following:
Log in to DoNotPay in any

web browser

Search for the driving tests

Choose the test you want to take

Select how many questions you want to get

Take your practice test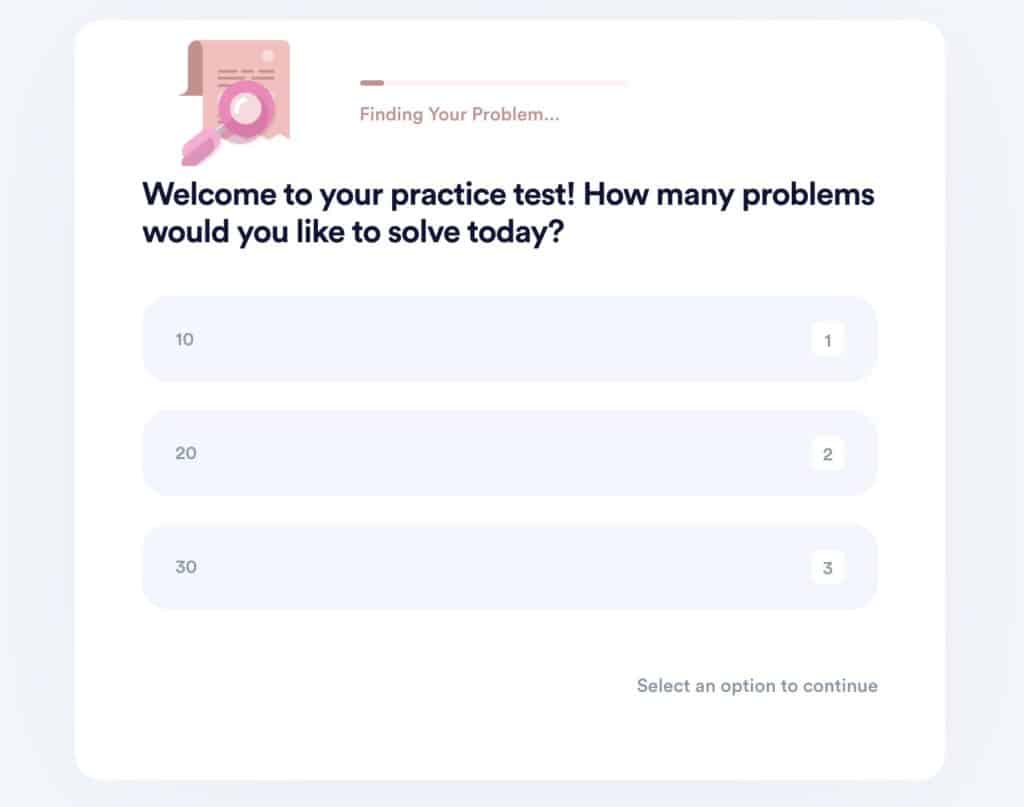 Our AI-powered app allows you to take the practice tests as many times as you would like. You can choose whether you want to get a test of 10, 20, or 30 questions. We also offer you to correct your mistakes the moment you make them or when you finish the whole test and see the final score. 
Use DoNotPay To Prepare for Other Government Tests
Do you want to get a driver's license for vehicles heavier than 26,000 pounds? If yes, you should apply for a Commercial Driver's Licence (CDL). DoNotPay gives you access to a bunch of Utah CDL practice tests. If you have to take the HazMat test, you can use our app to get ready for it.
Besides the driving practice tests, we have other government practice tests in our database. You can use DoNotPay to prepare for the following exams: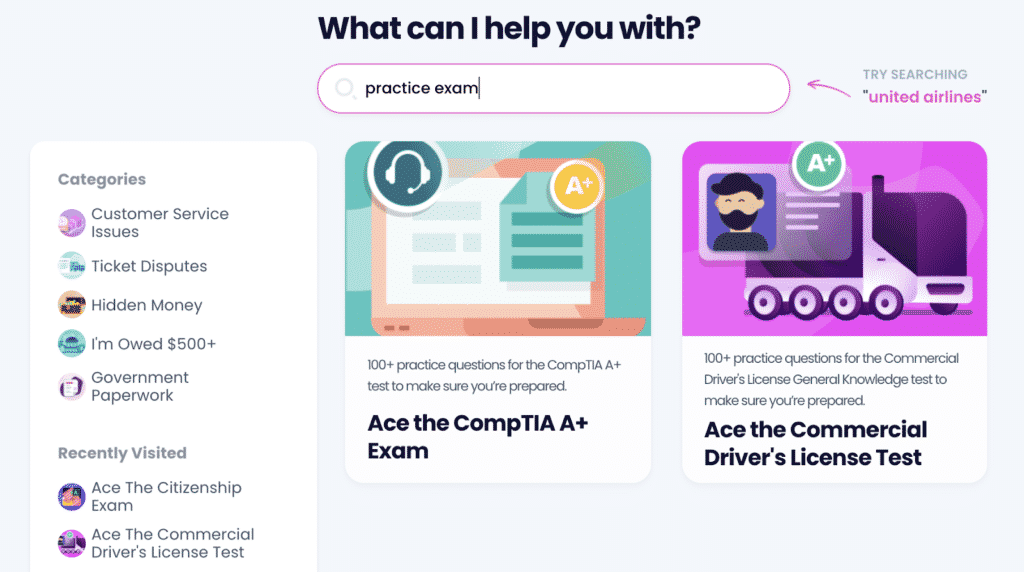 If your ASVAB test scores confuse you, use our guide to get clarification.
Open DoNotPay in any web browser, and we will help you ace your government tests!
Do You Know What Else You Are Eligible For?
DoNotPay is a handy virtual assistant that can reveal a world of possibilities that you may not have even been aware of. We've perfected our algorithms to identify opportunities for you to save up and take charge of your rights. 
Here's a fraction of what we can do for you:
What Else Is New With DoNotPay?
DoNotPay boasts several new features that can help make your everyday life so much easier. 
Have you been wondering how to file an insurance claim but weren't sure where or who to turn to? We'll gladly do it for you. 
Are you tired of outdated faxing practices and manual documentation? Our app can provide you with an online fax solution and draft all your legal paperwork in no time at all.
Do you need a safe place to prepare for your upcoming government test? DoNotPay will give you all the prep tests you need.
We can help out with locating an imprisoned loved one and keeping correspondence with them via our virtual mailbox.
See what else DoNotPay has in store by accessing our web app in any browser.