Is Getting a Utah Divorce Online Possible? DoNotPay Knows
Getting a divorce can be stressful, expensive, and time-consuming because the process usually involves expensive lawyer fees and court hearings. If you want to get a quick and friendly divorce without engaging lawyers, you should opt for an uncontested divorce. You can even go one step further and make the entire process even more convenient by finding all the paperwork you need online.
and find out whether you can file for Utah divorce online as well, and allow us to help you create a well-written divorce settlement agreement in minutes.
Can You File for Utah Divorce Online?
The answer is, unfortunately, no—there's no way of filing for divorce in Utah online. You can do the next best thing—collect all the necessary documentation online and file for divorce with your local county court or county clerk's office. This process will be far easier if you opt for an uncontested divorce.
What Is an Uncontested Divorce in Utah?
An uncontested divorce is a marriage dissolution process where both parties agree on all terms of the divorce beforehand. It involves a divorce (marital) settlement agreement that deals with the following:
If you and your spouse agree on all these terms, you can get a quickie divorce without attending court hearings.
What Are the Utah Requirements for Divorce?
To get divorced in Utah, you need to meet certain residency requirements. You or your spouse must have lived in the county where you're filing for divorce for at least 90 days prior to filing the papers.
Which Documents Do You Need To File for an Uncontested Divorce in Utah?
The forms that you will need when filing for an uncontested divorce in Utah are as follows:
The petition for divorce
A divorce settlement agreement
The respondent's acceptance of service
If you and your partner have children, you'll also need the following forms:
Child support worksheet
Parenting plan and visitation schedule
An affidavit of the parents' income
The paperwork needed for starting the divorce process might be different for each county, so it's best if you consult a county clerk's office to get informed about additional documents.
Can You Find Utah Divorce Papers Online?
You can find various online platforms that offer divorce forms, but the risk with them is that they might not be approved by the court. You can also use the Utah Online Court Assistance Program (OCAP) to create your divorce forms online.
What Is the Online Court Assistance Program in Utah?
Utah courts offer the Online Court Assistance Program (OCAP) that can help you prepare court documents if you wish to avoid hiring a lawyer. The program can't file the documents on your behalf.
To use the OCAP, you'll need to create an account. It's crucial that you give a valid email address because you might get information from the court or the other party sent there. Are you interested in learning how to prepare court papers with the OCAP's help? Follow the steps below:
Log in and select the name of the interview you need
Fill out all the boxes and click on Save and Continue
Control your response boxes by the interface on the left side of the screen
Click on View Documents to check whether you've entered all the important information
Tap on Save and Exit when you finish your interview
Print your documents
How To File for Uncontested Divorce in Utah
To start your divorce process in Utah, follow the instructions from the table below:
Instructions
Explanation
Hire a mediator
If you and your spouse can't agree on all aspects of your divorce, booking a few mediation sessions can be a good idea. A mediator will help you set your differences aside and reach a compromise without having to go to court
File a petition for dissolution
A petition for dissolution is a request for the court to allow the dissolution of your marriage. You should file your petition with your local county court
Serve your spouse
In Utah, you can't serve the divorce papers by yourself—you need a third party to do it. Some of the options are hiring a:

Constable
Sheriff
Professional process server

Pay fees
The fee for filing divorce papers is $325. If you don't have enough money for your divorce, you can request a fee waiver
Create a divorce settlement agreement
This document spells out previously agreed-upon aspects of your divorce, such as spousal support, child custody, etc. You need to create this document before you file for divorce and get your partner to sign it. After you sign your agreement and file it, you won't have to appear in front of a judge.

While you can hire a lawyer to handle your agreement, they can charge a small fortune for this document. To save money and get the perfect divorce agreement in minutes, you should rely on DoNotPay
How To Create a Divorce Settlement Agreement With DoNotPay
We will assist you in creating an error-free divorce settlement agreement in under five minutes. Once you , you should follow the instructions below:
Open our Divorce Settlement Agreement product
Provide the required information, such as your:

Name
Spouse's name
Wedding date

Tell us how you want to split your assets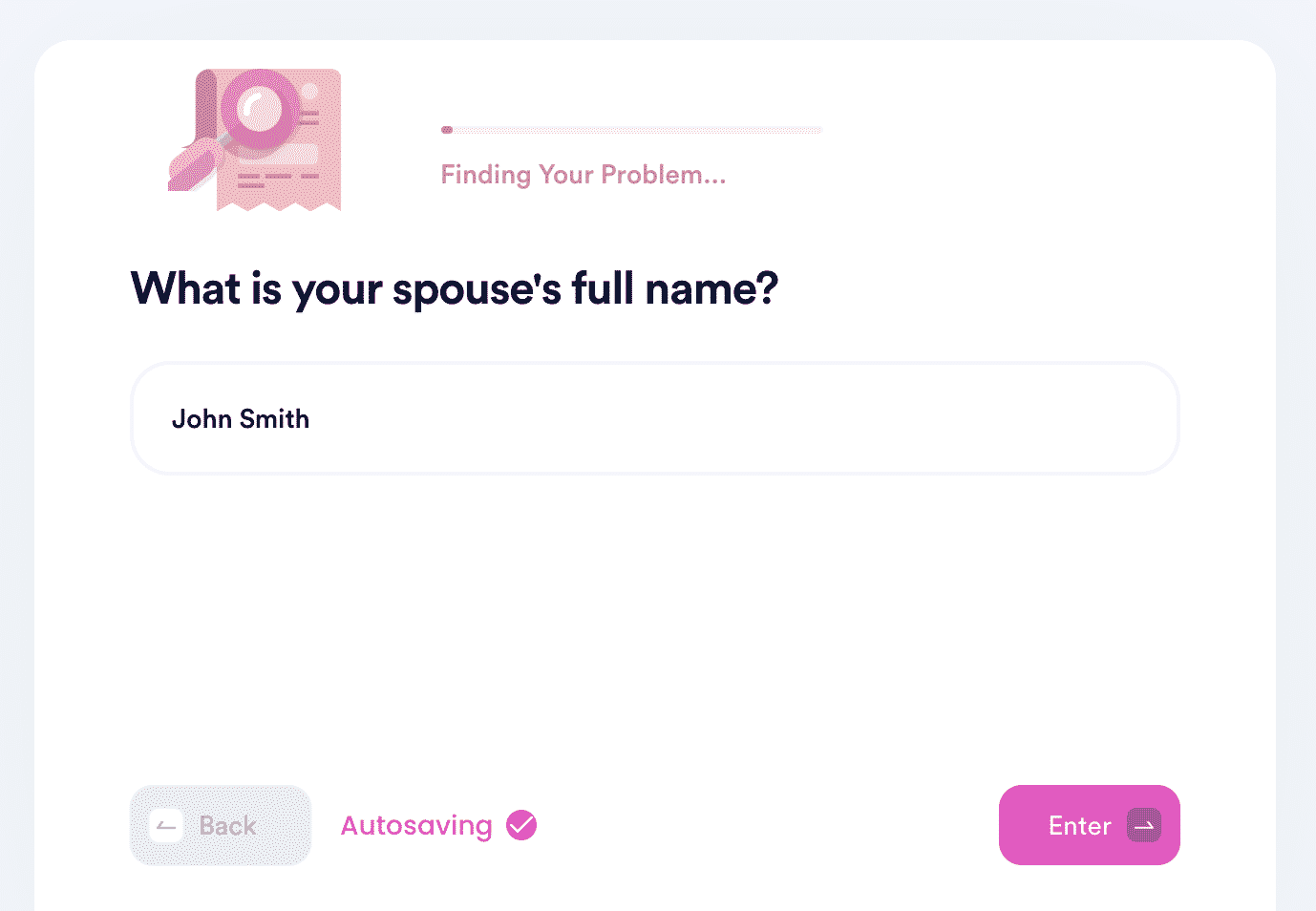 DoNotPay will generate a divorce settlement agreement automatically. You and your partner should sign the agreement and get it notarized. Our platform can also help you handle notarization. We will connect you with an online notary in Utah, and they will witness your signing over a video call.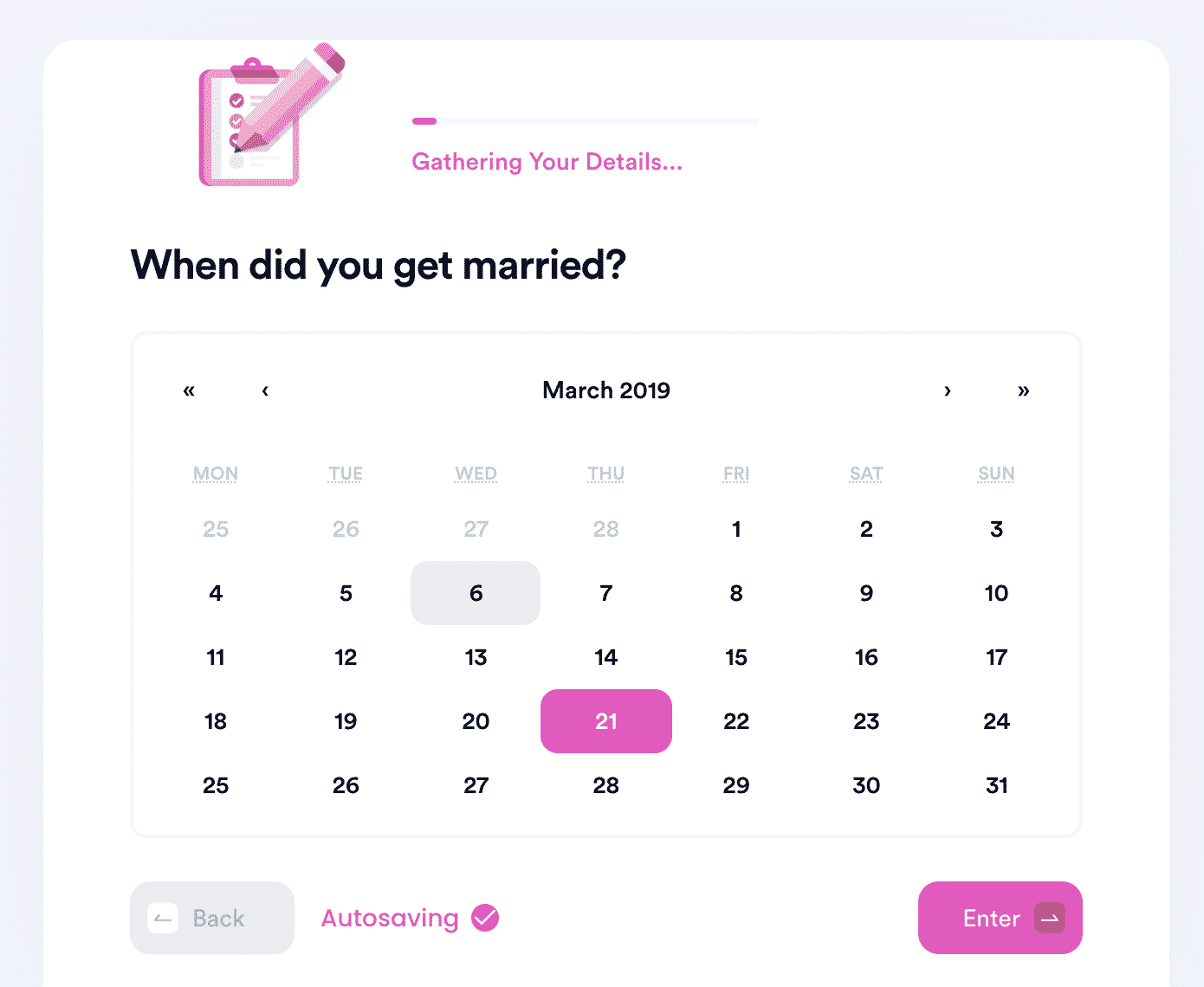 You can consult DoNotPay's learning center to find answers to plenty of other divorce-related questions. Some of the questions we can give an answer to are as follows:
How do I tell my children

that my spouse and I are getting a divorce?
What are men's rights in a divorce?
DoNotPay Is Righting Wrongs Left and Right
DoNotPay is a platform that puts its subscribers' safety in the first place. We can keep you safe from sex offenders, stalking, and harassment. In case you're a victim of a crime, we can help you get compensation.
Fight for discrimination at your workplace with the world's first robot lawyer or sue any company or person in small courts if you feel like you've been wronged.
Is There Anything DoNotPay Can't Do?
The short answer is no, and the list of our AI-based app's features keeps growing by the day. We offer professional assistance with issues that no other platform can help you with. Sign up now and: