Figuring Out a Maine Advance Directive
Creating an advance directive is the most common and efficient way to protect your future health-related rights. If you don't know much about a Maine advance directive, we offer you a comprehensive guide covering the essentials. Besides explaining what this document should look like, we provide precise instructions on how to compose a living will or any other health care directive with DoNotPay!
What Is a Definition of an Advance Directive in Maine?
As per Maine Law, an advance directive includes oral or written guidelines about the medical care you want to receive if you become too ill to express your wishes. By putting such a document into effect, you let your family and doctors know how they should act if something happens to you.
This document is also called:
Medical directive
Personal directive
Advance decision
The directive comes into effect once a medical practitioner confirms that you are too sick to communicate your health-care preferences to other people.
What Types of Maine Advance Directives Are There?
In Maine, there are two types of advance directives:
Here's a table with explanations of both documents:
| Type | Explanation |
| --- | --- |
| Living will | A statement that describes the exact treatments and interventions you want or don't want to undergo if you get sick—It also explains what end-of-life care you wish to receive |
| Medical power of attorney | A document that allows your person of trust—your health care agent—to make choices related to your medical care if you can't do it yourself. It is also known as: |
How To Create a Maine Health Care Directive Yourself
Signing both a living will and medical power of attorney helps you cover all aspects of your future health care. Here is a step-by-step explanation of how to prepare and execute these documents:
Think about all the medical care powers you want to transfer to your health care agent. These can include decisions about:

Receiving CPR if you stop breathing or if your heart stops
Being on a mechanical ventilator if you have trouble breathing
Undergoing specific surgeries or treatments
Being subject to blood dialysis or transfusion
Getting food and drinks via a tube
Receiving comfort care/pain relief
Donating your organs, tissues, or eyes

Pick a health care agent—The state of Maine also allows its residents to name two secondary agents in case the primary one can't or doesn't want to perform their duties
Acquire suitable medical power of attorney and living will forms—You can find them online, compose them yourself, or pay a lawyer to draft them for you. If none of these options work for you, and have the document created fast and at an affordable price
Fill out the forms with the necessary info and let all participating parties—agents and witnesses—sign them
Make several copies of both forms and give them to your:

Family members
Medical practitioner
Health care agent
DoNotPay Provides High-Level Advance Directives Within Minutes
Forget about pricey services and unreliable online templates—DoNotPay is all you need to get your advance directive swiftly and without stress! The procedure is simple—we collect the basic details about your medical care preferences and make personalized:
Living wills
Medical powers of attorney
Health care directive applicable in your state
To get our help, proceed as follows:
Search for the Advance Health Care Directive product
Name your primary health care agent and disclose the names of the witnesses
Describe your medical care preferences
Your document will be ready within a few minutes—all that remains is to sign it and have it notarized if necessary! We can help you do that by connecting you with an online notary who can verify the authenticity of your document remotely!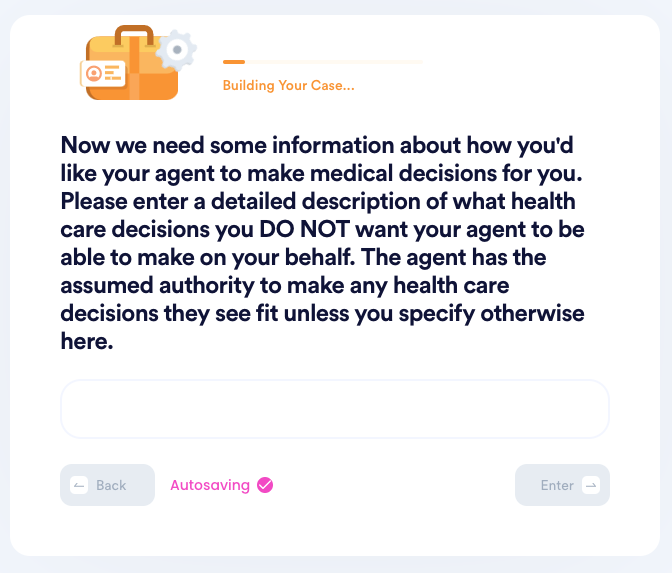 Rely on DoNotPay and Get Rid of Administrative Issues
Are you tired of returning items, canceling subscriptions, fighting parking tickets, and mailing letters? We can help you fast-track all these tasks and more! Do you need help reaching customer service, fighting workplace discrimination, submitting defamation demand letters, or filing HR complaints? Use DoNotPay and solve any issue without a hitch.
Feel free to also use our app to study for government tests, apply for scholarships, appeal low financial aid offers, and request college fee waivers.
Do you need help paying bills? DoNotPay can assist you in lowering your property taxes, getting gift card cash back, entering sweepstakes and giveaways, and getting refunds.
With us, you'll be able to both earn and save money!
Say Goodbye to Spammers With DoNotPay's Assistance
Getting spammed on the daily? Our app can put an end to this annoying issue! Block spam emails, text messages, and robocalls in a few clicks. We can even help you deal with stalking and harassment.
Thanks to our Burner Phone product, you'll get a temporary phone number that you can submit when registering on different platforms and protect your privacy.
Another way to keep your privacy intact is using DoNotPay's virtual credit card. Signing up for free trials without hidden charges and revealing your contact details has never been easier!