USPTO Trademark Search—Everything You Should Know
A unique brand identity can make your projects flourish, but you do not want other companies to steal your ideas and present them as their creations.
For this reason, it is crucial to protect your trademark by registering it. Before doing so, you must ensure no one else has used the same idea and reported it as their own by conducting a USPTO trademark search. This article offers a step-by-step guide to searching the USPTO database on your own or with DoNotPay—the first robot lawyer!
What Are Trademarks?
Trademarks represent any marks, words, images, or other elements that personalize your business. They distinguish your personal or company brand from thousands of ideas on the market.
Once you trademark your creations, no other businesses can use the same or similar idea. If they do, you can inform the authorities about it and prevent the other party from infringing your trademark on time.
What Elements Can Be Trademarked?
Depending on the nature of your business, you can register various types of marks, such as:
How To Do a Trademark Search in the USPTO Database
The United States Patent and Trademark Office (USPTO) is a federal institution helping rising or small businesses register their trademarks and protect them legally.
Before the registration of your trademark can take place, you must search the agency's database to establish that your idea doesn't clash with existing trademarks other companies or individuals have protected.
The official way to check the database is to use the Trademark Electronic Search System (TESS). Here is how to do it:
Visit the official USPTO website
Select the Trademarks tab
Choose Searching Trademarks under the Application Process section
Click on Search Our Trademark Database (TESS)
Pick the desired search option and set the additional filters
Click on Submit Query
The system will list all the existing entries that match your ideas fully or partially. If there are no creations similar to yours, you will be able to apply for a trademark right away.
Are There Other Ways To Search for Trademarks Online?
TESS is not the only existing trademark database. You can check the already registered ideas by:
Finding state trademark registries online
Searching for other national trademark lists
Signing up for DoNotPay and letting the app perform a clearance search for you
How To Register a Trademark in the USA
Once TESS or other search databases show that your idea is eligible for registration, you should follow the steps described below:
Steps
Explanation
Specify the type of trademark application
You can choose an application based on:

Use in commerce—This approach is for you if you have already used the specific mark for commerce. The use of your future trademark must be connected with the services you will specify in your application. You must also provide supporting evidence
Intent to use the trademark in the future—You should choose this option If you have not used the mark yet but plan to do it someday

Decide on the trademark classes you want to state in your application
Goods and services are sorted into 45 trademark categories. Choose the ones that match the nature of your business. Note that your trademark costs may increase if you assign more than one class to your services. Once you choose the categories, you cannot change them or add other goods/services
Complete a trademark application form
Here are the details your application must contain regardless of the format:

Personal info, including:

Legal name of the owner or company
Mailing address
Email address
Phone number
Fax number

Type of mark you want to register
Chosen trademark class
Visual depiction of the mark
Specimen—showing how the desired mark matches your goods or services
Paid application fee
Once you fill out the forms and pay the fees, you can file a trademark application online by using the TEAS Plus or Standard option.
Upon completing the procedure, you will get a serial number and a receipt containing a summary of your application.
Need To Register Your Trademark the Easy Way? DoNotPay Saves the Day!
Do you need a trademark but want to have the application simplified as much as possible? No worries—DoNotPay can guide you through the procedure in record time!
Forget about complicated instructions and bureaucratic hassle. All you should do is subscribe to our app and provide us with the most significant details about your trademark. We will:
Do an extensive clearance search to check if someone has already been using a similar mark
Complete the trademark application in your stead by collecting relevant info from you
Help you review and sign the application digitally and send it to the USPTO on your behalf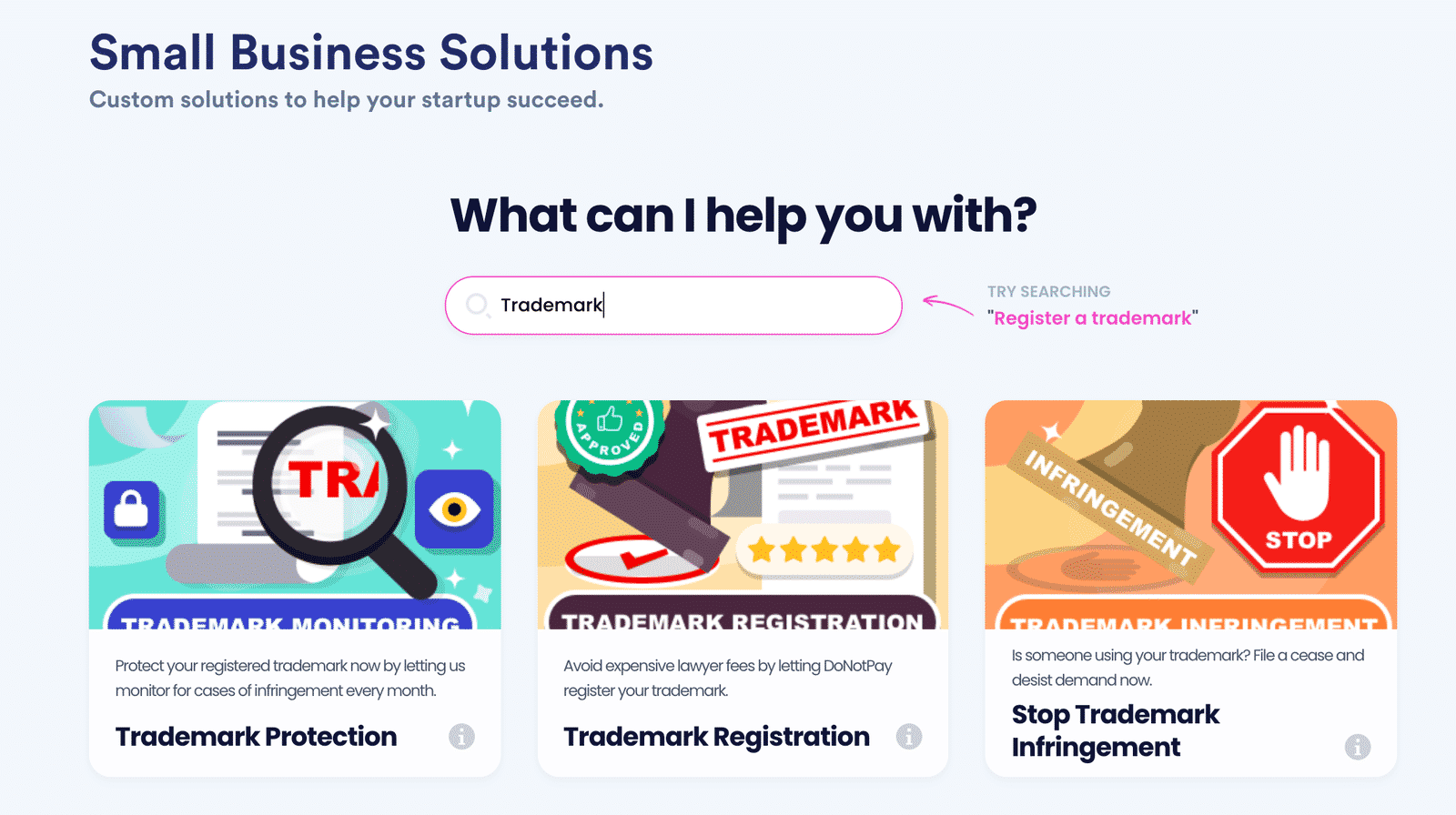 How To Register a Trademark With DoNotPay
Here are the prompts you should follow to apply for a trademark with our app:
Access DoNotPay from any browser
Choose the Trademark Registration product
Select the trademark class and provide:

Mark description
Evidence showing that you have already been using the trademark
Trademark owner info

Confirm that you have paid the required fees
Once we send your application, you will receive a tracking number to check its status whenever you wish!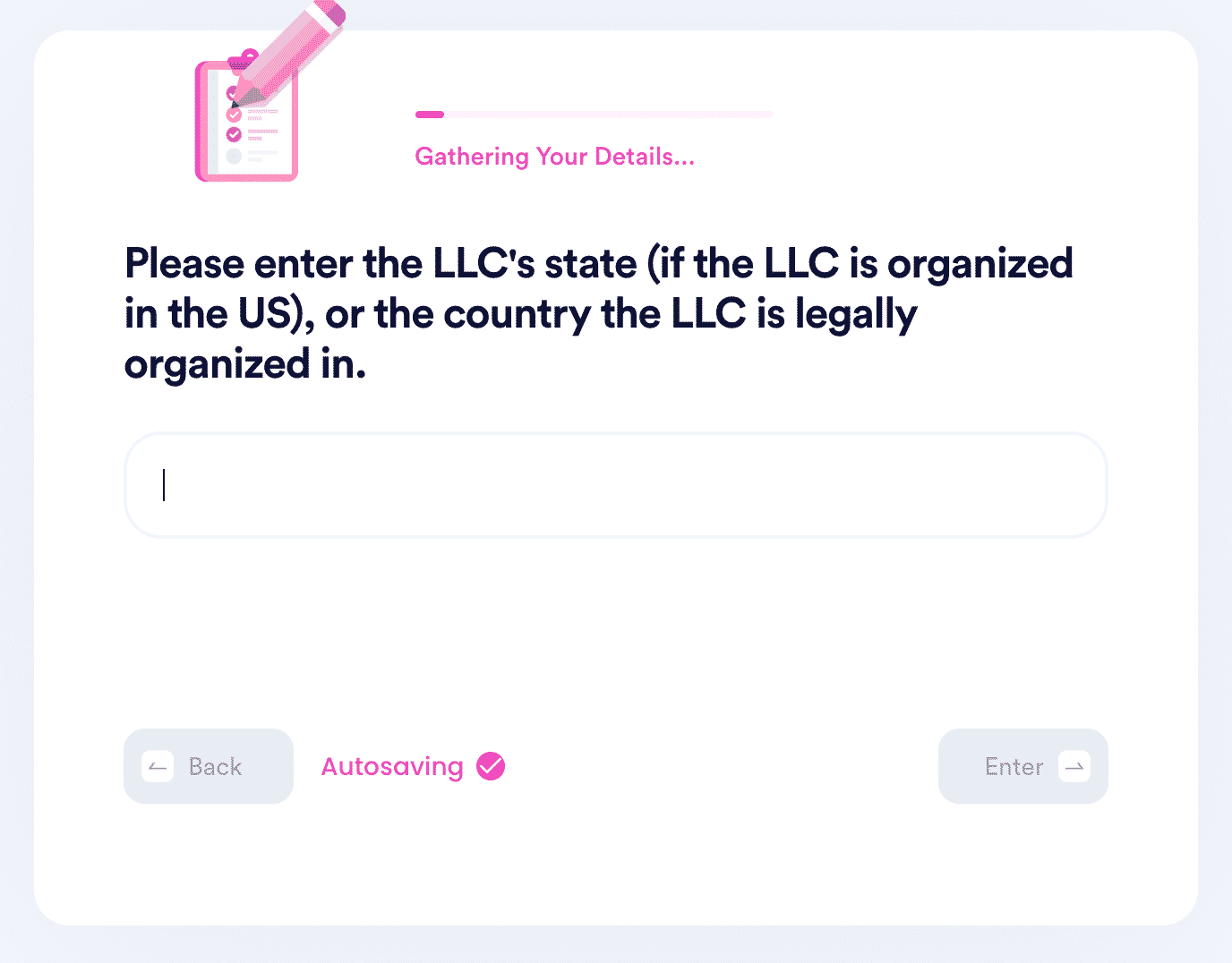 Do you need more info about trademarking? DoNotPay's learning center offers answers to the most common dilemmas, such as:
DoNotPay Helps You Raise the Bar in Business
Whether you are just getting started with your small business or are well into the game, DoNotPay can be your valuable assistant. We can help you manage various issues, such as:
Trademark infringement
Negative reviews
Suspicious chargebacks
You can focus on what is important while we take care of administrative tasks and problems.
Get More Done With Our Help
DoNotPay's features at your disposal are versatile. We can assist you in registering your DMCA agent with the U.S. Copyright Office so that you can avoid exorbitant copyright infringement fines. Thanks to our app, preparing and filing business loan applications will also be smooth sailing.
If you want to protect your slogan, logo, and company name, we will guide you through the trademark registration process. The Employer Identification Number (EIN) issuance is another procedure our app is able to assist you with.
Would you like to self-certify your business under the EU-U.S. Privacy Shield program? DoNotPay will complete and file the request in your stead. Our app can help take care of your employees, too. Use DoNotPay to create and submit 83(b) election forms to the IRS.
Is the pile of documents due to be sent getting bigger by the minute? Not to worry—your pocket assistant can mail and fax your documents with ease.