A Guide to the USPTO Trademark Identification (ID) Manual
Are you ready to register your small business trademark with the USPTO? In the application, you have to identify the trademark classes your products or services fall under. Besides specifying the trademark class, you should also provide a clear and concise description of each product or service listed in your application—but not all descriptions are approved. You can find the acceptable descriptions in the USPTO Trademark Identification (ID) Manual. In this guide, you will learn how to identify and describe your items correctly.
Want to pass the application work to someone else? can handle the entire process for you.
What Is the Trademark ID Manual?
The ID Manual is a web-based application provided by the United States Patent and Trademark Office (USPTO) to help trademark applicants search and classify their goods or services correctly. It includes several pre-approved descriptions of products and services used by other applicants and suggestions from the public.
How To Search the USPTO Trademark Identification (ID) Manual
To classify your goods or services correctly, you should search the USPTO Trademark ID Manual before filing your application since the number of classes listed in your application affects the level of protection you can get. The USPTO will allow you to correct the classification or narrow down the scope after submitting your application—but you can't add more classes.
Follow these steps to conduct your search:
Brainstorm the search terms that describe your products or services
Open the ID Manual
Type the terms in the search box on the main page and click the search icon
Sort the search results as desired by using the Sort By drop-down menu
Note the product/service explanations in the Description column
Explanation of the Results Table
You will get the results in a table. Here is an explanation of what each segment means:
Results Table Segment
Explanation
Term ID
This column has a specific ID number that leads to a brief for that term. You don't need to use the Term ID number in your application
Class
It shows the international class designated to certain goods or services. You can click on the class number to view what products it generally applies to
Description
The column shows the pre-approved identification of goods or services for your search term
Status
It denotes the status of that entry by any of the following letters:

A (added to the ID Manual and hasn't been modified)
M (modified after being added to the ID Manual)
X (an example of an acceptable entry)
D (deleted from the ID Manual and not acceptable)

Effective Date
The column shows the date on which the status was updated
Type
It indicates whether the description refers to goods or services
Notes
This column provides varying information about the description
NCL Version
It specifies the NCL classification version at the time the status took effect
How To File Your Trademark Application
The trademark protection law doesn't require the registration of trademarks. As a trademark owner, you acquire common law ownership rights when you start using the mark in commerce—but registered marks enjoy more protection than unregistered ones.
If you decide to go through with the process, the first step is searching the USPTO database for pre-existing marks that are similar to yours. It is not a formal requirement, but it can help you avoid many problems, like trademark infringement.
Applications are submitted online using the Trademark Electronic Application System (TEAS). The system offers two trademark application forms:
TEAS Plus
TEAS Standard
TEAS Plus
Filing your application with TEAS Plus requires you to use the descriptions exactly as provided in the ID Manual. When classifying your goods or services, the form will prompt you to enter a search term that is relevant to your items. Then, TEAS Plus will automatically show you the right class based on the ID Manual listings. You must pay $250 for every class.
TEAS Standard
When using the TEAS Standard form, you can pick identifications from the ID Manual or come up with your own. You can use this form if you can't find the right entry for your products or services in the ID Manual. It doesn't require you to use the exact wording provided in the ID Manual, as in the case of TEAS Plus.
This comes with problems of inaccurate identification, which results in a higher rejection rate of applications made using this form. TEAS Standard costs $350 per class.
File Your Application Easily Using DoNotPay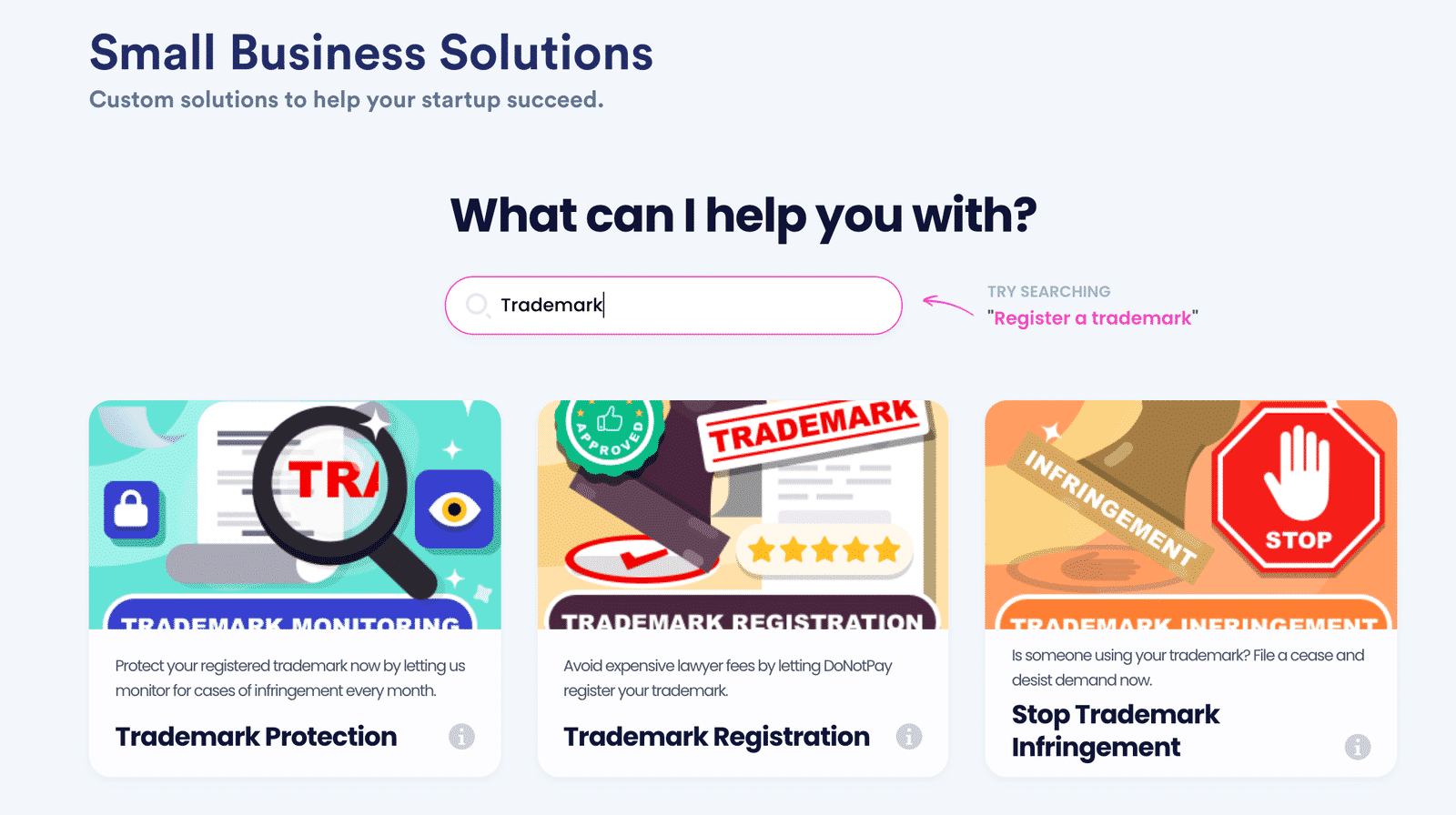 Getting accurate trademark identification in your initial application can be difficult, but it saves time. Even if your trademark qualifies for trademark protection, your application details can affect the fate of your application.
DoNotPay can help you minimize potential problems and deal with the application without delays.
Here is what you need to do:
Find the Trademark Registration tool
Tell us more about your mark
Pay the USPTO application fees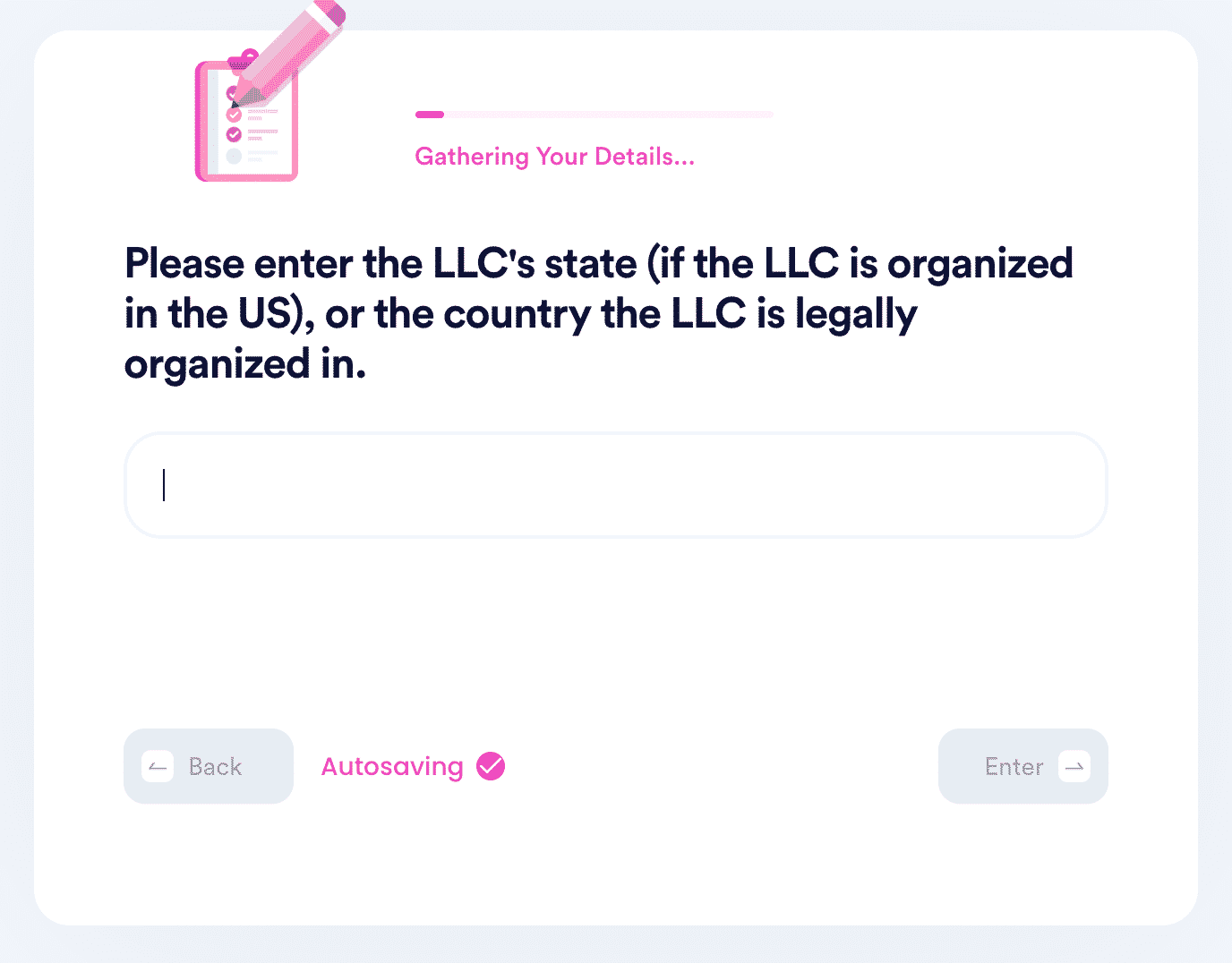 Copyrights vs. Trademarks
Do you need trademark protection? Before you assume your idea qualifies for trademark protection, check out the differences between different types of intellectual property protection:
Trademarks or service marks—Protect signs used in commerce to identify the products or services that belong to a specific brand, for example, logos, slogans, business names, etc. Trademarks can last forever as long as the mark is continuously used in commerce and the necessary renewal documents are filed on time
Patents—Protect original and unique inventions, for example, new machine parts or computer hardware
Copyrights—Protect various creative expressions, such as paintings, novels, music, etc.
Protect Your Brand Name and Build Trust With Your Users!
One of the most challenging aspects of every business is building a trusting relationship with the customers and maintaining a good reputation. That is why it is crucial to protect your business name, logo, and slogan legally by registering it as a trademark. DoNotPay is here to help you do that hassle-free with our Trademark Registration tool. Need help checking for trademark violations once you register? There is no need to fret as we have a tool that can help you with that as well!
Now that your trademark is taken care of, you should consider complying with data protection requirements to take care of your users' privacy. You can do so by using our Privacy Shield Self-Certification product.
Are you dealing with fake negative online reviews that are harming your business? DoNotPay can help you by analyzing the reviews and reporting them until they are taken down!
Time Is Money, and DoNotPay Can Help You Save Both!
DoNotPay offers an array of time-saving features that you can use when you do not feel like dealing with business-related challenges on your own. We can help you:
Apply for your Employer Identification Number (EIN) Registration in a few clicks
Help your employees lower their taxes by filing 83(b) election forms from the comfort of their offices
Enjoy free faxing and mailing services and save time by not having to go to the post office
Complete a DMCA agent registration process to avoid dealing with copyright violations
Write a convincing letter when filing for a small business loan
Do you need help dealing with clients who do not want to pay for your services? Use DoNotPay's Breach of Contract product to send a letter of demand in a matter of minutes! Not sure what to do with unfair chargeback requests? We can help you by creating a chargeback rebuttal document for you to send to your payment processor.