A Step-By-Step Guide to Filing a USPS Insurance Claim
If your insured United States Postal Service shipment is lost or damaged, you can file a USPS insurance claim. DoNotPay can help you claim USPS insurance and get your money fast. Besides assisting you in filing an insurance claim, our platform can also help you request a USPS refund and file your USPS FOIA request.
About the USPS Insurance
To protect your USPS shipment, you should consider purchasing USPS insurance. You can buy it online or at the closest post office.
Standard Shipping insurance allows you to protect most items for up to $5,000 and get reimbursement if the items get lost or damaged. If your shipment is insured for over $500, the recipient will probably have to show his or her ID when receiving mail (Insurance Restricted Delivery).
The following items are covered automatically since the price of postage also includes insurance:
Automatically Insured Items
Coverage
Limits
Priority Mail Express

Up to $100

$100 for document reconstruction

$100 for merchandise

$15 for cash

Priority Mail

Up to $100

Merchandise only

$100 when you buy the postage through Permit Imprint submitted by:

MMS

eVS

ePostage

PC Postage

$50 when you buy the postage through:

Retail

PC Postage (Commercial Base)

Package intercept

Click-N-Ship

Meters
You can purchase additional coverage if the item's value is higher than $100 but lower than $5,000. Additional insurance is available for merchandise only.
Which Items Are Eligible for Insurance?
Here's an overview of the items that are eligible for insurance and those that aren't:
Eligible Items
Ineligible Items

Priority Mail

Priority Mail Express

First-Class Mail (merchandise only)

First-Class Package Service-Commercial

USPS Marketing Mail

Parcel Select Lightweight parcels

USPS Retail Ground

Parcel Select pieces

Package Services:

Library Mail

Media Mail

Bound Printed Matter

Official government mail endorsed

Postage and Fees Paid

Items that are too fragile

Packages containing products offered for sale sent to recipients who haven't ordered it

Perishable or prohibited articles

Mail or packages without the sender's and recipient's complete name and address

First-Class Mail and Priority Mail correspondence

USPS Marketing Mail
Post Office Insurance Claim
Fees
If you want to purchase USPS insurance, you'll need to pay fees with your postage. The amount you need to pay depends on the declared value of the item in question. You can check out the USPS pricing page to find out more about the fees.
In case your item is insured for over $500, you will have to pay $5.30 for the Insurance Restricted Delivery fee.
You can purchase the USPS insurance for international shipments as well. The International Insurance section of the USPS pricing page has all info you need regarding the fees.
How To File an Insurance Claim With USPS
You should file a claim within 60 days of mailing the shipment if it was damaged when the recipient got it or if it never arrived at the destination. You can file an insurance claim with USPS in two ways:
Online

By mail
How To File a USPS Insurance Claim
Online
To file a claim online, complete the Insurance Claim form. You will need to provide proof of value and insurance.
How To File a USPS Insurance Claim by Mail
If you prefer a more traditional method, you can request the insurance claim form by mail:
Call the USPS customer support at

1-800-332-0317

Ask them to send you a Domestic Claim form

Fill out the form

Send the form, proof of value, and proof of insurance (you'll see the address on the form)
The USPS customer support's working hours are Monday–Friday, from 6 a.m. to 6 p.m.
File a USPS Insurance Claim
the Best Way Possible—With DoNotPay
Do you find the USPS insurance too complicated to claim? DoNotPay has a solution for you. We offer a user-friendly service that will help you file a USPS insurance claim in less than two minutes:
Access your

account

Choose the insurance type

Provide required info

Tell us why you want to file a claim and describe the issue you're facing in detail
We will fill out the necessary documents and file a claim for you. With our help, you can take care of numerous insurance claims, including: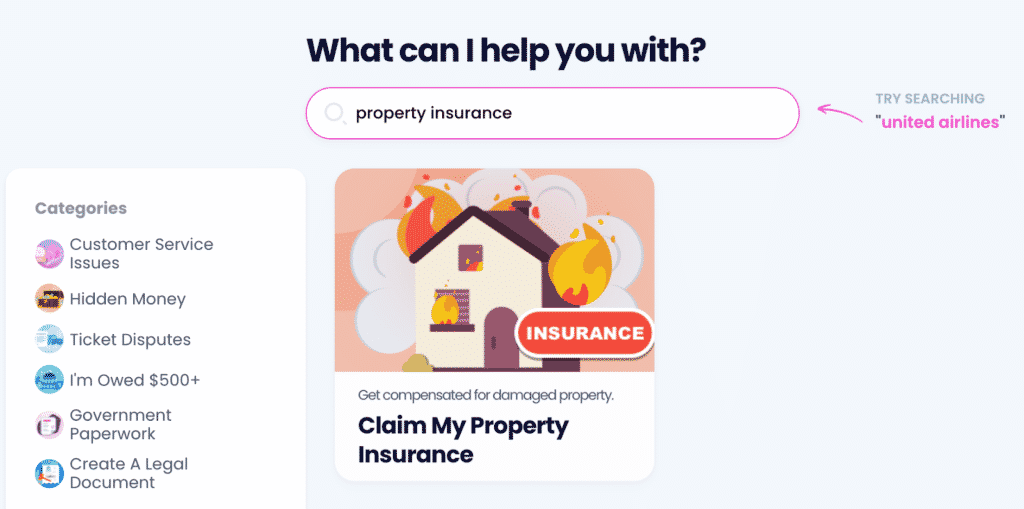 DoNotPay can also help you deal with any insurance company, such as Progressive, National General, and Alliance United.
DoNotPay Helps Appeal a Denied Insurance Claim
If USPS denies your claim, can help you out. You can use our Appeal Denied Insurance Claim option to file an appeal letter and get justice.
USPS Insurance Claim Process
Explained—What Happens When You File a Claim
Once you submit your insurance claim, the USPS will decide whether to:
Pay full or partial insurance amount

Deny your claim
You can check your USPS insurance claims status in the Claim History field of your account. If the USPS approves your claim, you'll receive a payment within seven to ten business days from the date of approval.
Non-Payable
USPS Insurance Claims
In some cases, the USPS has the right to refuse to pay for an insured item. Your USPS insurance claim won't be approved if you:
Can't provide evidence of insurance coverage

Didn't write the correct or complete names and addresses of both the sender and recipient

Didn't wrap the item for protection

Sent the items for sale without the recipient's consent

Mailed perishable contents that melted, froze, or spoiled in the mail
You can find a full list of non-payable insurance claims on the USPS website.
DoNotPay Can Do Your Paperwork for You!
Feeling like you're in bureaucratic hell? Our robot lawyer will draft the paperwork you need and get you out of any hurdle before you know it!
We can compose most of the documents that you require for any administrative purpose in your jurisdiction, most notably:
More of What We Can Do for You
Our multifaceted app can call and record the conversation with the customer service of the company that just won't let you go! If you are having trouble canceling an unwanted service via the traditional channels, use DoNotPay to get it over and done with!
We can help you stop the persistent robocalls and robo texts from the nagging company and request a refund for unused services in a matter of minutes.
We'll also lend a helping hand in stopping spam mail—whether it's electronic or paper. Our Spam Collector product unsubscribes you from unwanted emails and cleans up your physical mailbox too!