All About Protecting Your Used Car With a Warranty
A new car usually comes with the manufacturer's warranty, but nothing is simple with used cars. Their original warranties may not be transferable or may have already expired. If you want to protect a used vehicle, you need to buy a new warranty policy. 
Not every company can provide the desired quality and meet your needs. For this reason, educating yourself about purchasing the right one is of utmost importance. Our guide will show you the best ways to protect your used vehicle and file warranty claims with ease.
How To Know if You Need a Used Car Warranty
Before you decide to look for a used car warranty provider, find out whether you need to spend money on a new policy or not. Check out the table below for more details:
| | |
| --- | --- |
| Question | Explanation |
| Is the used car still under its original warranty? | If the vehicle you are purchasing is still under the manufacturer's warranty, you may not need to buy an additional one. Original policies usually cover vehicles until they reach 36,000 miles on the odometer |
| If yes, what does the existing coverage include? | In case the existing warranty is transferable, you can check the coverage with the dealer. If necessary, ask questions and learn all about the included repairs and services |
| What does the Buyers Guide say? | The Buyers Guide is a document that contains warranty info for any used car on sale. It usually includes repair costs info and other valuable details related to the car in question |
| Is that particular car model prone to bigger issues or breakdowns? | Car dependability is crucial for determining whether the additional warranty is worth buying. If the reviews state the vehicle model isn't likely to face serious breakdowns, it may be an unnecessary expense |
Tips for Getting a Warranty on Used Cars 
Once you decide you need a regular or extended warranty for your used car, it's time to learn how to find the right one. Here are several handy tips you can use while considering potential providers:
Define the desired warranty features

. Think about the price, coverage, and additional benefits you need from a warranty policy. You should know what you need before you start searching for the best deal

Choose third-party warranty providers rather than dealerships

. Third-party companies usually offer more affordable and comprehensive packages. They are more flexible and won't limit you to the authorized dealership repairs

Find the best providers on the market and compare them.

Check out the reviews from reliable sources and pick several companies with the highest rank. Compare the prices and offers, and pick the one which suits your needs
The Most Popular Used Car Warranty Companies
The following table shows the top three leading companies that offer great used car warranty plans:
Company
Features

Flexible payment

24/7 roadside assistance

Highest customer satisfaction rating

Transferable plans

Five different coverage levels

Reasonable prices and flexible payment methods

Great customer service

Direct contact with the provider

Specially designed plans for high-mileage vehicles
How To Claim a Used Car Warranty With DoNotPay
Regardless of the company you choose, it's important to know the best way to file a claim once it's necessary. In most cases, claim procedures include numerous complicated steps, but you can avoid them with DoNotPay.
Our app makes it simple to file a claim for any car or home warranty in short order. Once you open DoNotPay in any web browser, follow these steps to use our feature:
Pick

Claim Warranty

and select

Car Warranty

Specify if you have an original or extended warranty

Enter the name of your provider and explain the issue in detail
After you submit these details, we will compose a claim letter in your name and send it to your provider. You won't need to hire a car warranty lawyer or deal with bureaucracy—we do all the work!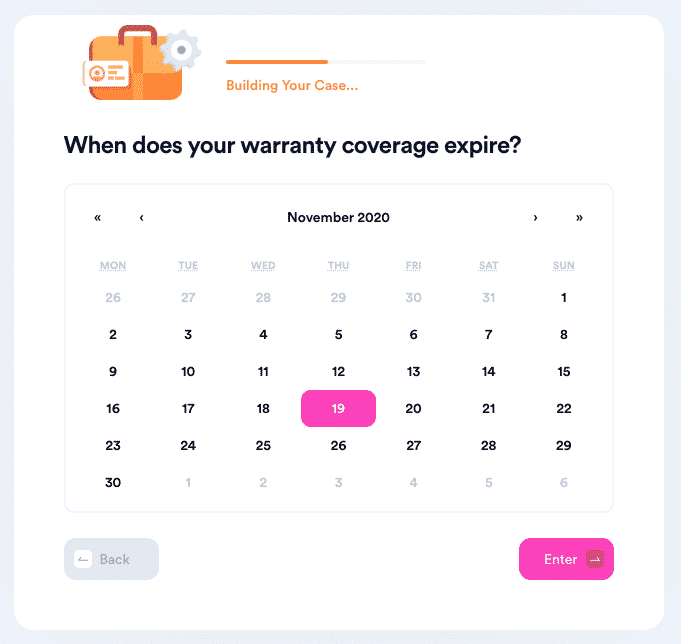 Appeal a Rejected Warranty Claim in a Snap With DoNotPay
Our app can help you turn the situation to your advantage if the provider rejects your claim or refuses to cancel your warranty plan. We have come up with an amazing service that files an appeal in your stead. 
Here's how you can do it:
Open DoNotPay and pick

Claim Warranty

Select

Car Warranty

and choose between

Product Manufacturer

and

Extended Warranty Provider

Tell us more about the provider or manufacturer and provide us with a copy of the rejected claim
DoNotPay will make sure your appeal gets forwarded right away, and you can expect the provider to reach out to you soon after.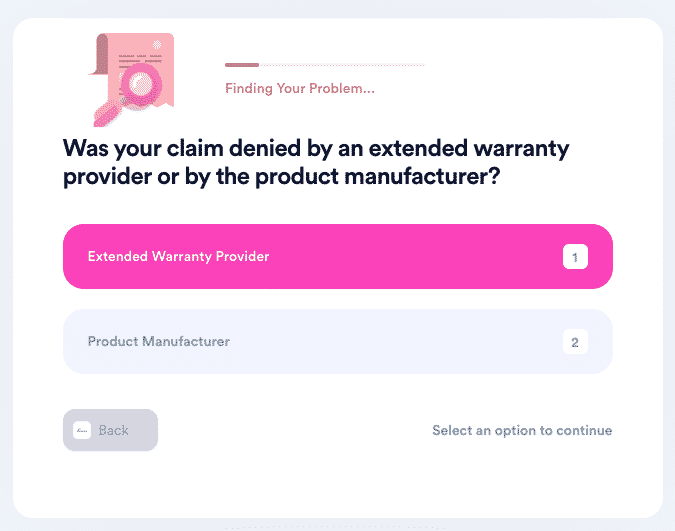 DoNotPay Has Much More To Offer
Besides resolving used car warranty issues, our app can give you some valuable advice on filing a claim with manufacturers, such as Honda, Nissan, General Motors, Mercedes Benz, and many more. 
Home warranties in America are another topic we cover—find out more about the most popular home warranty providers and reviews in the blink of an eye!
We have much more to offer—visit DoNotPay in any web browser and learn how to:
Avoid traffic citations

Fight speeding citations