How Do U.S. Bank Small Business Loans Work?
The U.S. Bank is a leading loan provider for businesses of all sizes, including small to medium-scale ventures. The wide range of funding programs can accommodate diverse needs—from equipment financing to startup costs.
In this article, we'll tell you everything you should know about the U.S. Bank small business loans, including:
What the qualifications are
How to request funding using DoNotPay no matter what your budget needs are
What Type of Loans Does the U.S. Bank Provide?
If you are interested in acquiring a U.S. Bank small business loan, some of the most popular programs include:
Business term loans
Business line of credit
U.S. Bank Quick Loans
Business Term Loans
Term loans are the most common type of financial aid for small businesses. Once you get approval, you are free to use the acquired capital to cover miscellaneous expenses, such as:
With the U.S. Bank, you can request a maximum amount of $1 million and pay it back with fixed monthly payments. The interest rates are fixed, and you will most likely have to provide collateral.
Lines of Credit
Lines of credit function similarly to a regular credit card. The bank provides you with a pool of funds instead of lending you a lump sum. You make withdrawals until you reach the credit limit, after which you reimburse the amount you have spent.
The U.S. Bank offers three different line of credit programs:
Cash flow manager line of credit—up to $250,000
Business equity line of credit—up to $500,000
Business line of credit—up to $500,000
Equipment Financing
Equipment financing is one of the best U.S. Bank small business loans in terms of flexibility and overall perks. You can request a loan of up to $500,000 and expect the first payment within 90 days.
The U.S. Bank also doesn't limit the amount or type of equipment you can get with a single contract. Here's a list of equipment you can finance with this loan:
Medical and veterinary equipment
Dental equipment
Manufacturing and construction equipment
Commercial vehicles
Computer hardware and software
Furniture
Fixtures
Equipment loans can finance a whopping 125% of the costs once you factor in the soft costs (e.g., shipping, installation, and maintenance). As for the loan terms, you can repay the borrowed sum with monthly, semi-annual, or seasonal payments.
U.S. Bank Quick Loans
If you don't have time to wait for a traditional bank loan, the bank's Quick Loan program might be the right choice for you. The key features include:
Maximum amount of $250,000
Loan terms of up to 84 months
Competitive fixed rates
Monthly repayment
Note that the program is only available for businesses working for at least two years. If you are specifically looking for startup capital, you should turn to other U.S. Bank small business loans.
Does the U.S. Bank Offer SBA Loans?
The U.S. Bank is on the list of Small Business Administration (SBA) providers and offers several SBA programs. Refer to the table below for an overview of currently available loans:
SBA Loan
Maximum Amount
Interest Rate
Loan Term
SBA 7(a) loans
$5,000,000
Base rate + spread (2.25%–4.25%)
Up to 25 years
SBA 7(a) real estate loans
$5,000,00

*additional $2 million direct funding from the U.S. Bank

Same as SBA 7(a) loans
Up to 25 years
SBA disaster aid loans
$2,000,000
Fixed rate of 3.75%
Up to 30 years
COVID-19 Economic Injury Disaster Loan (EIDL)
$2,000,000
Fixed-rate of 3.75%
Up to 30 years
SBA 504 loans
$5,000,000
Fixed-rate (2.81%–4%)
10–25 years
How To Qualify for a U.S. Bank Small Business Loan
To qualify for a U.S. Bank loan, you need to:
Check whether there is a U.S. Bank location in your area
Open a U.S. Bank business checking account if you haven't already
Have good credit (a 650+ FICO score)
Gather the necessary legal documents (licenses, income tax returns, etc.)
Provide several financial statements (balance, profit to loss, and cash flow)
Sign a personal guarantee
Request a Small Business Loan With DoNotPay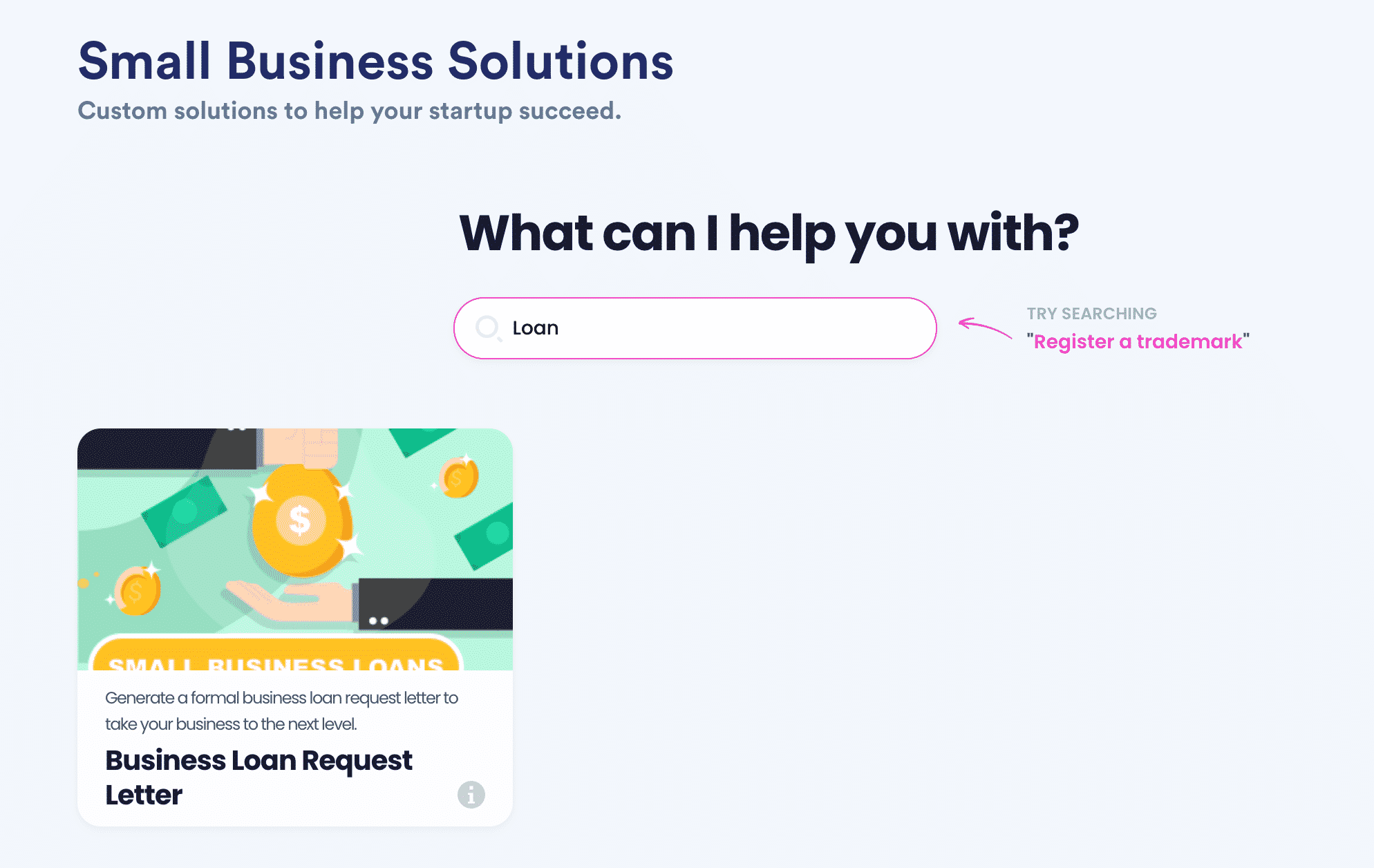 If you're looking for a quick and easy way to apply for a U.S. Bank small business loan, DoNotPay is the answer! Our AI-operated app can walk you through the entire application process with a slew of user-friendly features.
All you have to do is:
Select our Business Loan Request Letter product
Answer a series of questions about your business and the desired loan
Upload the necessary documentation
DoNotPay will generate your loan request letter based on the paperwork and send it directly to the U.S. Bank for review!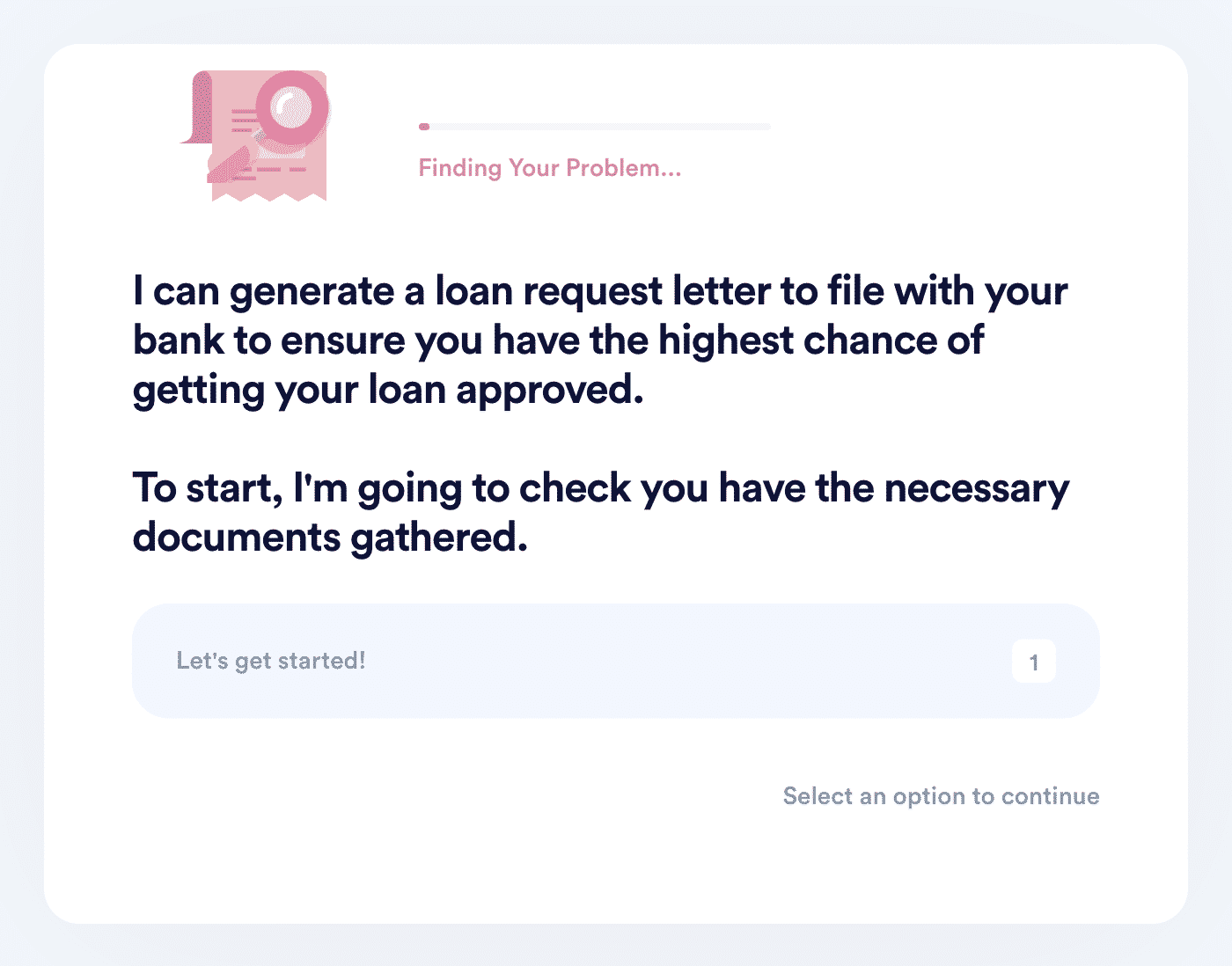 In case you don't have a U.S. Bank branch office in your area, don't worry! We can help you find an alternative loan provider with our Find Online Business Loan Lender feature. The algorithm will search through all available lenders—from other banks in your area to credit unions and non-profit organizations—and pick the best option for your business.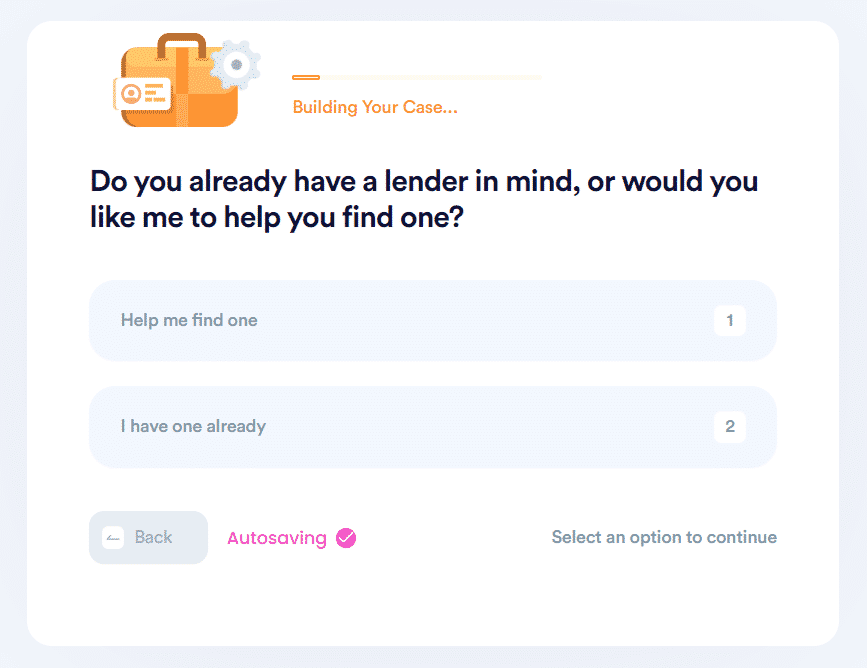 Don't Let the Complex Procedures Stress You Out! Rely on DoNotPay and Run Your Business Like a Pro!
DoNotPay has created a plethora of simple-to-use features that will help you run your business the best way possible. Here are some aspects we can help you take care of:
Registrations
Legal Documents

Get an Employer Identification Number (EIN)
Register a DMCA agent to avoid copyright violations

Send a cease and desist demand if someone is using your trademark
Draw up a watertight letter requesting a loan for your business
Draft a demand letter to send to a client who refuses to pay you
Get a customized chargeback rebuttal letter and fight unfair chargeback requests hassle-free
What Else Does DoNotPay Have in Store for Your Business?
You can use our app to resolve many other business-related issues. DoNotPay can help you deal with fake reviews that are ruining the reputation of your business by analyzing the harmful review and figuring out the best way to go about it.
Do you wish to protect the privacy of your clients and prevent their data from being collected while they are on your website? Use our app to file a self-certification request with the Privacy Shield program.
If you need help automating the filing of 83(b) election forms, DoNotPay has the right solution for you and your employees or shareholders! With our app, you will be able to finish the entire process with a few clicks.
Another perk of using our app is that we can help you fax and mail any documents or letters without having to leave your home or office.
DoNotPay will help you handle all your business tasks in the blink of an eye!