Everything You Should Know About USAA Insurance Claims
The United Services Automobile Association (USAA) is a Texas group of financial services companies. USAA has more than 20 subsidiaries and members, like the Texas Department of Insurance. It offers banking, investing, and insurance options to people and families who serve or served in the United States Armed Forces.
Besides auto and vehicle, the company offers home, life, medical, and other types of insurance.
If you are considering or already have USAA insurance, it is beneficial to prepare for filing insurance claims, and DoNotPay has all the information you need.
What Types of Insurance Does USAA Offer?
USAA is best known for its vehicle insurance. If you choose to insure your car with USAA, you can choose between various coverage options, including:
Comprehensive coverage

Collision coverage

Liability protection

Uninsured and underinsured motorist coverage

Full coverage

Personal injury protection

Roadside assistance
You can find other types of insurance USAA offers in the following table:
Type of Insurance
What Does It Include?

Auto and vehicle insurance

Auto

Motorcycle

Motorhome

Boat

Classic car

Home and property insurance

Renters

Homeowners

Condo

Mobile home

Flood

Rental property

Umbrella

Farm and ranch

Collectibles

Valuable personal property

Life and health insurance

Life

Dental

Vision

Medicare

Major medical

Long-term care

Additional insurance

Pet

Travel

Aviation

Small business

Special events

Mobile phone protection

Personal and commercial bonds
What Are the Requirements for Filing USAA Insurance Claims?
Before filing an insurance claim with USAA, you should gather some information, including:
Full name of the policyholder

Policy number

Details about the

accident

Reasons for filing a claim

Photos of the damages (if available)
You can find additional requirements for different insurance types on the USAA website.
How To File USAA Insurance Claims on Your Own
Whether you want to file USAA auto, renters, or any other insurance claim, you can do it:
How To File a USAA Insurance Claim Online
If you choose the online option of filing USAA insurance claims, you can do it with the USAA mobile app or on the website.
To use the USAA app, you have to:
Download the app from

GooglePlay

or

App Store

Make an account

Enter the required information

Upload photos provided you have some

Follow the instructions

Submit the claim
Here's what you need to do to file a USAA insurance claim on the website:
Go to the company's website

Click on the

Claims

tab

Choose the insurance type

Select

Report a Claim

Add contact and policy information

Explain what happened

Enter the reason for your claim

Upload photos if they are available

Submit the claim
How To File a USAA Insurance Claim Over the Phone
If you prefer discussing your insurance issues over the phone, here's how to do it:
Dial

800-531-USAA

or

800-531-8722

Provide the representative or insurance agent with details about your policy

Describe the accident or event that occurred

Start the claim filing process
Let DoNotPay Help You File a USAA Insurance Claim
If you think you deserve your insurance money but don't want to go through the overlong and tiring process of filing a claim, we have a solution for you!
DoNotPay created a Claim Insurance service to help people deal with the intimidating process of submitting insurance claims. With our help, you can file claims for all the major insurance types, including:
Medical insurance

Home and property insurance

Auto and vehicle insurance, including

third-party insurance
How To File USAA Insurance Claims With DoNotPay
We put our clients' needs first! That is why our Claim Insurance service is so easy to use.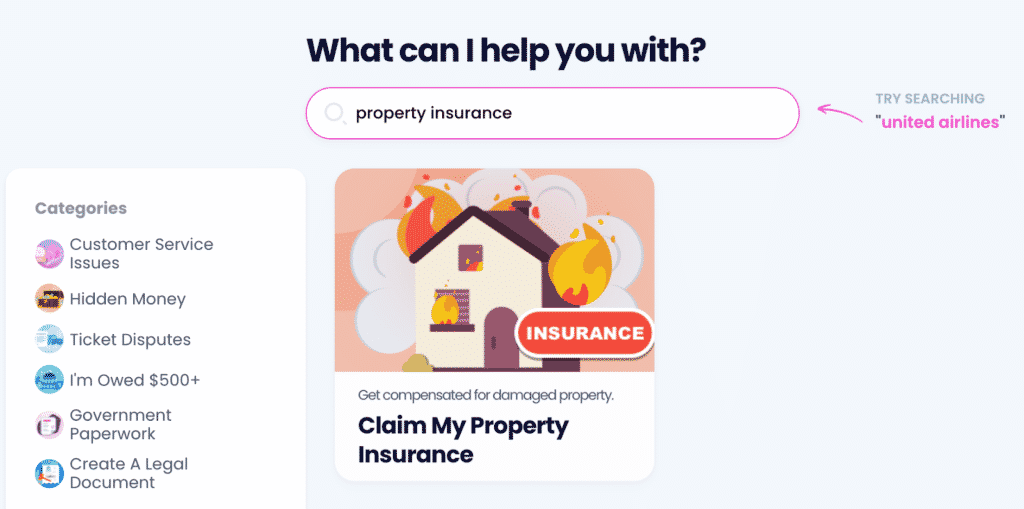 After accessing DoNotPay from a , follow these steps to file a USAA insurance claim:
Find the type of insurance you're submitting a claim for

Enter

USAA Insurance Company

in the search box

Add contact information and policy details

Explain the reasons behind your claim and provide details about the incident
Once you hit the Submit button, we will create a claim letter in your name and send it to USAA.
What To Expect After Completing the USAA Insurance Claims Process
Once you submit your claim, it will automatically be assigned to a claims representative. Depending on the circumstances you described in your claim, the USAA representative may contact you requiring additional details, information, or photos of the damaged car or property.
You can contact your claims representative or check your claim status on the company's website at any time.
When Will I Get the Results of My USAA Insurance Claim?
How much time the representative will need to process your claim and inform you about the decision is not strictly defined. It depends on various factors, including:
Quality of your claim

Details you included in the claim

Injuries associated with the accident
Did USAA Reject Your Claim? DoNotPay Will Help Their Decision
Insurance companies are no strangers to claim rejections. They seek the most trivial reasons to appeal insurance claims. Don't let that stop you! DoNotPay has another fantastic feature created to appeal such decisions. You can rely on and the Appeal Denied Insurance Claim feature to compose the best appeal letter and take what is rightfully yours!
Your Online Safety Is Our Priority
The benefits of the internet are numerous, but so are the opportunities for scams of all kinds. DoNotPay can help you fight scammers left and right with easy-to-use features, highly customizable to match your needs.
Our app can provide invaluable resources for fighting:
If you're an avid online shopper, we have your back. In case something goes wrong, we will help you contact customer service without holding, request a refund, or even sue the company in small claims court.
Diversity Is Our Middle Name
DoNotPay doesn't stop at online safety. Do you need to set up an appointment at the local DMV, but keep procrastinating because you know how awful the lines are? Are you a prospective college student trying to save on application fees? Have you lost track of all unnecessary subscriptions and memberships that keep draining your bank account?
If the answer is yes, DoNotPay is the right platform for you. Whether you're preparing for government-issued tests or looking for ways to lower your bills, our app will be of assistance.