US Embassy Manila Address + More!
If you're looking to know where the U.S Embassy in the Philippines is located, what it does, and how you can reach them - you've found the right place! This guide will help you get in touch with the U.S Embassy in Manila. After reading, you'll know the answers to these commonly asked questions about the embassy:
How do I make an appointment with the U. S Embassy in Manila?
How can I contact the U. S Embassy in Manila?
What consular services does the U. S Embassy in Manila offer?
Is there a swifter way to reach the U. S Embassy in Manila?
The U. S Embassy in Manila
The U.S Embassy in Manila, Philippines is the official diplomatic outpost of the U.S in the Southeast Asian nation of the Philippines. The embassy serves over 200,000 U.S citizens living across the 146+ cities of the Philippines. It also oversees the US Consulate in Cebu.
The U. S Embassy in Manila: Address and Location
Recently, the U. S Embassy opened a new annex close to its main office at 1201 Roxas Boulevard, Manila, Philippines. It's a few minutes walk to the embassy and there are quite a few diplomatic and consular services that are carried out at both centers.
If you are arriving from the Manila International Airport, it is a 15-minute drive through the Roxas route, which is the fastest way available. You'll have to keep Southwest towards Route 63, Ninoy Aquino road, and navigate into Roxas Boulevard before making a left towards the embassy.
How Can I Contact The U. S Embassy in Manila?
See below for some ways you can get in contact with the U.S Embassy in Manila and book an appointment for consular services:
Address
1201 Roxas Blvd, Ermita, Manila, 1000 Metro Manila, Philippines
Email
N/A
Phone
(632) 5301-2000
Fax
(632) 5301-2017
Office Hours
7:30 AM - 4:30 PM

Monday to Friday
Do kindly note that the embassy still observes strict COVID-19 procedures and you will have to mask up and maintain social distancing while visiting. You may not walk into the embassy without an appointment. You can use any of the following contacts or other quick and effective contact tools to secure an appointment before visiting.
Consular Services Provided At The U.S Embassy, Manila
Here are some of the diplomatic and consular services that you can get at the U.S Embassy in Manila, Philippines.
Visa services
The consulate offers two broad categories of visas:
Migrant visas: These are classes of visas for people looking to move to the U.S for a significant period. They undertake a certain endeavor or choose to stay for a long period of time. Examples are:
Family-based migration visa
Employment-based migration visa
Diversity visa
Fiancee visa
Returning resident visa
Non-migrant visas: These visas are for people seeking to enter the U.S to undertake a specific endeavor for a short period and leave. Here are some of them:
Business visas
Tourist visas
Diplomatic and official visit visas
Visas for professionals, artists and performers, athletes, and other industry specialists  
Passport services
The embassy also issues new passports if they have been misplaced or stolen, and helps renew old or expired passports. You can also get a new passport for children and adults for the first time, as well as request an emergency passport.
Registration services
All U.S citizens who travel to the Philippines, either for a short or long stay, are advised to register with the embassy. Children born in the Philippines to U.S parents are also required to be documented as U.S citizens at the embassy.
Notarization services 
At the embassy, you can perform notarization and apostille services for documents of U.S origin to be used in the Philippines. Presently, the embassy does not perform marriage legalization services for U.S citizens in the Philippines as they are encouraged to have it done locally.
Other Services
As a U.S citizen, you can also apply for financial help, file your taxes, get your social security issues sorted out, and take part in a US election through the embassy in Manila.
Contact the US Embassy in Manila - Fast with DoNotPay
DoNotPay offers a fast, reliable, and efficient contact product to help you reach hundreds of embassies across the world, including the U.S Embassy in Manila, Philippines. With DoNotPay, you make great savings on transportation costs and reduce unnecessary time wasted. Here's how to use DoNotPay to contact the embassy in Manila:
1. Type in "embassy" in the search bar on the DoNotPay app or website.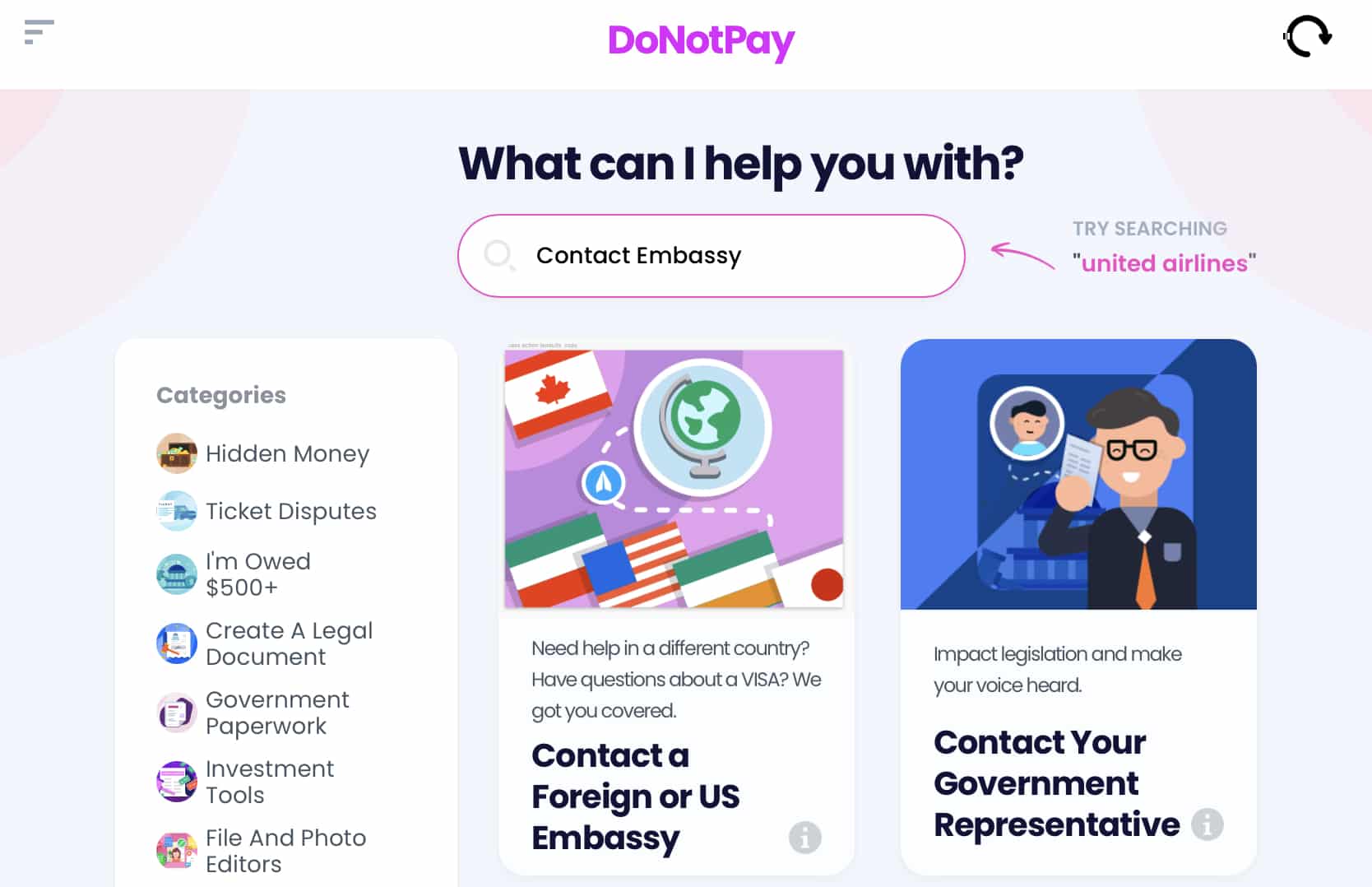 2. Select the choice "US Embassy Abroad".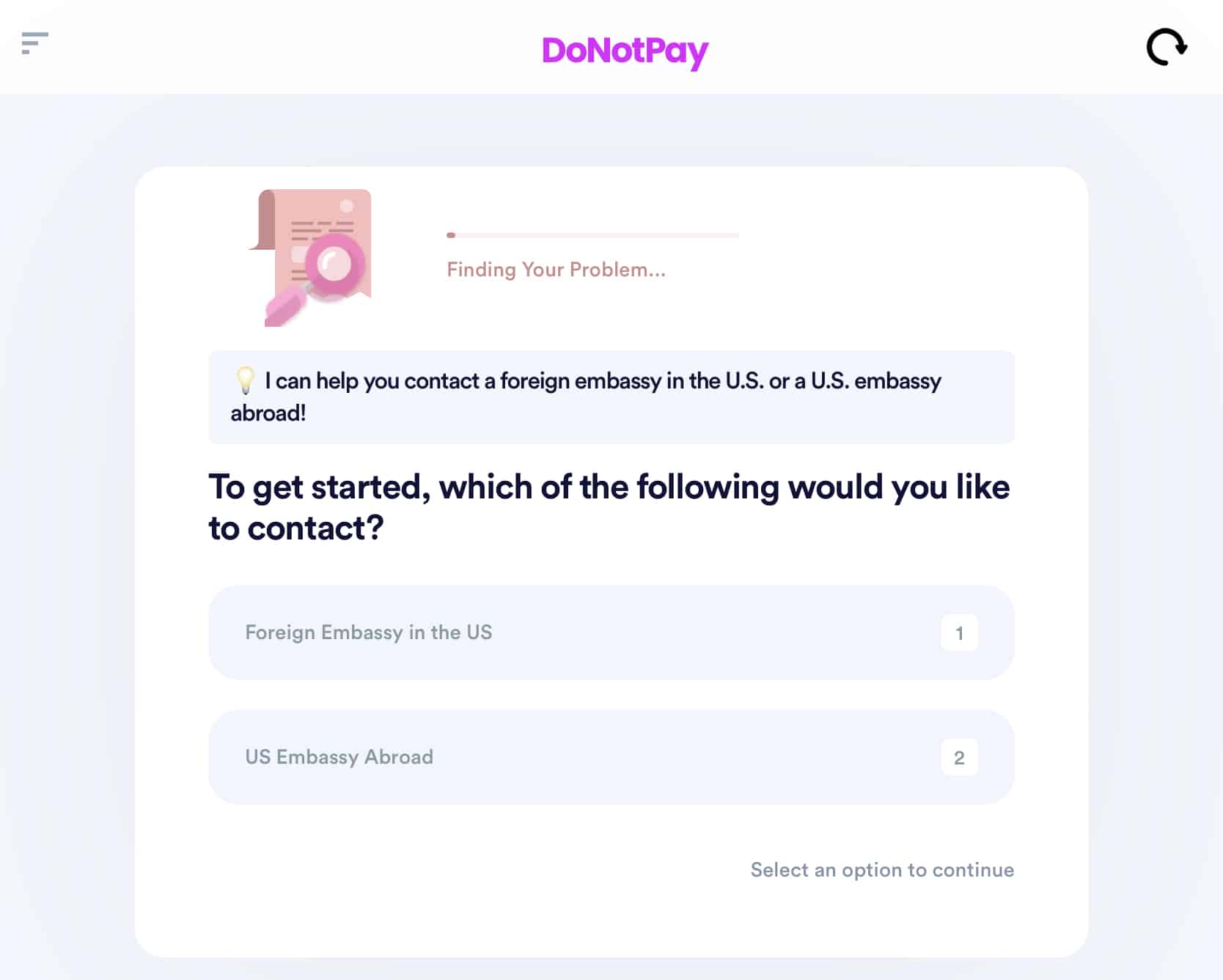 3. Give a detailed explanation of your situation and request information from the embassy.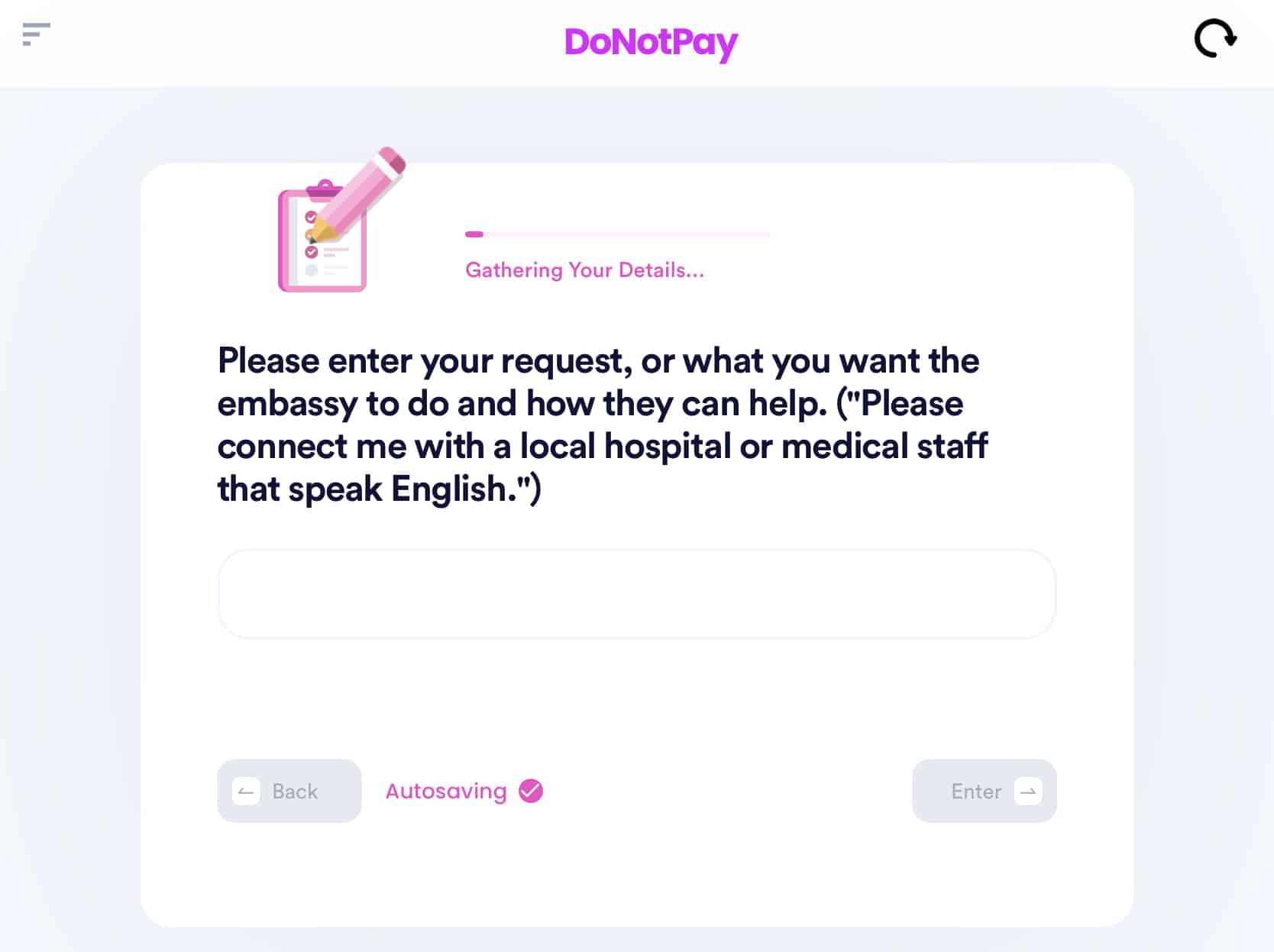 4. Tell DoNotPay which country/city you are hoping to reach.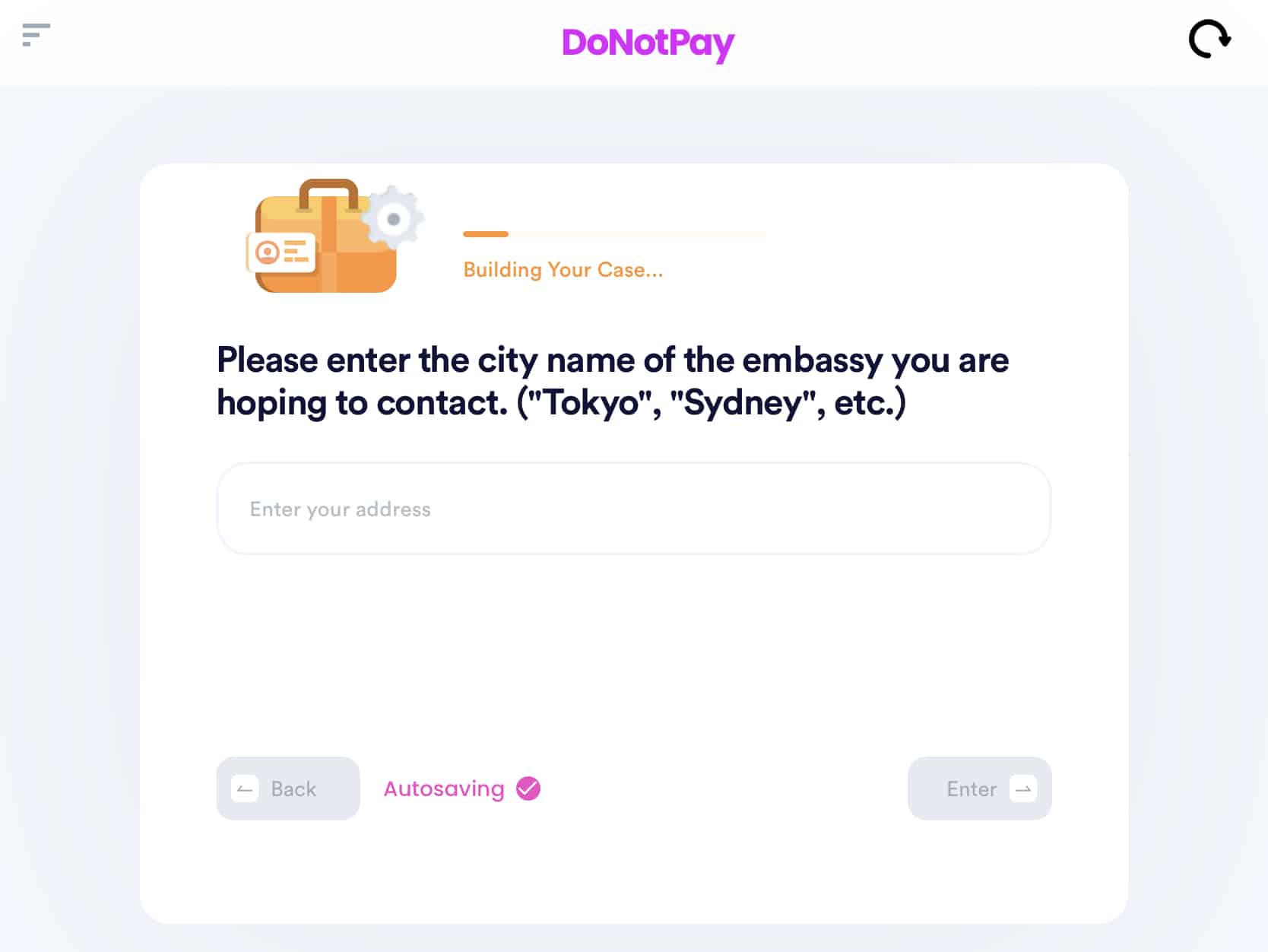 Now that was quick, right? After you're complete, DoNotPay will take care of the heavy work for you. Just wait for a response to your email from an embassy representative!
Other US Embassies DoNotPay Can Contact: