US Embassy London Phone Number
Sometimes, it can be a headache finding the contact information of different embassies around the world. The complaints often received are how embassy contact details turn out incomplete, unreachable, or unresponsive altogether.
In this special article, we've put together a comprehensive, up-to-date list of the US Embassy in London's contact details. Glance through the remaining sections to:
Know the location of the US Embassy in London.
Get current contact lines for US citizens currently in the UK and those looking to call the embassy from the US
Find a better solution to get through to the US Embassy in London
About The US Embassy in London
The US Embassy in London is the head of all US diplomatic services in the UK, serving hundreds of thousands of US citizens living in the UK Before moving to its current office on Nine Elms Street, the embassy operated in the iconic 9-story Grosvenor Square edifice, which housed the embassy for over 50 years.
See the section below for the many ways you can get in contact with the US Embassy in London!
Contacting The US Embassy in London
There are several ways you can reach the embassy. We've put together some contact details in the table below:
Address
33 Nine Elms Lane

London, SW11 7US

United Kingdom

Email
N/A
Phone
(44) (0) 20 7499 9000 (for general consulate contact)

011 44 20 7499 9000 (emergency line for persons outside London)

(0) 20 7499 9000 (emergency line after official working hours)

Fax
N/A
Office Hours
8:00 AM - 5:30 PM

Monday to Friday
What Can The US Embassy in London Do For Me?
At the US Embassy in London, there's a lot you can do, especially if you are looking to travel to the US. There, you can get:
Visa services
The first step to take when planning a trip to the US is to know what visas you qualify for, based on your purpose of visit and the planned period of stay. The US issues both migrant and non-migrant visas. Migrant visas are all classes of visas that permit you to stay in the US for a lengthy period while you undertake your endeavors. Some types of migrant visas are:
Study visa
Fiancee visa
Spouse and Children visa
Non-Migrant visas permit you to enter the US for a short time and undertake a specific purpose. Most non-immigrant visas are usually on invitation by another party already a resident in the US and looking to make use of your skills, service, talent, or expertise. Common examples are:
Athlete and sports personnel via
Business visa
Diplomatic visa
Medical or academic professional visa.
Passport processing service
Under normal circumstances, all US citizens only need their passports and a negative COVID-19 test result to travel back to the US. If you live in the U.K and you need to get a replacement for your stolen, misplaced, or expired passport, contact the embassy through any of the channels above.
Due to COVID-19, the US embassy in London has continued to function with limited staff capacity. This means that the time for passport processing will take longer than usual. In the light of this, you would be permitted to travel with your passport even if it has expired since January 2020, under the following conditions:

You are a US citizen and are looking to get back to the US.
You had a passport with a 10-year validity or you were not up to the age of 16 when you got your passport.
You did not damage, alter, or mutilate your expired passport.
You still have the expired passport with you.
Notarial services
If you need to take part in an election, get financial help, authenticate a US-issued document for the UK, get a birth certificate for a child born to US parents, or register yourself as a US citizen who just arrived in the UK, you can contact the embassy and help on how to get it all done.
A Faster Way To Get In Contact With The US Embassy In London
DoNotPay has all the systems in place to reach hundreds of embassies across the globe, including the US Embassy in London. With DoNotPay, you're guaranteed to save big on embassy trip costs and protect yourself from the risks of exposure to new COVID-19 variants by avoiding in-person appointments. Here's what we request from you:
1. Type in "Contact Embassy" on DoNotPay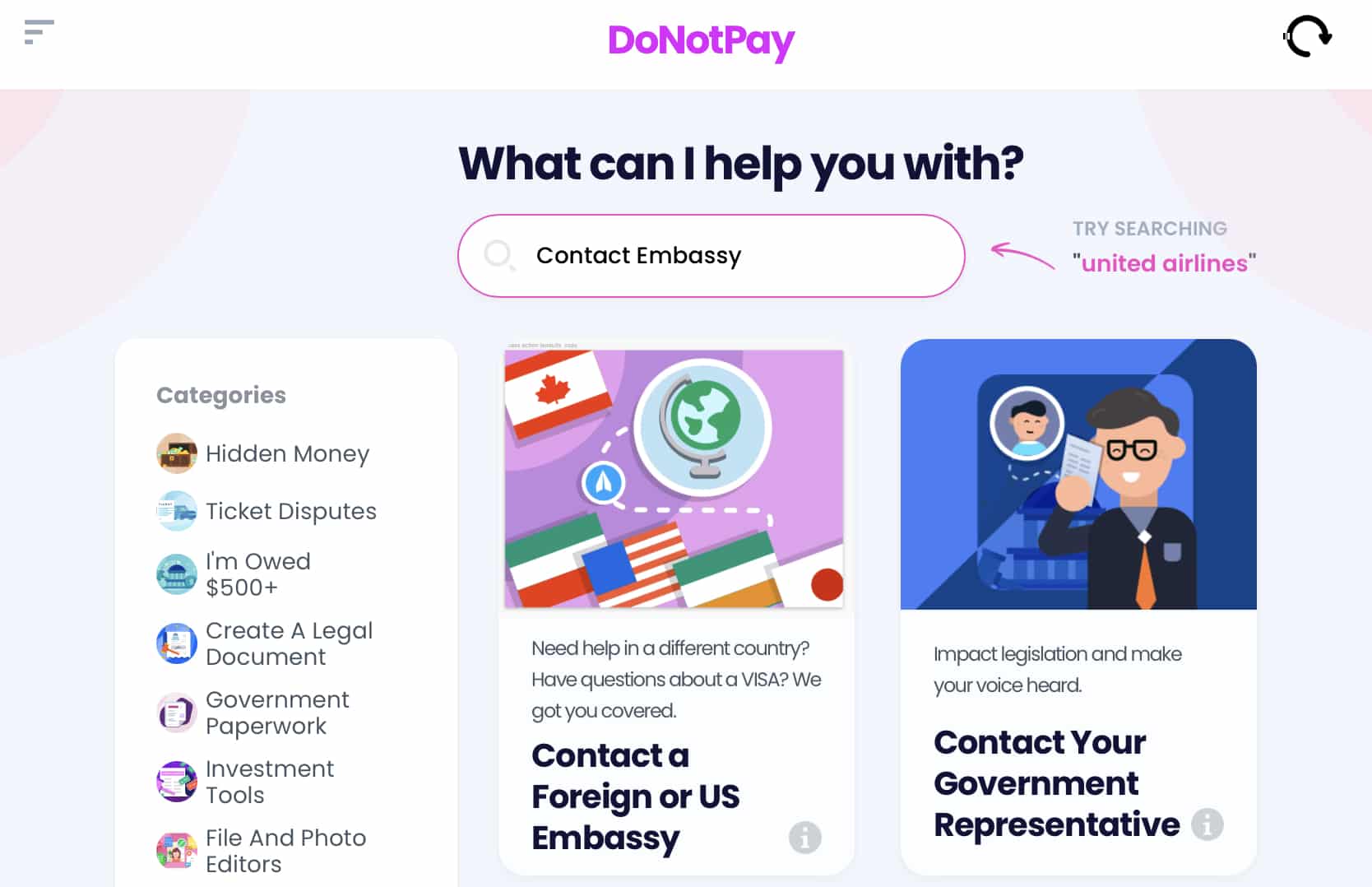 2. Select that you're hoping to contact a US Embassy abroad.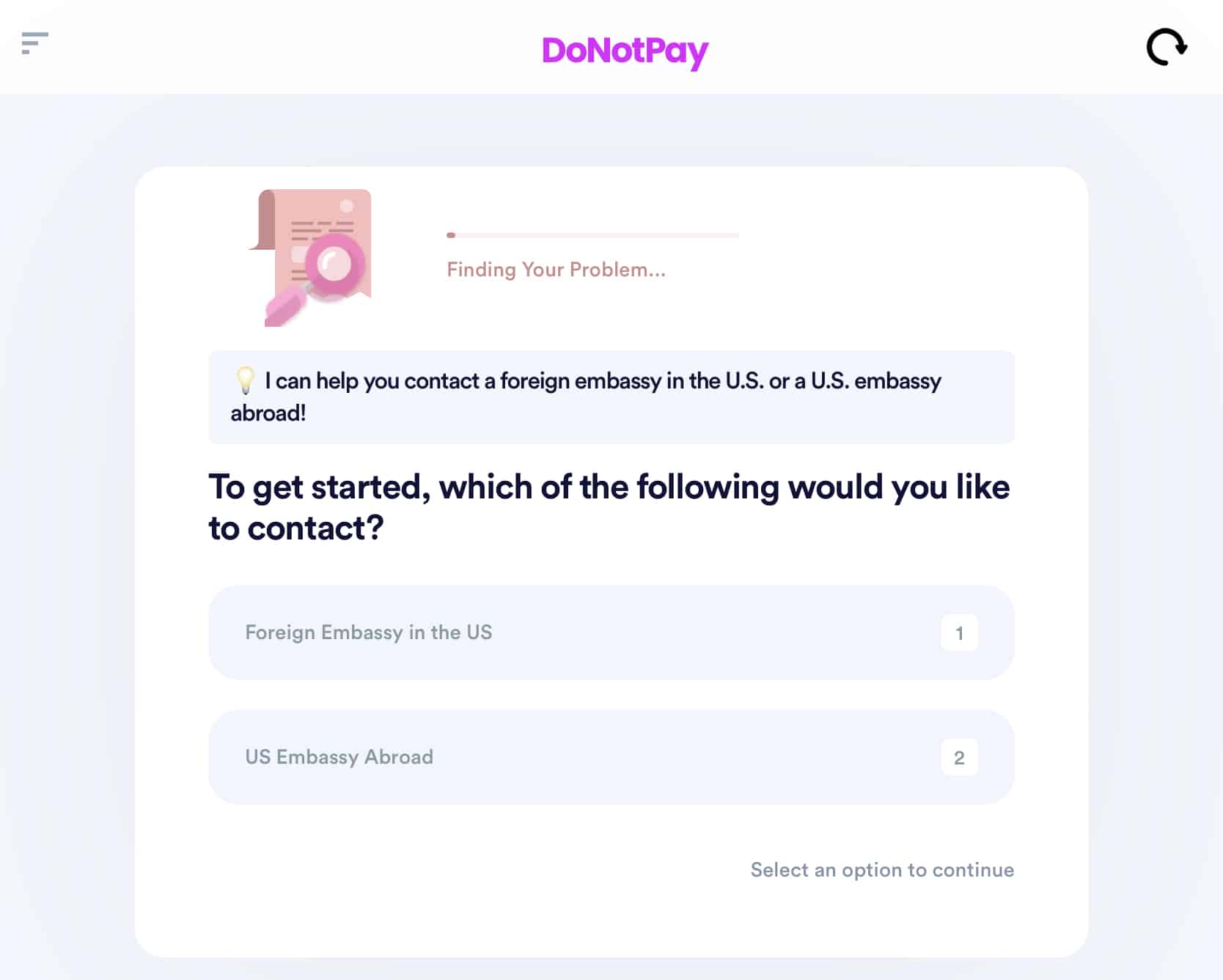 3. Briefly explain the questions you have and what information you need.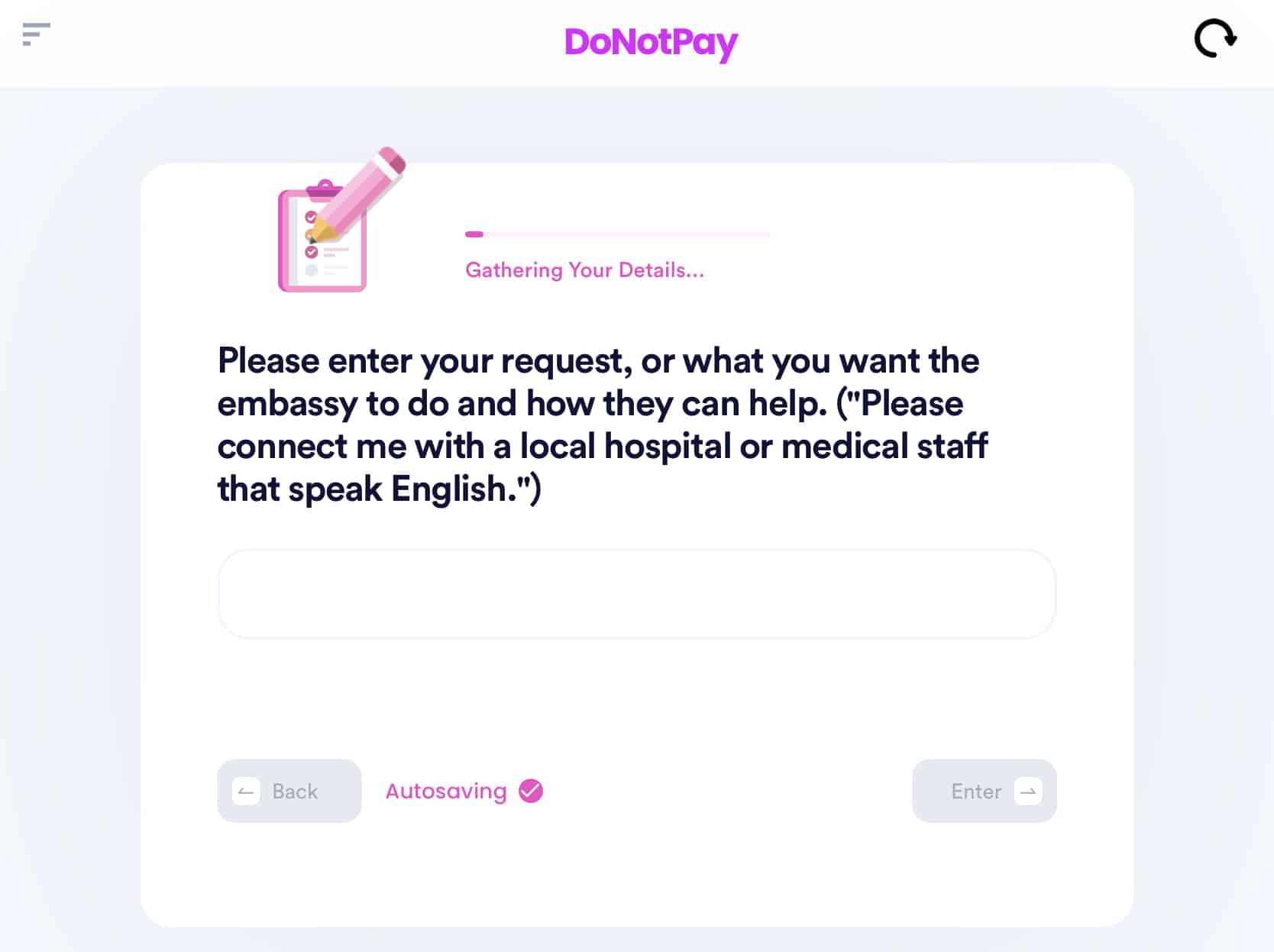 4. Tell DoNotPay which city the embassy is in.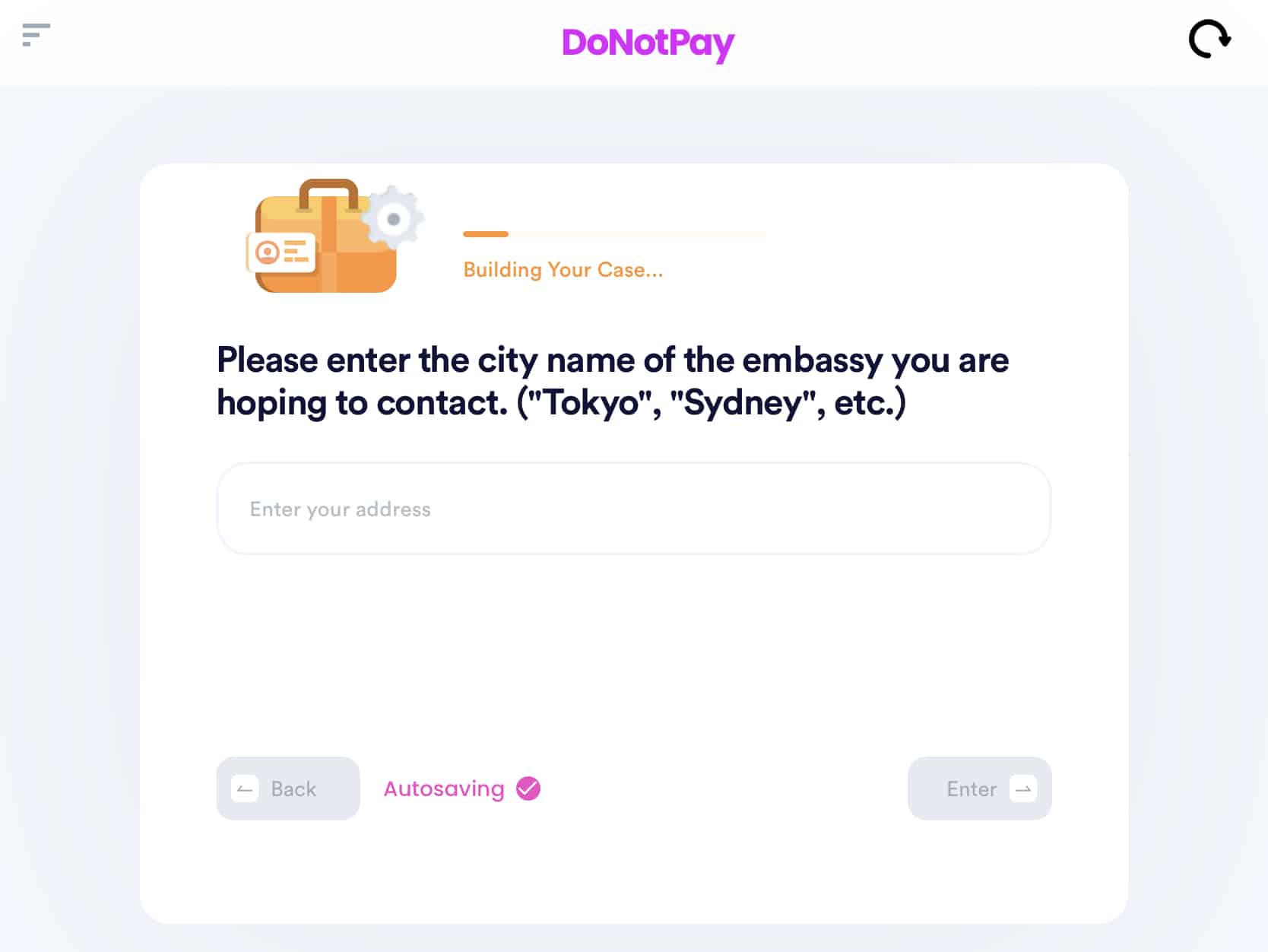 Wasn't that short and sweet? DoNotPay will do the rest and formalize an email with all of your requested details! Sit back and relax - all you have to do is wait for a response from the US Embassy in London!
US Embassies DoNotPay Can Reach: