US Embassy Ghana Contact - And More!
This article provides a guide to learn more about the US Embassy in Ghana; specifically, how to get in contact with them and the plethora of services they can offer you when abroad!
The various sections of this article are structured to answer any poignant questions you might have about the US Embassy in Ghana. It has all the information about where the US Embassy in Ghana is located, how to contact the embassy, the various services it provides, and how to use DoNotPay to contact the embassy!
The Address of the US Embassy in Ghana
 The address of the US Embassy in Ghana is listed below:
No. 24, Fourth Circular Rd., Cantonments 
Accra, Ghana
The best way to access the US Embassy is via taxi or car, as it appears that no public transportation has a stop located near the US Embassy. If you are driving yourself, there is some free street parking located directly across the street from the US Embassy. The Embassy is roughly an 8-minute drive from the Kotoka International Airport in Ghana. Here is a map showing where the embassy is located:
How to Contact the US Embassy in Ghana
There are a variety of ways one can get in contact with the US Embassy in Ghana, which is detailed in the chart below. However, the US Embassy in Ghana is closed on weekends and after 5:00 pm on weekdays; therefore, there is a limited window of time where an individual can access the Embassy's services.
There are also numerous difficulties one may face when trying to contact and access Embassy services; these difficulties include a lack of public transportation near the US Embassy, COVID-19 pandemic restrictions and guidelines preventing normal activities from taking place, and long wait times when trying to contact the US Embassy in Ghana via phone.
What Services are Offered at the US Embassy in Ghana?
The US Embassy in Ghana offers a variety of services, including visas, legal and medical assistance, notarial services, emergency assistance for citizens, and passport and citizenship services. 
Emergency Services Offered
International Parental Child Abduction
Arrest of a US Citizen
Death of US Citizen
Victims of Crime
Visa Services: The US Embassy in Ghana offers 2 types of VISA services:
Non-Immigrant VISA
Immigrant VISA
A non-immigrant VISA applies to those hoping to travel to the US on a temporary basis, whether for travel, temporary employment, or to study. Whereas an immigrant VISA applies to those hoping to permanently live in the United States.
Note that the US Embassy in Ghana does not allow for the request of a visitor's VISA for a friend or family member. 
Passport Services Offered
If your passport has been lost, stolen, or has expired, immediately report it to the US Embassy in Ghana to get a replacement. Processing of emergency travel documents can begin as early as the following business day. For renewals, apply through the American Citizen Services office. This application can take 3 weeks to complete.
Can renew using DS-82, provided meet following requirements:

Have an undamaged passport
Last passport has been issued within the last 15 years
Was 16 when last passport was issued
Still have same name as most recent passport

Need to make an appointment with the American Citizen Services Unit. On day of appointment bring:

DS-82 form
2 color 2x2 inch photos
Most recent US passport
Application fee of $110 USD
Photo identification (driver's license, National Identification Card, etc.)
DoNotPay Is The Perfect Solution
DoNotPay is the perfect solution when trying to contact or access Embassy services across the globe. DoNotPay will automatically generate emails tailored to your concerns and send them to the embassy's way! Here's a detailed list of steps for you to take:
1. Search "embassy" on DoNotPay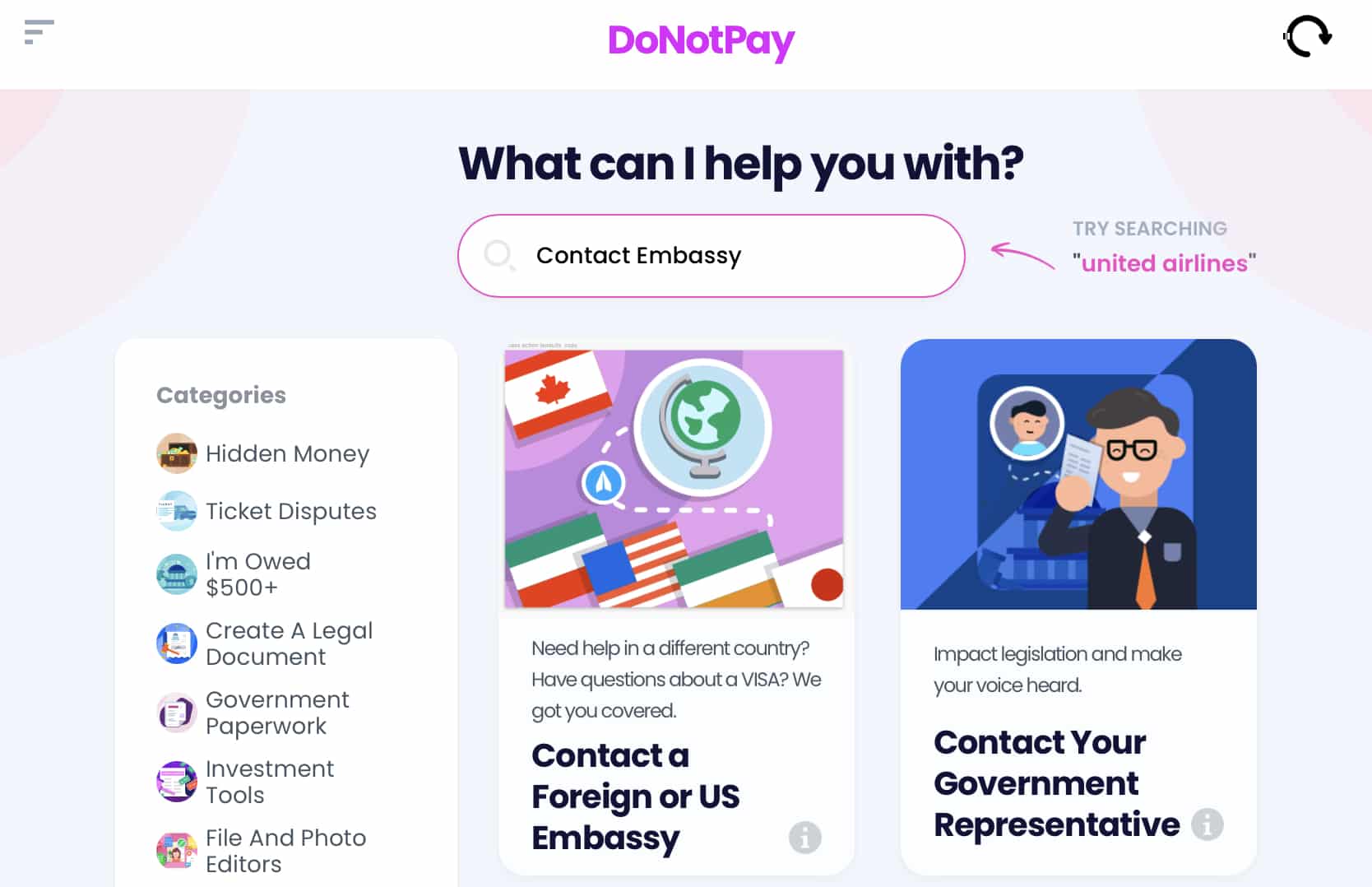 2. Select the option to contact a "US Embassy Abroad"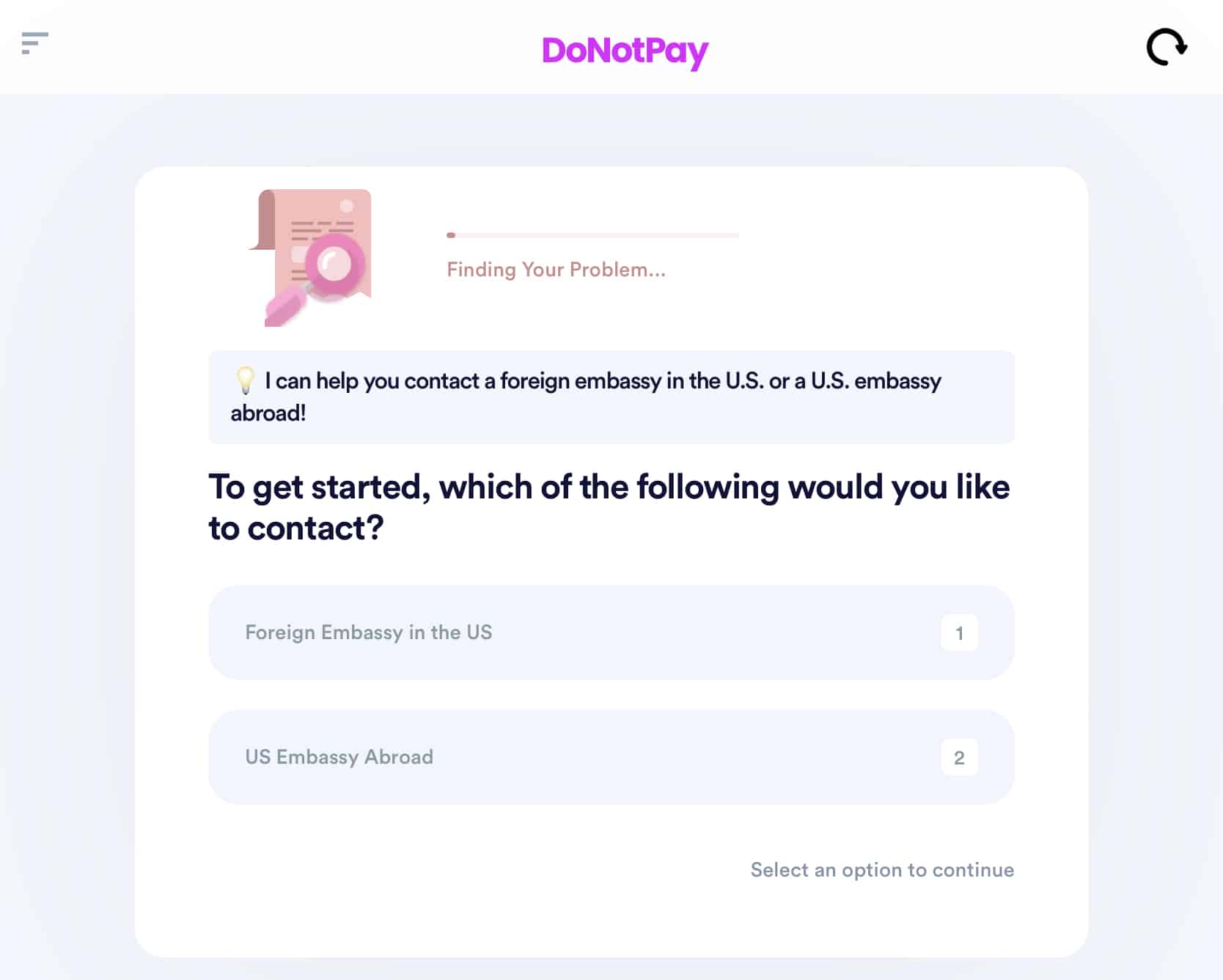 3. Explain the reason behind you contacting them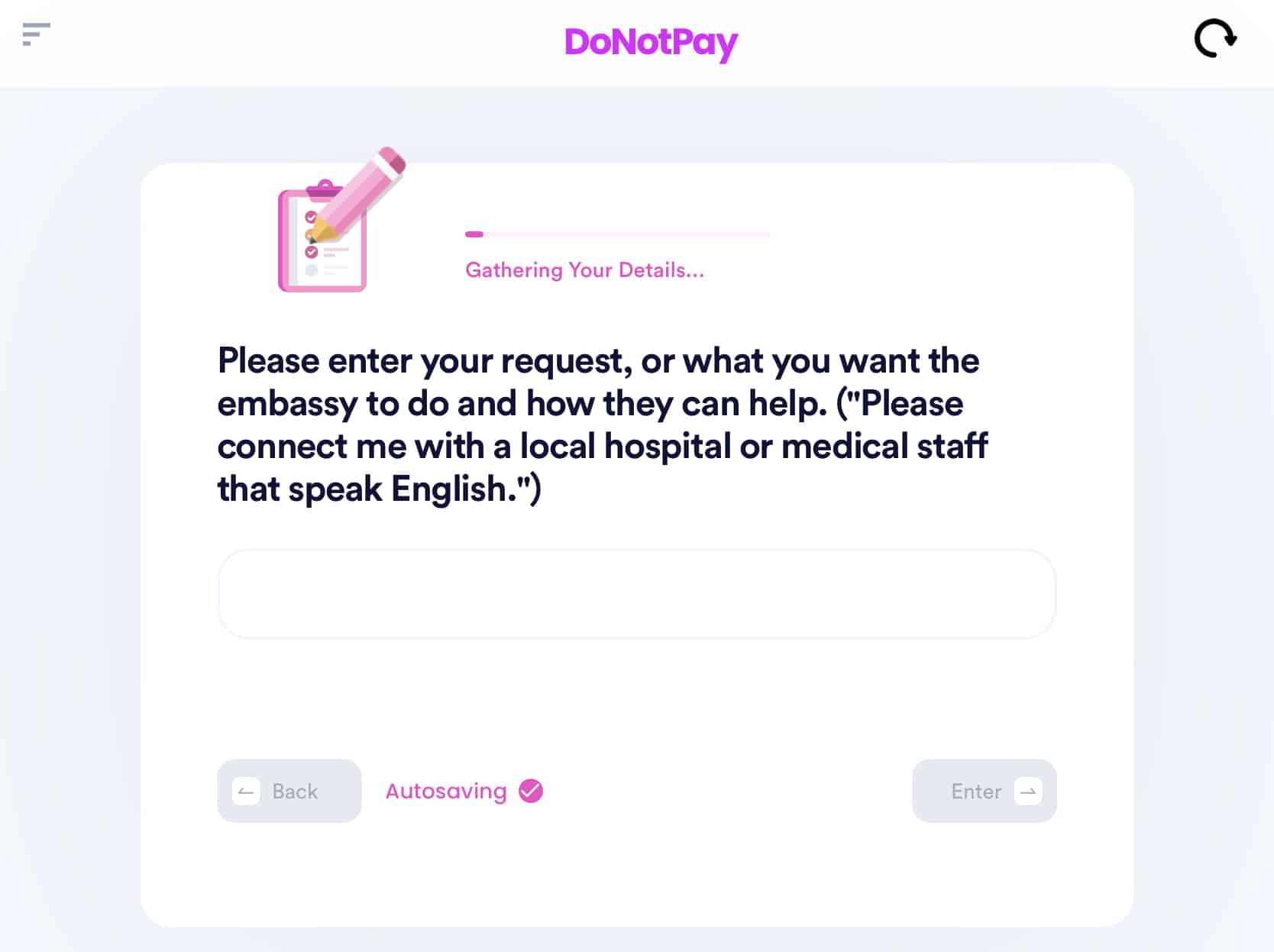 4. Enter the city or country of the Embassy or Consulate you wish to contact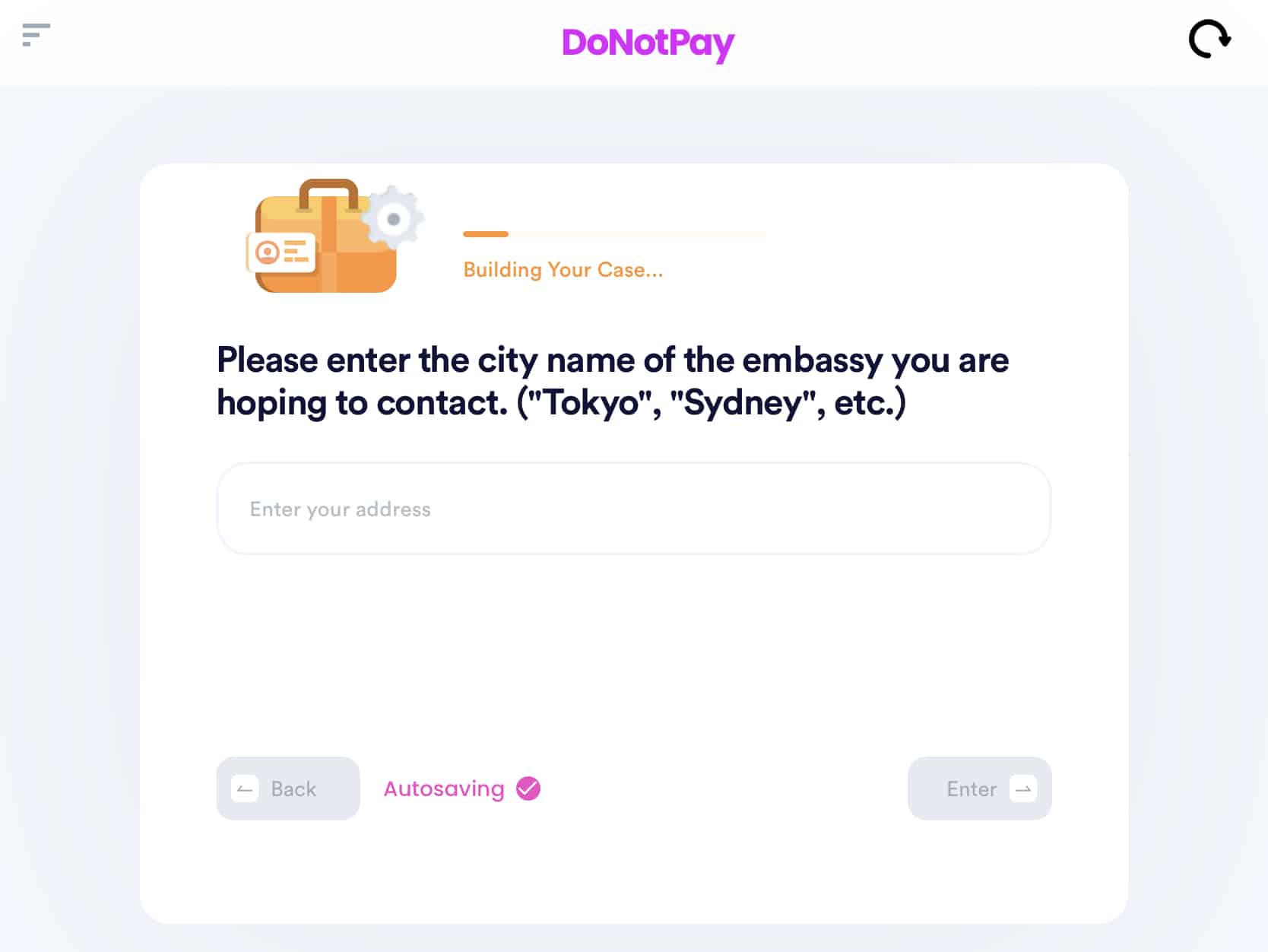 That's it! DoNotPay will email the embassy on your behalf! Afterward, you will receive a response directly to your email address; it is as easy as that!
US Embassies DoNotPay Can Contact For You: