Uruguay Tourist Visa—Skip the Logistical Headache With Our App's Support
Uruguay is an exotic paradise embedded along the South American coastline—and it's a complete revelation for tourists! Experiencing the country's blended culture and soul-soothing cuisine is the ultimate bliss!
While the Uruguay tourist visa policy is not hard to decipher, it has undergone multiple changes during the pandemic.
If potential travel bans and embassy visits terrify you, consider using DoNotPay's Tourist Visa Guide product. We offer you a breezy gateway to:
Check if you need a visa to enter a country
Gather the documents necessary for your application
Apply for a tourist visa without the logistical hurdles
To enjoy a relaxed tourist visa application experience, sign up!
Uruguay Tourist Visa—Requirements for U.S. Citizens
Uruguay has exempted U.S. citizens from getting a tourist visa if:
They have a valid U.S. passport when entering the country
Their stay in Uruguay does not exceed 90 days
The visa exemption will not apply to U.S. diplomats who visit Uruguay on official business.
Can I Extend My Visa-Free Stay Beyond 90 Days?
You can use two methods to prolong your stay in Uruguay without getting a tourist visa. This table summarizes the available options:
Method
Details
Apply for an extension

You can apply for an extension at your nearest immigration office in Uruguay
The immigration officer may extend your stay for another 90 days after you pay the fee (currently $28)

Leave the country and re-enter
If you don't want to apply for an extension, do this:

Leave Uruguay after the visa-free 90 day-period is over
Re-enter the country at least a day later to have a new 90-day visit period affixed on your passport
You will be penalized and detained by Uruguayan authorities if you are caught living in the country beyond the permitted dates.
Another factor that you must keep in mind is that you cannot stay in Uruguay for more than 180 days during one year unless you are granted permanent residency.
Uruguay Tourist Visa—Paperwork Required
If you decide to apply for an Uruguay visa for prolonged tourism, you need to prepare the following documents to submit to the Uruguayan Embassy in the U.S.:
A copy of the front page of your valid passport
Two recent passport photos
Proof of:

Round trip travel (your confirmed plane tickets)
Hotel reservation
Financial solvency

Permiso de Menor, if applicable (that's a minor travel consent form)
Health and insurance certificates
The list of documents may change as per visa laws and entry requirements in Uruguay.
Understand the Entry Requirements for Tourists in Uruguay
The pandemic has been the driving factor behind the major upheavals in Uruguay's tourist entry guidelines. Refer to this table to get a detailed insight into the country's current strict entry rules:
Issue
Rule
Currency restriction

You must make a declaration to the customs officer if you hold more than $10,000 in cash at the entry point
The above restriction is only to curb the rampant cases of money laundering between the U.S. and Uruguay

COVID-19 report

You must present either of the following reports, even if you are vaccinated:

A negative COVID-19 test report—the test must not be older than 72 hours
Proof of having recovered from coronavirus within 90 days before travel

Medical documents

Show these medical documents at the point of entry:

An affidavit declaring that you have been free from COVID-19 symptoms for the past 14 days
Travel insurance that covers COVID-19 as well

Quarantine affirmation

The authorities will ask you to confirm that you will quarantine and socially isolate yourself during the first seven days of your visit

Local contact number

You will provide your local contact details for the government's contract tracing database
Since these requirements are mostly influenced by COVID-19, they can be eased or made stricter over time—all depending on the severity of the epidemiological situation.
DoNotPay's Tourist Visa Support Is Your One Constant Amidst Changing Laws
We know that sinking feeling when you take your time to understand the visa guidelines of a country—only to realize that the laws have changed by the time you apply.
DoNotPay ensures you don't waste your time and efforts—our Tourist Visa Guide feature is built to give you a quick insight into your eligibility for a visa-free trip to any country!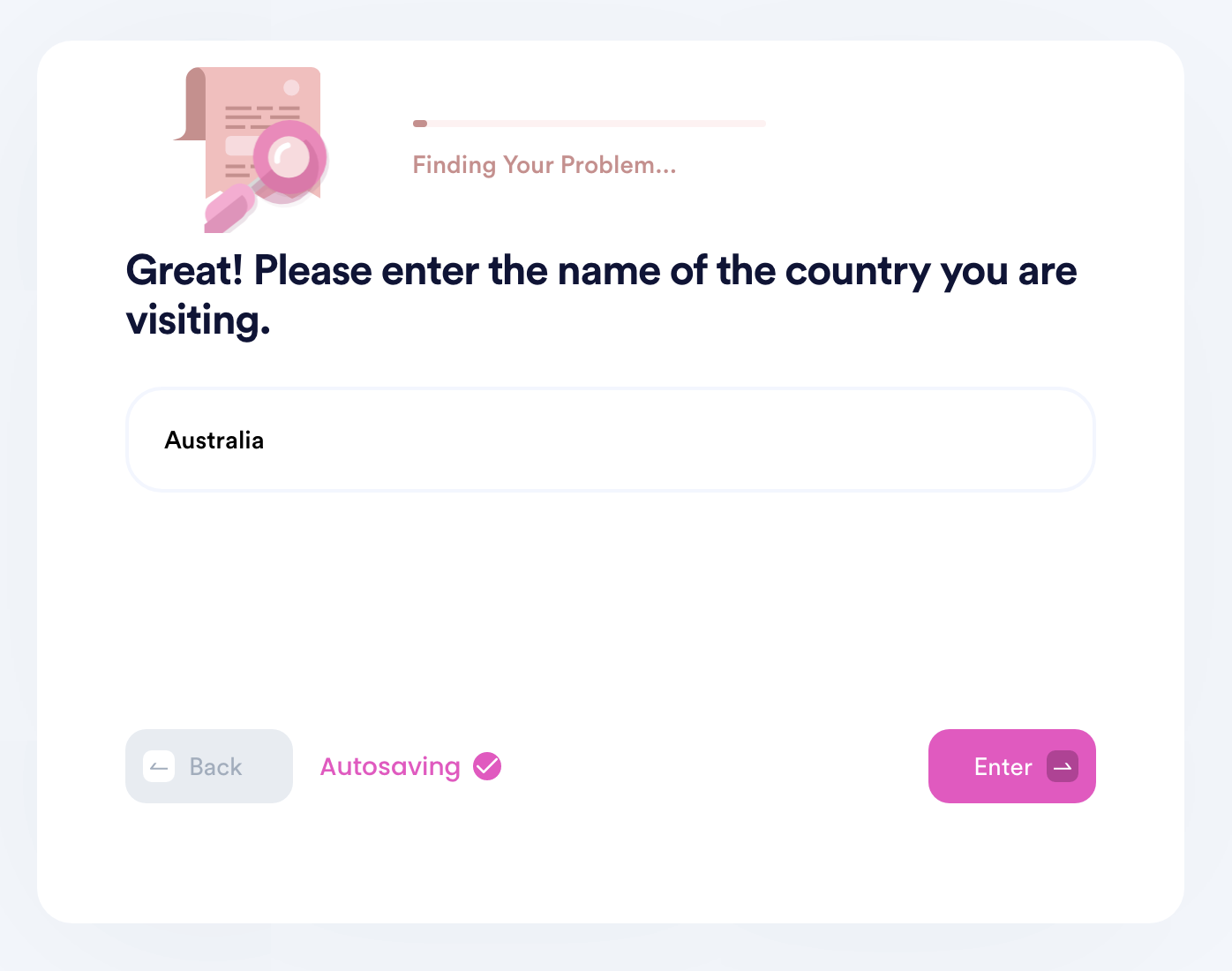 Our app's AI will check the latest laws and tell you if you can travel to the country without a visa—all in the blink of an eye!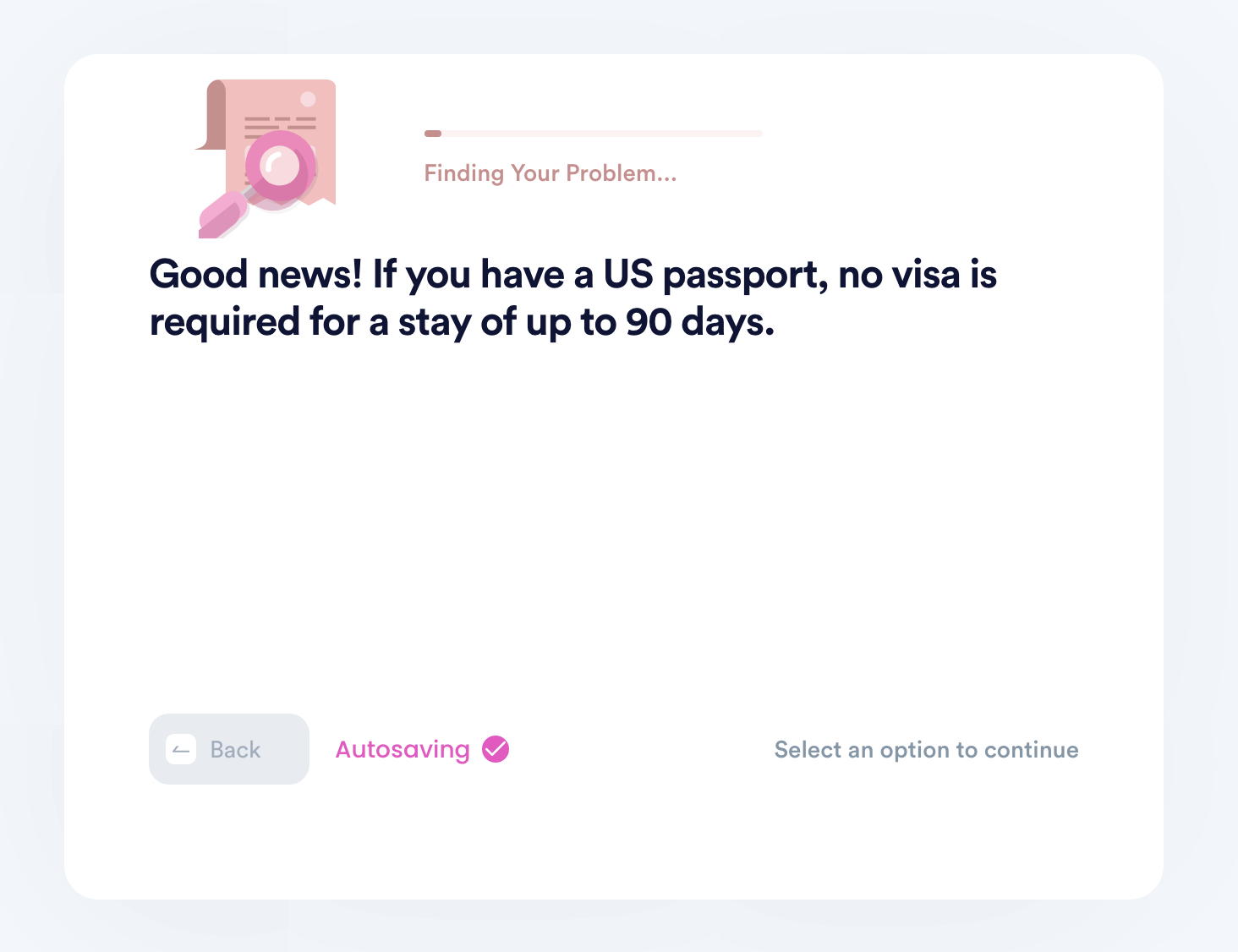 If your destination country requires a tourist visa, we will give you a heads-up on the paperwork you need to gather.
Keep answering our chatbot's questions to get help with:
Downloading the authentic tourist visa application form in PDF format
Finding the original government portal (for online applications)
If you are applying at an embassy, our app will contact the embassy for you to get you the mailing details.
All you need to do is this:
Log in to DoNotPay and select Tourist Visa Guide
Confirm that you have a valid U.S. passport
Specify your destination country
With our unparalleled logistic support, your days of dreading visa applications are over!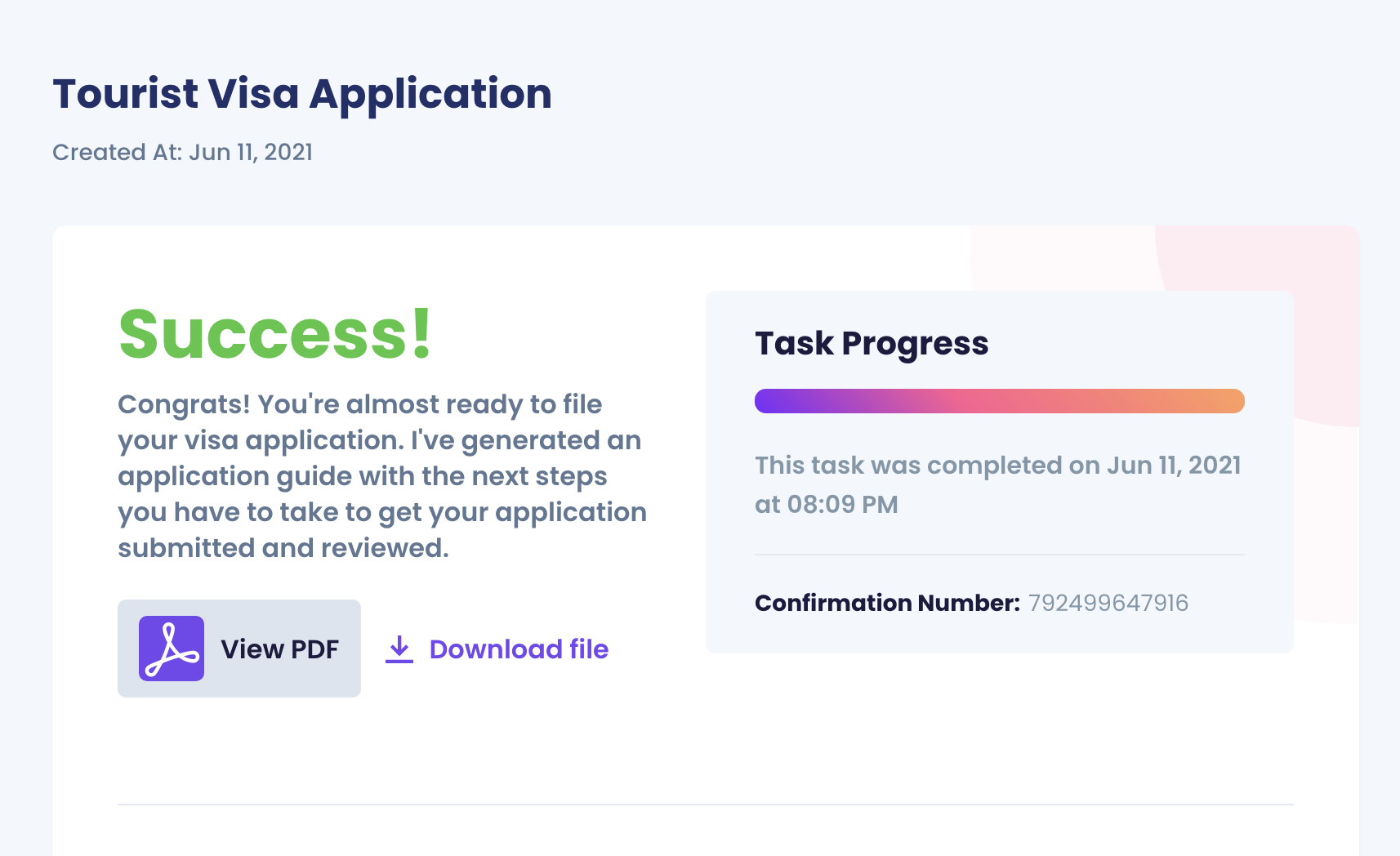 Bewitched by Latin America? Travel to Your Heart's Content With DoNotPay
If you are looking for trekking hotspots and pocket-friendly travel destinations, then Latin America hits the bull's-eye!
DoNotPay can help you get ready for any trip in no time—browse our visa application guides for these countries:
Travel Purposes That Require an Uruguayan Visa
As of now, these are the visit types for which you may have to apply for an Uruguayan visa:
Diplomat visit
Work or business
Study or seminar
Family reunion
Humanitarian work
Uruguay accepts all of the above as valid reasons for issuing a visa, but there is one catch—these visas are only issued with a validity of 30–90 days.
In case you want a long-duration visa, you will need to present your case to the authorities. Depending on your purpose of visit—say a two-year-long university program—authorities may set you up with a visa for the full length of your stay.
The likelihood of approval varies on a case-to-case basis due to the lack of uniform laws.
Solve Your Legal and Bureaucratic Issues With DoNotPay
The primary purpose of our app is to provide you with practical tools that can speed up all the drawn-out tasks you must complete. All you need to do is choose a suitable feature from our offer and get your problems solved in a heartbeat!
Once you create an account with DoNotPay, you can:
Feeling Unsafe or Harassed? DoNotPay Can Help You!
Have annoying calls and messages become your everyday problem? Don't give up on your peace—rely on DoNotPay and deal with robocalls and restless text and email spammers easily.
We also take care of your privacy, allowing you to create burner numbers and virtual credit cards to avoid revealing sensitive information when signing up for various online services.
If you are being stalked by somebody or discriminated against at work, we will do our best to help you fight for justice and report the case accordingly! We will also safeguard your creative work from copyright violation and ask for violent crime compensation on your behalf.