How To File a UPS Insurance Claim Easily
United Parcel Service (UPS) is a US-based package delivery company. If you plan on shipping a parcel through UPS, you can choose UPS's licensed affiliate UPS Capital Insurance Agency, Inc. to protect your goods.
Accidents happen, and your precious package might get lost or damaged. If this is the case, you should immediately file a UPS insurance claim and get your money back. The best way to do so is with DoNotPay!
What Does the UPS Insurance Cover?
You can choose between three types of small package insurance options from UPS Capital Insurance. Take a look at the table below to see what is the right choice for you:
Small Package Insurance Type
Why Choose It

Basic insurance for small package shipments

No upfront costs when selecting the insurance at the time of shipping

All charges are included in your UPS statement

Expanded insurance for consequential losses

Protection from consequential losses as a consequence of damaged or lost shipments

Coverage of items not included in a carrier's standard tariff (tickets, gift cards, etc.)

Time-in-transit insurance for perishable goods

Coverage of goods with an expiration date, such as flowers, seafood, specialty foods, and pharmaceuticals

Protection against damage or loss, even from the ones due to delays in transit
How To File a UPS Insurance Claim With DoNotPay
Filing an insurance claim and contacting insurance companies is usually a complete nightmare—but not with DoNotPay. We've simplified an otherwise tedious task as much as possible, and you won't have to bother yourself with various annoyances that normally accompany it. Perform these simple steps:
Access DoNotPay from a

Look for the insurance type

Provide some personal information like your contact details and policy number

Tell us why you are filing a claim

Explain the details of the accident
When you complete the straightforward questionnaire, we will send the claim on your behalf right away. UPS might get in touch with you over the phone or by email in case they have any further questions.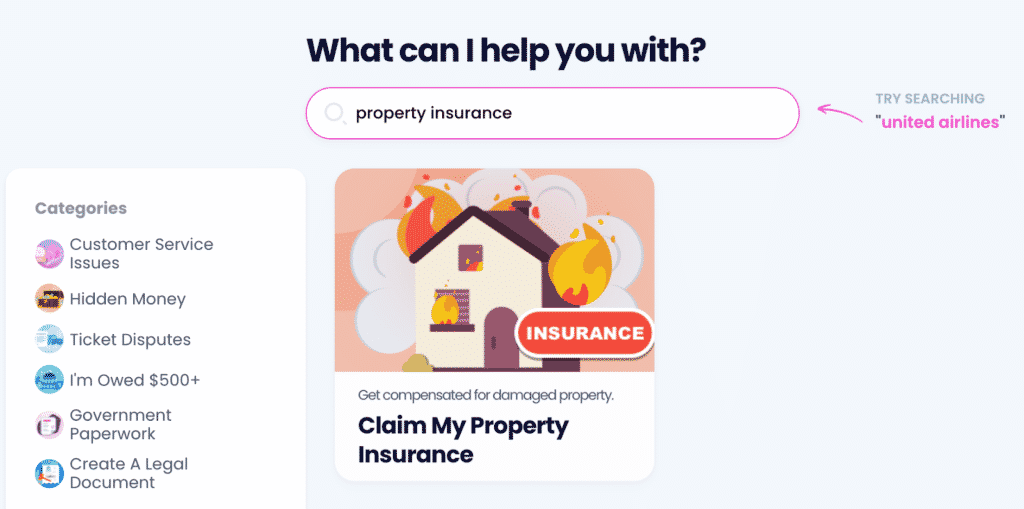 DoNotPay can help you claim different types of insurance, such as:
Auto insurance

Property insurance
Our useful features work great with any insurance company, and we also have all the info about the unemployment insurance claims if that's what you're interested in.
How Can You File a UPS Insurance Claim on Your Own?
If you want to, you can go through the complicated process of filing an insurance claim by yourself. There are two ways to file a UPS insurance claim on your own:
How To File a UPS Insurance Claim Online
To file a UPS insurance claim online, you'll have to follow these steps:
Visit the

UPS Capital

website

Log in to your account

Enter the tracking number or bill of lading

Explain what happened with your items

Review your contact information

Submit your claim
How To File a UPS Insurance Claim Over the Phone
You can file a UPS insurance claim by calling the company's customer service. Follow these steps:
Call

1-888-742-5877

Tell the rep why you are calling

Explain what happened to the package

Give the rep the info they need

Follow any further instructions
Use DoNotPay To Appeal a Denied UPS Insurance Claim
UPS can easily decide to reject your insurance claim when you file it. You shouldn't get discouraged from filing an appeal letter, and DoNotPay can help you with the process. The company has to explain why they've denied your claim or terminated your coverage.
To ask UPS to reconsider their decision, you need to follow these simple instructions:
Open DoNotPay in your

Find the insurance type

Click on

Appeal Denied Insurance Claim

Finish the process by following the prompts
How Long Does It Take for UPS To Pay Out?
It shouldn't take longer than ten days from the moment you filed the claim for UPS to handle the claim process and give you your money. This applies to situations where everything runs smoothly and there are no accidents or mistakes along the way.
Sue UPS if They Are Being Difficult
In case UPS wronged you in any way and you can't find a common language with the company, you might need to sue them in small claims court. DoNotPay is known as the world's first robot lawyer, having been recognized with American Bar Association's Louis M. Brown Award for Legal Access.
You can count on our app to help you get justice because we will:
Collect all the necessary paperwork you'll need in court

Fill out all the documentation on your behalf

Create a script full of useful arguments for you to use at court

Send all the required documentation to UPS
The only thing we cannot do is go to court in your stead, but with the preparation we offer, you'll do great on your own. Fighting bureaucracy has never been easier!
Don't Let Companies Take Your Hard-Earned Money!
People love to subscribe to all sorts of services—especially if there are free trials involved. The problem is that most of them forget that they signed up for anything in the first place. Companies are aware of this, which is why they auto-renew memberships as soon as the free trials expire.
Don't let them get away with it—use DoNotPay to sign up for free trials and cancel subscriptions right before they renew. If you want to save even more money, use our platform to learn how to handle high bills, parking tickets, college application fees, canceled or delayed flights, or faulty services you should get refunded for.
Use DoNotPay To Stop Illegal Activities and Earn off Scammers!
Our AI-powered platform can assist you in dealing with all sorts of scammers. If you got any of the following, the world's first robot lawyer will help you seek justice:
Do you want to protect yourself and your loved ones from stalking and harassment as well? Use DoNotPay to learn how! If the situation with a stalker escalates, our app is going to help you take them to small claims court by preparing all the paperwork and your court statement.
Don't stop there—check out how you can bypass phone number verification, claim any type of warranty, or pass any government test with flying colors!