Should You Sign an Unpaid Internship Agreement?
If you are considering hiring an intern, you need to get familiar with laws, regulations, and the specifics of an unpaid internship agreement.
Creating contracts and other legal documents can be annoying and time-consuming. Do you have enough knowledge to do it yourself? If not, do you need to hire an expensive lawyer, or are there other ways?
Access DoNotPay if you need a reliable solution to your paperwork issues.
Is an Unpaid Internship Legal?
An unpaid internship is legal as long as an intern is the primary beneficiary of the agreed arrangement. If an employer primarily benefits from this arrangement, an intern:
Is considered an employee under the Fair Labor Standards Act (FLSA)
Needs to be paid for his or her labor, i.e., is entitled to minimum wage
If the Department of Labor believes an internship violates the FLSA:
An employer may be punished
An intern can face punishment, especially in the case of international students who might even be deported
You can use the Primary Beneficiary Test to determine who the primary beneficiary is.
Some U.S. states have certain requirements of unpaid internships, for instance, affiliation with academic or educational organizations.
An Unpaid Internship and State Legislation
Aside from the Primary Beneficiary Test, companies need to check their state legislation before opting for unpaid interns.
For example, the state of California has one of the strictest positions in terms of unpaid internships. Here are some requirements:
A vocational program or an accredited school needs to implement and supervise all internship programs
Employers cannot hire an intern until they submit an internship proposal to the Division of Labor Standards Enforcement
If these above-listed criteria are not met, an intern needs to get minimum wage.
Why Should You Prepare an Unpaid Internship Agreement?
This type of agreement is important as it determines the responsibilities and roles during the internship. While lots of businesses practice unpaid internships to provide training within these organizations, interns:
Cannot replace employees
Need to work for their own and not the company's benefit
The following tips—together with the agreement—can be a good way to prevent potential disputes:
Keep a log of hours and overtime
Offer college credit (if possible)
Do not assign scut work
Provide general and transferable training tasks that directly relate to the intern's field of study
What To Include in an Unpaid Internship Agreement
The following table outlines what an unpaid internship agreement should contain:
Parts
Description
Name and details of the company
Includes the following company's details:

You can also state the purpose of the agreement in this section

Name and details of the intern
Lists:

Intern's full name and address
Position within the organization
The person who will be in charge of the intern

Intern's duties
Addresses the intern's duties within the company, i.e.:

Learning new skills
Improving his or her capabilities
Increasing his or her knowledge

Nature of internship
Includes the details of the work timings, such as:

Start and end date of the internship
Daily working hours

This is a good place to mention the participation of the educational institution during the internship period

Additional acknowledgments
Mentions some of the following:

State law
Disclose clauses
Confidentiality information
Representation of the intern

Termination clause
Covers the events that can lead to the termination of the internship
Signatures
Includes full names and signatures of the:

Intern
CEO of the company
To create an unpaid internship agreement, you can use the legal assistance of an expert or consult some contract templates available online. While the former might cost a small fortune, the latter can be too generic and not suitable for your type of organization or the training you will provide to the intern.
DoNotPay's Efficient Document Creator Is a Facilitator
When you need an agreement or any other formal document for your personal or business tasks, you can turn to our AI-powered app to help you generate custom-made paperwork.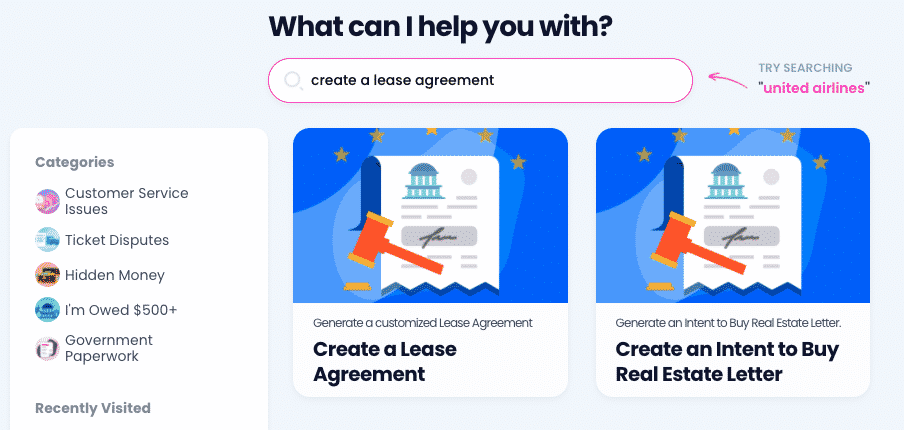 What do you need to do? Subscribe to DoNotPay and take these three steps:
Go for our Standardized Legal Documents product
Type in the name of the document you need help with
Answer a few questions so we can generate a document tailored to your specific needs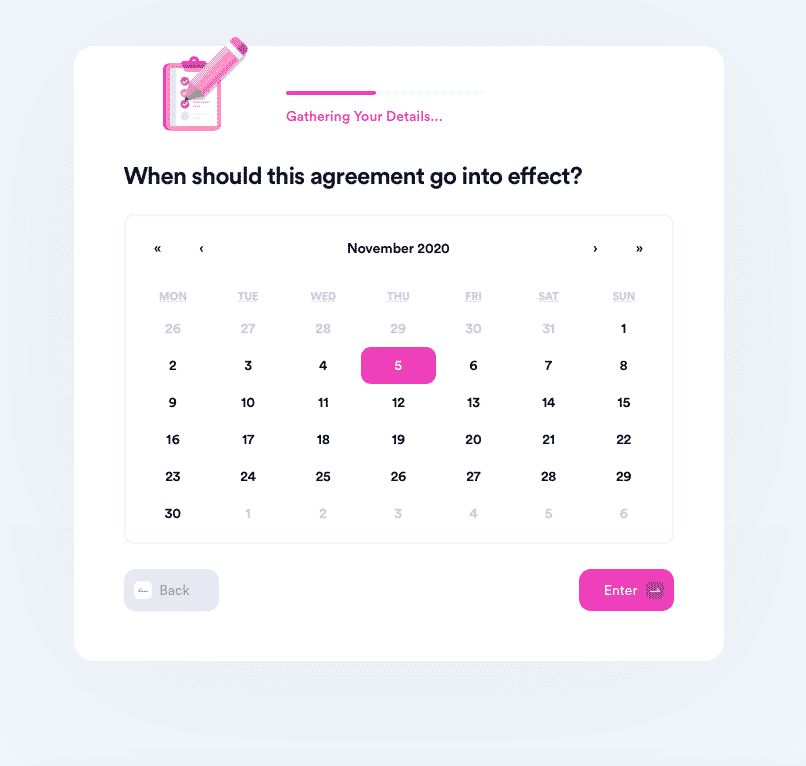 You will receive a document that you can:
E-sign within our app
Get notarized online 24/7 by using the Notarize Any Document feature
Fax securely by choosing our Online Fax tool
DoNotPay Can Help You Create Numerous Documents
Some of the documents we can generate for you are:
General affidavit
Quitclaim deed
Promissory note
General business contract
Intent to purchase real estate
DoNotPay provides many helpful articles that offer valuable explanations and advice on work, referral fee, equipment rental, corporate integrity, employment separation, and many other agreements.
DoNotPay Helps You Deal With Various Problems Worry-Free
DoNotPay has developed a wide variety of products you can use to manage numerous tasks.
Do you want to get a refund from a company? Are you wondering whether you can request compensation from airlines for poor Wi-Fi or canceled flights? Is hiring a lawyer to draw up legal documents too expensive for you? Sign up for DoNotPay and solve your issues in a matter of minutes!
Use our AI-powered app to get rid of robocalls, spam emails, and text messages.
Need help locating and canceling all your unused memberships? DoNotPay has a product for that too!
Prepare for your driving test using our Government Tests Prep feature and schedule a meeting with the DMV to take the test through the same app. We can even help you claim your car insurance or warranty and contest parking tickets in a flash!
Learn How To Protect Your Privacy With DoNotPay
Protecting your personal info online can be challenging but not impossible. The next time you come across a service that requires phone verification, make sure to use our Burner Phone product and have us generate a fake phone number you can use.
Our virtual credit card can help you sign up for free trials without having to disclose your name, email address, or credit card info.
Are you thinking about connecting with an inmate pen pal? Make sure to keep your real address a secret by relying on DoNotPay. Besides helping you send letters to inmates, we can also receive mail from the prison on your behalf, scan each letter, and send it to your email address.