The Complete Guide to University of Iowa Scholarships
Are you hesitant to apply to the University of Iowa because of the hefty tuition price? Scholarships and grants can help you cover most of your college expenses and graduate debt-free. We provide you with the latest information about the University of Iowa scholarships to help you attend your first-choice school with ease.
Types of University of Iowa Scholarships
The University of Iowa primarily offers scholarships to undergraduate students. The availability of graduate school scholarships depends on the college or academic department a student is enrolled in. Students can access scholarships from the following sources:
University of Iowa Office of Student Financial Aid
University of Iowa Office of Admissions
University of Iowa Scholarship Portal
University of Iowa college or academic departments
University of Iowa Office of Student Financial Aid
The office of financial aid administers need-based scholarships and grants to incoming students. To be considered, you must complete the FAFSA form as soon as possible after October 1. No further application is required. Any awarded scholarships can be renewed each year if the recipient meets the renewal requirements. The University of Iowa need-based scholarships include:
Scholarship
College Freshman Eligibility
Transfer Student Eligibility
Renewal Requirements
Iowa Need-Based Academic Award

Scores of 29 in the ACT or 1330 in the SAT
Scores of 26 in the ACT or 1230 in the SAT
High school GPA of 3.6

Minimum of 24 earned hours from an Iowa community college
No bachelor's degree
GPA of 3.0

Continuous full-time enrollment every semester and a GPA of 2.75

Advantage Iowa Grant

Recipient of Advantage Iowa—offered by the Office of Admissions Department
Non-resident U.S. citizens
Full-time enrollment

GPA of 2.0 and continue paying non-resident tuition and fees
University of Iowa Office of Admissions
The Office of Admission offers scholarships to college freshmen, international students, and transfer students. They are automatically considered for some programs when they submit their request for admission, but some scholarships require a separate application. Students can find the available scholarships by visiting the Admissions' Scholarships page and selecting the student category they belong to. Here are some of the available programs:
Scholarship Type
Examples
University of Iowa transfer scholarships

Illinois Community College Opportunity Scholarship—$7,500 per academic year for up to two years
Phi Theta Kappa Scholarship—$2,000 per year for up to two years

University of Iowa scholarships for international students

International Distinction in Education Award (IDEA)—$500 to $10,000 per academic year
National Scholars Award (NSA)—$2,000 to $12,000 per academic year for up to four years

University of Iowa out-of-state scholarships

Advantage Iowa Award—up to $8,000 per year
Provost Scholarship—up to $3,000 annually
University of Iowa Scholarship Portal
The University of Iowa scholarship portal requires a student's HawkID and password to access. Admitted or enrolled students can find and apply for scholarships by signing in to the scholarship portal using their credentials.
The University of Iowa Colleges and Academic Departments
The different Iowa University colleges and departments offer scholarship opportunities to their students. You can check the available programs by visiting your respective school's website. The examples below give an overview of the available opportunities at the college or department level:
College or Department
Examples
College of Liberal Arts and Sciences
Undergraduate and graduate school scholarships:

Homewood Memorial Scholarship
C. Pauline Spencer Scholarship
M. Gladys Scott Scholarship

Tippie College of Business
Admitted students should check the Iowa Scholarship Portal to find scholarships for which they qualify
Distance and Online Education

Distance and Online Education Scholarships
Carver Scholarship
Robert F. Ray Staff Scholarship

College of Education
Veteran scholarships:

Ernie T. Pascarella Military Veteran Promise Award
Paul Larson Military/Veteran Student Scholarship

College of Nursing

Alanna Forshay Fenske and Arnold Walter Fenske, M.D. Scholarship Fund
Anita and Franklin Hockett College of Nursing Scholarship
Alice Skedine Relihan Scholarship Fund
ASOON Scholarship Fund

College of Public Health

College of Public Health Dean's Scholars
College of Public Health Diversity Scholarships

Study Abroad
Students should consult the study abroad office
How To Find External Scholarships
Besides the University of Iowa scholarships, you can utilize external scholarships offered by different organizations. While the most obvious method is searching online, it can take days to find the right scholarships. Use the following internet search tips:
If you want to save time, use DoNotPay to get a list of scholarships and grants you qualify for and apply in just a few clicks. The best part is that you will need less than five minutes!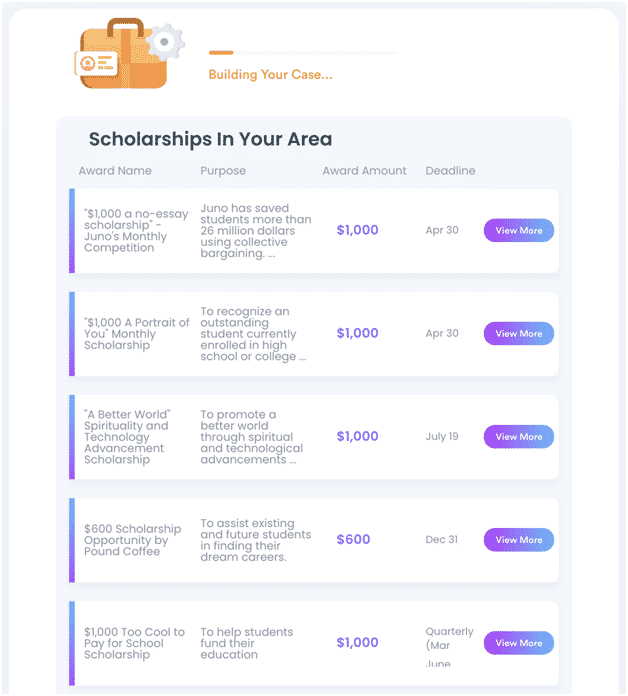 How To Apply for University of Iowa Scholarships
To apply for most of the institutional scholarships, you will need to submit your application through the University of Iowa scholarship portal.
If you are applying for external scholarships, you may be required to submit:
Use the Easiest and Fastest Way To Find Scholarships
Finding scholarships can be a daunting task, but don't miss lifetime opportunities that can help you graduate debt-free. Thanks to DoNotPay, you can get a list of all the scholarships, grants, and awards that you qualify for in a minute or two. We can also submit your applications for the no-essay scholarships on your list in your stead. You are only three steps away from discovering the right programs for you:
Find the Apply for Scholarships tool
Complete the questionnaire about your academic details
That's it. We also update the list of scholarships and grants regularly to ensure that you never miss out on any new opportunities that match your profile.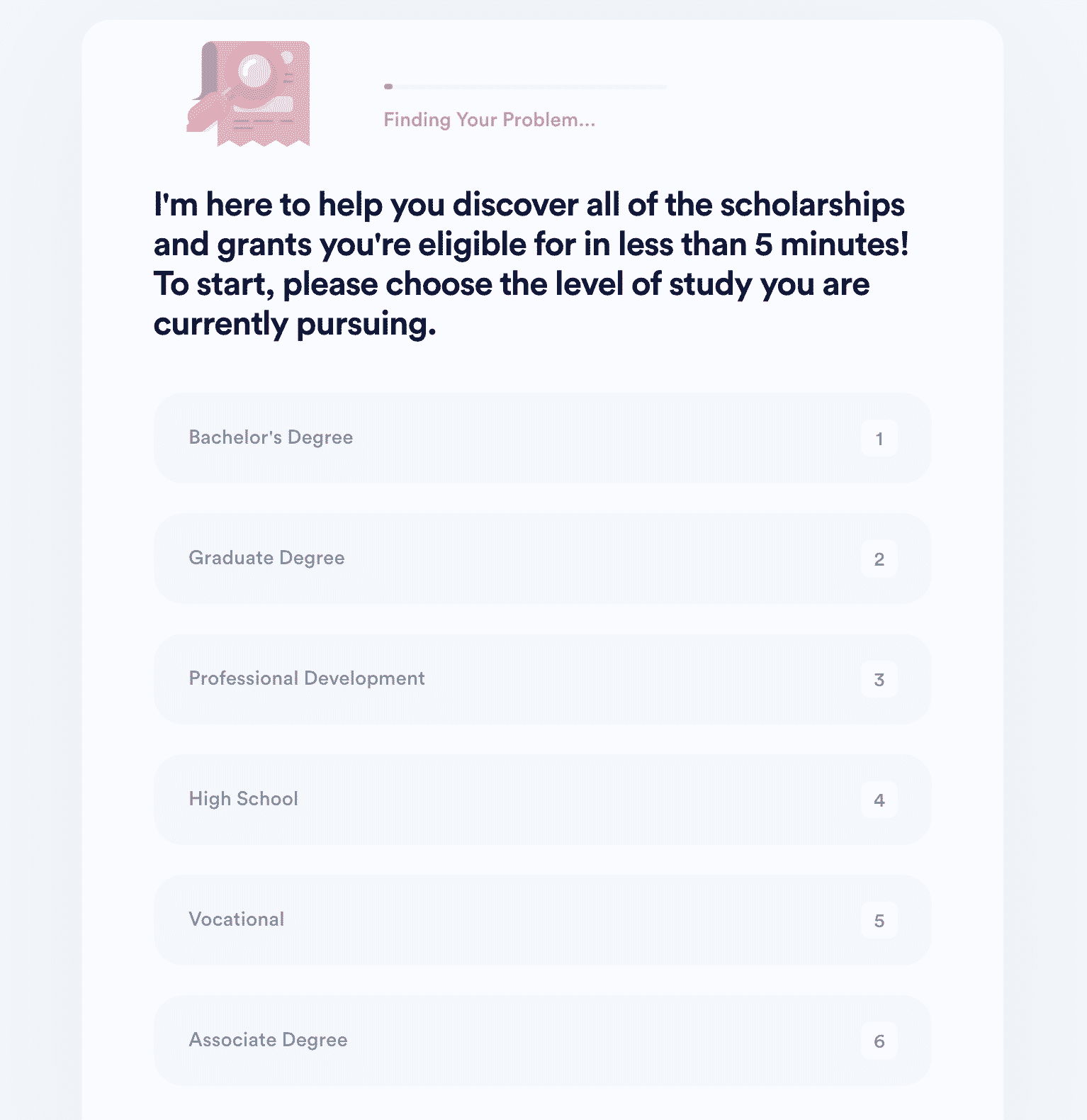 Resolve Any Other Issue You Have Swiftly With Our Assistance
The world's first robot lawyer is capable of tackling any legal or administrative task in your stead. We can draw up any legal document for you—including a power of attorney, child travel consent form, and divorce settlement agreement, to name just a few—help you sue any company or individual in small claims court, send a letter of warning to your noisy neighbors, help you reduce your property taxes and utility bills, and a lot more.
Sign up now if you want to stop email and text spam, claim any insurance or warranty, appeal parking tickets, schedule a DMV appointment in a flash, mail anything worry-free, find your missing assets, create passport photos, or contact embassies and consulates effortlessly.
Let DoNotPay Guide You Through Any Obstacle
Are you tired of corporations not taking their customers seriously? So are we, and that's why our nifty product will assist you in suing any company or individual in small claims court!
If you don't want to have any online service take advantage of you, you can sign up for any free trial completely risk-free with our virtual credit card's help, cancel any membership on time, and demand a refund or chargeback in a split second. DoNotPay can also draw up an airtight return request and send it to a company of your choice instantly.