Can You Take Your Emotional Support Animal on United Airlines?
Until recently, airlines were required to accommodate emotional support animals (ESAs) in the cabin. Numerous incidents, including the now-infamous peacock, have led to the rules being changed, and it is no longer easy to take your emotional support animal on United (or any flight).
Each airline now has their policies about emotional support animals, and it's best to understand the policy before you book your flight, so you are not turned away, told to check the animal, or potentially, stranded. United, Southwest, and American all have different rules.
What Is an Emotional Support Animal?
A service animal (which legally must be a dog or, in some cases, a miniature horse) performs specific tasks to assist an individual with a disability. An emotional support animal, on the other hand, provides relief for mental health symptoms by its presence. The ADA does not give public access rights to emotional support animals. However, the FHA requires that landlords allow emotional support animals even if they have a policy against pets. This generally requires an ESA letter for housing from a mental health professional. Most ESAs are dogs or cats, but a variety of domestic animals have been used, including birds, hamsters, rabbits, etc.
Certification does not replace the letter from your mental health professional, and fake letters have proliferated, meaning that you have to be particularly careful about getting your paperwork straight and ensuring that your medical professional puts together a letter for you that meets the specific requirements you need.
Here are questions you might want to ask and the quick answers to them:
| | | |
| --- | --- | --- |
| | ESA | Service Animal |
| Definition | A pet, whose presence is determined to be needed for the mental health of a patient. The pet is prescribed by a licensed mental health professional to a person with a disabling mental illness. | According to the Americans with Disabilities Act (ADA), service animals are dogs that are trained to perform tasks or do work for people with disabilities. |
| Does the assistance animal have access to public areas? | No | Yes |
| Can the assistance animal be banned or restricted when the owner is obtaining housing? | No | No |
| Will the owner of the assistance animal be charged a pet deposit for living with one? | No | No |
| Is the assistance animal allowed on flights free of charge? | No | Yes |
Emotional Support Animals on United Airlines
According to the United Airlines website, they "Do not transport emotional support animals." United's pet transport policy is:
Small dogs and cats can fly in the cabin as long as they fit in a travel carrier that can slide under the seat in front of you. However, United charges a fee, and if you have a layover of more than four hours, you have to pay again.
Pets are not allowed on flights to, from, or through Hawaii and certain international cities.
The number of pets allowed on any given flight is limited.
The pet must remain in the carrier at all times.
Dogs and cats can be transported through the PetSafe program, but there is a long list of dog breeds that will not be accepted. They no longer transport animals as checked baggage except for military personnel.
So, basically, unless your pet will fit in a very small kennel, United Airlines won't transport it, and there are no official exemptions for ESAs.
What Are Your Options if United Airlines Will Not Transport Your ESA?
United's policies are strict. You are highly unlikely to be able to get any kind of exemption on your own. You might have more of a chance if the argument is whether your dog is an ESA or a psychiatric service dog, but there are significant differences between the two. Psychiatric service dogs are trained to do specific tasks when you are in mental and emotional distress, not simply be there for you.
However, if you really can't fly without your ESA, then you might have a case for discrimination. While ESAs are not covered by the ADA, the argument can be made that by denying boarding to your animal, they are denying boarding to you. Flying with another airline may not be an option; no domestic US carrier still allows emotional support animals. Some may have better options for transporting your ESA as a pet, however.
A claim of discrimination is not solid due to the change in the law, but if you need your ESA with you on the flight, DoNotPay can help you request a special exemption.
How Can DoNotPay Help?
DoNotPay has developed products that can help you with everything connected to ESAs and service dogs. We can help you send a letter to your landlord, find an online psychologist who can write you a prescription for an ESA, or deal with situations where your rights are not being respected.
1. Search "service animal" on DoNotPay.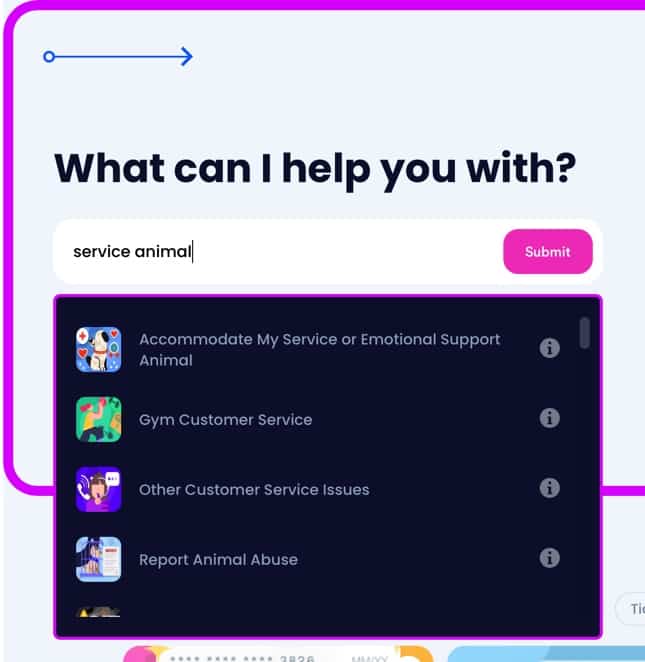 2. Select the type of issue you need help with, including contacting your landlord about your ESA/service animal, asking your airline about ESA options, or requesting ESA/service accommodations at other venues.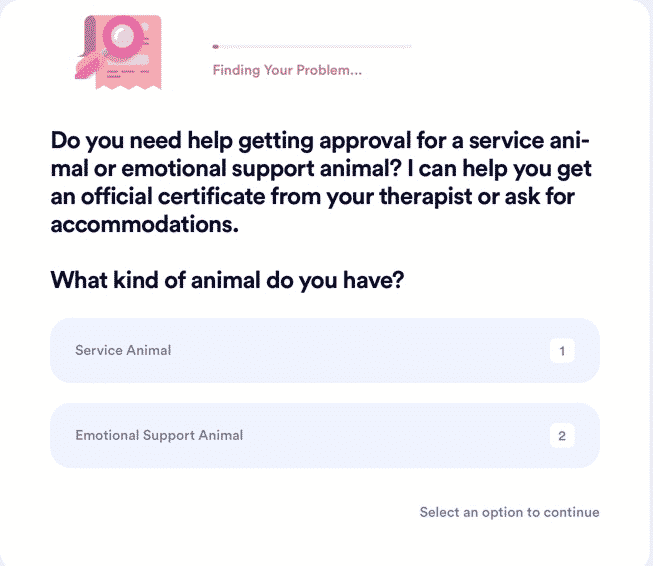 3. Answer a series of questions about your current situation and the details of your ESA/service animal, so we can generate the best results for you.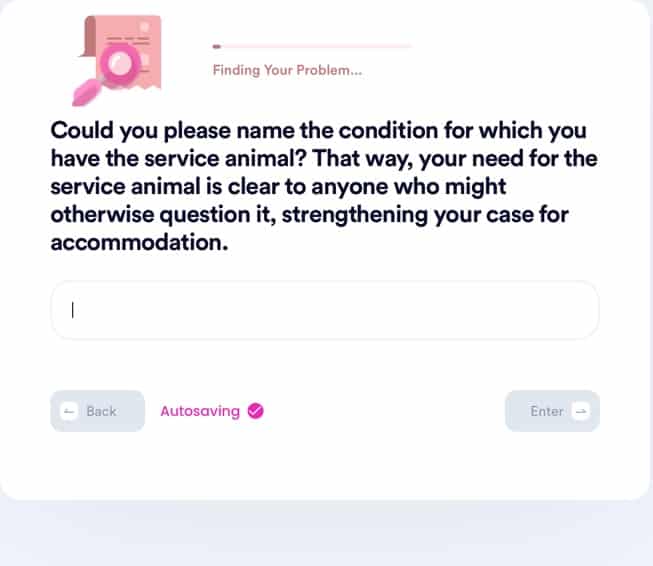 Our robot lawyer will help you with the next steps, including generating letters to request accommodations, asking your mental health professional for the right ESA letter, or finding out what an airline or venue's policies are. You don't need to be anxious about it.
We can also help if you are making a discrimination case. Check out our Sue Now product, which can help you with the paperwork to file a claim in small claims court. We can also generate demand letters and court scripts.
Why Use DoNotPay to Help With Taking an Emotional Support Animal on United Airlines
On your own, you are likely to run up against a wall of policy. With DoNotPay, there is at least a chance of having your ESA allowed to fly with you or getting a waiver of the high pet fee.
We can put together what you need quickly and easily and help you understand your rights and options.
More DoNotPay Products for Your Pets
DoNotPay has a variety of other products for your animal friends. These include help with:
Reporting animal abuse.
Reuniting lost animals with their owners.
Drawing up a pet custody agreement.
What Else Can DoNotPay Do?
DoNotPay can also help with all kinds of tedious problems. Our robot lawyer can take on the challenge of situations that are boring, complex, and often fail. These include:
Let us help with these problems while you take a long walk with your dog.