Unilateral Contract in Real Estate—Everything You Should Know
If you want to learn about unilateral contracts in real estate, you should turn to DoNotPay for information. We will explain the difference between unilateral and bilateral contracts and help you create the legal document you need!
What Is a Unilateral Contract, and How Is It Different From a Bilateral Contract?
A unilateral contract is a document in which one party promises to do something without having any expectations from the other party in return—it is a one-way promise. A bilateral contract requires both parties to have duties and obligations.
Most agreements fall into the latter category, and some nitpickers may argue that 100% unilateral contracts do not exist. This opinion is present because there is one requirement expected from the other party—usually a payment for the rendered services.
Examples of Unilateral Contracts in Real Estate
There are two legal documents that are the best examples of unilateral contracts in real estate:
How the Option To Purchase Agreement Works
The option to purchase agreement involves two parties—a buyer and a seller. The buyer has the option to buy a property from the seller at an agreed-upon price but is not obliged to act on the decision. This agreement needs to have two crucial components—a definite sale price and a definite time frame.
The buyer has a certain amount of time to think about purchasing the seller's property at an agreed price. The option agreement usually requires the buyer to offer some sort of option money to have the choice to consider buying the property.
This is normally 10% of the purchase price. If the buyer does not end up buying the property after the set time frame for the purchase expires, the seller keeps the option money.
How the Open Listing Agreement Works
An open listing agreement is a non-exclusive listing agreement, which means the homeowner can contract with multiple brokers. This document lets the seller sell their property on their own as For Sale by Owner (FSBO) property or execute open listings with more than one broker. The seller agrees to pay a commission to the first broker who brings a buyer.
Since this contract is based on the performance of the action requested of the promisee and not on the promise to perform, it is a unilateral contract. It is the preferred agreement of sellers compared to other similar agreements because it only comes with upsides.
Use DoNotPay To Make Numerous Real Estate Contracts
If you need to make a real estate document fast and easily, you should use DoNotPay. Here are some of the agreements our app can help you create:
Quitclaim Deed
Intent To Purchase Real Estate
The process of drawing up a document with DoNotPay is straightforward and provides you with a customized contract, unlike free contract templates available online. You only need to follow a few simple steps to obtain your document:
in a web browser you prefer
Enter the name of the document you need in the search field
Give us more information to help us customize your agreement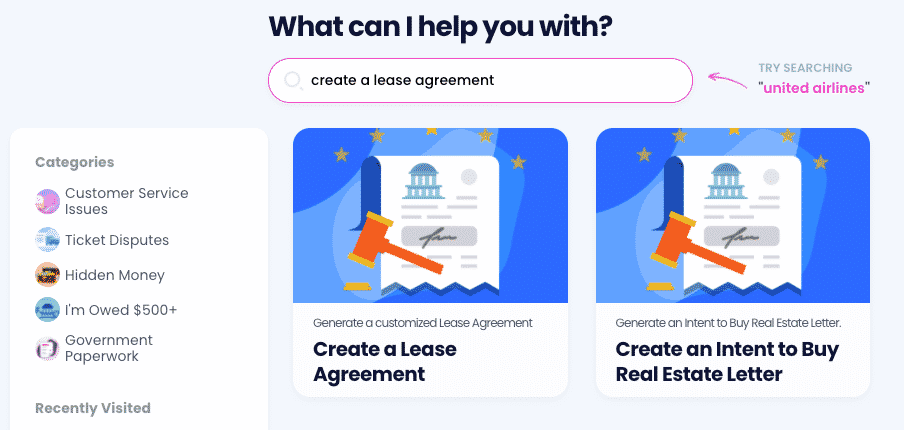 Use DoNotPay To Learn About and Make Other Legal Documents
You can use DoNotPay to create documents from other fields, not only real estate. We have a comprehensive database that keeps expanding. Take a look at the table below to see what agreements you can draw up and learn about if you use our app:
Documents You Can Create With DoNotPay
Documents You Can Learn About

General Business Contract
Promissory Note
General Affidavit
Need To Get a Document Notarized? DoNotPay Has Got You Covered!
You can kill two birds with one stone if you use DoNotPay—create a document and get it notarized from the same app. Many real estate and other documents need a notary's signature. With DoNotPay's help, you will find an online notary and not even have to leave your house to get the contract notarized! You only need to follow these steps:
in a web browser you prefer
Choose our Notarize Any Document product
Attach the document you want to get notarized
Enter your email address
The notaries we work with are available 24/7, every day of the year! You only need to decide what date and time fit your schedule. DoNotPay is here to help you deal with bureaucracy whenever you need assistance!
Say Goodbye to Administrative Issues—Rely on DoNotPay
Are annoying procedures—such as canceling memberships, disputing parking tickets, filing warranty and insurance claims, requesting refunds for purchased products or services—giving you headaches? Do you dread calling an airline's customer support to request a refund and compensation for a canceled flight? You're not alone! The good news is—DoNotPay can help you solve these issues stress-free!
You can use our app to prepare for your driving test or other government exams and schedule an appointment with the DMV in minutes.
Are you wondering whether you're paying too much for your property taxes? Make sure to try out our Property Tax feature and learn about the best way to reduce your property tax bill.
Annoyed by Spammers? DoNotPay Can Help!
With DoNotPay, you can get rid of spam emails and text messages and report robocalls in one fell swoop. Our Burner Phone feature will generate a fake phone number that you can provide upon registration for any service!
Besides helping you enjoy free trials without the risk of being charged, DoNotPay's virtual credit card has another advantage. It will provide a random email address you should use when signing up for a free trial. That way, you'll avoid pesky marketing emails and email notifications.