What Is the Purpose of the Uniform Power of Attorney Act?
A power of attorney (POA) is a useful document if you cannot handle certain matters alone. Whether you need to leave the city or are unable to deal with necessary affairs for any other reason, you can appoint an individual to do that in your stead.
If you're wondering about your state-specific POA regulations and would like to know what the Uniform Power of Attorney Act is, you've landed on the right page.
Besides helpful articles, DoNotPay provides a handy POA tool you can use to create POA documents and have them notarized without leaving our app.
What Is the Uniform Power of Attorney Act?
The Uniform Power of Attorney Act (UPOAA) is a framework designed to govern the creation of powers of attorney throughout the States.
The Uniform Law Commission (ULC)—an organization consisting of lawyers and judges from different U.S. states—developed this act to enforce uniformed document creation throughout the country.
What Is the Purpose of the Uniform Power of Attorney Act?
The primary purpose of the UPOAA is to uniform laws governing powers of attorney across the USA.
A POA is a powerful tool enabling an individual to appoint another person to act and make decisions in their stead in various matters, including finance, health care, property, business, etc. The former person is the principal and the latter the agent or attorney-in-fact.
U.S. states require a POA document if a principal cannot take care of certain matters on their own because they are:
Deployed in the military
Out of the city for some time
Undergoing medical treatments
While all states accept POA documents, they also have different laws governing the creation and enforcement of powers of attorney. That's why, depending on what state you live in, you'll have to follow your state-specific POA requirements when drafting a power of attorney.
The Uniform Power of Attorney Act—Key Provisions
Here are key provisions of the UPOAA:
A POA letter created before the UPOAA enactment remains valid but has to comply with the state law that was in effect at the time the document was drafted
A power of attorney made after the passage of the UPOAA needs to be:
The POA agent's responsibilities and duties should be specified in plain English
An attorney-in-fact is not responsible for any wrongdoing if they act in the principal's best interests
Third parties do not have to accept a power of attorney if they suspect or know of any misuse of the principal's granted authority
Which U.S. States Have Adopted the Uniform Power of Attorney Act?
26 states have already adopted the UPOAA, and three have introduced the necessary legislation. Here's a full list:
Adopted UPOAA
Waiting for the UPOAA Adoption

Wyoming
New Hampshire

South Dakota
The District of Columbia
Even the states that haven't adopted the UPOAA yet have made their power of attorney laws substantially similar to the act.
What Is the Uniform Durable Power of Attorney Act?
The Uniform Durable Power of Attorney Act was created before the UPOAA. The purpose of the UPOAA's predecessor was to offer people a safe and reliable method to get their matters taken care of even if they become incapacitated.
Here's a list of acts preceding the UPOAA that the ULC used as the foundation for the current act:
The Uniform Probate Code—The first national framework for powers of attorney
The Uniform Durable Power of Attorney Act—The basis for durable POAs last amended in 1987
The Uniform Statutory Form Power of Attorney Act—This act superseded the previous one in 1988
The ULC introduced the Uniform Power of Attorney Act in 2006, and all changes are available on their website.
What Is a Suitable Power of Attorney Type for You?
You should know that there are various POA types you can use depending on your needs and wishes. Here's a breakdown:
POA Types
Extra Information
General
A principal can use this type of POA to grant an agent the authority to handle a wide range of matters on the principal's behalf. This POA document ends if:

The principal revokes the POA, becomes mentally incapacitated, or dies
The agent cannot fulfill their obligations, resigns, or passes away

Springing
This POA type comes into effect if a particular situation arises, e.g., when a principal becomes incapacitated. The triggering event has to be precisely specified in the document
Durable
The document remains in force for a lifetime unless the principal revokes it
Limited
A limited POA determines specific powers the principal grants to their agent. It ends once the particular task is completed
Financial
This document gives an agent the authority to manage the principal's financial matters
Medical
With this POA, a principal grants an agent the power to make decisions regarding their health care
Sign up for DoNotPay to create a durable power of attorney tailored to both state-specific and personal requirements.
DoNotPay Generates POAs in a Flash
You can get a power of attorney document that will meet your specific needs and take into account your state law.
A POA doesn't have to cost you an arm and a leg because you don't need a lawyer to draw one up for you.
We're not suggesting online templates. They can be handy, but you'll need to make lots of changes since they're typically vague and might not provide sections relevant to your state POA regulations or your particular situation.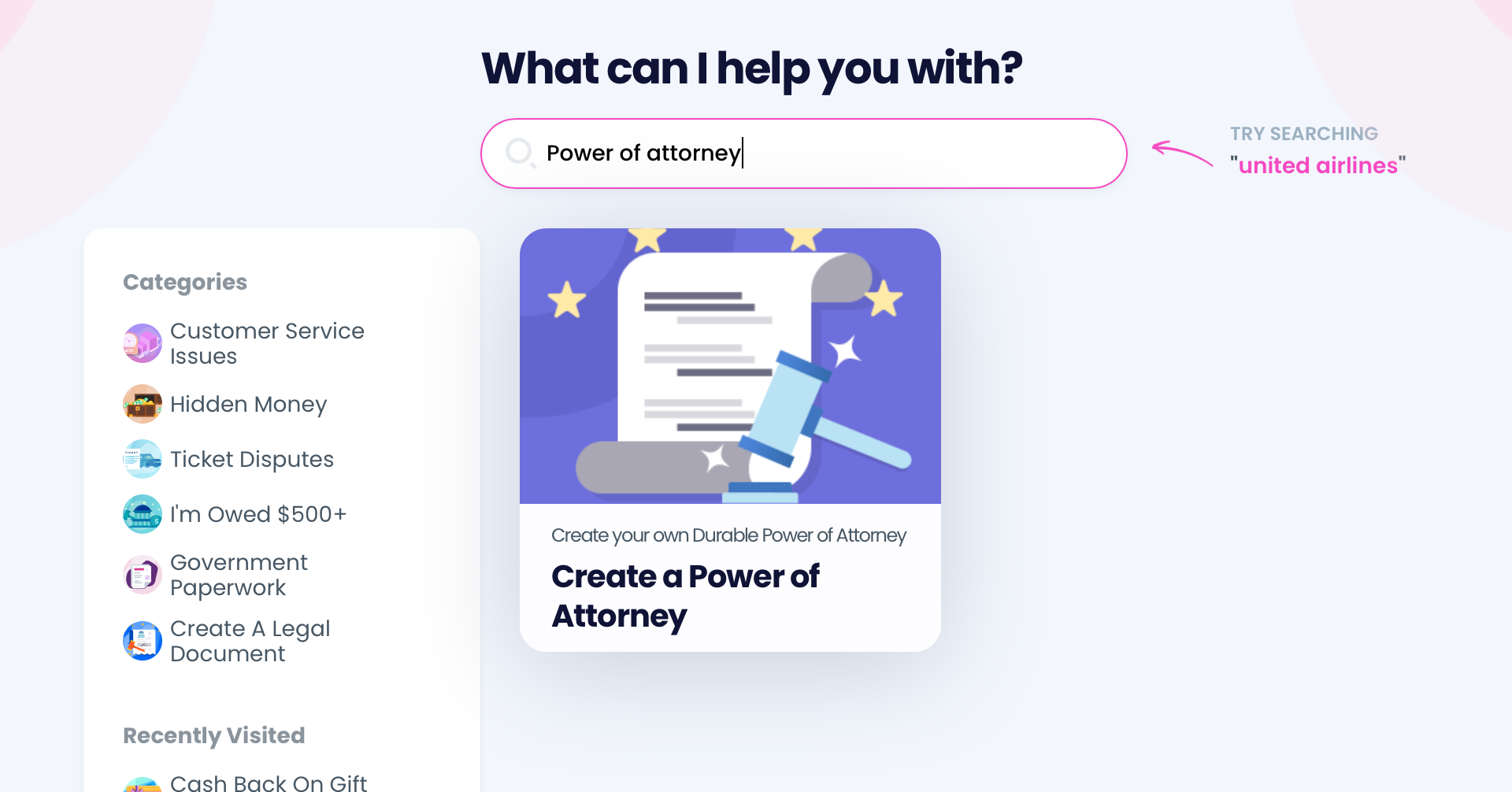 There's a more efficient way! Subscribe to DoNotPay and take these steps:
Select the Power of Attorney product
Give answers to our chatbot's questions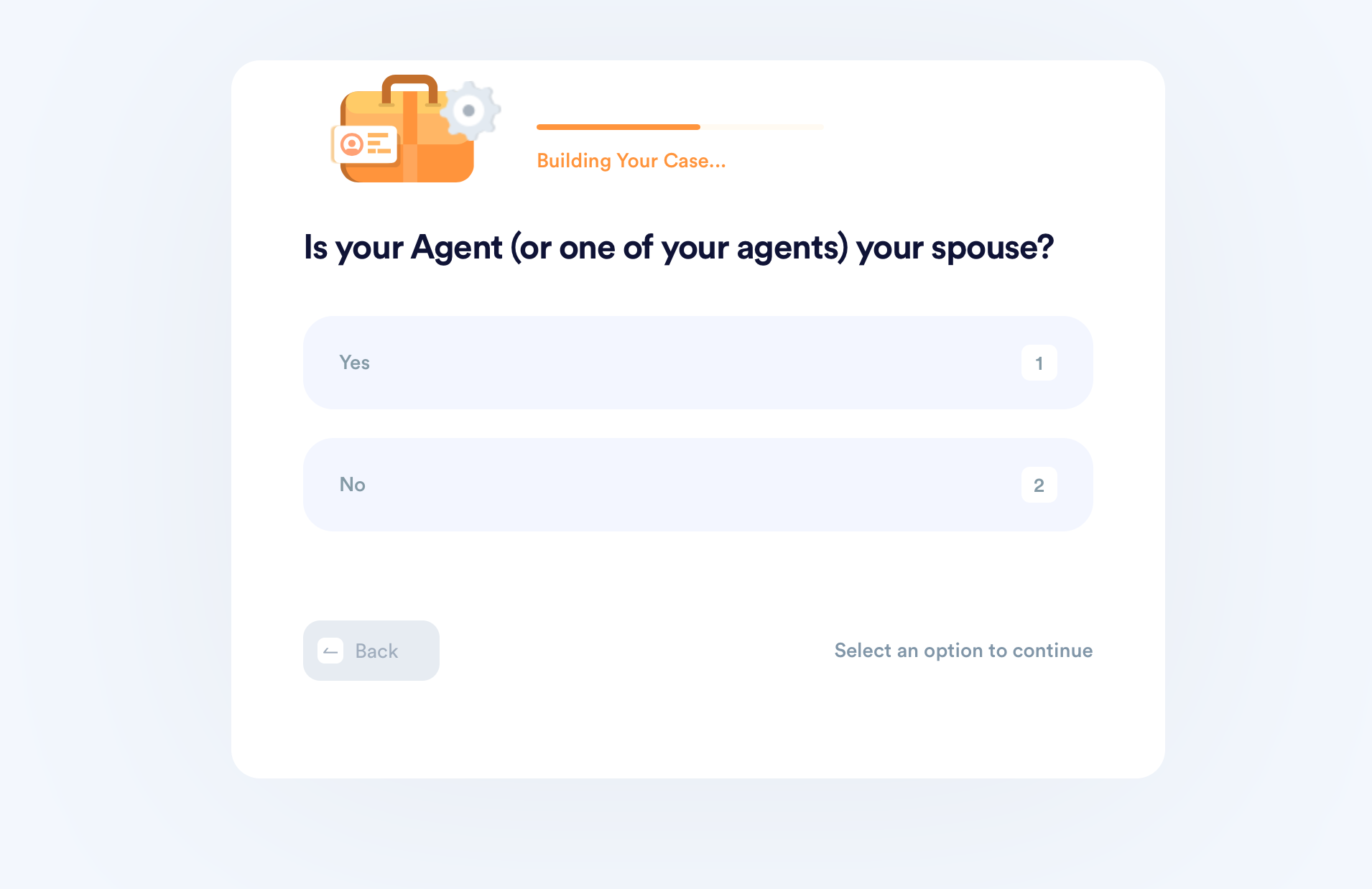 Our AI-powered app uses the provided information to create a document suitable for your requirements. We'll also send you two notices with the POA document that both you and your agent should read.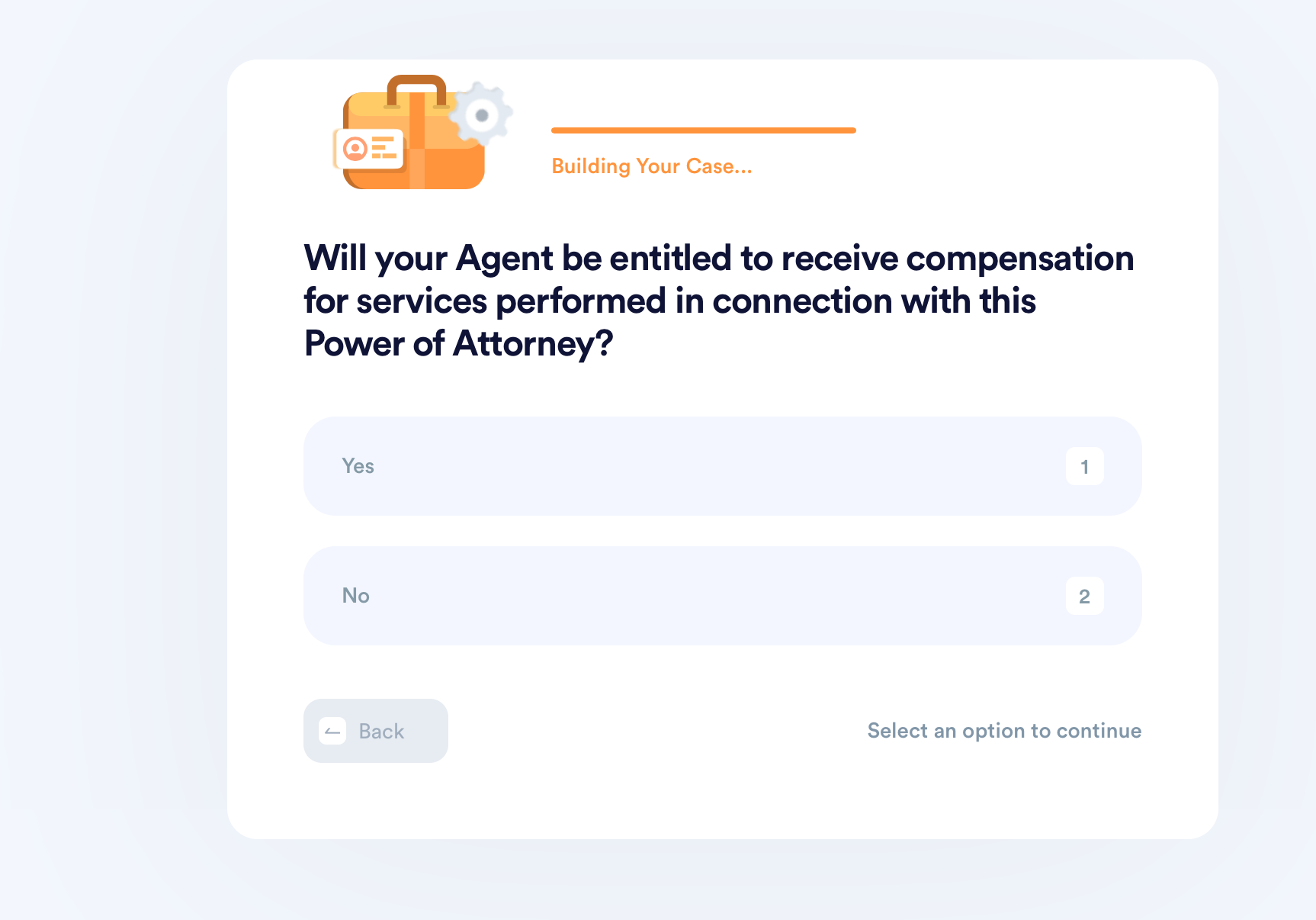 Not only do we provide powers of attorney, but we can also connect you with a notary public. Why would you need one? Because POAs are usually not valid if not notarized.
Communication Troubles? Say No More!
Yes, communication is the key, and DoNotPay vows to provide you with the best, most convenient methods to relay or protect your message—whether it's correspondence with your business partner or a loved one who's serving time.
Check out what you get by using our platform:
Use DoNotPay for a Better Shopping Experience
If you have a tendency to shop till you drop, some issues with purchases are bound to happen. Customer rights and satisfaction is what DoNotPay is passionate about.
With your subscription, you will be able to: