Get Your Money Fast—The Best Way To File an Unemployment Insurance Claim
Losing a job is one of the most stressful life events. You are suddenly left without money and health benefits, and the future is uncertain. If you lose a job through no fault of your own, you are granted unemployment insurance.
Before filing an unemployment insurance claim, you should learn more about the process, eligibility criteria, and benefits you may get. Fortunately, DoNotPay has all the information you need!
What Is Unemployment Insurance?
Unemployment insurance—or unemployment benefits—represents a federal unemployment program that each state administers to people who lost their jobs unexpectedly due to budget cuts or other issues. Being a joint program, the Federal Unemployment Tax Act (FUTA) and state taxes fund unemployment insurance together.
Being out of work does not guarantee that you will get unemployment benefits. You have to meet certain requirements. The amount one receives in the form of unemployment insurance is not based on financial needs but on the work history and previous wages.
Who Is Eligible for Unemployment Insurance?
Every state has specific rules and regulations regarding unemployment insurance. The same goes with eligibility guidelines, but you usually qualify if you:
Lose your job without it being your fault—due to budget cuts, in most cases

Are able to work and are actively seeking work

Meet your state's work and wage requirements

Meet additional requirements by your state
What Does Unemployment Insurance Cover?
The amount of money that you'll get with unemployment insurance depends on the state where you worked. In general, benefits are based on the percentage of your earnings in the previous 52 weeks. According to CNBC and the U.S. Labor Department, the average amount in unemployment benefits was $378 a week in 2019.
The amount can vary significantly from state to state. Take a look at the following table to check out unemployment benefits in several U.S. states:
| | |
| --- | --- |
| State | Maximum Weekly Unemployment Benefits |
| Alabama | $275 |
| Arizona | $240 |
| California | $450 |
| Hawaii | $648 |
| Louisiana | $247 |
| Massachusetts | $823 |
| Oklahoma | $539 |
| Tennessee | $275 |
| Utah | $580 |
| Washington | $790 |
How Long Will I Receive Unemployment Insurance?
Since the states regulate their own unemployment insurance policies, the duration of unemployment insurance is not strictly defined. It also changes annually. According to the article by Saving to Invest, in 2020, eligible unemployed people received benefits for 26 weeks maximum in most states. People who worked in Florida and North Carolina received benefits for 12 weeks maximum and former employees in Montana for 28.
How To File an Unemployment Insurance Claim on Your Own
To file a claim for unemployment insurance, you will have to gather some information first, including:
Details from your previous jobs and employers (up to two years)

Your Social Security number (SSN)

Personal information, such as date of birth, ID number, and address

Banking information
Here is what you need to do once you collect the necessary information:
Contact your state of employment's unemployment insurance program

Inform them about the date and reasons for losing your job

Give the correct contact and bank information

Provide correct and complete information about your former employer
States have different rules and various methods for filing unemployment insurance claims, and some may take more time than others to process your request. In general, it will take two to three weeks for the department to contact you and send you your check.
File an Unemployment Insurance Claim Using DoNotPay
Filing an unemployment insurance claim can take a lot of time and energy, especially if the state of your former job is not the same as the state of your residency. With all the different rules and regulations, people can get confused and fail to deliver the correct information. If you don't want to lose your unemployment benefits over a small mistake, you should let DoNotPay help you file a claim!
We created a handy Claim Insurance feature that assists you in creating insurance claims in a bat of an eye. You can use this practical tool to file claims for:
Car insurance, regardless of who caused the

accident

Home and property insurance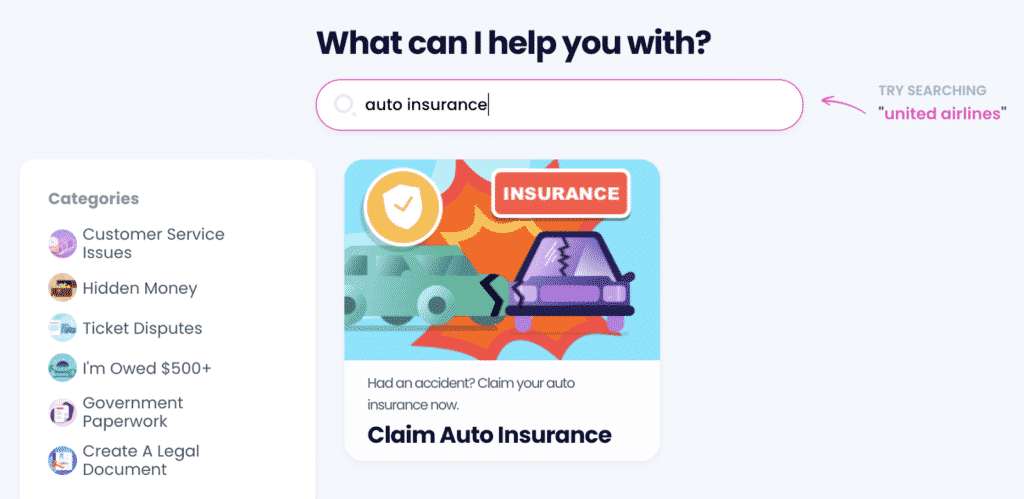 Access your DoNotPay account from any web browser, and follow these steps to file an insurance claim:
Find the insurance type using the search box

Enter your contact information

Provide details crucial to your insurance claim

Hit

Submit
The insurance company or the state department will contact you later with the results of your claim.
DoNotPay Can Help Appeal Denied Insurance Claims
Whether you are filing a claim for home, life, auto, or unemployment insurance, the company will likely reject your claim. Insurance companies are constantly looking for reasons to deny claims and avoid paying what they owe to their clients.
If the insurance company rejects your claim, you can open DoNotPay in your web browser and find our convenient feature for submitting appeals. We will do our best to improve your chances of getting the insurance you are entitled to.
DoNotPay Is an Ultimate Money-Saving Assistant
Our app can help you manage bills that are too high to pay, but there are plenty of other money-saving possibilities out there we can help you with.
Want to challenge a parking ticket? DoNotPay can dispute parking citations in any city! Is someone getting revenue from your creative work? Cut the thieves off with DoNotPay!
 We can also help you get your college application fees waived, file any insurance or warranty claims, locate unclaimed funds in your name, or earn some extra cash from paid clinical trials in your area.
No More Risky Free Trials With DoNotPay
Do you love free trials but tend to forget to cancel your subscription before the trial ends? If this is the case, check out DoNotPay's virtual credit card for a risk-free experience.
With our virtual credit card, you can sign up for any service without worrying about unwanted charges. DoNotPay will even provide you with a random email address, which will help keep your inbox clean from spam emails from any company.
Our app can also get in touch with the company's customer service, request a refund from them, or even escalate your issue to small claims court if the company is challenging to communicate with.