Uncontested Divorces in Michigan—DoNotPay Has All the Deets
Getting a divorce is a stressful, expensive, and time-consuming experience in most cases. It doesn't have to be if you opt for a friendly, uncontested divorce in Michigan.
In this article, DoNotPay will provide detailed information about uncontested divorces in Michigan. Our guide will explain how to get divorced without hiring a lawyer and going to court—which means you'll have a low-cost divorce.
One of the vital aspects of an uncontested divorce is creating a marital settlement agreement. You don't have to write it yourself because DoNotPay can create it for you. Subscribe to our platform and get a bulletproof divorce settlement agreement with zero effort!
Michigan Uncontested Divorce—Details
Having an uncontested divorce means that you and your spouse agree on all terms of it. You can reach an out-of-court settlement because you've negotiated all the terms of the divorce yourselves, so there's no need for a judge to make the decisions for you.
The key items that you'll need to discuss and agree on with your partner are:
Child custody and visitation schedule
Child support and coverage for health and dental insurance
Tax deductions and exemptions
Any other divorce-related matters
What Are the Residency Requirements for an Uncontested Divorce in Michigan?
Before you file for divorce in Michigan, you'll need to meet the state's residency requirements—they are as follows:
You or your spouse need to have lived in Michigan for at least 180 days before filing
One spouse must have resided in the county where the papers were filed for at least ten days
You can waive the ten-day requirement if you have a good reason and supporting evidence to suspect that your spouse might kidnap the children and go with them to another country.
What Are the Grounds for an Uncontested Divorce in Michigan?
Michigan recognizes only no-fault divorces, which means that you don't have to prove whose fault the breakup of the marriage was. In a no-fault state, you can file for divorce on the grounds of irreconcilable differences.
How Much Does It Cost To File for Divorce in Michigan?
The cost of an uncontested divorce in Michigan will involve only the court fees. The court fees you'll need to pay are:
A filing fee of $175
Judgment fee of $80
Service fee, which can range between $25 and $50, depending on the method you choose
Key Points of Filing for an Uncontested Divorce in Michigan
Take a look at the crucial aspects of filing for an uncontested divorce in Michigan:
| Elements | Details |
| --- | --- |
| Collect all the necessary paperwork | |
| Make copies of every document | Before you file the original papers, you should make at least two copies of each document |
| File the original forms with the court | |
| Serve your spouse | After filing, you'll need to serve the divorce papers to your spouse. A process server or a sheriff's deputy may serve the divorce papers, or you can get a friend or a relative to perform the act. The server must be at least 18 and can't be involved in your case |
| Create a divorce settlement agreement | This document serves to outline all the terms of your divorce that you've already settled with your spouse. It has to be state-law compliant, professional, and straightforward for the judge to approve it. You can use DoNotPay to create an airtight divorce settlement agreement in the blink of an eye |
Navigate Your Uncontested Divorce With the Help of DoNotPay
Generating a divorce settlement agreement with DoNotPay is easy and affordable. You can use our app to draft a professional divorce settlement agreement effortlessly.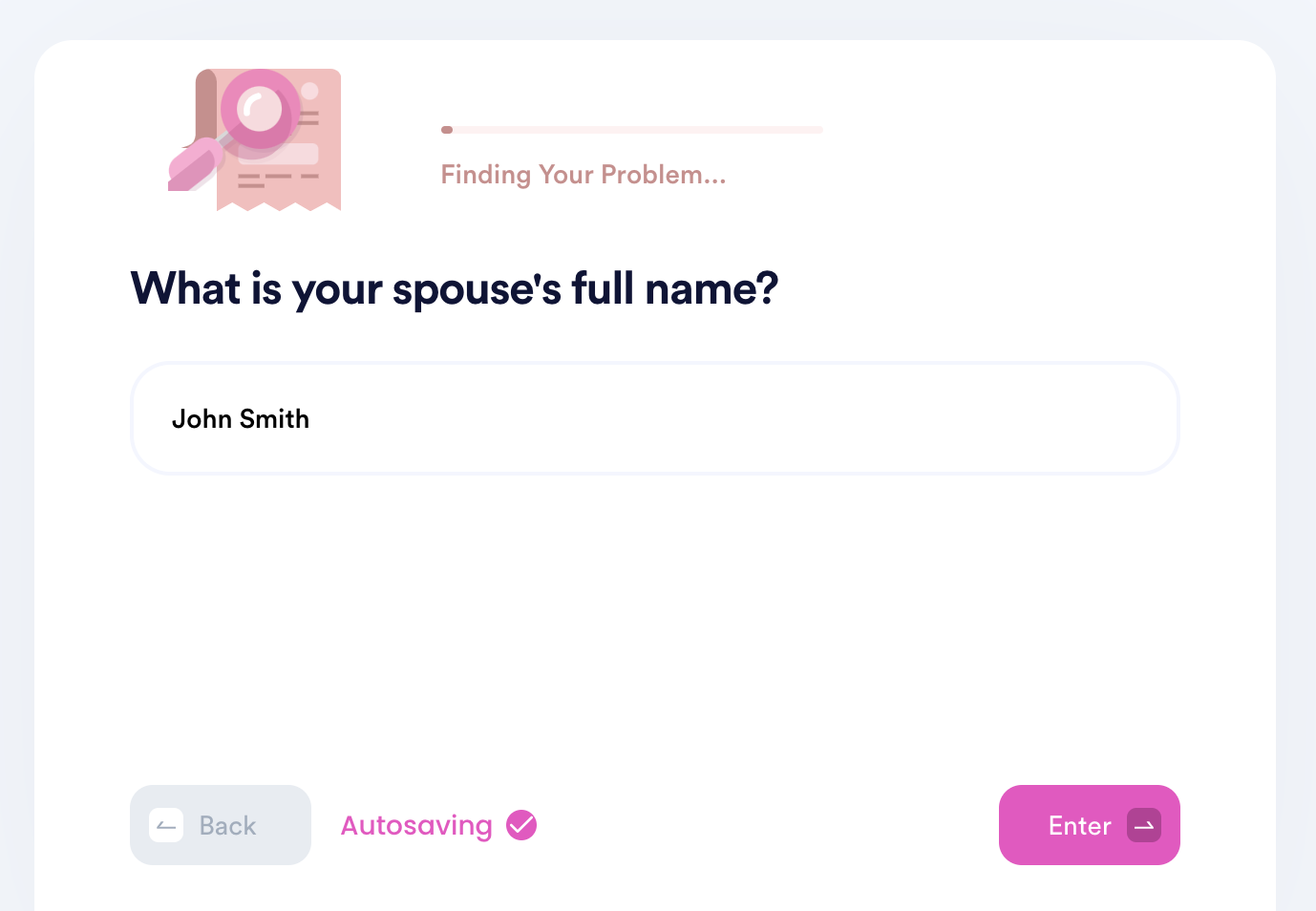 After you register for DoNotPay, follow the steps below to create your document:
Open the Divorce Settlement Agreement product
Provide all the required information about you, your spouse, and your marriage
Tell us whether you need us to book a meeting with an online notary
DoNotPay will draw up your document and send it to you. You and your spouse only need to sign it and get it notarized. DoNotPay will schedule an online meeting with a Michigan notary who will notarize your document remotely.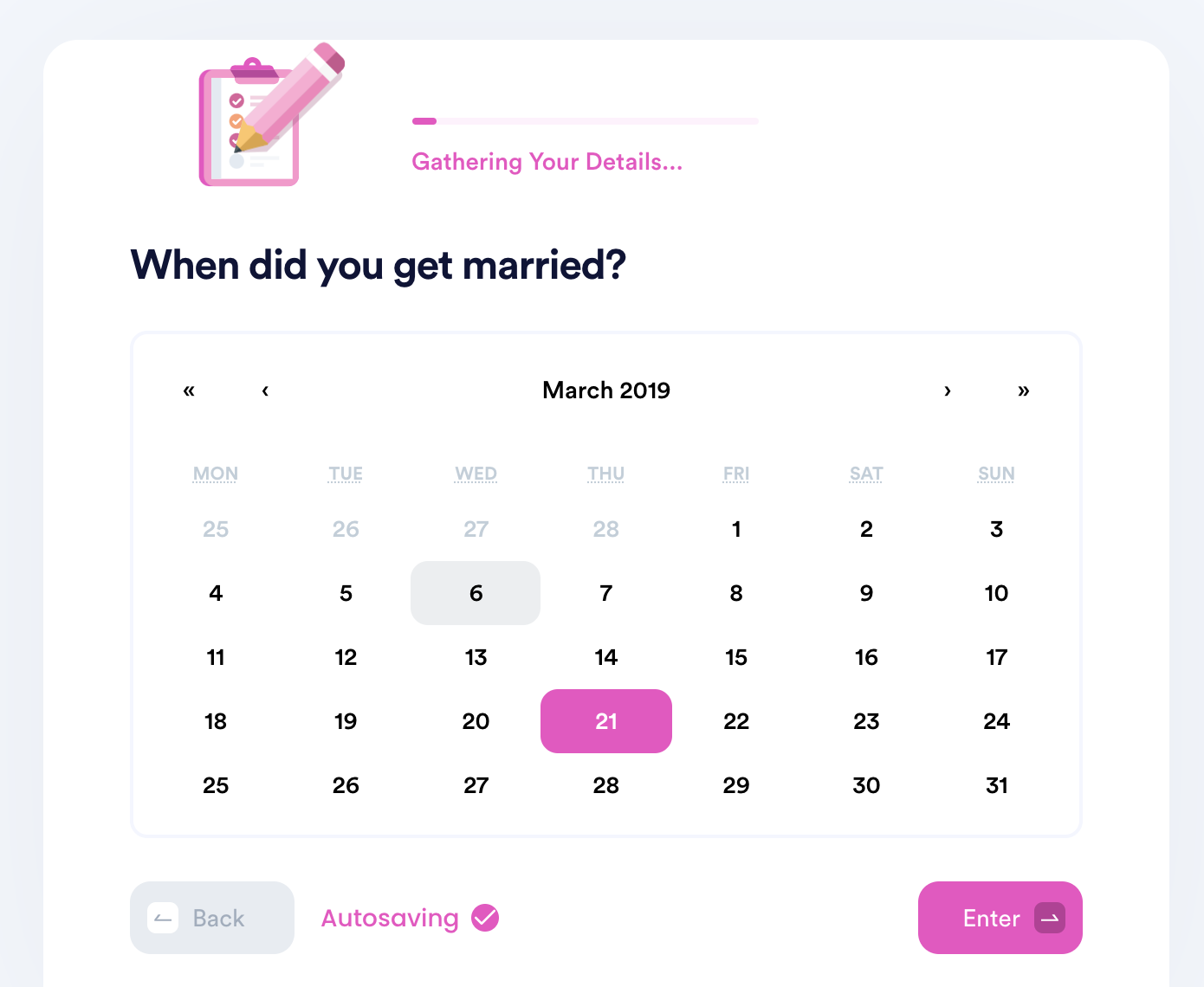 DoNotPay has more details about divorces in Michigan and its counties, so you should consult our learning center if you're still confused about the process. We will answer all questions for you, including:
DoNotPay's Vast Collection of Features Keeps Expanding
Determined to simplify bureaucratic procedures and help you with various daunting items on your to-do list, we created DoNotPay—the world's first robot lawyer! With us, you can:
Streamline Different Tasks by Using DoNotPay's Practical Features
Are you looking for an efficient way to gain back your unclaimed money or get a refund from a company? Do it with DoNotPay without lifting a finger! Our app provides excellent money-saving features that will increase your budget and make all unnecessary expenses disappear.
We can assist you in terminating unwanted subscriptions, recovering your unused gift card funds, reducing your bills, and requesting late delivery refunds. You don't even need to hire lawyers to write a financial aid appeal letter, an HR complaint, or a child travel consent form in your stead—our app can do all this!