Move Forward With an Uncontested Divorce in Wisconsin—Rely on DoNotPay
If divorce is your route out of a failing marriage, you want the process to be over as quickly, cheaply, and easily as possible.
Wisconsin residents are fortunate in being able to file for uncontested divorce jointly, meaning you can potentially avoid expensive legal fees and protracted court cases.
DoNotPay is here to show you the way to an uncontested divorce—Wisconsin law can make the process painless!
Who Qualifies for an Uncontested Divorce in Wisconsin?
If you are looking for a divorce in Wisconsin, you only have to fulfill the following criteria:
| | |
| --- | --- |
| Divorce Criteria | Explanation |
| State residency | You or your spouse must have lived in Wisconsin for six months |
| County residency | One of you should have lived in the county where you are filing for the last 30 days |
| Reason | Your marriage must be irretrievably broken |
If you meet all the above criteria, your simplest and most cost-effective route is to file a joint petition for divorce.
This requires some preparation between you and your spouse—the better you prepare, the easier the process will be.
How Should You Prepare for an Uncontested Divorce in Wisconsin?
The make-or-break factor in deciding whether you will require litigation to finalize your Wisconsin divorce is your divorce settlement agreement.
The settlement agreement states how your marriage should be dissolved and sets out a framework for:
If a judge is satisfied that your settlement agreement covers everything necessary, your divorce becomes a formality and can be granted in the shortest possible time.
How Can You Set Up a Divorce Settlement Agreement?
The ease of agreeing on a settlement depends on your and your spouse's:
Willingness to cooperate
Desire to keep your divorce costs down
Need to reach a fair and equitable solution for all stakeholders
The options you have to draft and finalize your agreement are as follows:
Lawyer
Online
Is a Lawyer the Best Choice?
A lawyer is the default choice for many couples seeking a divorce, but if you and your spouse are looking for a friendly divorce, you may find that an attorney is unnecessary.
Even if you can't agree on every detail of your settlement agreement, you may be able to resolve your differences by opting for mediation instead of negotiation between two expensive attorneys.
A Wisconsin mediator can help you and your spouse reach a mutually acceptable agreement at a significantly lower cost. Mediation in the Badger State can cost between $3,000 and $5,000 for a private practitioner, but court-appointed mediators—who usually resolve child-related questions—can cost as little as $60 per session.
This can be compared with attorneys' fees that average over $210 per hour in Wisconsin.
Should You Try To Find an Online Template?
Many companies offer online divorce settlement agreement templates for you to fill out. Caution is advised, though—while they are a cost-effective option, many of these templates are generic and:
Do not cover all the areas you need to be included in your settlement
May not be valid in Wisconsin courts
Why Opt for DoNotPay?
DoNotPay gives you the best of both worlds—a watertight and customizable settlement agreement that avoids the costs of an attorney.
How Does DoNotPay's Divorce Settlement Agreement Work?

DoNotPay is your go-to resource for keeping your sanity and your bank balance intact throughout your uncontested divorce in Wisconsin!
Our Divorce Settlement Agreement product is designed to give you a tailor-made, legally airtight document that covers all the points you need to settle. In a few clicks, you and your spouse can set up your settlement and streamline your Wisconsin divorce proceedings!
Here's how to use our feature:
Click on our Divorce Settlement Agreement product
Follow the prompts and fill in the details of your agreement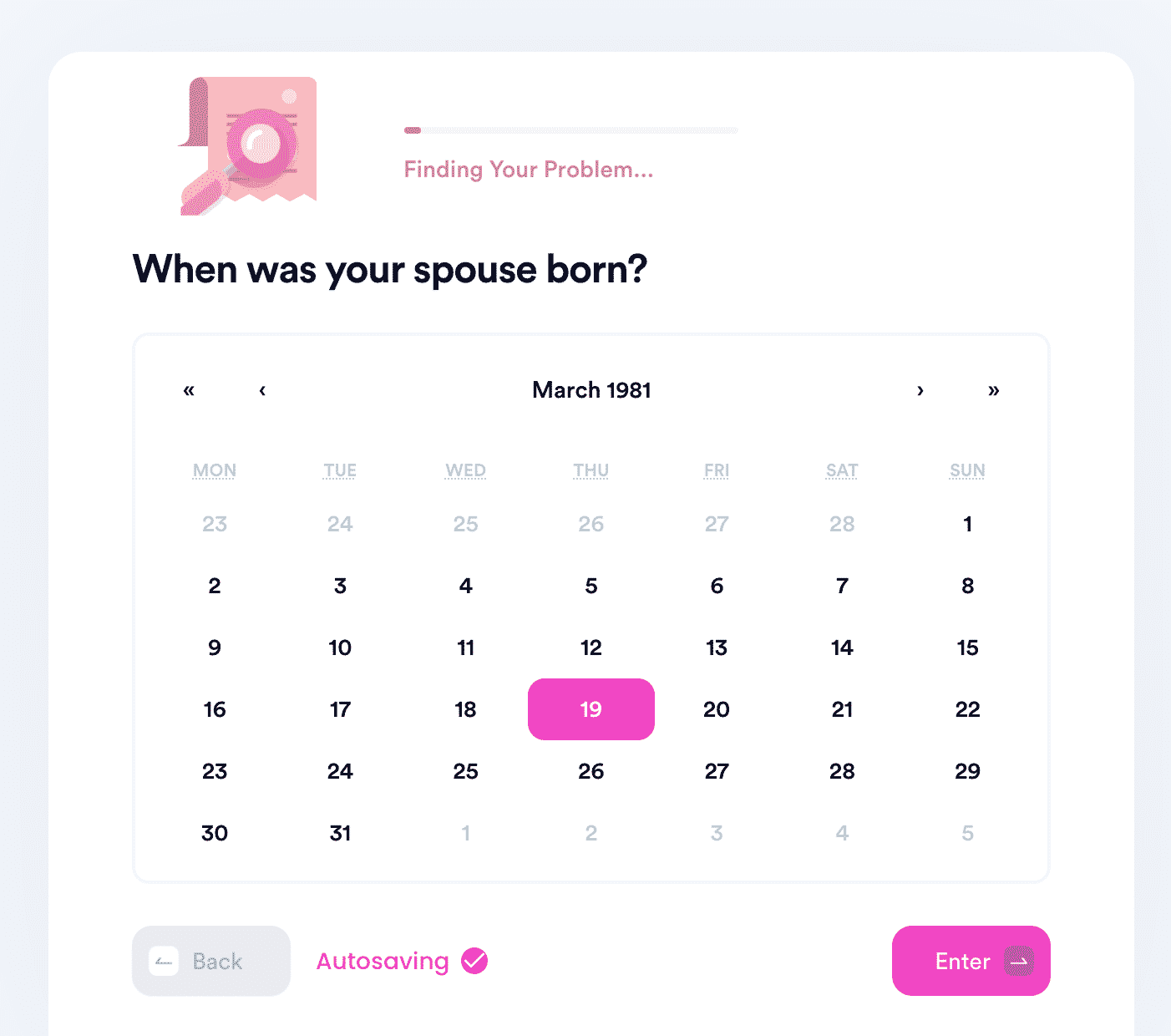 Once you have answered all the questions, we will generate your agreement for you to print. You and your spouse can sign it and have it notarized, at which point you can move on to filing your uncontested divorce papers.
If you aren't sure where to find a notary in your area, DoNotPay can solve the problem with our online notary service!
How To File Your Divorce Papers in Wisconsin
Once your divorce settlement agreement is finalized, you and your spouse can file your divorce papers jointly with your local county court.
Wisconsin provides the forms you need to file for divorce, and all you need to do is fill them out and attach your divorce settlement agreement. As you and your spouse fill out the form together, there is no need to have the papers served.
You can file the papers in person or online, and you will have to pay the filing fee of less than $200 at that point.
Wisconsin has a mandatory vesting period of 120 days before your divorce can be finalized, during which a judge will review your papers.
A completely out-of-court settlement is not possible in Wisconsin, though. Once the waiting period is over, you will be asked to attend one hearing at which the judge will verify that:
You both want the divorce
The statutory waiting time has elapsed
All the paperwork is in order
The settlement agreement is in the best interests of all the stakeholders
If all these criteria are met, your divorce will be granted, and your life can continue.
Why Waste Money on Lawyers When You Have DoNotPay?
Although certain tasks require you to get a lawyer's assistance, you don't have to spend hundreds of dollars for their service. With DoNotPay, you can avoid figuring out the legal jargon and have peace of mind dealing with bureaucratic tasks the easy way.
Need help preparing for a small claims court appearance or composing a neighbor's complaint letter? Looking for an easy but efficient way to draft a power of attorney or divorce settlement agreement? Use DoNotPay's features to draft legal documents, sue companies, request refunds, claim warranties, and file insurance claims while still saving a pretty penny!
Communication Is the Key
The best way to resolve issues is through clear communication, but companies don't always make it easy to do so. That's why DoNotPay came up with various features that help make communicating and solving problems a piece of cake. Sign up for our app and forget about waiting in lines for hours to speak to a customer service rep!
Here's what you can do with our app: