Filing for an Uncontested Divorce in Texas Made Simple
Have you and your spouse decided to file for marriage dissolution? If you don't want to spend months or years trying to finalize the process, you should opt for an uncontested divorce.
The Lone Star State has various laws and requirements concerning this matter, but there's no need to fret! We will give you the rundown on uncontested divorce in Texas!
Understanding the Grounds for Divorce in Texas
Before initiating the divorce process, you have to consider the grounds you're basing it on. Texas recognizes both no-fault and fault-based legal reasons for marriage dissolution. If you're unsure about the grounds for your divorce, consult the following table:
No-Fault Grounds
Fault-Based Grounds

Irreconcilable differences
Living separately for a minimum of three years
Confinement in a mental hospital for at least three years

Cruelty
Adultery
Voluntary abandonment for at least one year
Felony conviction or imprisonment
Impotence or infertility
Homosexuality
Substance or alcohol abuse
Unwillingness to support the other spouse financially
Cultural or religious differences
Keep in mind that the legal grounds you're basing the divorce on can determine whether you can file for an uncontested divorce.
Do I Qualify for an Uncontested Divorce in Texas?
An uncontested divorce is quicker and cheaper than the regular one, but it's not accessible to everyone. Filing for simplified marriage dissolution requires meeting certain criteria (this refers to both you and your spouse):
Agreeing to:

End the marriage
The no-fault grounds for divorce

Not having:

Ongoing bankruptcy cases
Minor or disabled children together
Debts, real property, or retirement benefits to divide

Not being pregnant (even if the husband is not the father)
Not seeking spousal maintenance
In case you do have minor children or marital property, you and your spouse need to negotiate these subjects between yourselves. You have to discuss and agree on the following issues:
If you need help negotiating, you can resort to mediation. Once you settle these matters, you need to draw up a divorce settlement agreement.
Uncontested Divorce in Texas—Residency Requirements
You cannot petition for divorce in Texas if you don't meet the following residency requirements:
Either of you has lived in Texas for at least six continuous months before petitioning
At least one of you has lived in the county where you're filing for divorce for a minimum of 90 days
The Process of Filing for an Easy Texas Divorce
One of the advantages of an uncontested divorce is that you can complete the process without a lawyer, which can save you a lot of money. The process is undemanding, and it consists of the following steps:
Preparing Texas divorce forms—You can find the necessary papers on the official Texas Judicial Branch website. Keep in mind that some counties accept different forms, so you should check your county's government regulations. Make sure to download a set of uncontested documents, not regular. Fill them out and sign them as instructed on the website
Making copies of each document—Before submitting the original documents, you should make at least two copies of each. This is a necessary practice since you need to keep one copy for yourself and send another to your spouse
Filing the original forms—Submit the petition and other required documents at the local clerk's office in your county
Serving divorce papers—If you're not petitioning together, you need to deliver the papers to your spouse
Drafting a divorce settlement agreement—Once your spouse files an answer to the petition, you should draw up a settlement agreement. To ensure your agreement is valid and meets the state requirements, register for DoNotPay and let us create it for you
Attending a hearing—There's a 60-day mandatory waiting period for getting a divorce in Texas. After that, the court will schedule a hearing. The judge will review your divorce settlement agreement and, if you meet all the requirements, finalize the process by issuing the Final Decree of Divorce
Get a Divorce Settlement Agreement in Minutes Using DoNotPay
The judge can deny your petition if a divorce settlement agreement doesn't comply with the state-specific rules or fails to include certain clauses. The best course of action is to have an expert draft the document for you. Are you looking for professional assistance that doesn't cost an arm and a leg? DoNotPay fits the description!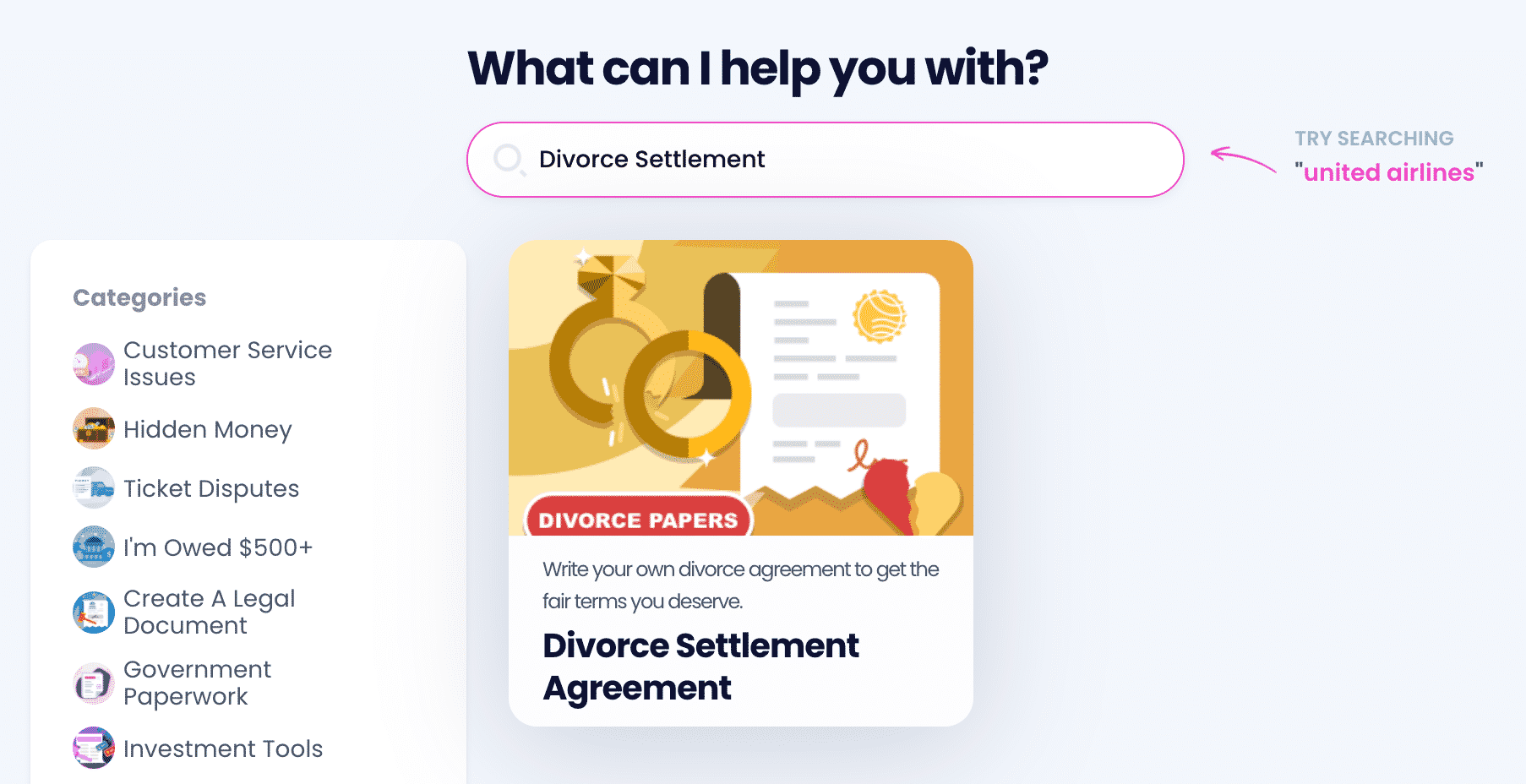 All you have to do is open DoNotPay and follow these instructions:
Choose the Divorce Settlement Agreement feature
Fill out our short questionnaire
Let us know if you need a notary
We'll use our comprehensive database of divorce laws and the information you provided to personalize the agreement.
DoNotPay is here to answer all your divorce-related questions—both general and state-specific:
We have information about divorce in various counties in Texas, including:
DoNotPay Is Righting Wrongs Left and Right
DoNotPay is a platform that puts its subscribers' safety in the first place. We can keep you safe from sex offenders, stalking, and harassment. In case you're a victim of a crime, we can help you get compensation.
Fight for discrimination at your workplace with the world's first robot lawyer or sue any company or person in small courts if you feel like you've been wronged.
Is There Anything DoNotPay Can't Do?
The short answer is no, and the list of our AI-based app's features keeps growing by the day. We offer professional assistance with issues that no other platform can help you with. Sign up now and: