DoNotPay Breaks Down Uncontested Divorce Papers
Whether contested or not, getting a divorce isn't easy, especially if you consider the legal technicalities and paperwork. If you're overwhelmed and don't know where to start, you've come to the right place! Our article will show you the ins and outs of uncontested divorce papers and how to file for dissolution the easy way! We'll help you end your marriage on the terms you deserve with a top-notch divorce settlement agreement.
What Is an Uncontested Divorce?
An uncontested divorce—also known as friendly or quickie divorce—is for spouses who want to end their marriage smoothly and are in agreement on the following issues:
Child custody and support
Visiting and parenting time
An uncontested divorce is much more straightforward than a contested one because, once you agree on these aspects, you won't need to hire a lawyer or even go to court.
If the spouses can't reach a compromise, they should try divorce mediation. The mediator can help them reach a middle ground in a safe environment and make them eligible for an uncontested divorce.
How To File for an Uncontested Divorce
Filing for an uncontested divorce will require you to:
Gather the necessary divorce papers
Serve the uncontested divorce papers
Finalize the divorce with a marital settlement agreement
Gather the Necessary Uncontested Divorce Papers
Every state has different requirements for papers, but generally, you need to get:
Petition for Divorce or Dissolution of Marriage—This petition initiates the divorce proceeding. The filing party needs to serve it to the other spouse to inform them that they want a dissolution of the marriage
Summons—This document is also given to the defendant. The summons announce that the proceeding has started, and it contains the date by which the summoned person needs to appear in court
Financial Affidavits—These forms need to contain the income, expenses, debts, and assets of both spouses
You can find the paperwork on your county's official government website or your local courthouse. Once you complete the forms, file them with the clerk of the court. Keep in mind that you'll have to pay a filing fee. If you can't afford it, you can ask for a fee waiver.
Before filing for an uncontested divorce, you must meet your state's residency requirements. To learn more about the specifics, read one of our location-based guides:
How To Serve Uncontested Divorce Papers
Laws for serving divorce papers are different in every state, so be sure to check them out in the table above. Failing to serve divorce papers correctly could mean you have to start all over again and pay a second filing fee.
In most states, once you file your divorce papers, they must be handed to your spouse within 120 days. The divorce papers mustn't be served by you but someone who:
Isn't a party involved in the case
Isn't interested in the outcome of the case
Is at least 18 years old
You can ask someone who is neutral to the case or hire the sheriff or a professional server to deliver your documents for a certain fee.
Finalizing the Divorce With a Settlement Agreement
Once your spouse has filed a response or acceptance form after being served, the divorce will go into default judgment and you'll enter a waiting period. During this time, you need to get a divorce settlement agreement, which will outline the terms on which you're ending your marriage. When the waiting period is over, the judge will review this contract. If they deem everything is valid and the agreement is fair to both parties, they'll finalize the divorce. That's why it needs to be drafted with great care. To get the divorce settlement agreement, you can:
Hire a lawyer—Hiring a professional to draw up the agreement for you is a reliable option, but it's expensive. The lawyer fees are sky-high, so be prepared to break the bank
Write one yourself—If you want to write the agreement yourself, you need to be extra careful not to make any mistakes
Sign up for DoNotPay—With our Divorce Settlement Agreement product, you'll get a tailor-made document in no time and at a low cost
Get a Professional Divorce Settlement Agreement and End Your Marriage on Good Terms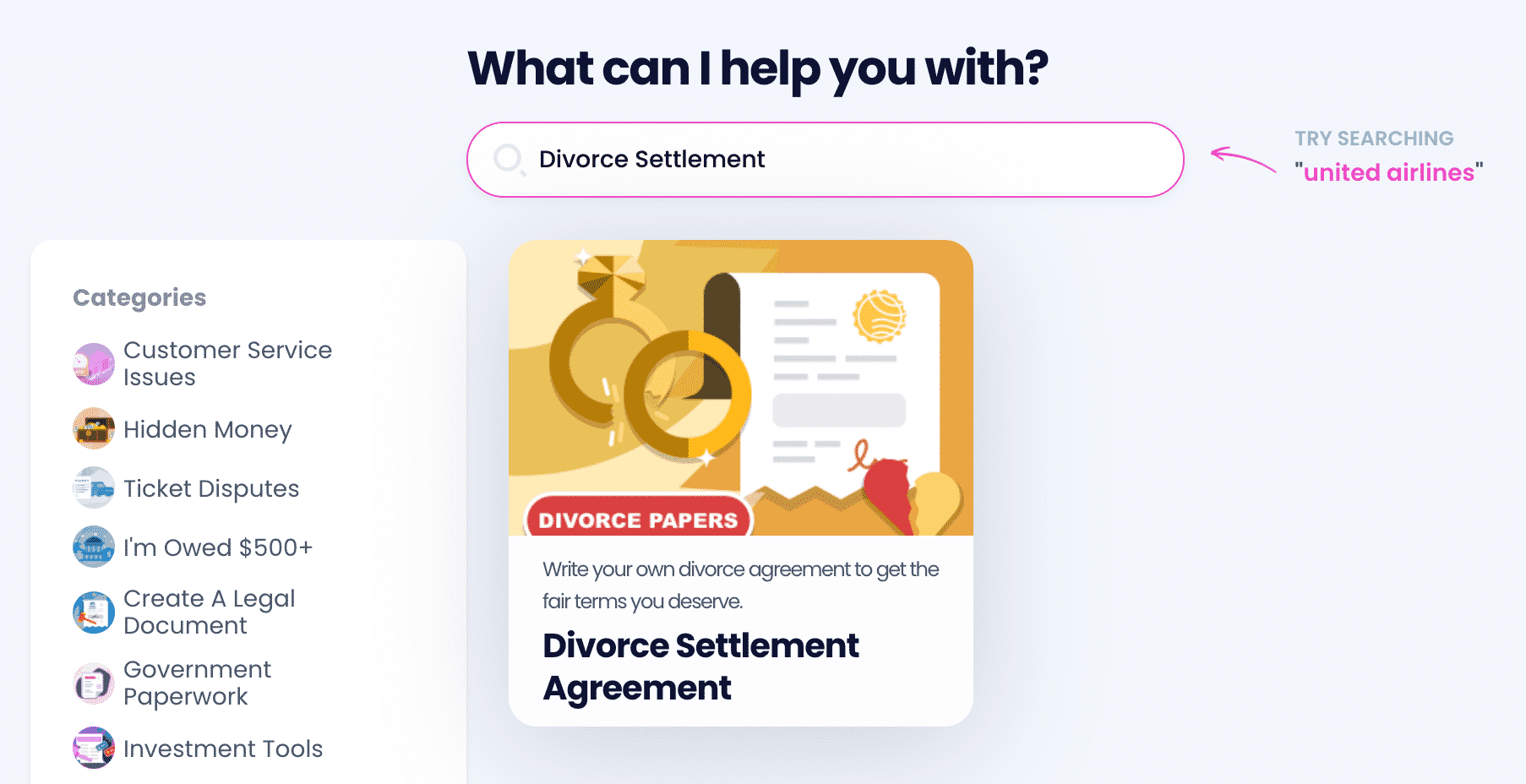 The best solution for getting a divorce settlement agreement is to use DoNotPay. We'll generate a tailor-made document for you and send it your way instantly. All you have to do is:
Select the Divorce Settlement Agreement product
Answer our chatbot's questions
Opt for easy online notarization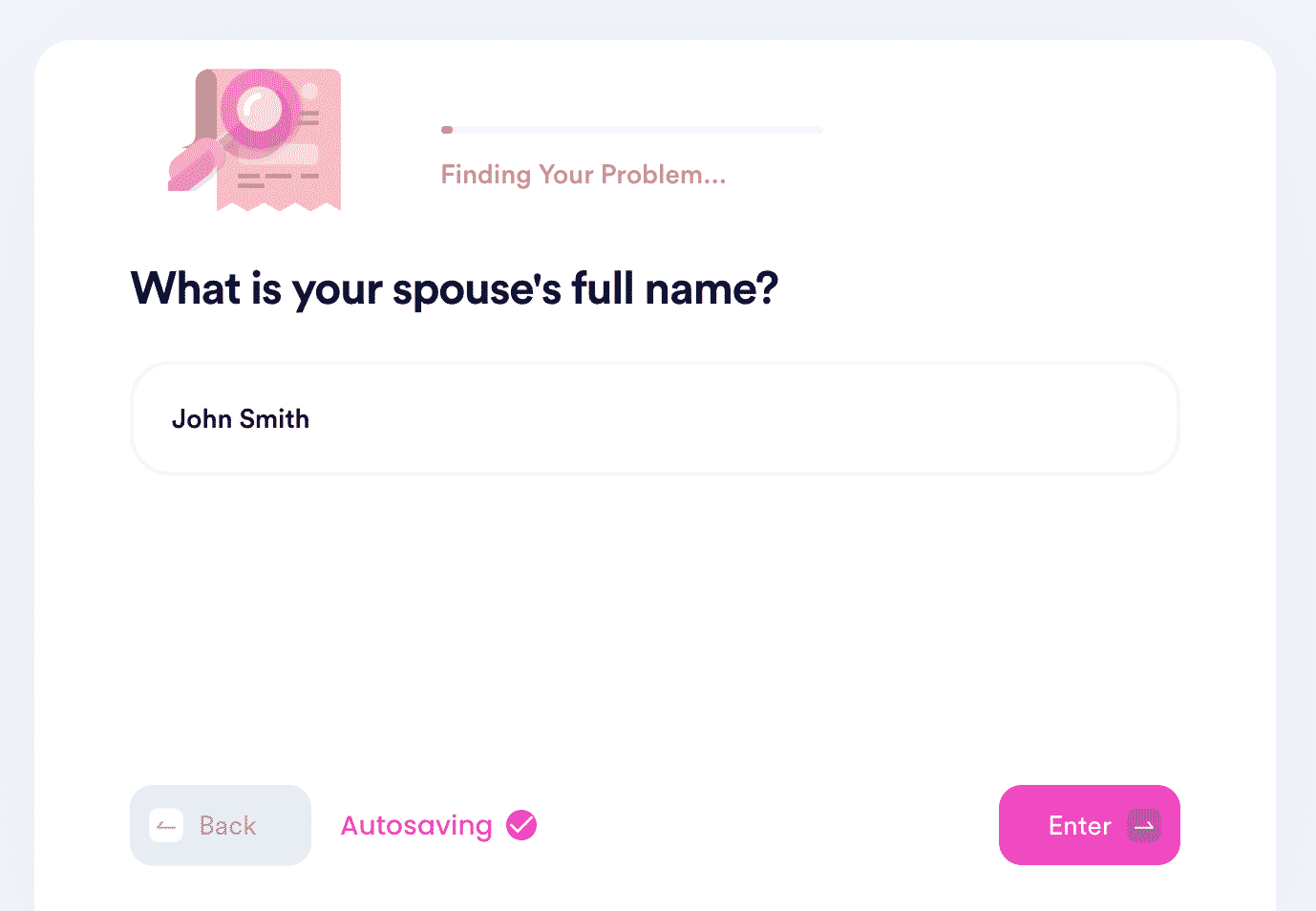 Once you send us your details, we'll use them to create a perfect divorce settlement agreement for you. Want to have it notarized? Do it from the comfort of your home by following the link we send you via email to set up an appointment with an online notary.
Need more assistance? DoNotPay has your back! Check our handy articles, such as:
Manage Your Tasks Easily With Our Help
DoNotPay is the perfect solution whenever you need to resolve legal or bureaucratic matters. Here's a fraction of what our AI-driven app can help you out with:
No Matter What You Need, DoNotPay Is by Your Side
Do you have a bunch of subscriptions that you waste money on but don't even use? We can help you cancel them effortlessly! After that, our app can initiate a refund request and make sure you get your money back.
Facing financial difficulties? DoNotPay can help you lower your bills, get free raffle tickets, get gift card cash back, find your missing assets, and so much more!
For a low monthly fee, you'll get access to our impressive range of products, so sign up now!