DoNotPay Shows You How To Get an Uncontested Divorce in Ohio
Getting divorced without playing the blame game in court is often the best way to end your marriage. You're not sure where to start? DoNotPay has prepared a guide to filing for an uncontested divorce in Ohio! We'll help you terminate your marriage without breaking the bank and draw up a personalized divorce settlement agreement for you.
Ohio—Contested Divorce vs. Uncontested Divorce
In Ohio, you can file for both contested and uncontested divorce. Choosing the right type of divorce impacts the cost and the difficulty of the process. A contested divorce is emotionally straining, more expensive, and the procedure lasts quite long compared to the other option.
Filing for an uncontested divorce—also known as dissolution of marriage in Ohio—means that you don't have to take the case to court. Instead, you can choose the terms on which you get divorced in a settlement agreement and complete the whole process without a lawyer.
An uncontested divorce is also more popular because it's cheaper, quicker to complete, and often ends on a friendly note.
Requirements for an Uncontested Divorce in Ohio
To file for an uncontested divorce in Ohio, you or your spouse must have been a state resident for at least six months. The law also requires you to file the papers in the county where at least one of you has lived for 90 days before starting the process.
You must file for divorce without blaming the other party, as this is a no-fault type of divorce.
Uncontested Divorce Process in Ohio
Getting an uncontested divorce in Ohio will require you to:
Draw up a divorce settlement agreement
Complete the necessary paperwork
Get your divorce papers notarized
File the paperwork and pay the filing fee
Attend the final hearing
Draw Up a Divorce Settlement Agreement
A divorce settlement agreement is the first and the most crucial document that you'll have to sign. It states the terms on which you and your spouse are getting divorced, including:
Opting for divorce mediation is often a good option for couples who can't meet halfway. This can help you come to an agreement and save some money by not having to hire lawyers.
Complete the Necessary Paperwork
To complete the required documents, you will need to find the Petition and other Ohio divorce forms on your county's official government website. If you're not sure which papers you need to complete, check with your county clerk's office. Both you and your spouse need to fill out the Petition together, meaning you don't have to officially serve the papers.
You can also use an online divorce service to complete your papers. This option is not always reliable as you may get the wrong or outdated forms and have to start the process from scratch.
Get Your Divorce Papers Notarized
In Ohio, you're required to have your divorce paperwork notarized. Sign the papers in front of a notary with your spouse to add legal weight to the documents.
Pay the Filing Fee and File the Paperwork
Once your divorce papers are completed and notarized, you must file them with the Clerk of Court in your county. You will have to pay a filing fee, which you can waive if you request a Poverty Affidavit.
Attend the Final Hearing
After filing the required divorce papers, you must attend the final hearing. The judges will have to ensure that both you and your spouse:
Want a divorce voluntarily
Are satisfied with the terms of the settlement agreement
Agree that the terms are fair
When the judge approves and makes sure the forms are valid, they will finalize the divorce.
How To Prepare a Proper Divorce Settlement Agreement
The divorce settlement agreement needs to be drafted with utmost care as it's the key to a successful divorce. You can get it by:
Hiring a lawyer—If you want to hire a lawyer to get this agreement, be prepared to dish out a large amount of money because of their sky-high fees
Writing one yourself—This option is risky as making a mistake in the agreement can cost you a lot
Subscribing to DoNotPay—If you want a reliable and affordable way of getting a divorce settlement agreement, DoNotPay can help! We'll create this important document for you in no time and make sure it suits your needs perfectly
DoNotPay Generates a Tailor-Made Divorce Settlement Agreement for You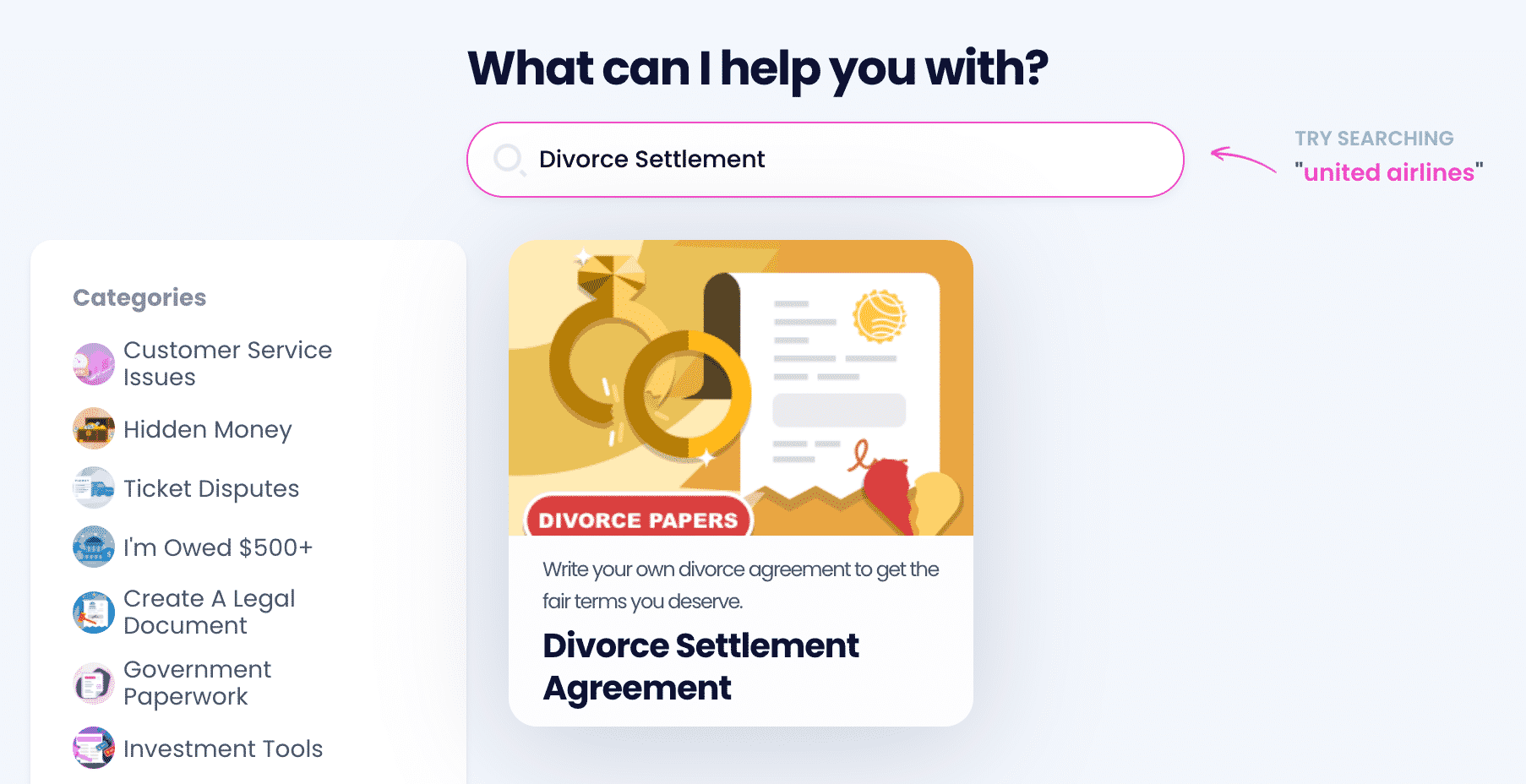 Why break the bank on lawyers or write the agreement yourself when you can use DoNotPay and save your money and energy? We'll create this contract for you in a snap, and all you have to do is:
Select our Divorce Settlement Agreement
Answer our chatbot's questions
Tell us whether you need a notary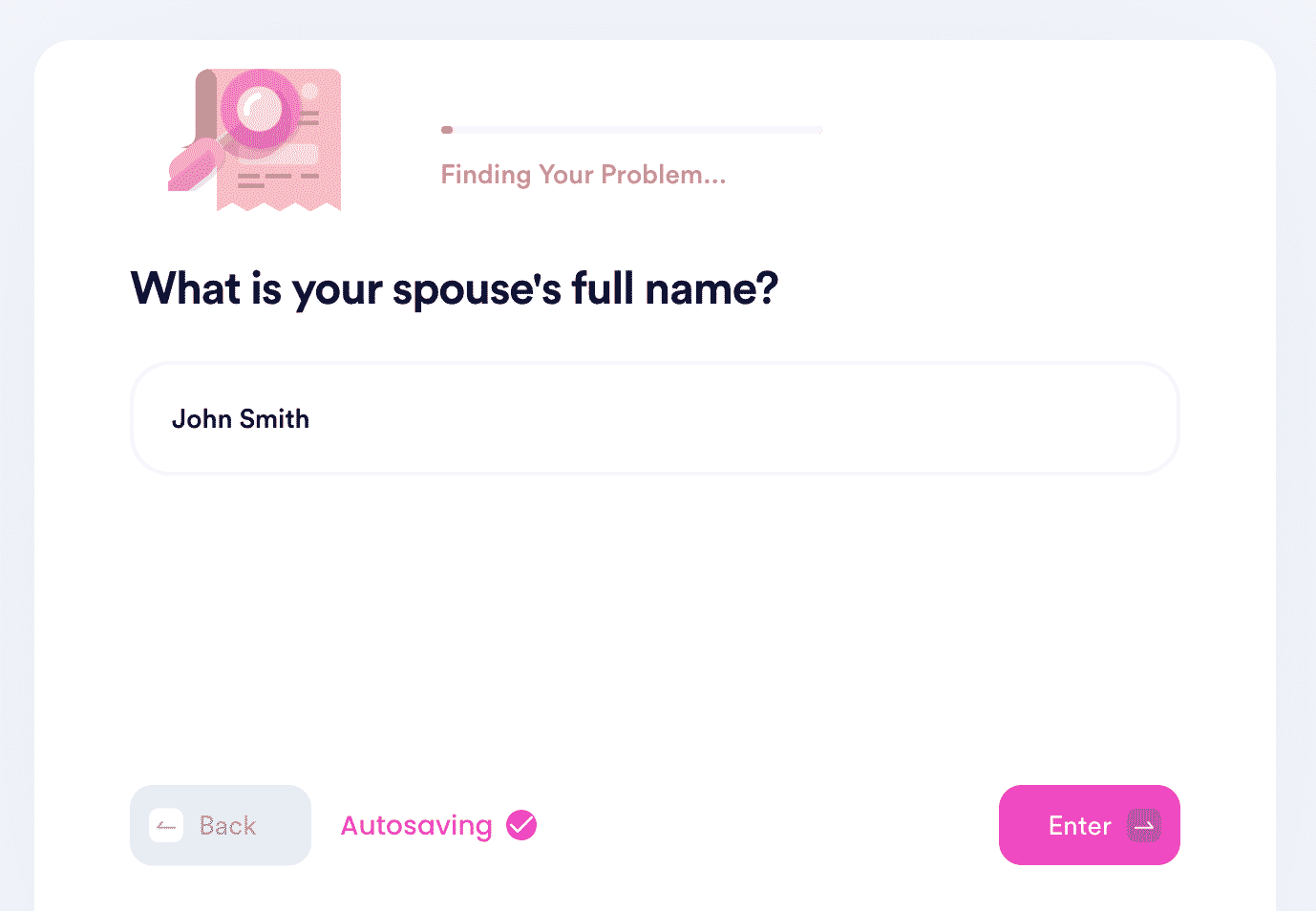 Once you submit your request, we'll gather the details you give us and use them to create a solid settlement agreement and send it your way. You can then have it notarized via a video call instead of going to a notary office in person. Schedule an appointment with an online notary by following the link we send you via email.
Have any more questions, such as who gets the house after a divorce in Ohio? Check out DoNotPay's guides, such as:
DoNotPay Is Committed to Solving All Kinds of Problems for You
Are you lost in the sea of administrative tasks? By subscribing to DoNotPay, you gain access to many products and features that can assist you in:
Check Out What Our Robot Lawyer Can Do for You
Not too skilled at drafting contracts and agreements? Keep calm and let DoNotPay, your virtual assistant, do it for you! Our app can generate various legal documents, including divorce settlement agreements, child travel consent forms, and powers of attorney. All it takes is to click a few times or answer several quick questions—we do all the rest!
Besides providing personalized documents, DoNotPay takes over other tiresome legal tasks. These include having your documents notarized, filing lawsuits in small claims court, requesting crime victims' compensation, or submitting HR complaints.