Uncontested Divorce in NY—A Detailed Guide
If you and your spouse want to end your marriage in a civilized way and save time and money, DoNotPay offers a detailed explanation of how an uncontested divorce in NY works. If you choose this particular divorce type, we can help you create an appropriate settlement agreement.
What You Should Know About an Uncontested Divorce in New York
An uncontested divorce in New York leads to a quick termination of a marriage without the need to seek a judicial determination of any issues. The most significant advantages of an uncontested divorce are low costs and efficiency. Once you submit the necessary divorce papers, the court reviews the petition and issues a final judgment of divorce.
Spouses who want to get an uncontested divorce in New York must agree on all financial and other divorce-related topics, such as:
Division of marital property
Child custody and support
In the Empire State, both spouses have to consent on the reason or grounds for their divorce. NYS doesn't have a waiting period, which means that an uncontested divorce takes around three months to be finalized.
Residency Requirements for an Uncontested Divorce in New York
If you want to file for divorce in New York, you need to meet the residency requirements. At least one of the spouses must:
Be a NY resident for a minimum of two continuous years before filing for divorce
Have a NY address for at least one year immediately before filing for divorce and you:
Lived in New York as a married couple
Got married in NYS
Had the grounds for your divorce happen in the Empire State
NY Uncontested Divorce—How Does the Process Work?
In NYS, the Supreme Court is the only institution handling divorce cases. If you wish to get an uncontested divorce in New York, you should learn:
How to prepare papers for an uncontested divorce
What the filing fee is
Where to file the uncontested divorce papers
What forms you will need to file
Uncontested Divorce NY Forms—How To Prepare the Papers
When filing for divorce in NY, check out the following documents to get the info on the mandatory forms:
Uncontested Divorce NY Cost—How Much Are the Filing Fees?
You will need to pay $210 for an index number (the number for your case). The total costs for an uncontested divorce are around $335, including court and filing fees. You should also keep in mind the following expenses:
Attorney fees
Photocopies
Notary fees
Mailing
Transportation
Process server fees
Although the costs are considerable, it is still cheaper than what you would have to pay for a contested divorce in New York.
If you are struggling financially, you might qualify for a fee waiver and avoid any divorce expenses. The court clerk can provide you with more information about this option.
Where Should You File the Papers for an Uncontested Divorce in New York?
Once you have all the papers, you should file them either in person or online. Take a look at the table below for more details:
What Papers Do You Need To File for an Uncontested Divorce in New York?
In the case of an uncontested divorce in NY, these are the divorce papers to file:
Summons With Notice or Summons and Complaint
Notice Concerning Continuation of Health Care Coverage
Notice of Automatic Orders
Settlement Agreement
Since the mandatory paperwork is extensive and complicated, turn to to get a settlement agreement fast and without trouble.
Use DoNotPay To Draw Up a Divorce Settlement Agreement in New York
You and your spouse can reach an out-of-court divorce settlement if both parties are willing to work together. DoNotPay is here to help you make a divorce settlement agreement and tick off at least one unpleasant chore because even a friendly divorce is a pretty stressful event.
Take the following steps to get a tailored-made document:
Choose the Divorce Settlement Agreement product
Answer a few questions about your case
Provide the essential info about your income and financial assets
The only thing left to do is sign the document and get it notarized. We can help with the notarization step as well. Let us know whether you'd like us to connect you with a remote notary when completing the short questionnaire.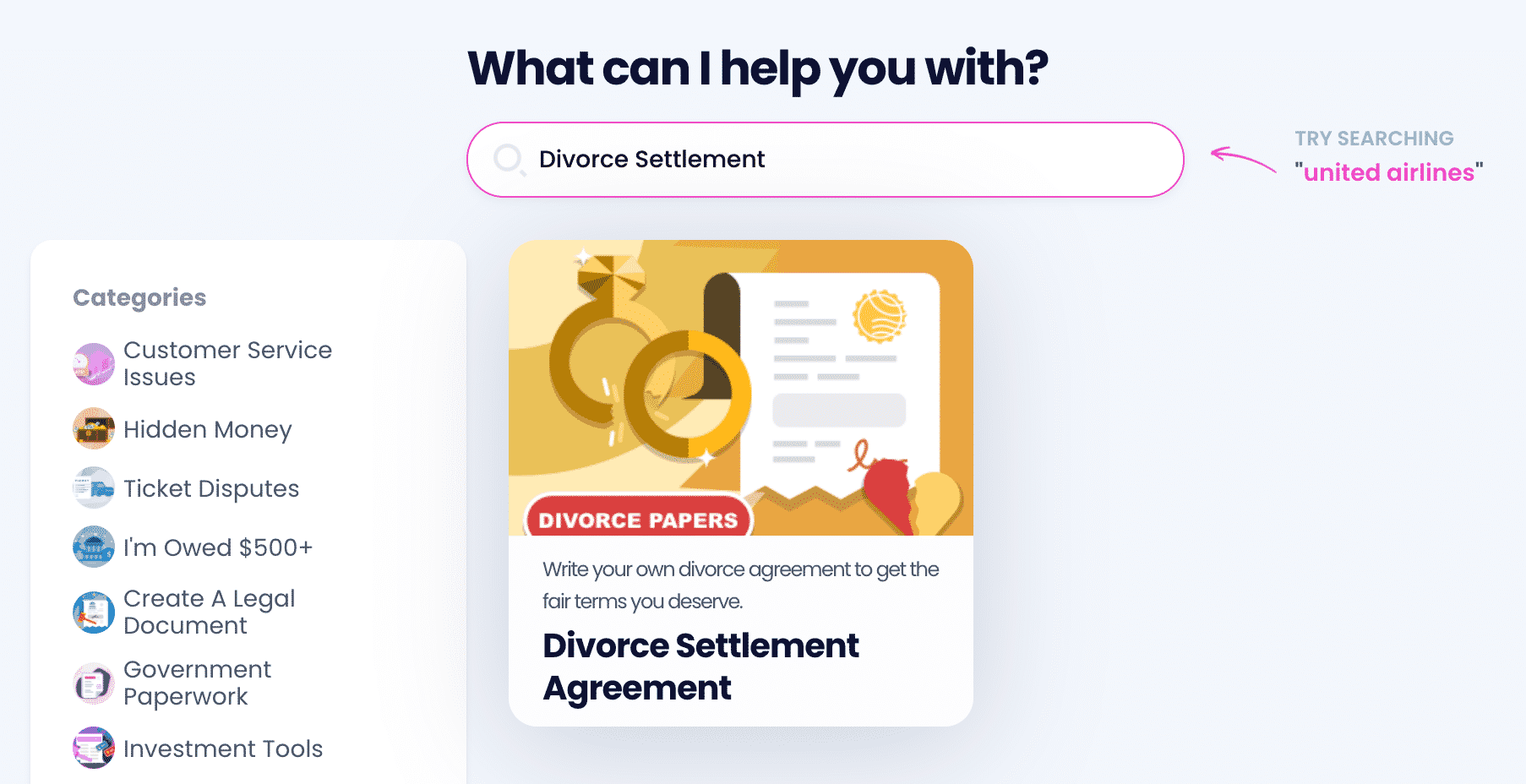 Additional Divorce-Related Questions DoNotPay Can Answer
We offer numerous articles and guides to demystify the divorce procedures in NY and beyond. DoNotPay can answer the following and many more questions:
Shop Online on Your Terms
Have you ever had to deal with complaints about lost, late, or damaged parcels? Is reaching customer service over the phone always a pain? Don't you wish there was an easier way to request refunds and chargebacks for bad purchases?
Shopping can easily turn into a nightmare, but DoNotPay will take away some of that stress. We can help you with all of these issues and more!
If you need to file warranty claims for any kind of product, our AI bots will make the process painless. Those who like to try out new services will fall in love with our virtual credit cards and foolproof methods of signing up for free trials without risking charges.
When you get sick of your subscriptions, cancel them with DoNotPay. Also, don't throw away your used gift cards with a few bucks left—we can help you get your cash back.
DoNotPay Protects Your Interests
There are already so many ways you can use DoNotPay to improve your daily life, but we keep developing more and more features that will make our subscribers even happier.
On our platform, you can find useful resources to: