Can I Get an Uncontested Divorce in Texas With Children? DoNotPay Has the Answer
Separation from your partner is never easy, causing stress even before you start a divorce. When it comes to filing for divorce, completing papers, and paying all the related costs, dissolution of marriage is a strenuous procedure. If you have children, things tend to get beyond complicated.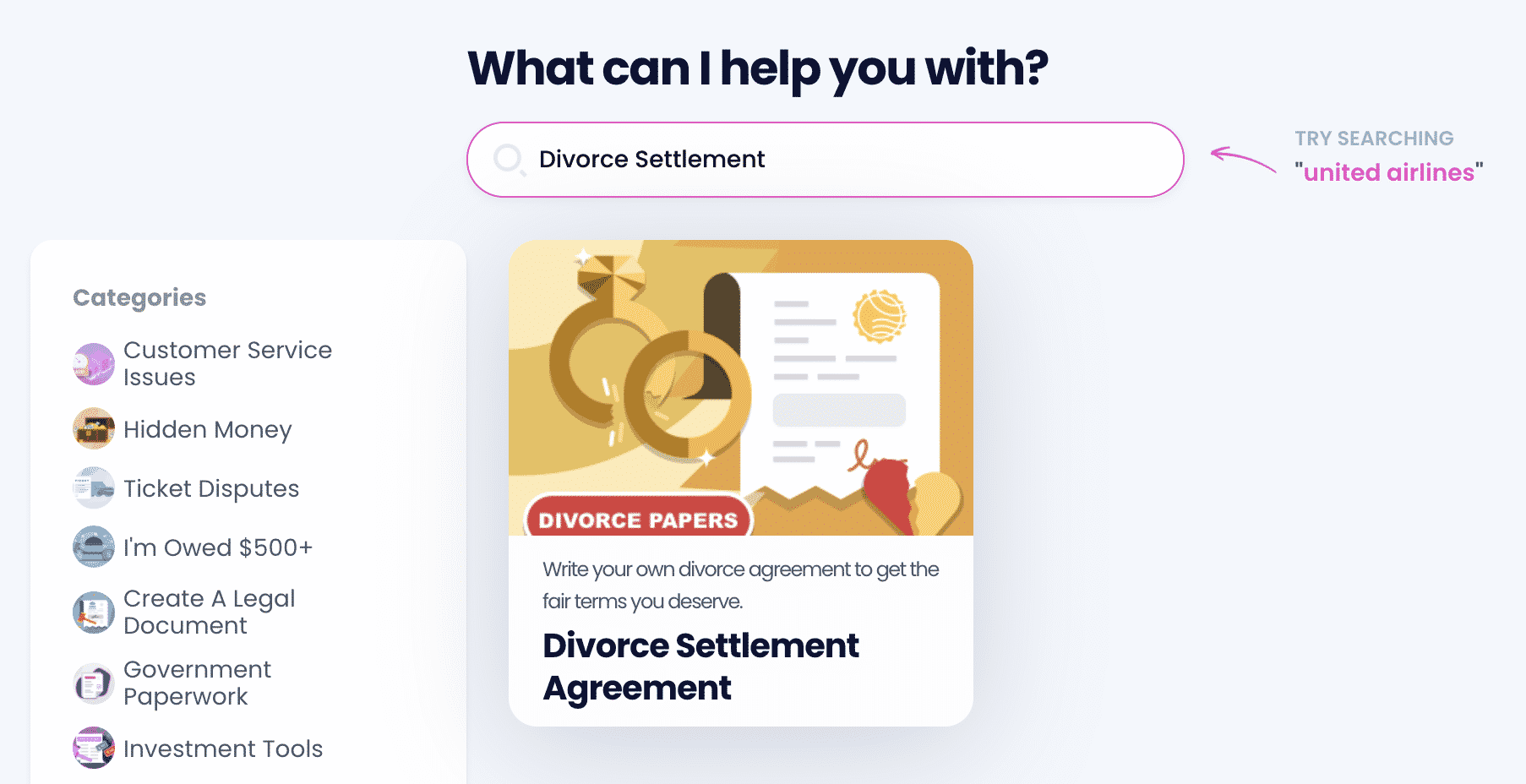 If you and your soon-to-become-ex don't qualify for an amicable separation, you may wonder if an uncontested divorce in Texas with children is possible. DoNotPay explains your options and offers straightforward answers. With our help and your goodwill, you may even get a divorce without hiring a lawyer and going to court.
Is Getting an Uncontested Divorce in Texas With Children Possible?
An uncontested divorce in Texas with children isn't an option. Even if you agree on everything and reach an out-of-court settlement, the law still sees you as opponents when minor kids are involved.
Your best bet is the "agreed divorce" procedure. To get a cheaper divorce without having to contest one another, you need to resort to no-fault divorce reasons, such as:
Incompatibility
Insupportability
Irreconcilable differences
Irremediable marriage breakdown
You and your ex-partner also have to agree on all relevant issues, including:
Child custody and support
Spousal support or alimony
Visitation times of the non-custodial parent
Division of assets, property, and debts acquired during the marriage, etc.
In addition, you are more likely to get an agreed divorce if the court hasn't issued previous orders regarding child custody and support.
What if the Court Has Child Support and Custody Orders in Place?
Even if the Texas court has issued such orders, you still have options for an agreed divorce if the final order:
Includes all marital children
Isn't protective or temporary
Doesn't get contested by one of the spouses
Do I Need To Hire a Lawyer for an Agreed Divorce?
If you pursue an agreed, low-cost divorce, there is no need for you or your spouse to hire a lawyer because you could represent yourselves in the process. In case you need help to come to acceptable terms but still want to keep the timeline and separation costs at the minimum, you could benefit from mediation in Texas.
Divorce mediation allows you to reach a middle ground with the help of third-party professionals. Keep in mind that mediators cannot give personal advice to either party.
For an overview of various divorce rules in different counties and cities, refer to the following table:
How To File for Agreed Divorce With Minors in Texas
If you and your spouse don't live in the same county, you can file a petition for divorce in either jurisdiction. The next step is serving divorce papers to your ex-partner. You can have a sheriff, constable, or private process server deliver the paperwork.
Once you file for divorce, you must honor an obligatory 60-day waiting period before a Final Decree of Divorce can be signed. During this time, you and your spouse can change your mind or finalize your agreements.
Before returning to the court for an optional prove-up hearing, you must complete the Final Decree of Divorce and enclose the filled-out and signed Qualified Domestic Relations Order (QDRO).
During prove-up hearings in agreed divorces with minor children, you present the Final Decree of Divorce to the judge. Note that both parties must attend the hearing.
In some cases, the court may not require a prove-up hearing. If so, the judge may order an initial status hearing to go through the details you enclosed in the Original Petition or Original Answer.
How Can DoNotPay Help You With Drafting a Divorce Settlement Agreement?
How long a divorce takes in Texas typically depends on various factors, such as whether separation is contested or uncontested (agreed), if both parties claim rights to the house, etc. If you agree to an amicable divorce, drafting a divorce settlement agreement is the final step before the marriage termination.
You don't need a lawyer to fill out the agreement, but drawing up the document yourself isn't advisable if you don't possess legal knowledge. The contract is a crucial determinator of your post-marital relationship and must be drafted with care.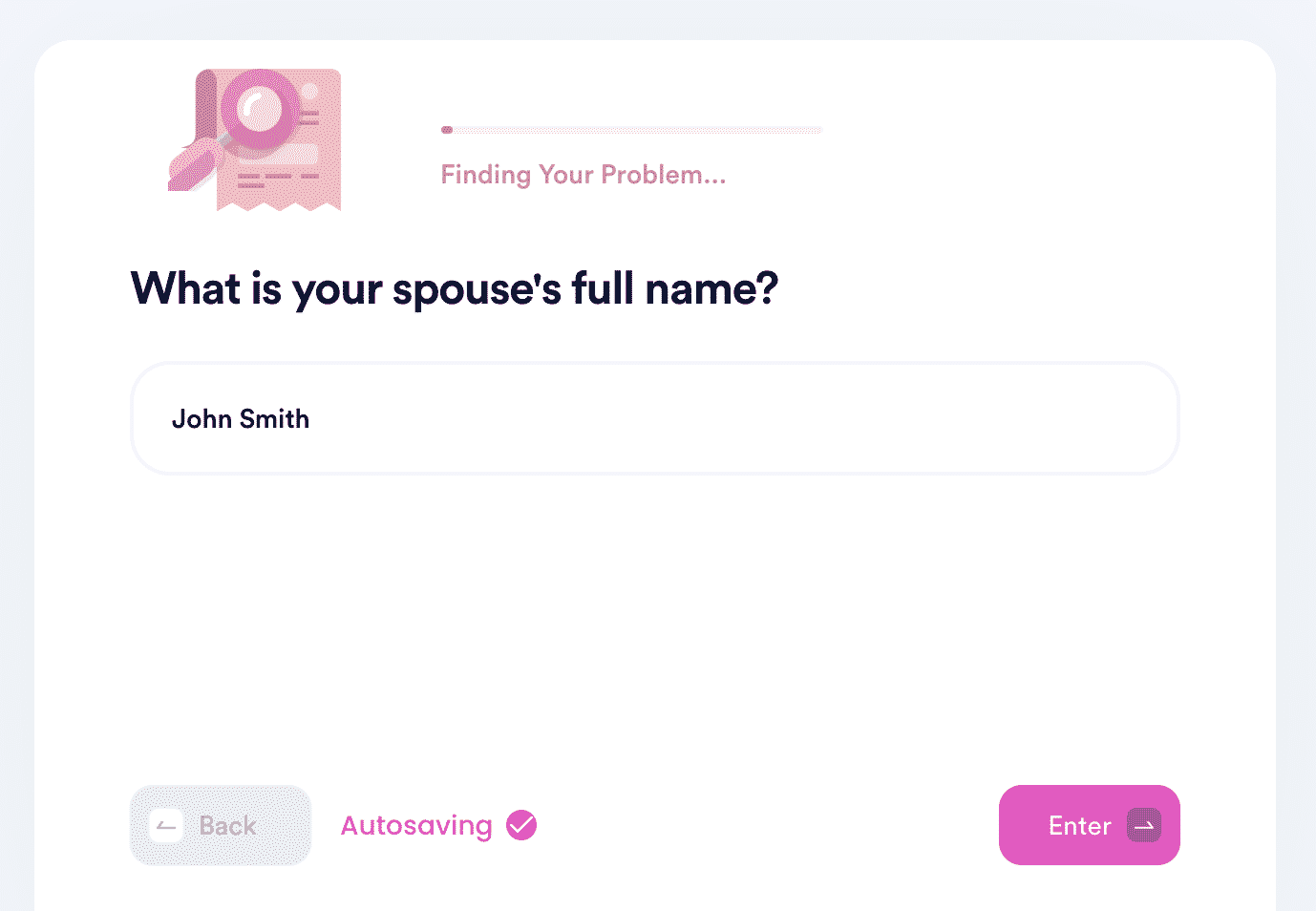 To create the divorce settlement agreement worry-free, access DoNotPay. All you have to do is complete a short questionnaire, and we will do the rest on your behalf. Note that the contract complies with local laws in each U.S. state.
Here are the steps to take:
Sign in to DoNotPay and choose Divorce Settlement Agreement
Answer our chatbot's questions about your spouse and children
State how you wish your assets and income allocated
After that, DoNotPay generates a customized divorce settlement agreement ready to be signed and notarized. We even connect you with an online notary, so you can complete this step via a video call.
Do You Have Other Questions?
DoNotPay can help you delve into other divorce-related matters, such as:
Use DoNotPay To Deal With a Plethora of Bureaucratic Tasks!
Tired of dealing with bureaucracy? We understand the struggle, and that is why our app makes handling administrative tasks a breeze!
Regardless of whether you need to compose a legal document, such as a power of attorney or a child travel consent form, appeal property taxes or your parking tickets, file a financial aid appeal and a FOIA request, or get a document notarized, DoNotPay has got you covered!
In case you also need to submit anonymous HR complaints, our app will provide you with the easiest way to do so!
Go on a Stress-Free Shopping Spree With DoNotPay
Do you like to shop until you drop? With DoNotPay, you won't have to worry about dropping! We'll make sure you can:
If you need more money to continue your shopping spree, let our app help you find any unclaimed funds under your name and enter numerous giveaways and sweepstakes!