An Uncontested Divorce in Georgia With Children Made Easy
Going through a divorce doesn't have to be burdensome and stressful if you understand the procedure and are familiar with the required steps and documentation. If you and your spouse are on friendly terms, can cooperate and negotiate well, you can file for an uncontested divorce.
What should you know before heading through an uncontested divorce in Georgia with children? DoNotPay gives the intel and provides trustworthy assistance with drafting your divorce settlement agreement.
Requirements for an Uncontested Divorce in Georgia With Children
To get divorced in Georgia, you must meet the following requirements:
You or your spouse must be a resident for at least six months before filing for divorce
You need to provide grounds for divorce
The grounds can be fault or no-fault ones, i.e., you can state:
The marriage is irretrievably broken for no-fault divorces
A reason that includes at least one of the following:

Adultery
Incurable mental illness
Physical or mental cruelty
Habitual drug use or intoxication
Willful desertion for a year or longer
Conviction resulting in a prison sentence for two years or longer
Keep in mind that filing for a no-fault divorce is usually the easiest way since your spouse is less likely to contest the stated ground.
How To File for an Uncontested Divorce in Georgia
You can file for an uncontested divorce once you and your spouse have agreed on all issues, including:
Property division
Child custody, support, and visitation times
If you need help with certain matters, you can try mediation since mediators in GA can guide you through the process.
Steps To Take for an Uncontested Divorce in Georgia With Children
To get an uncontested divorce in Georgia, you can represent yourself but will need to follow certain steps. Here's a table explaining what you need to do:
Steps
Explanation
Get the right forms
You should start by filling out a Petition for Divorce With Minor Children. Most counties have the packets of forms available on their websites and at the court clerk's office, e.g., Fulton, DeKalb, Gwinnett, or Muscogee county.

Keep in mind that if you're filing the petition:

You are the plaintiff or petitioner in the process and documents
Your spouse is the defendant or respondent

File the divorce papers
Once you've completed the petition, you need to file it with the superior court clerk in the county where you've resided for six months
Settle the filing fees
You'll need to pay the filing fee to the court, which is around $200. If you cannot afford it, you can request the fees to be waived by filing an Affidavit of Indigence
Have your spouse served with the divorce papers
You can have your spouse:

Sign an Acknowledgment of Service
Served with the papers by the sheriff's office
Served by publication, i.e., posting a notice in a newspaper (inquire about the appropriate method at the clerk's office)
Next Steps for an Uncontested Divorce in Georgia With Children
When you and your spouse have an underage child, your local court might require you to take a parenting seminar. To confirm this, you should get in touch with the clerk's office.
Keep in mind that you can submit a Motion for Judgment on the Pleadings if you'd like to avoid going to court and attending a hearing. This document will inform the court you're satisfied with a judge granting the divorce based on the divorce settlement agreement and other paperwork you've filed.
Sign up for DoNotPay to create a rock-solid divorce settlement agreement to present to the court.
DoNotPay Is a Trustworthy Assistant for Creating Divorce Settlement Agreements
Our AI-powered app has all relevant state laws and local regulations to help you draft a reliable divorce settlement agreement for your uncontested divorce.
Once you and your spouse reach an out-of-court agreement on divorce issues, you need to list them in a document so that the court could review everything. Once the judge approves the agreement, it becomes legally binding.
You don't have to pay a hefty sum for a lawyer to prepare the document for you. Instead, use DoNotPay to reduce the total divorce costs and receive an agreement tailored to your needs.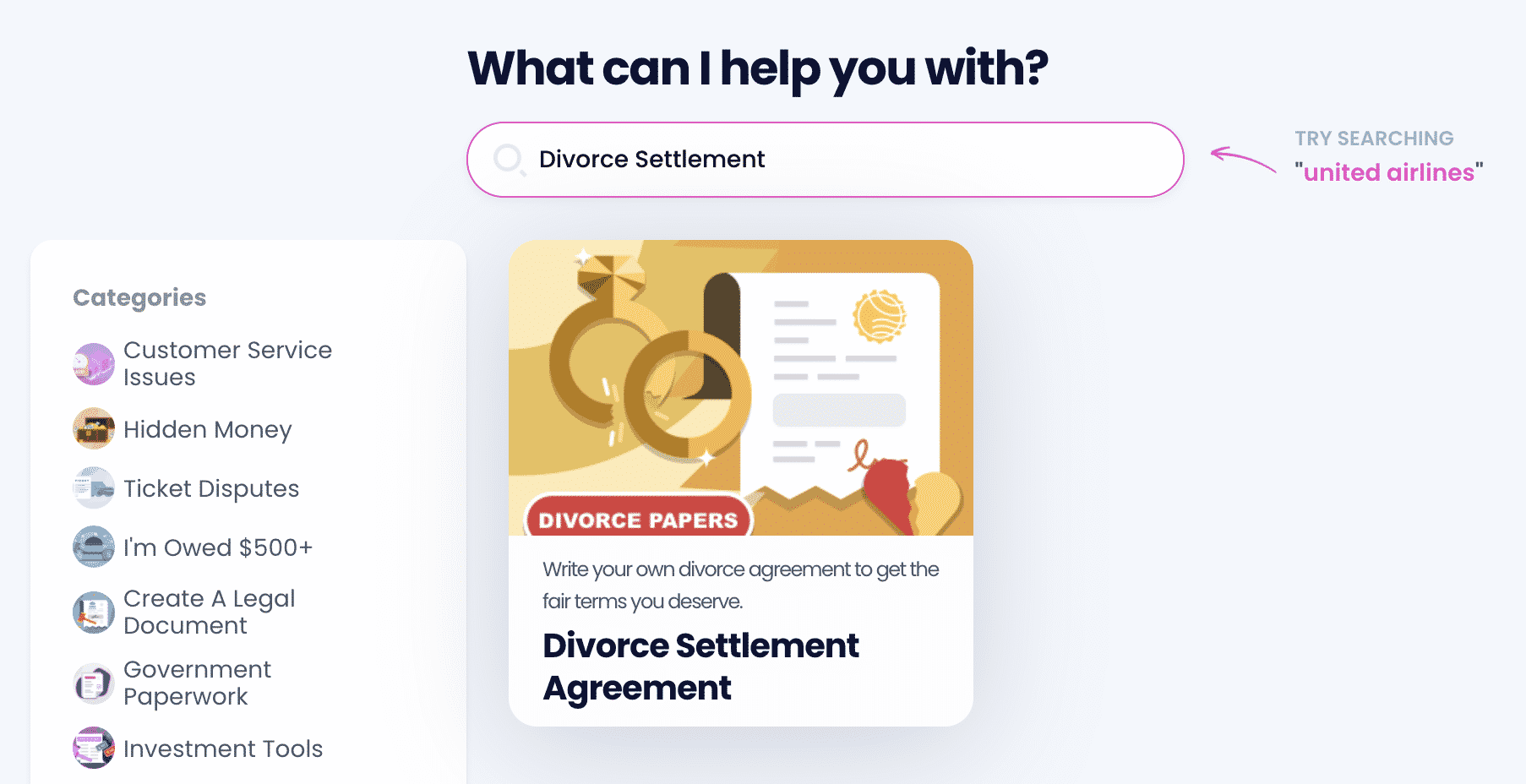 Enter Divorce Settlement Agreement in the search box
Answer our chatbot's questions
Provide information on your debts, assets, and income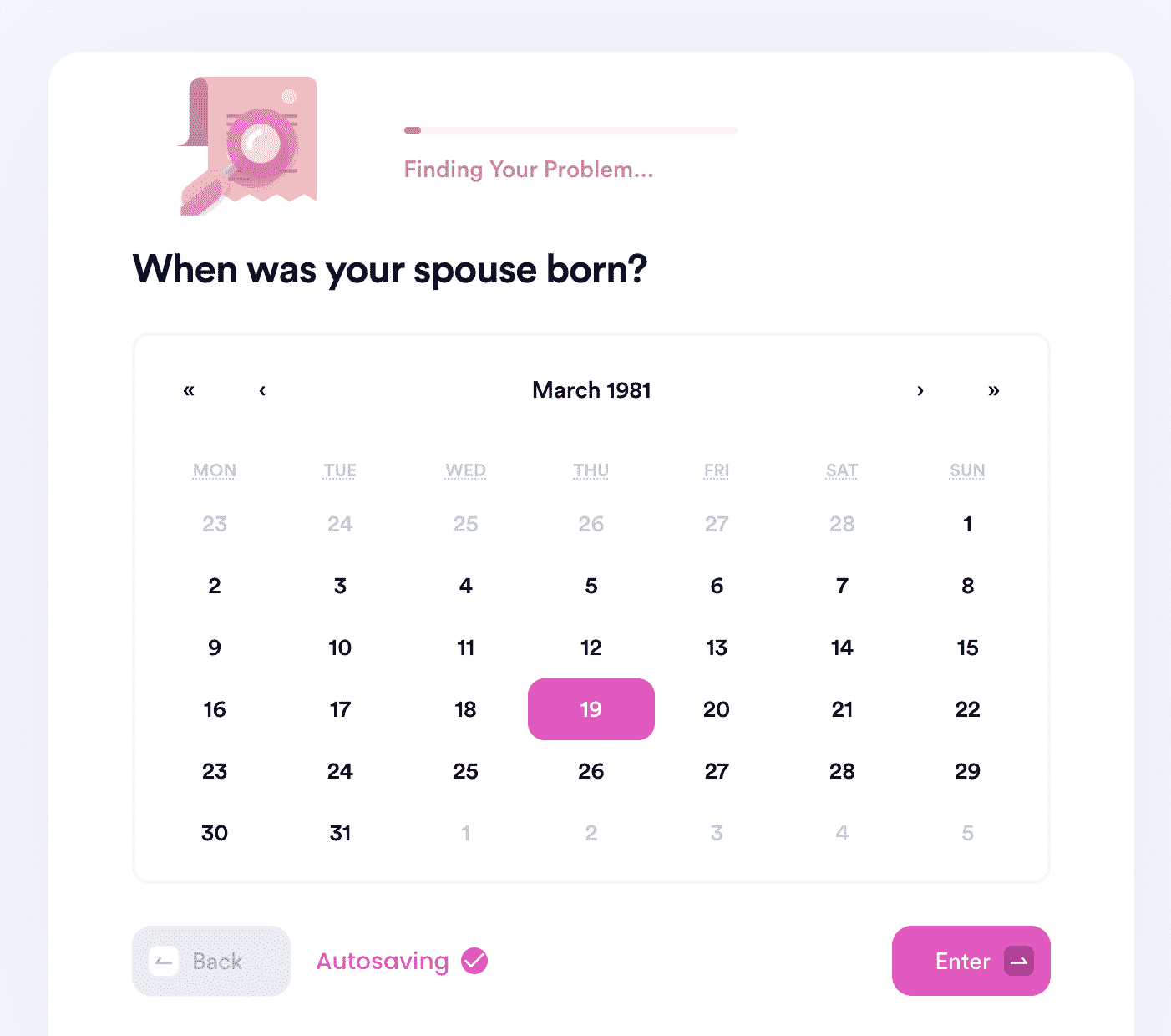 Our app interlinks state requirements with your personal ones to create a document that fits the legal framework and meets your specific needs.
Once you've received the agreement, you can have it notarized via DoNotPay as well.
How Long Does an Uncontested Divorce in Georgia With Children Take?
The duration of a divorce in GA depends on the complexity of your case and the availability of the court. Since an uncontested divorce is the least complicated, expensive, and time-consuming, you can finalize it in 31 days after you've filed for divorce.
While you cannot expect to get divorced in fewer than 30 days—since this is a mandatory waiting period for all divorces in GA—you should make sure to complete, sign, and file all the required forms to avoid prolonging the process.
Keep in mind that your marriage is officially over when the court issues the Final Order and Decree of Divorce. Aside from the decree, the court will provide the following documents if you have underage children:
Parenting Plan
Child Support Worksheet
Child Support Addendum
As the court's availability is one of the factors that influence the duration of a divorce, you should know that uncontested divorces in GA are usually over within 45 to 60 days.
Find Answers to Other Divorce-Related Questions
DoNotPay offers lots of helpful guides where you can find answers to administrative and everyday questions. Here are some divorce-related topics you might find useful:
Work Smarter, Not Harder!
Although there are certain tasks that are a pain but can't be avoided, such as paying your property taxes, you don't have to do them the hard way. There is always a way to make the overbearing bureaucratic procedures a bit easier. DoNotPay can find a loophole and help you cut through the red tape!
Reducing your property taxes is only one in the sea of tasks our app will make super easy to do! You can also use DoNotPay to:
Explore DoNotPay's Other Neat Features
DoNotPay offers a plethora of useful products to make your day-to-day life easier and enjoyable! Consult the list below to see what you can do using our app: