The Ins and Outs of Filing for an Uncontested Divorce in Georgia
Why bother going to court and wasting time trying to prove who's to blame for the divorce? You can get a low-cost divorce without involving a lawyer instead! We're here to tell you all you need to know about filing for an uncontested divorce in Georgia and getting a friendly divorce the easy way!
Subscribe to DoNotPay, and learn how to draft a divorce settlement agreement in no time!
Contested vs. Uncontested Divorce in GA
Before you file for an uncontested divorce, you should get informed about the process.
Take a look at the table below to see how the uncontested divorce differs from the contested one:
| | |
| --- | --- |
| Divorce Type | Description |
| Contested | If you and your spouse can't agree on how you want to handle the divorce issues and if you wish to resolve all matters in court, the divorce will be contested. This process can take a long time—it sometimes drags on for years |
| Uncontested | In case you and your spouse agree on the terms of the divorce, you can file for an uncontested divorce and avoid going to court or paying divorce lawyers thousands of dollars for their assistance |
If you and your spouse can't reach common ground on how to handle all divorce matters but would still like to avoid contested divorce, consider hiring a divorce mediator.
Mediators in Georgia can help you resolve the issues and find what works for both of you, and you can avoid taking your case to court.
Before you file for an uncontested divorce, you need to meet the GA residency requirements. This means that either you or your spouse must have been a Georgia resident for at least six months prior to your divorce.
What Papers Do I Need for an Uncontested Divorce in Georgia?
The most important form you need to fill out when filing for an uncontested divorce in Georgia is a petition for divorce. You will also need to draft a divorce settlement agreement that spells out the terms of property division and other divorce-related aspects.
Depending on your circumstances, you may need additional papers, including:
Domestic relations case filing information form
Final judgment and decree
Child custody agreement or a parenting plan (if you have children)
The best way to ensure you have all the necessary uncontested divorce forms is to contact your county clerk and check since Georgia counties may have different rules and regulations. Check out DoNotPay's handy guides to get informed about county-specific divorce requirements:
How To File for Uncontested Divorce in GA
To file for an uncontested divorce in Georgia, you should complete the following steps:
File the dissolution of marriage petition—To initiate the divorce procedure, fill out and file the dissolution of marriage petition
Serve the divorce papers to your spouse—You should make a copy of the divorce papers and give them to your spouse. If you don't want to serve your spouse personally, you can pay to have the sheriff's department do it for you
Draft a divorce settlement agreement—All the rights, terms, and conditions you and your spouse agree upon should be clearly spelled out in a divorce settlement agreement. If you have children, include details about custody, child support, visitation, and alimony
How Much Does It Cost To File for Divorce in GA?
If you're curious about filing fees and additional costs regarding the uncontested divorce in GA, we'll break them down for you.
The filing fee for an uncontested divorce in Georgia varies from $200 to $220. The additional costs involve the following optional services:
Divorce lawyer's assistance (should you choose to engage one)
Sheriff's department (if you hire them to serve divorce papers to your soon-to-be ex-spouse). The service fee in most counties in GA is around $50
Do I Need a Lawyer To Draft a Divorce Settlement Agreement in Georgia?
Drafting a divorce settlement agreement the right way is important. If you're not acquainted with the legal terminology and if you're not sure what the agreement should include, you could hire a lawyer to assist you. Hiring a legal advisor to help you write your documents can be super expensive, and it isn't necessary.
You can search the Internet for online templates or turn to DoNotPay to avoid wasting money on divorce attorneys and use our robot lawyer to draw up your agreement in a few minutes.
Use DoNotPay To Draft Your Divorce Settlement Agreement in Minutes!
Spending hours writing a divorce settlement agreement by yourself or wasting hundreds of dollars on lawyers become things of the past when DoNotPay steps in! With our neat Divorce Settlement Agreement feature, you'll be able to draft a perfectly valid agreement without hiring a lawyer.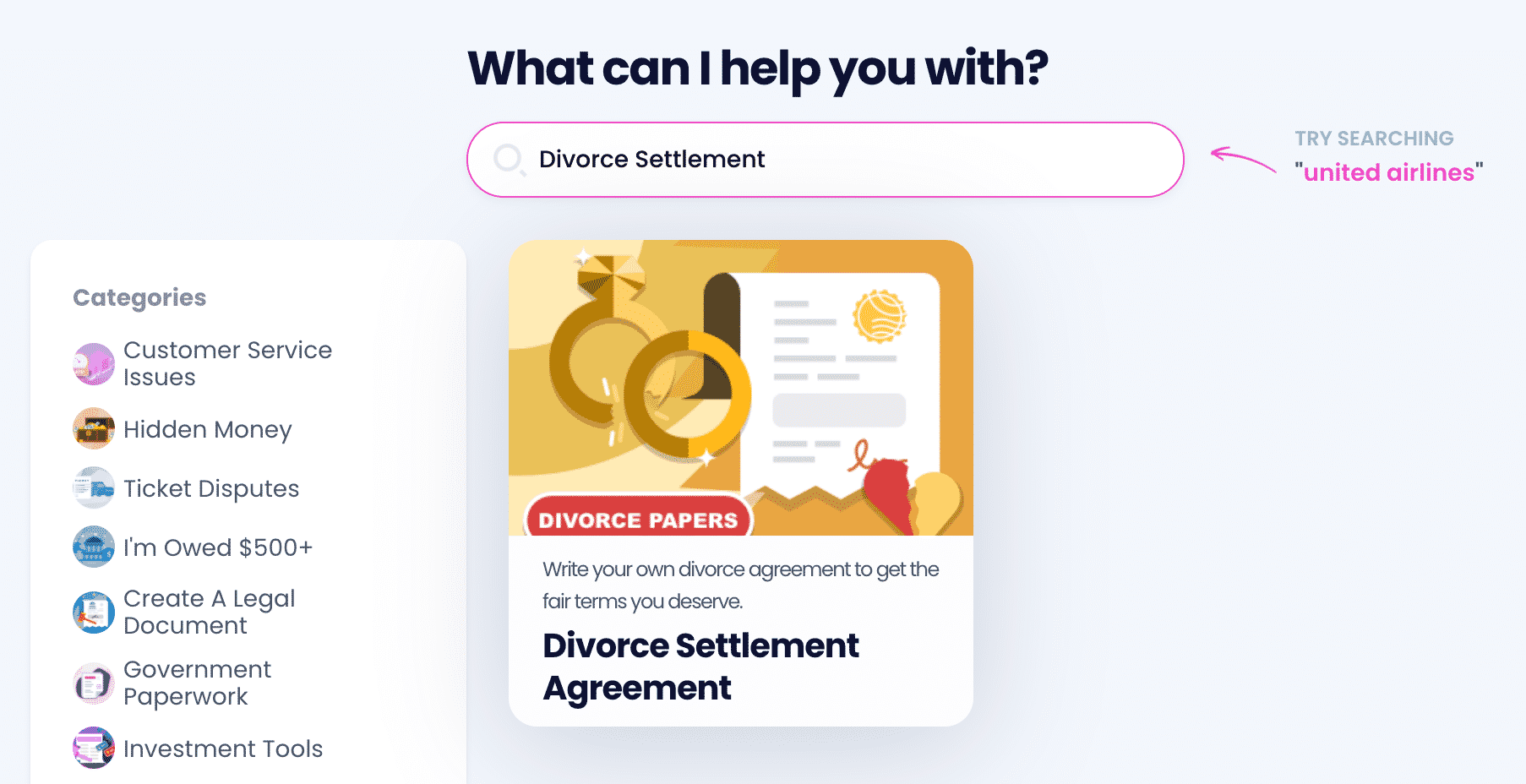 All you need to do is complete the following steps:
Select the Divorce Settlement Agreement feature
Answer a few simple questions
We'll get to drafting your divorce settlement agreement right away and have it ready in minutes! Once it's done, get your spouse to sign it, and don't forget to do the same.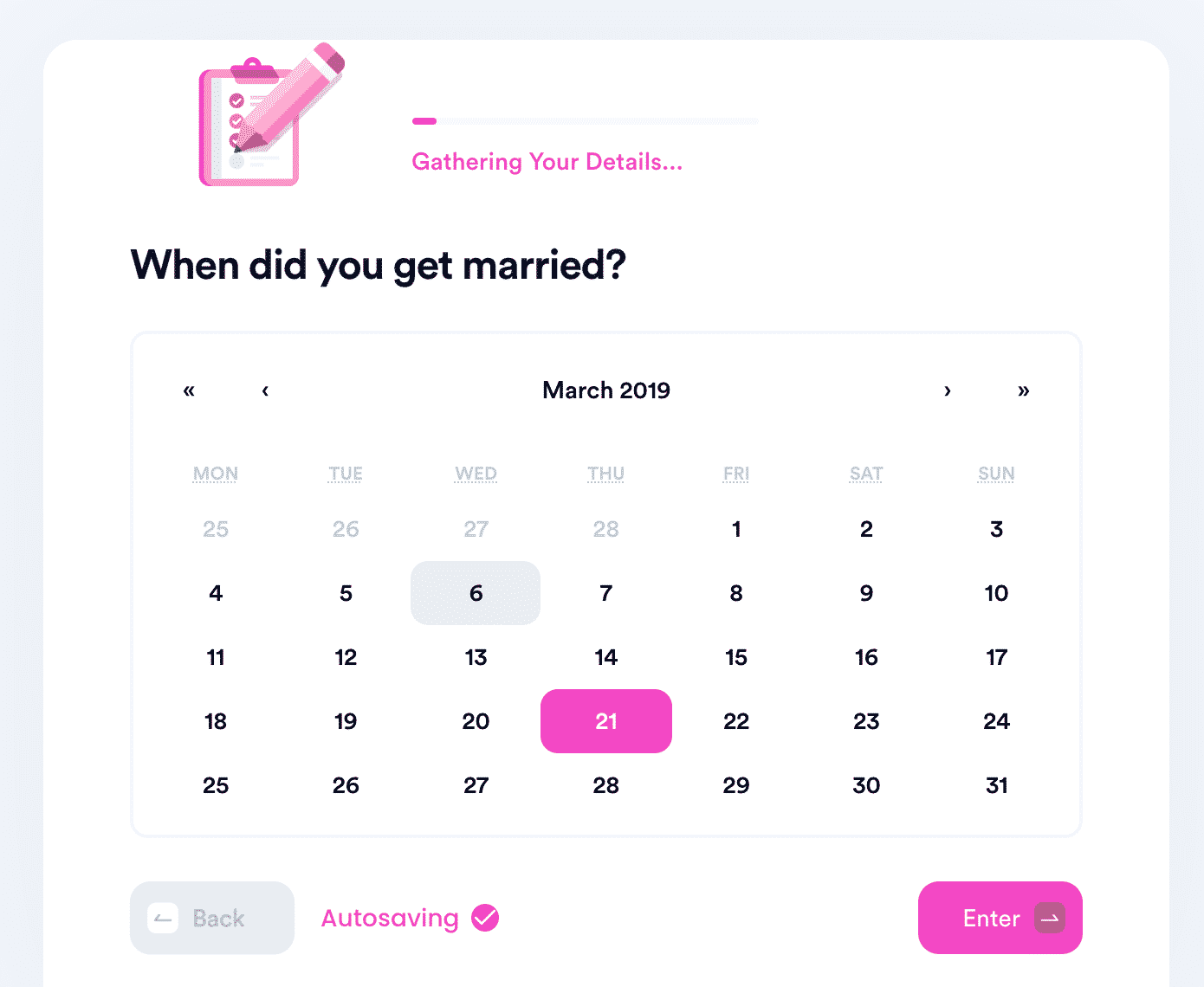 Divorce settlement agreements should also be notarized. To make the process easier, we can save you from spending hours traveling to a notary by enabling online notarization! After we draft your agreement, choose to get it notarized through our app, and DoNotPay will help you schedule an appointment with a remote notary in no time!
DoNotPay Provides Further Assistance!
Besides showing you how to file for an uncontested divorce in Georgia, DoNotPay can also tell you how to:
DoNotPay Helps You Deal With Any Administrative Issue Effortlessly
Tedious administrative tasks are always headache-inducing, but they don't have to be if you use DoNotPay. With our AI-powered app, you will be able to:
Solve Any Issues Like a Pro With DoNotPay
DoNotPay is an AI assistant that is able to solve almost all issues you're facing. Whether that be your noisy neighbors, the annoying text and email spam you're receiving, or the frustrating robocalls that won't leave you alone. We'll even cancel your unneeded subscriptions and get you a few extra bucks you've been cheated out of.
The world's first robot lawyer app can help you get: