All You Need To Know About an Uncontested Divorce in Florida
Going through a divorce is emotional and stressful—having to think about the required paperwork or legal procedures makes the situation even more overwhelming. DoNotPay steps in with a neat guide that will help you get the gist of an uncontested divorce in Florida and file for a friendly divorce in no time!
Register for DoNotPay to learn all about uncontested divorce papers and find out how to get divorced easily!
How To Get a Simple Divorce in Florida
Florida offers you the option to file for one of the following types of uncontested divorce:
Simplified dissolution of marriage
Regular dissolution of marriage
Simplified Dissolution of Marriage
The simplified dissolution of marriage is the quickest way to get a low-cost divorce in Florida, but not everyone qualifies for it. You can file for simplified divorce if you and your spouse:
Both agree on this divorce method
Have no underage or dependent children
Are not pregnant
Have lived in Florida for six months prior to the divorce (either you or your spouse)
Have agreed on the division of all assets and debts
Are not seeking alimony
Agree that the marriage is irretrievably broken
If you don't meet one of the above-listed criteria, you don't qualify for simplified dissolution of marriage.
Regular Dissolution of Marriage
Don't worry if you aren't eligible for a simplified divorce in Florida. You can still file for a regular uncontested divorce if you and your spouse agree on how to resolve your divorce-related issues and want to avoid going to court.
The Ins and Outs of Uncontested Divorces in Florida
Filing for an uncontested divorce in Florida will help you get through the divorce process in an easier and faster way than you would when filing for a contested one.
Another advantage of an uncontested divorce is that it's usually cheaper. Spouses file for a contested divorce when they can't reach an agreement on how they want the divorce matters to be settled. The process usually involves going to court, a judge holding a trial, examining the evidence, and calling witnesses, and it can drag on forever.
To avoid spending days in the courtroom, try to find a common language with your spouse and file for a quickie divorce instead. If you manage to agree on all divorce matters, you won't have to involve a lawyer and can finish the entire procedure stress-free.
A divorce mediator can help you reach an agreement if you can't do it on your own. Mediators in Florida can't make decisions in your stead but can help you reach the common goal.
How To File for a Florida Uncontested Divorce
To file for an uncontested divorce in Florida, you should follow these instructions:
Instructions
Explanation
Fill out the required forms
To initiate the divorce process, you need to fill out the petition for dissolution of marriage
File the uncontested divorce papers
After you complete the petition, file it with the help of your local county clerk
Serve your spouse
Once you file the petition and pay the filing fee, you should serve your spouse with a copy of the divorce papers
Draft a marital settlement agreement
The last step is drawing up a divorce (or marital) settlement agreement that will include everything you and your spouse agree on, such as:

Property division
Custody of your children
Child support payments
Wondering whether you need to hire a lawyer to compose a divorce settlement agreement? You don't—you can sign up for DoNotPay instead and let us handle your agreement in a matter of minutes without paying a small fortune.
DoNotPay Drafts Your Divorce Settlement Agreement in a Few Clicks!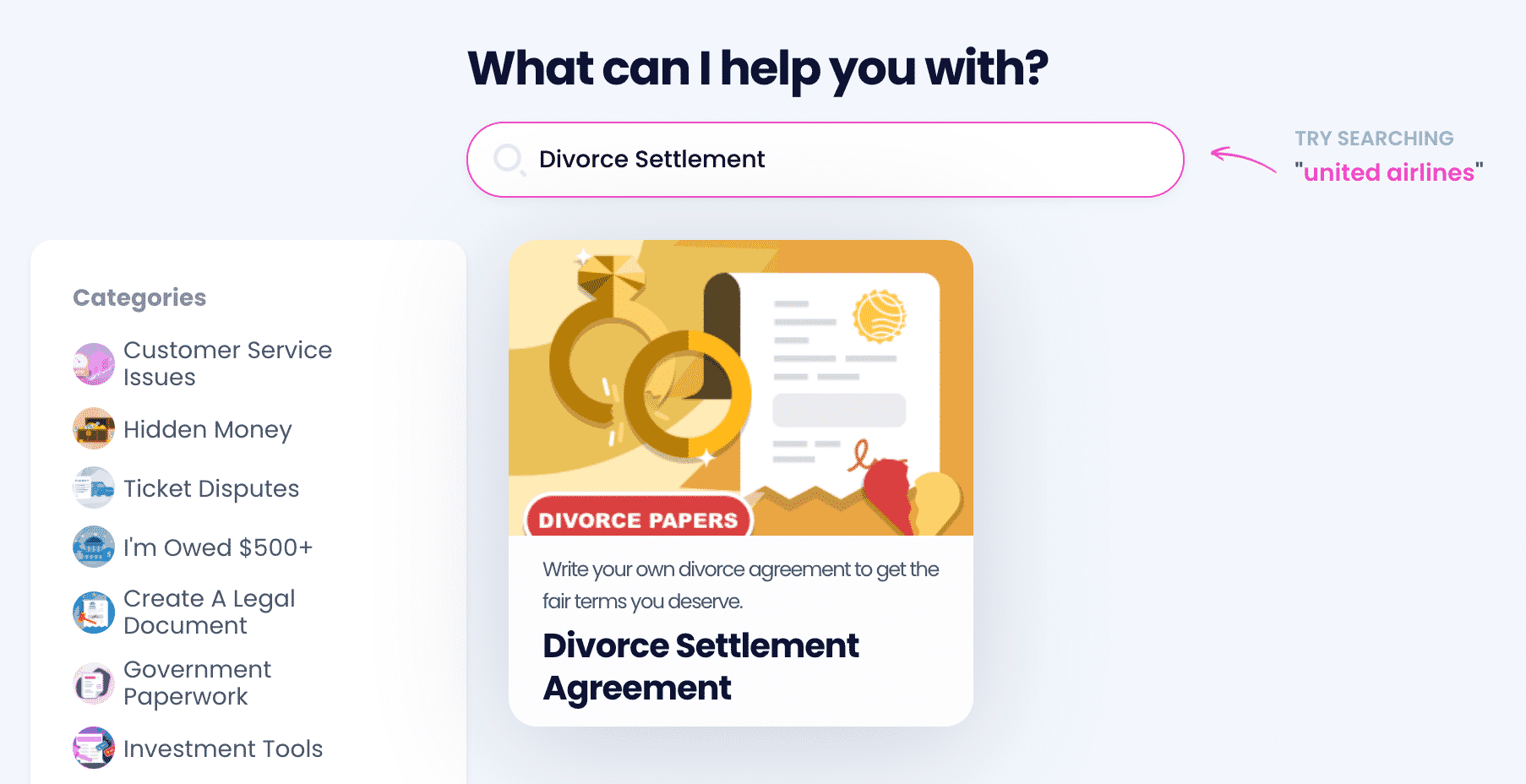 DoNotPay's handy Divorce Settlement Agreement feature can help you draw up this document without spending hours searching for online templates or hiring a lawyer to help! After you provide us with the answers to a few short questions, we'll generate your agreement instantly. Here's how to use our product:
Choose the Divorce Settlement Agreement feature
Answer our chatbot's questions
DoNotPay will create your document right away, and all that remains is for you and your spouse to sign it!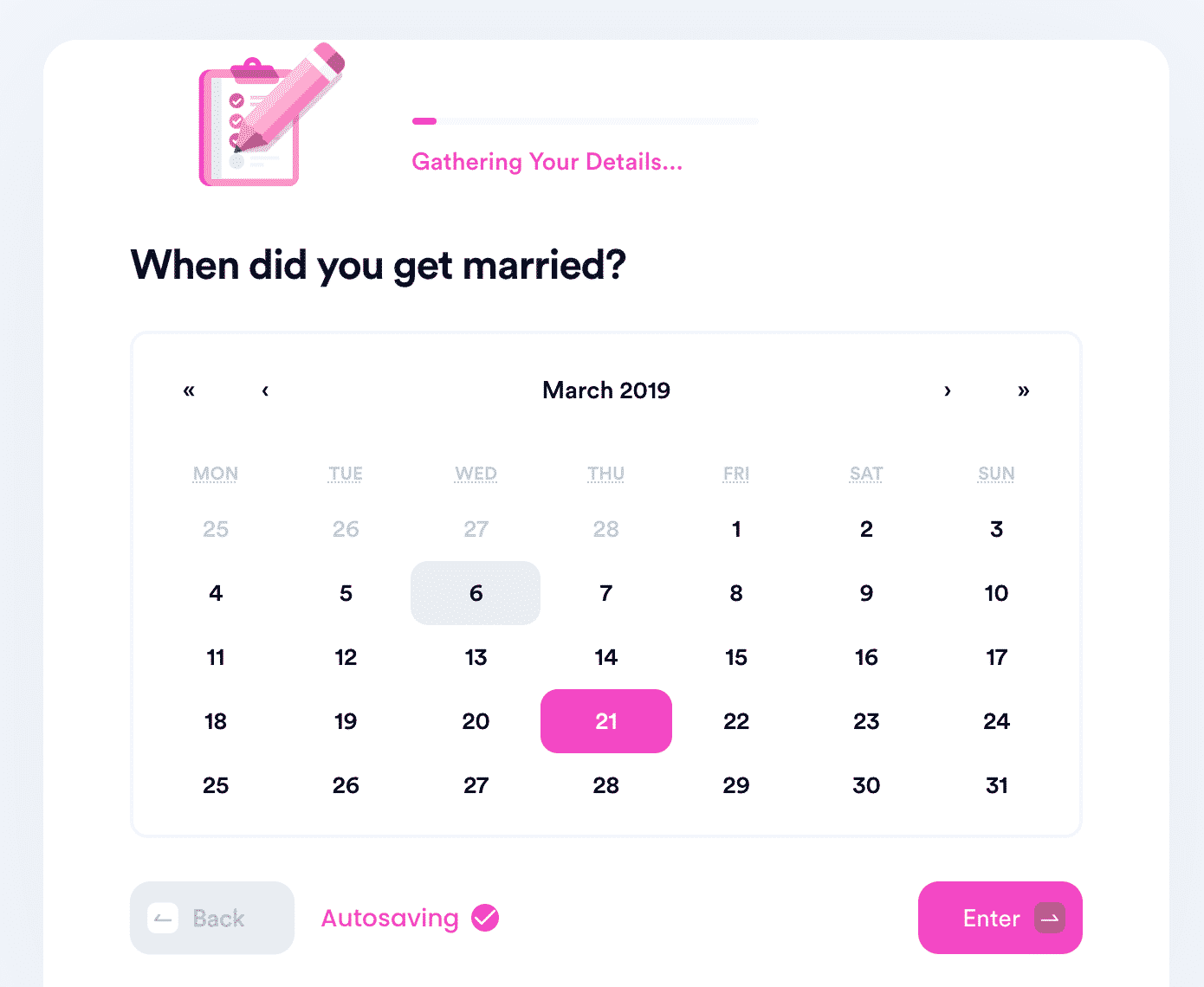 If you need a quick way to get your agreement notarized, use DoNotPay to get it done with ease and from the comfort of your home. We'll connect you with a remote notary in a jiffy, and they will perform the whole notarization process over a video call!
Besides helping you create a divorce settlement agreement, DoNotPay can also resolve other divorce-related conundrums. Find out how much you'll have to pay for the divorce and whether you can file for divorce online.
For more Florida divorce-related info, consult the list below:
Want To Save Money on Lawyers? Use DoNotPay
Most people spend big bucks on expensive lawyers to overcome their bureaucratic obstacles. Don't waste your money on unnecessary fees—use DoNotPay and take care of any legal matter in a few easy clicks! Check out some of the issues the world's first robot lawyer can help you with:
DoNotPay Turns Your Everyday Hurdles Into a Piece of Cake
Did you receive a faulty or damaged item? Why not return it with your virtual assistant? We can also help you get a late delivery refund and jump the queue if the customer service phone keeps ringing to no avail. The list of handy DoNotPay features that make your everyday life easier goes on.
By subscribing to our platform, you won't have to worry about your tedious neighbors or parking tickets. We can do it all!