Get the Lowdown on an Uncontested Divorce in Colorado
When parting ways, many couples want to avoid disputes and stay on civilized terms with each other. If you want to have a low-cost divorce without going through too much hassle, you should consider getting a simplified dissolution of a marriage.
To file for an uncontested divorce in Colorado, you have to be familiar with the state laws, rules, and requirements. Don't fret! DoNotPay has all the info you need!
Who Qualifies for an Uncontested Divorce in Colorado?
Before beginning the uncontested divorce process, you should reflect on the relationship you have with your spouse. If there are any disputes and disagreements regarding important matters, you won't be able to obtain a simplified marriage dissolution.
Consult the following table to check whether you qualify for a quickie divorce in Colorado:
How To Qualify for an Uncontested Divorce in Colorado
Explanation
Agree on the legal reasons for the divorce
Colorado is a no-fault divorce state. You can petition for divorce based on the grounds of the marriage being irretrievably broken. If you want an uncontested divorce, both of you need to agree that the breakdown is irreversible
Meet the residency requirements
Residency requirements for getting a divorce in Colorado include the following:

You or your spouse must have lived in the state for a minimum of 91 consecutive days before filing for divorce
Any minor child you have must have lived in Colorado for at least 182 prior to petitioning

Reach an agreement regarding crucial matters
The point of an uncontested divorce is reaching an out-of-court settlement and agreeing on the important matters, such as:

If you're having trouble negotiating the terms, you should try divorce mediation
How To File for a Colorado Simplified Divorce
Filing for divorce in Colorado consists of several steps:
Gathering the paperwork
Filing the petition and other documents
Serving divorce papers to your spouse
Getting a decree
Gathering the Paperwork
The first step to filing for divorce is preparing the required paperwork. On the official Colorado Judicial Branch website, you can find the necessary forms for your uncontested divorce. Keep in mind that there are different sets of documents for divorces with children, so choose the ones suitable for your case. The two most important Colorado divorce forms are:
Filing the Documents
You can file your divorce documents either by yourself as the plaintiff (petitioner) or together with your spouse as co-petitioners.
In Colorado, you cannot file for divorce online. Once you prepare the documents, you need to personally deliver them to a local clerk's office.
Serving Your Spouse
If you're filing for marriage dissolution as co-petitioners, you don't have to serve your spouse. In case you're petitioning on your own, you have to deliver divorce papers to the other party. There are two ways to do that:
Via certified mail
Via personal service (such as a sheriff, family member, or professional process server)
Getting a Decree
After the court receives the affidavit you've filed, the judge will review it and determine the next steps. They can either grant a quick divorce or request that you and your spouse appear for a hearing.
If you meet all of the requirements and at least 91 days have passed since the petitioning, the judge will approve your settlement agreement and issue a Decree of Dissolution of Marriage.
What Are the Benefits of a Colorado Uncontested Divorce?
If you're not sure whether an uncontested process is the right choice, you should consider some of its advantages:
Make a Cheap Divorce in Colorado Even Cheaper With DoNotPay's Help!
Finalizing an uncontested divorce is not possible without a divorce settlement agreement. The judge has to examine and approve this document before giving you the final judgment. If they find any irregularities, you might have to start the process all over again.
To prevent that from happening, you should have someone professionally draft it, and DoNotPay is the right choice for the job!
Our service is fast, inexpensive, and easy to use. All you have to do is and do the following:
Navigate to the Divorce Settlement Agreement product
Provide some information about your assets, spouse, and children
Let us know if you need a notary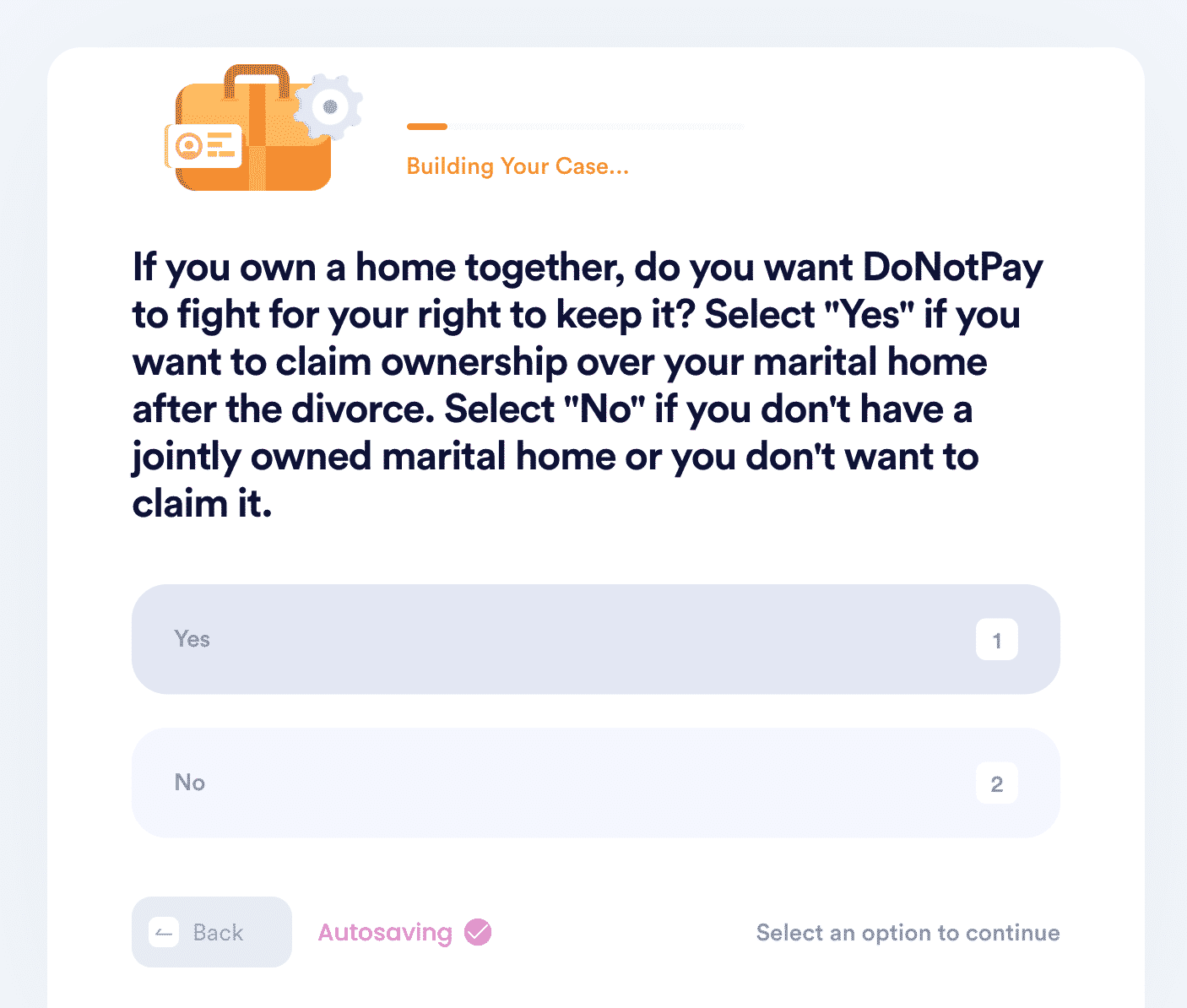 We'll send you a custom-made divorce settlement agreement right away!
Enjoy other benefits of DoNotPay, such as our constantly growing knowledge base! We can help you find out:
DoNotPay Can Help You With Almost Anything
DoNotPay's goal is to have a multitude of features that can be useful to you with handling various issues. Whether you want to apply for clinical trials, prepare for government tests, or even get in touch with your locked-up friends or family—DoNotPay has got you covered!
For a small yearly fee, our AI-based app will help you:
Want To Save and Earn Money at Once? Subscribe to DoNotPay
DoNotPay can help you earn and save a buck or two. We'll assist you in reducing your property taxes, canceling any unused subscriptions, and signing up for free trials with our virtual credit card.
As if that wasn't enough, we'll save you money and spare you from a headache if you receive any faulty deliveries by filing a refund or an item return request in your stead! This is just the tip of the iceberg of features that DoNotPay has in store for you.