A Step-by-Step Guide on Getting an Uncontested Divorce in California
Getting a divorce can be painful, stressful, and emotionally exhausting, but you can lessen the pain if you opt for an uncontested divorce.
How does an uncontested divorce work in California? We have all the answers! In this text, DoNotPay will guide you through the process of uncontested divorce and show you how to get one quickly. Subscribe to our app and get a personalized divorce settlement agreement in the blink of an eye!
What Is an Uncontested Divorce?
In California, an uncontested divorce is a legal and permanent separation between two spouses when they reach a resolution without court intervention. This means that:
Both parties agree on how to handle assets, property, and income division
If you have children, you and your spouse mutually decide on parenting responsibilities and child custody
You and your spouse respect each other's wishes as much as possible
Unlike in a contested divorce, you do not have to go to trial or hire expensive lawyers—it can be handled either by mail or in one hearing.
Requirements for an Uncontested Divorce in California
To get an uncontested divorce in California, you need to meet the following criteria:
You or your spouse should be California residents for at least six months before filing for divorce
Both spouses must be available and willing to sign all the required forms and paperwork
Grounds for Divorce in California
California is a no-fault divorce state, so it's not necessary to blame your spouse for the end of the marriage on the grounds of, for example, adultery or substance abuse. The court will grant you a divorce if you claim your marriage is no longer working out. There are many benefits of getting a no-fault uncontested divorce in California:
The process is less stressful and exhausting
The divorce costs do not break your budget
An uncontested divorce allows you to end your marriage without going to court. If you and your spouse agree on the crucial issues, you might not even need to consult a lawyer.
Can a Contested Divorce Become an Uncontested One?
The short answer is yes. Most divorces start out as contested if one spouse does not agree with the other on divorce-related issues. They can later become uncontested if both spouses reach an agreement through negotiations or mediation. Once the divorce becomes uncontested, you should cancel your court hearings since they will not be required anymore.
How To File for an Uncontested Divorce in California
Check out the table below for a step-by-step guide to filing for an uncontested divorce in California:
Steps To Take
Explanation
Gather and fill out the paperwork
Visit the official website of the Judicial Branch of California to get the right divorce papers. Once you get them, fill them out as instructed
File the initial petition
You need to file Petition for Divorce FL-100 and Summons FL-110, along with local and judicial council forms. These forms contain the following information:

Date of marriage
Date of dissolution
Children, if any
Assets and property declaration

To file the petition, you need to pay $435 as the divorce filing fee

Serve your spouse
After filing for divorce, you have 60 days to serve your spouse with the divorce papers. Request a friend or family member, or pay a process server to serve the papers on your behalf.

Once your spouse has been served, they have 30 days to respond to the petition. If they don't, you can request a dissolution by default

Prepare a divorce settlement agreement
Draft a divorce settlement agreement with your spouse and include all the divorce terms and conditions. Since it is a legal document, make sure that it complies with relevant state laws
Make copies of all paperwork
Since you'll file all the paperwork with the court, it's essential to make two copies for your personal records
After submitting all your forms, you will need to wait approximately six months before the judge signs your divorce decree. In case you miss a paper or two, the court will request you to file them again, which will increase the duration of the process, making it more stressful for everyone.
DoNotPay Can Help You Speed Up an Uncontested Divorce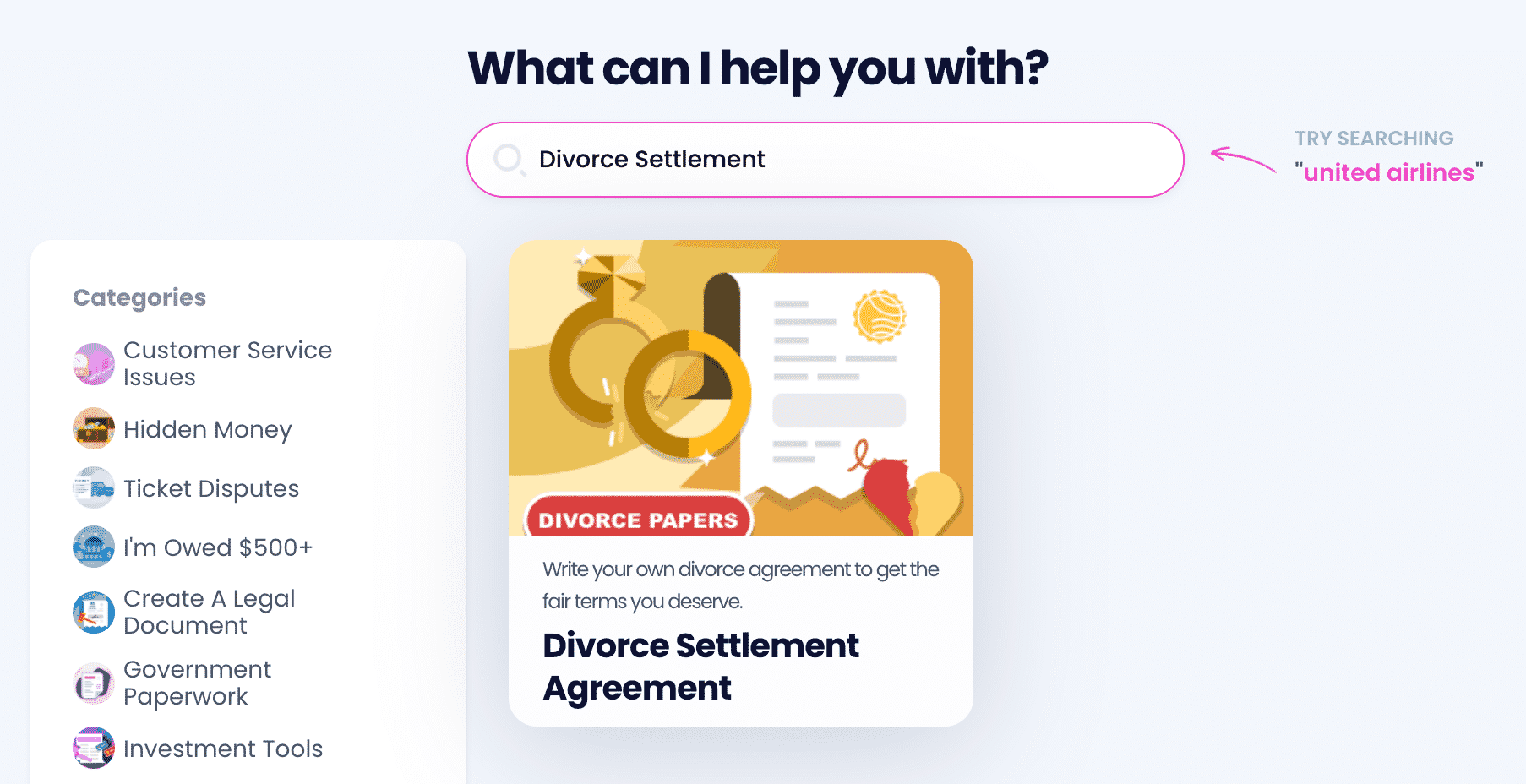 Creating a divorce settlement agreement has never been easier! With our Divorce Settlement Agreement tool, you can create a rock-solid legal document that meets state requirements and doesn't break the bank. All you need to do is follow these straightforward instructions:
Access DoNotPay from your web browser
Select the Divorce Settlement Agreement tool
Answer our chatbot's questions about your spouse, children (if any), income, and assets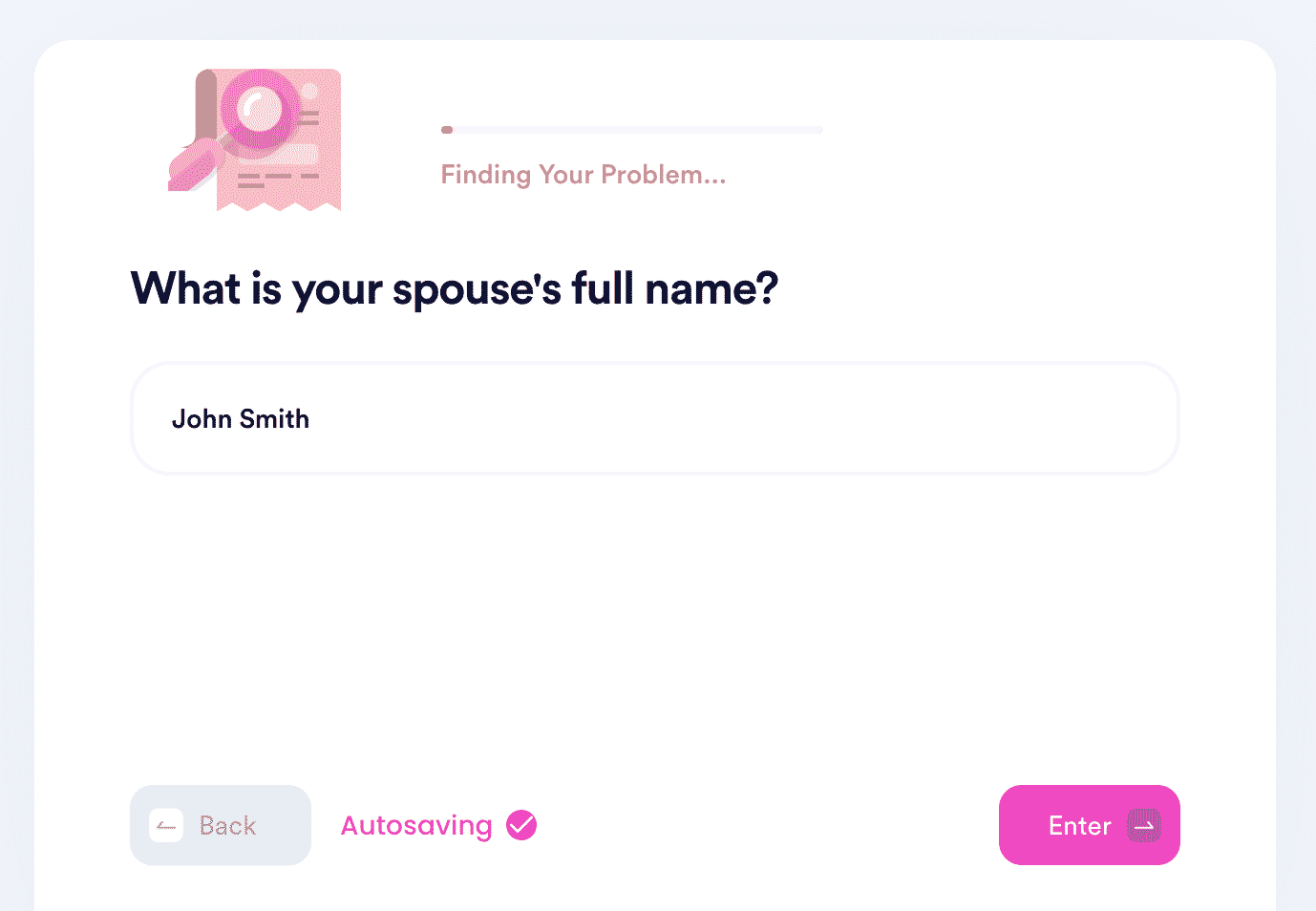 We will generate a customized divorce settlement agreement within minutes!
Since California law mandates that legal documents must be notarized, you should consider doing it as soon as possible. Don't know where to find a notary? Let us know while filling out the questionnaire, and we will connect you with an online notary when it's convenient for you.
Check out the table below to get answers to other general and state-specific questions:
| | |
| --- | --- |
| General | California-Specific |
| | |
DoNotPay Is the Robot Lawyer You Need!
Dealing with the law and understanding legal protocols is difficult if you're not used to doing it on a daily basis. That's why DoNotPay comes to the rescue!
Assisting you in drafting legal documents, creating a neighbor complaint letter, and suing companies in small claims court is what we do best.
That's not all! With us, you can tackle any legal task head-on, no matter how big or small, including:
Deal With Companies Hassle-Free
If you love to shop and you want to make the experience as easy and enjoyable as possible, you're in the right place! DoNotPay provides you with various features that allow you to accomplish just that.
You don't have to struggle trying to reach customer support or figuring out how to claim a warranty or file an insurance claim by yourself. You can cancel any subscription, sign up for free trials, and discover how to use every last penny from your gift cards in minutes!
In case you made a purchase, but your package is missing, don't fret! Finding your missing parcel is only a few clicks away.