What Is the U.K. Tourist Visa Processing Time?
If you are planning your vacation in the United Kingdom and are worried about the U.K. tourist visa processing time, we've got you covered.
Figuring out all of the rules and gathering the required documents is already time-consuming. Combined with a long wait, it can become overbearing. To avoid this annoyance, turn to DoNotPay and get the necessary info to prepare for your trip.
The U.K. Tourist Visa—Time for Processing
The biggest concern for many tourists traveling to the United Kingdom from the countries that require a visa is the visa application processing time. To get a U.K. visa on time, applicants should apply for it at least three months before the trip.
The waiting time for a U.K. visa starts once the applicant visits the U.K. embassy and submits the required documents for a tourist visa application. Typically, applicants need to wait three weeks to get ahold of the visa.
If those three weeks seem too long to wait, the applicant can request a priority service and obtain the visa within five business days. This service comes with an additional fee.
Applicants can visit the U.K. government website to check how much the U.K. tourist visa will cost. In case there are any questions or dilemmas, they can contact the U.K. Immigration Department online or via phone—+44 (0)300 790 626.
What Is the U.K. Tourist Visa Processing Time for the U.S. Passport Holders?
If you are a U.S. citizen or passport owner, we have good news! You don't need a visa to enter the U.K., which means there is no visa processing time at all.
U.S. passport holders are allowed to stay in the U.K. for six months without a visa.
The U.K. Entry Requirements
To enter the U.K. as a U.S. citizen, you will need a passport that should be valid during your stay.
Note that you will also need to:
Provide proof that you are visiting for tourism
Show that you are capable of supporting yourself financially during your stay
Prove that you arranged accommodation
Present your return ticket or another proof you will leave within six months
The Required Documents for Minors Traveling to the U.K. Alone
If you are an underaged U.S. citizen, you will need to show the permission letter from your parent or guardian. This letter should include:
Contact of your parent or guardian
Name, address, and date of birth of the person you are staying with in the U.K.
Your parent's consent to travel to the U.K. and stay with the person named in the letter
COVID-19 Restrictions in the United Kingdom
From August 2, 2021, all visitors from the U.S. who received vaccines approved by European Medicine Agency (EMA) and the Food and Drug Administration (FDA) can stay in the U.K. without quarantining. If you are not vaccinated, you will need to submit a PCR test with a negative result. The test cannot be older than three days.
All visitors have to wear masks in public spaces and public transportation.
Note that if you've been to one of the red-listed countries, you will not be able to enter the U.K. unless you are a resident of Great Britain or Northern Ireland.
Any Visa Application Will Be a Breeze With DoNotPay's Assistance
If you want to make sure you understand every step of the visa application process, you should sign up for DoNotPay. Our app will provide you with valuable info!
DoNotPay will save you the trouble of spending hours trying to figure out the visa requirements. We will create a list with all the paperwork you need.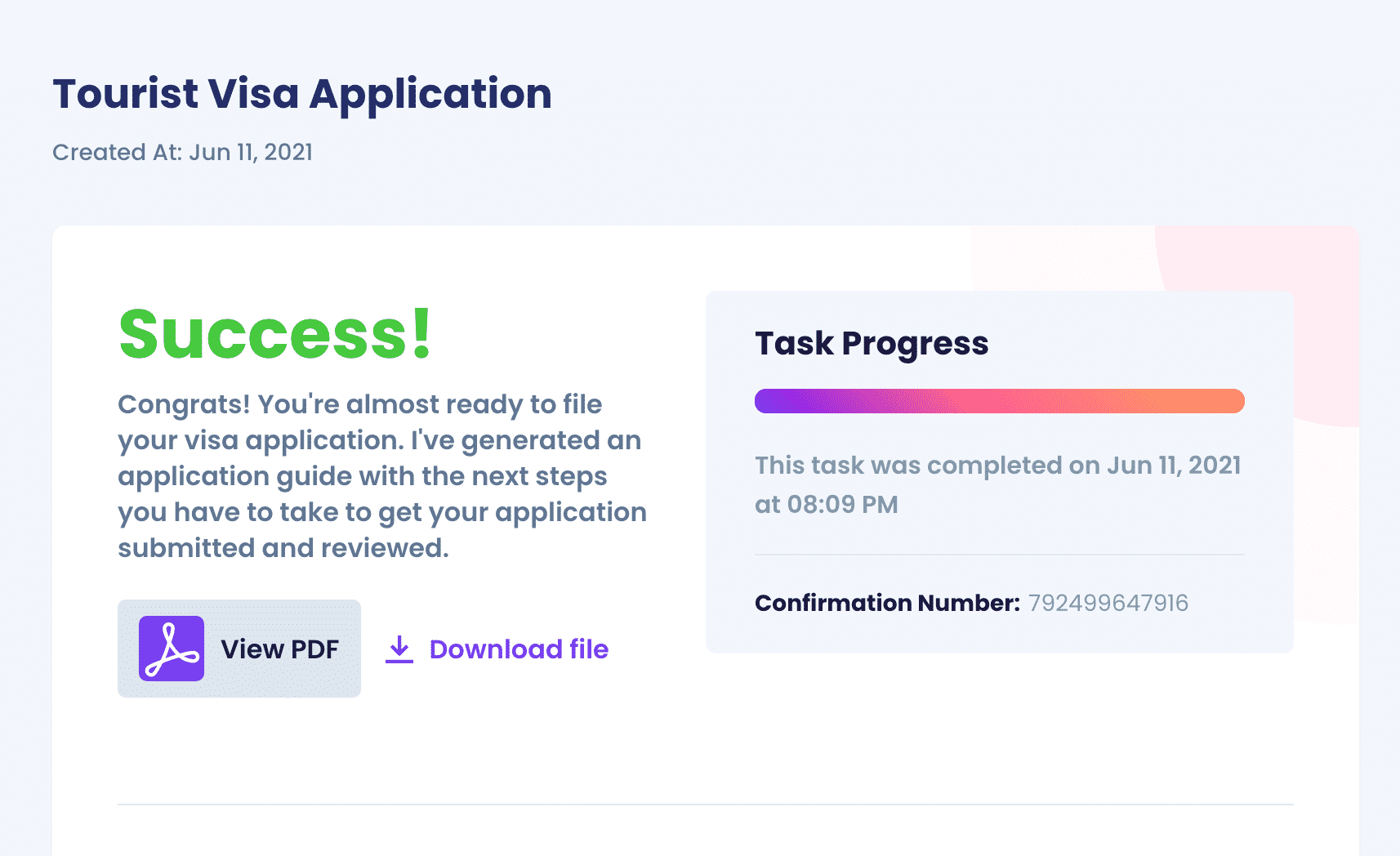 All you need to do is provide our chatbot with some basic info, and we will help you with your visa application by:
Checking whether the country you wish to visit requires a visa
Contacting the consulate or embassy to ask if it accepts applications by email
Sharing an application form in PDF or a direct link to the online application
To ensure we assist you in every way we can, you should follow these steps:
Choose the Tourist Visa Guide feature
Confirm that you are a U.S. citizen or a U.S. passport holder
Tell us the name of the country you want to visit
After that, we will present you with a useful guide with everything you need to make your visa application process simple and hassle-free.
You can rely on DoNotPay for your future trips across Europe and the world. Prepare for them by checking out the articles in our learning center and the following table:
Have Your Documents Created and Notarized in Less Than Five Minutes!
Why spend hundreds or even thousands of dollars on lawyers when the ideal solution is only a few clicks away?
DoNotPay saves the day by enabling you to generate numerous legal documents. Creating proper child travel consent forms, divorce settlement agreements, and powers of attorney has never been easier!
Our perks don't stop here—you can also have your documents notarized electronically from any location. Once you obtain a notary stamp and signature, your paperwork can be faxed online without outdated machines.
Explore Everything DoNotPay Has To Offer
Day-to-day tasks you must deal with don't have to be a burden or rocket science. Signing up for DoNotPay is your ticket to performing them the easy way! We offer a wide selection of products that don't cost an arm and a leg but do excellent work when it comes to solving your administrative issues!
Our services will help you: