Uganda Tourist Visa Application—DoNotPay Can Support You Every Step of the Way
Uganda has been fondly called the Pearl of Africa for over a century now—that's how mesmerizing it is! The country's bio-diverse wildlife and exotic landscapes make you feel like you're in a fairytale, and the vibrant local culture and hospitality are sure to steal your heart!
The first step to visiting this magical country is getting your Uganda tourist visa in order.
Applying for a visa can be a lengthy, confusing, and tedious task—but DoNotPay has an easy fix. Our Tourist Visa Guide tool simplifies the visa application process by:
Helping you navigate through a country's specific visa guidelines
Giving you a clear picture of the documentation required
Assisting you during the application process
Sign up for our app today and get ready for a seamless visa processing experience!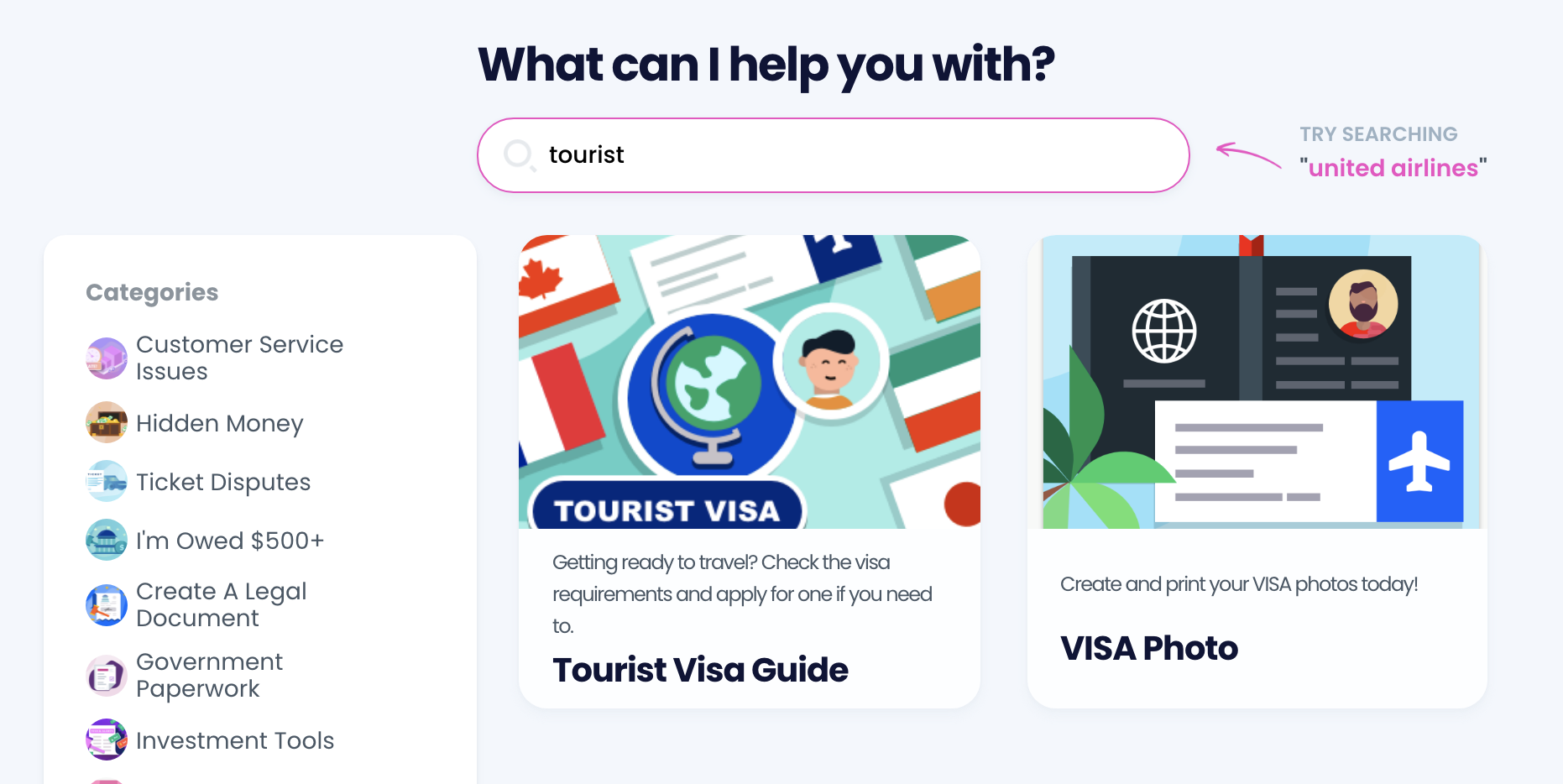 Uganda's Visa Policy Explained
Uganda imposes different visa requirements depending on a visitor's:
Country of origin
Intent of travel
This table summarizes the existing visa policies for Uganda:
Visa Policy
Details
Visa exemption

Citizens of 37 countries can travel to Uganda visa-free for a maximum of three months

e-Visa

It is a relatively new service that was launched on July 1, 2016—only available for 50 countries
Travelers from eligible countries can get an e-Visa online and enter Uganda by producing the printed visa confirmation generated during the e-Visa application process

Visa on arrival

Getting a visa on arrival (VOA) is an option for people who were unable to apply for an e-Visa. VOA is the predecessor of e-Visa and is expected to be phased out soon

East African Tourist Visa

This is a 90-day, multiple-entry visa used by tourists to enter Uganda, Kenya, and Rwanda

Diplomat visa waiver

Diplomatic passport holders of South Africa, Namibia, India, and Italy can stay without a visa for three months
Other diplomats must apply for a visa on arrival
Uganda Visa Requirements for U.S. Citizens
Visa on arrival has been discontinued for U.S. citizens since July 2016. Instead, they must apply for either:
An e-Visa, through Uganda's official online portal
A traditional visa stamped to the passport by the Uganda Embassy
Does Every U.S. Citizen Qualify for a Uganda Tourist Visa?
You need to meet basic eligibility requirements to qualify for a Uganda tourist visa. You can apply if you have a:
U.S. passport that will remain valid for a minimum of six months
Vaccination certificate for yellow fever (traveling minors must also have a vaccination certificate for polio)
Can I Apply for a Uganda East Africa Tourist Visa?
Yes, the East Africa Tourist Visa is the first choice for many American adventurers and wildlife enthusiasts due to:
The short processing time—from three to four days
The tourism-friendly rules
Understand the East Africa Tourist Visa for Uganda
The East Africa Tourist Visa (EATV) is strictly meant to enable tourism in the Republics of Uganda, Kenya, and Rwanda—you cannot use it for work or business purposes.
Based on the number of entries you seek, you need to pay between $100 and $200 for this visa. One EATV can be used to travel to all three countries without paying any additional fee.
The validity of the East Africa Tourist Visa is 90 days, and it cannot be extended under any circumstances.
Uganda Tourist Visa Application Form—Documents Checklist
Whether you apply for a visa online or through an embassy, you must arrange all or some of the documents from this list (depending on the type of visa you tick on the application form):
A copy of the bio-data page of your passport
Two copies of a colored, passport-size photograph taken within the past three months
Proof of travel—this includes:

Travel itinerary
Copy of entry and return ticket
Hotel booking confirmation

Recommendation or reference letter
Police verification (only for multiple-entry visas)
A letter stating your travel intent
Proof of financial stability
Receipt of visa fee paid
You will be issued a visa only if you submit accurate documentation. The U.S. Embassy staff in Uganda reported many travelers being detained or denied entry at the airport due to incorrect or incomplete e-Visa applications.
Basic Caution While Visiting Uganda
Uganda is a safe city, with 99% of its visitors completing their trip without any hassle.
The U.S. government, however, cautions citizens not to overstay their visas in Uganda. At present, visa overstays are fined at $30 per day, and the defaulters will not be allowed to leave the country unless they pay the penalties in full.
Apply for Tourist Visas Without Any Hiccups With DoNotPay
Uganda has a transparent visa application system, but getting the documentation right is a back-breaking chore. Your visa application may get stalled due to a minor error, which can force you to back out of your prepaid safari.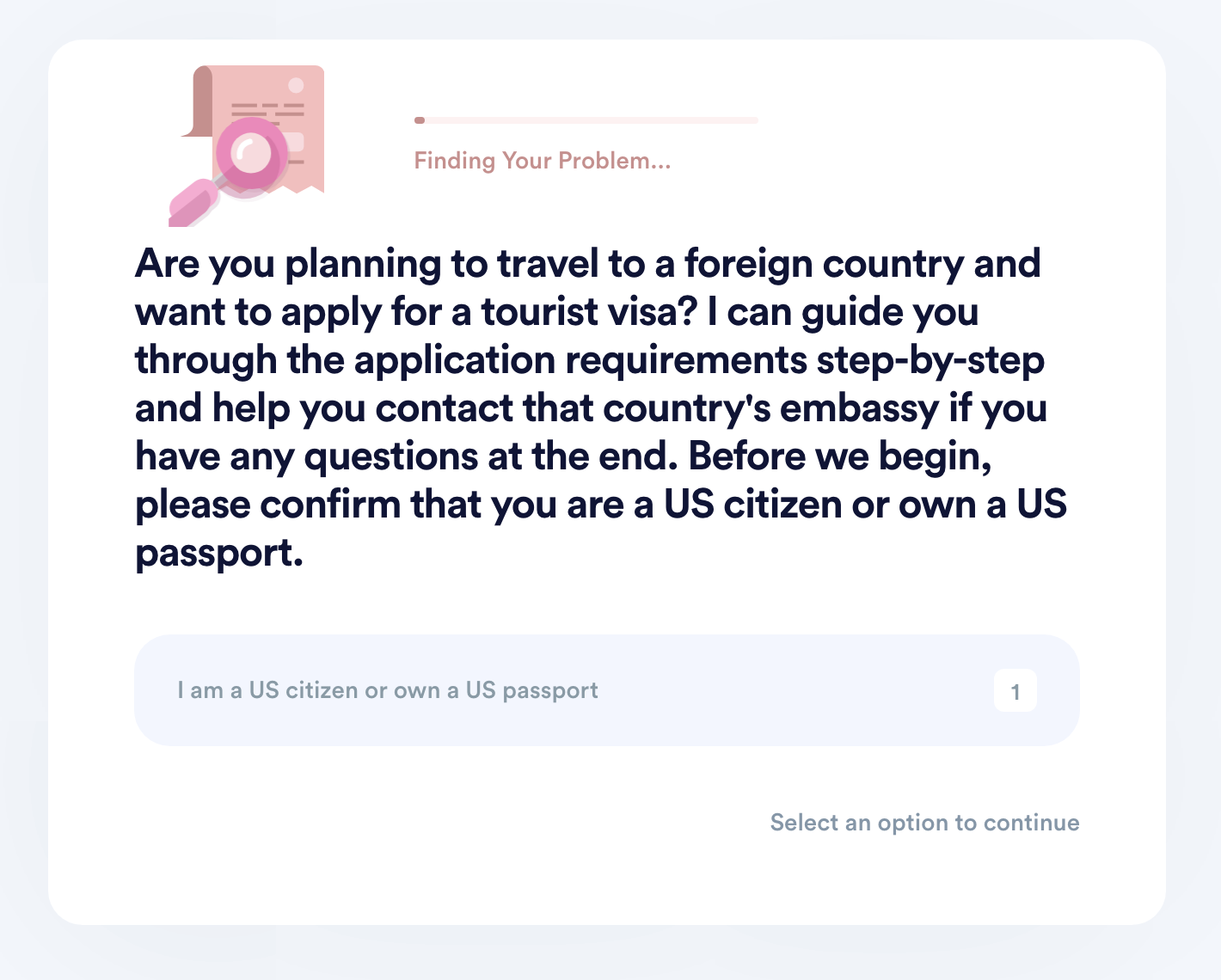 DoNotPay's Tourist Visa Guide aims to minimize the risk of submitting a faulty visa application. Our app can help you in two distinct ways:
Assess whether you need a tourist visa for your destination country
Provide you with multi-level support to gather the necessary documents and apply at the right place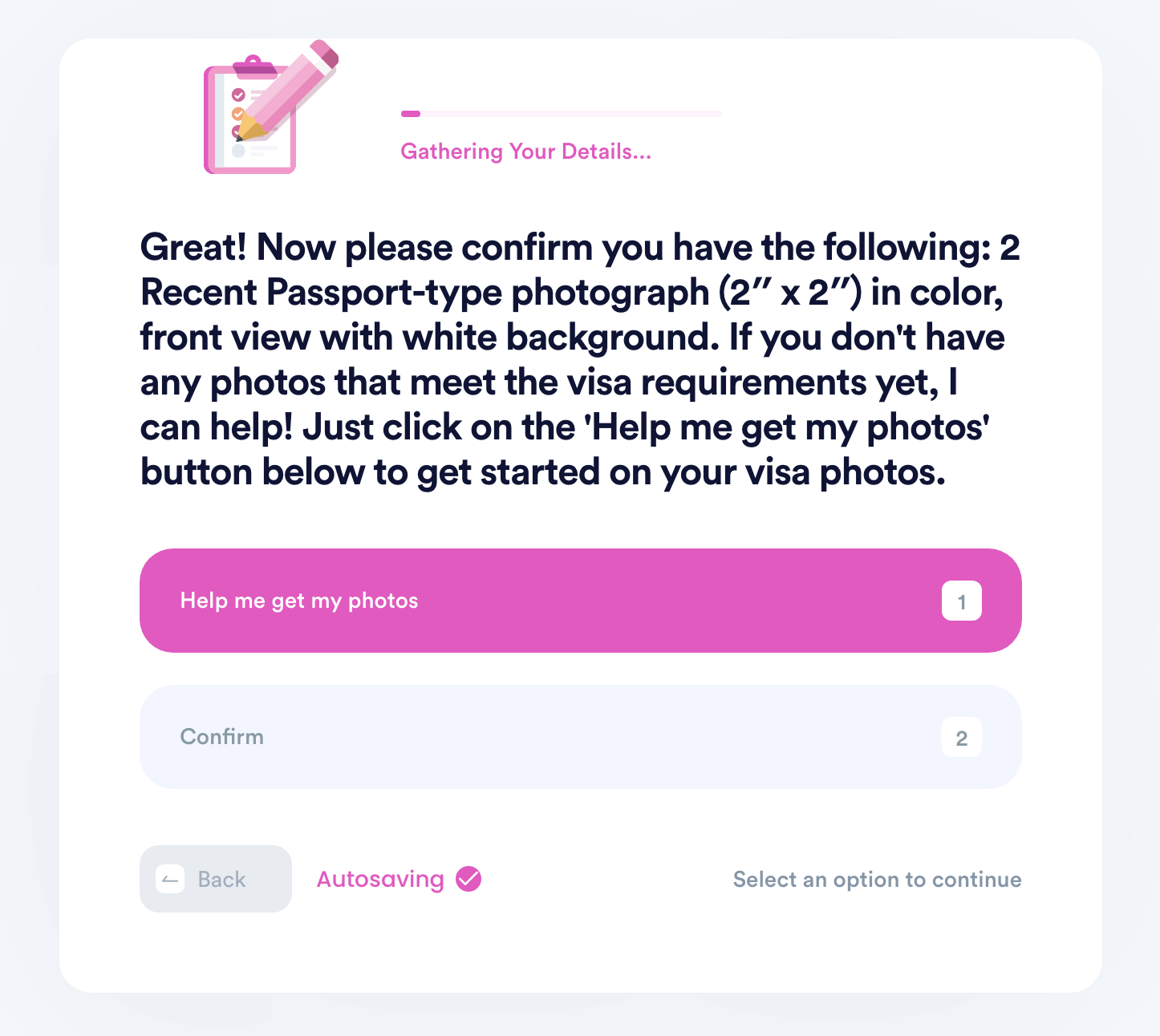 All you need to do is answer our chatbot's questions, and the app will generate a country-specific application handbook for you.
Follow these steps to start your visa application process:
Sign in to DoNotPay and navigate to Tourist Visa Guide
Confirm that you have a valid U.S. passport
Enter your destination country

DoNotPay will assist you with the following:
Getting a complete list of the documents needed for your application
Creating and printing passport photos as per a country's guidelines
Downloading the correct PDF application form
Contacting any embassy to mail your complete physical application
Directing you to the right portal to submit your online application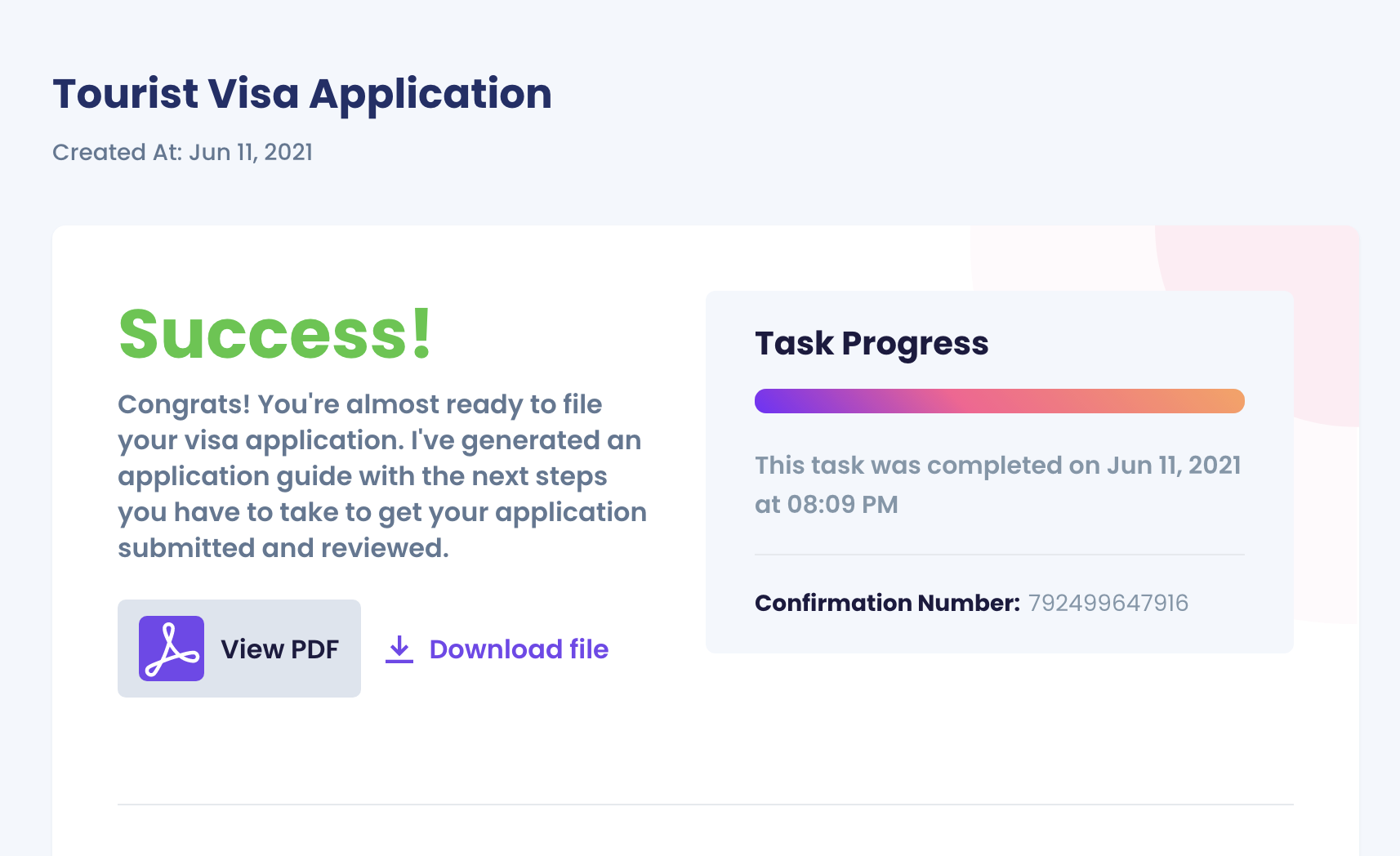 With DoNotPay on board, there will hardly be any room for mistakes in your application!
Dive Deep Into Africa To Awaken Your Inner Explorer
Africa can ignite your spirit as a true adventurer! Let your soul run wild and free—browse this table to find more of DoNotPay's visa assistance guides for different countries:
Have Your Documents Created and Notarized in Less Than Five Minutes!
Why spend hundreds or even thousands of dollars on lawyers when the ideal solution is only a few clicks away?
DoNotPay saves the day by enabling you to generate numerous legal documents. Creating proper child travel consent forms, divorce settlement agreements, and powers of attorney has never been easier!
Our perks don't stop here—you can also have your documents notarized electronically from any location. Once you obtain a notary stamp and signature, your paperwork can be faxed online without outdated machines.
Explore Everything DoNotPay Has To Offer
Day-to-day tasks you must deal with don't have to be a burden or rocket science. Signing up for DoNotPay is your ticket to performing them the easy way! We offer a wide selection of products that don't cost an arm and a leg but do excellent work when it comes to solving your administrative issues!
Our services will help you: