UAE Tourist Visas From A to Z
The United Arab Emirates has numerous destinations worth visiting. If you don't mind high temperatures and enjoy a combination of traditional and modern architecture, you will fall head over heels with the shores of Dubai and Abu Dhabi.
Before you confirm whether the Burj Al Arab hotel deserves seven stars, you should learn about UAE tourist visas! Sign up for DoNotPay to get the UAE visa info fast and submit the application hassle-free.
Do U.S. Citizens Need a UAE Tourist Visa?
No, they do not. U.S. citizens and U.S. passport holders can enter the United Arab Emirates without a tourist visa.
Upon your arrival to the UAE, you will receive a permit to stay in the country for 30 days.
If you are staying longer than that, you can request an extension by contacting the local UAE immigration office. You can also talk to the immigration officer that will issue your entry permit and ask them for the extension info.
If You Don't Need Tourist Visas for UAE, What Do You Need?
To ensure you enter the United Arab Emirates without any issues, you should have the following:
U.S. passport with your original signature—It shouldn't expire for at least six months after you arrive in UAE
Airline ticket that proves you will leave UAE within 30 days
UAE COVID-19 Restrictions
According to the COVID-19 news update from June 16, 2021, to enter the UAE, tourists older than two years need to have a negative PCR test not older than 72 hours. The other option is to provide a document from a licensed health care practitioner that proves you recovered from COVID-19.
The United Arab Emirates is implementing restrictions to prevent the spread of the virus, which means you need to:
Wear a mask
Practice social distancing
Respect the curfew from 12 a.m. to 5 a.m.
Quarantine might be necessary if you are not flying from the green countries. If you are coming directly from these countries and are vaccinated, you don't have to go into self-isolation.
Check out the green countries below:
If you have any questions about COVID-19 health measures or traveling to the UAE in general, you can contact the UAE Embassy in Washington, D.C.:
Via phone—(202) 243-2400
By filling out the contact form on the website
The United Arab Emirates Travel Advice
The UAE has a specific culture. To help you understand it and ensure you will not get into an unpleasant situation because you didn't know something, we prepared the following pieces of advice:
Dress modestly when you're going out in public
When someone offers you food or drink, accept it with your right hand
Buy alcohol only in licensed restaurants and bars and don't drink in public
Respect the rules during Ramadan—UAE is a Muslim country, and in the month of Ramadan, its residents pray and fast
DoNotPay Can Help You Get the Tourist Visa Info You Need

Even though you will not need a tourist visa for your trip to the United Arab Emirates, you might find a destination where it will be necessary.
We know that gathering documentation is the most tiring part of any trip. This is why DoNotPay is here to help you overcome any bureaucratic difficulty you might encounter. With our app, you will save time and file a complete visa application stress-free!
To get DoNotPay's assistance, here is what you need to do:
Select the Tourist Visa Guide feature
Confirm that you're a U.S. citizen or U.S. passport holder
Tell us the name of the country you're visiting
Once you complete these steps, you will find out:
Whether you have to get a visa for your destination
How long you can stay in that country if a visa is not required
What documents are necessary to get a tourist visa in your destination country
Whether it is possible to submit your application by an online form or via email
How you can apply for a visa in person
We will also get you a link to an online visa application form or provide you with a PDF version of the form in case you need to print and submit it to the embassy.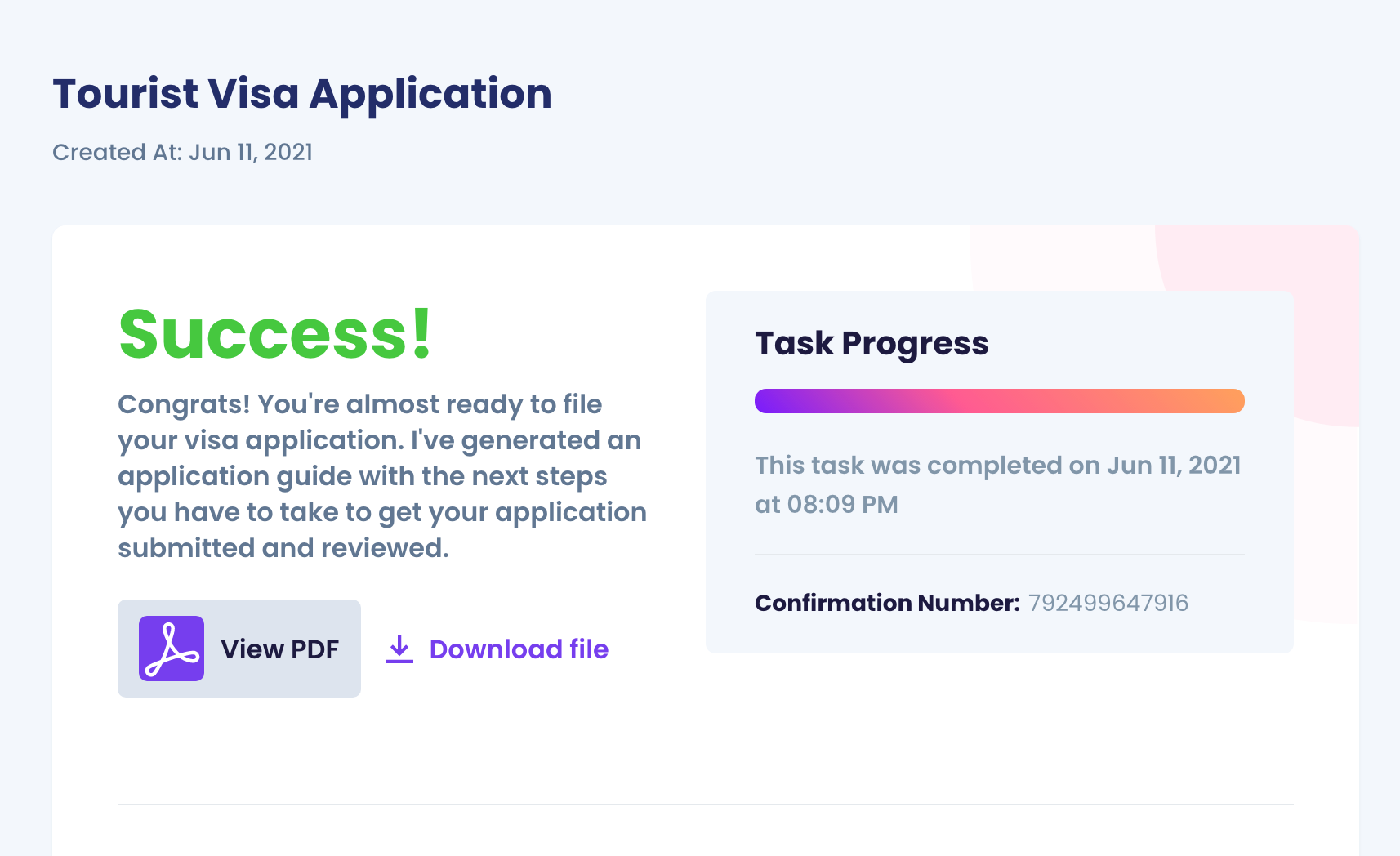 Experience the Magic of the Middle East With the Assistance of DoNotPay
If the UAE is not your final destination in the Middle East, use our app while planning your other trips. Let us help you get the latest information about tourist visas for the following countries and many more:
Explore DoNotPay's Product Range
Are you looking for additional assistance from our app? We're happy to inform you that DoNotPay provides you with a number of useful tools that you can use to complete mundane tasks in the blink of an eye! Sign up for our app and let us help you get:
DoNotPay Resolves Your Financial Issues in a Few Taps
You don't have to struggle to figure out how to resolve financial problems yourself when you have our app at your disposal. In only a few clicks, you'll be able to discover any unclaimed money under your name, submit insurance and warranty claims, or request compensation for delayed flights.
But that is not all! Lowering your utility bills, appealing parking tickets, or canceling memberships and subscriptions is also something you can do in no time and with minimum effort if you use DoNotPay! Work smarter, not harder!