We Can Help You File a U.S. Cellular Insurance Claim Hassle-Free
U.S. Cellular is a mobile network services provider, and it is the fourth-largest carrier in the USA. The company offers mobile phones and cell phone plans.
If you need to file an insurance claim with U.S. Cellular, DoNotPay can help you do it in the fastest and easiest way.
What Does the U.S. Cellular Insurance Cover?
U.S. Cellular has a Device Protection+ plan. You can find the coverage details in the table below:
Covers
Doesn't Cover

Loss

Theft

Hardware service

Accidental damage

Standard battery

Charger

SIM

Abuse

Unauthorized servicing

Intentional damage

Fire

Loss resulting from misuse

Acts of God
How To File a U.S. Cellular Insurance Claim
You can file an insurance claim with U.S. Cellular in two ways:
Over the phone
Before you file a claim, make sure you have all the following information close by:
The date and cause of the item loss or damage

The model of the device, including serial number and storage size

Your contact information so the company can inform you about the status of your claim

Your payment information—for a deductible or a service fee

Additional documents that help your case, such as a police report

Proof of loss or damage
How To File an Insurance Claim Online
To file your U.S. Cellular insurance claim online, visit mywirelesslcaim.com and follow these instructions:
Click on

Select a Provider

Select

U.S. Cellular

Tap on the

File or Track My Claim

button

Choose which number you want to use—

Mobile

or

Serial Number

Type in the number in the field

Click on

Submit
If you're an Apple customer and have their Device Protection+ Advanced program with AppleCare service, you need to go to Apple's support page and file your claim there.
How To File a U.S. Cellular Insurance Claim Over the Phone
You can file your insurance claim with a claims representative over the phone. Here's how:
Call

1-800-480-0167

Tell the agent that you want to file an insurance claim

Provide all the required information like your name and mobile number

Wait for the representative to instruct you on further steps
If you lose your device, or it gets stolen, you should call customer service immediately to report it. You can reach U.S. Cellular customer support at 1-888-944-9440. They will suspend your number and do everything to protect your device against unauthorized use.
How To File a U.S. Cellular Insurance Claim With DoNotPay
You can file an insurance claim with the U.S. Cellular using DoNotPay, and it will take you less than five minutes. DoNotPay will do most of the work; you only need to provide information about your case.
To file a claim via DoNotPay, open our platform in your , and do the following:
Enter

U.S. Cellular Insurance Claim

into the search field

Fill out the required fields about your general information

Explain the issue you're experiencing in detail

Tap on

Enter

to submit the claim
DoNotPay will create your claim letter using the information you provided and send it to your insurance company. U.S. Cellular should contact you directly to discuss the details of your insurance policy and your options for coverage.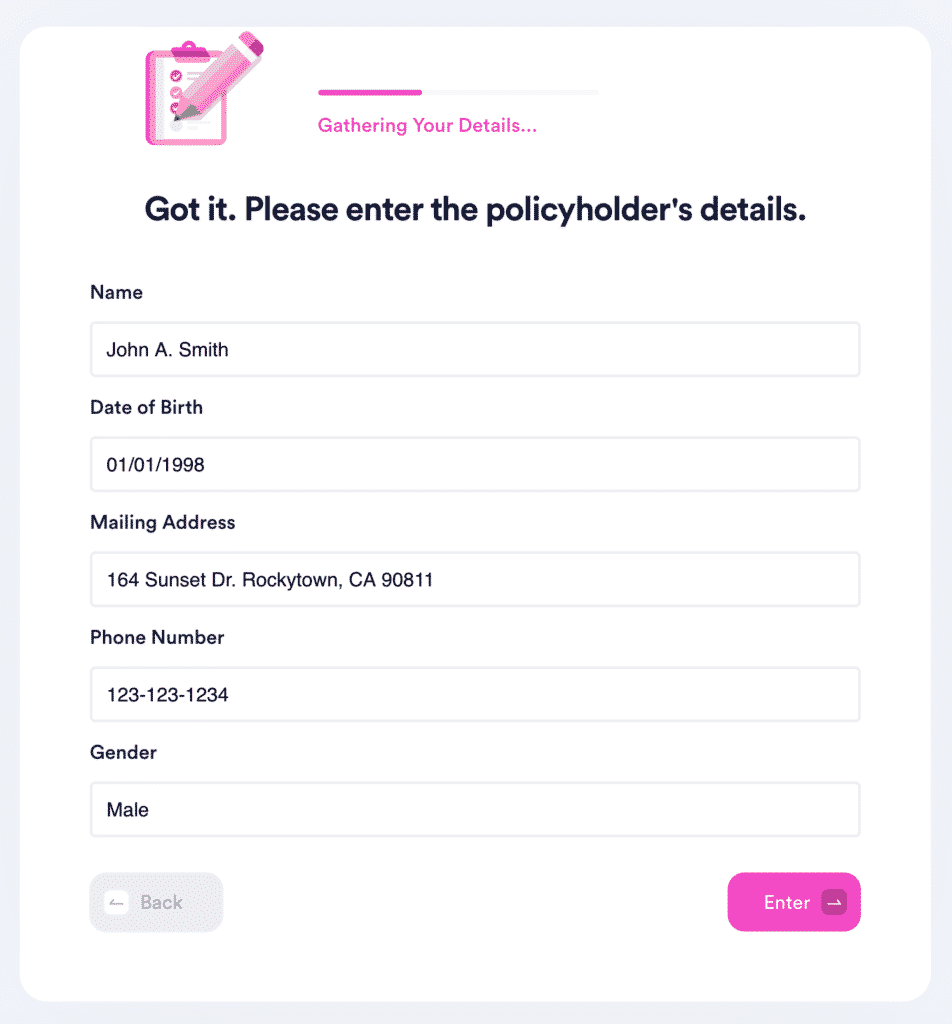 Learn What Else DoNotPay Can Do About Insurance Claims
DoNotPay's feature for filing claims is meant to make the whole complicated and energy-draining process of filing insurance claims easier for you. Filing a claim by yourself will take up a lot of your time, but with DoNotPay, it will take a few minutes.
Another astonishing side of DoNotPay's feature is that our chatbot will make sure you provide all the vital data. This is important because making a mistake or failing to provide enough information might result in claim rejection.
Our platform can help you with filing: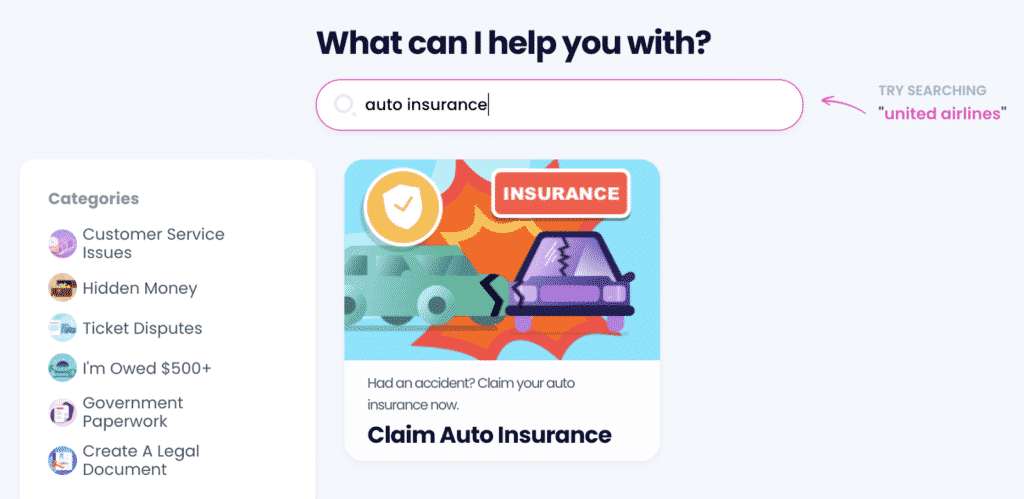 DoNotPay can help you with an additional type of insurance claim. If you lose your job, we will make sure you get the money you need through an unemployment insurance claim.
To access these features, visit DoNotPay in any .
If the Company Rejects Your Claim, DoNotPay Can Help You File an Appeal
We all know that companies like to avoid paying for any type of service, even though it's their job. They will try to deny your claim based on a piece of information you missed or a small mistake you made. If the company rejects your insurance claim, DoNotPay can help you file an appeal letter.
You'll go through this appeal process easily with DoNotPay's help, so don't give up what's rightfully yours.
Want To Avoid Tiresome Admin Processes? DoNotPay Will Handle Them
Applying for a clinical trial, free trial, copyright of your work, or any service without phone number verification is a time-consuming task many people want to avoid. Fortunately, such processes are DoNotPay's specialty.
If you feel like a company or individual has wronged you, you can sue them in small claims court. DoNotPay will handle the paperwork, and all you need to do is show up in court and win the case!
With our robot lawyer's help, you will also be able to protect your work from copyright infringement, deal with various credit card issues, deal with high bills you cannot pay, and appeal speeding, parking, and traffic tickets in no time.
Report Companies or Individuals That Won't Give You a Break
DoNotPay also makes it easy for you to report and earn off persistent robocalls, email spam, spam text messages, and stalkers and harassers.
Once you sign up for our handy app, you won't have to deal with any of these. We'll even make it easy for you to schedule a DMV appointment or jump the phone queue when getting in touch with any company's customer service!