Types of Small Business Loans—Everything You Need To Know
Before you request a small business loan, you must understand the types of loans available so that you can land on the best one.
In this article, we will explain different types of small business loans and ways to qualify for one without a hassle. If you need to draft a loan request letter to apply for a small business loan, we are here to help! Subscribe to DoNotPay and create a watertight letter within minutes!
What Are Small Business Loans?
Small business loans are financial solutions that help people run their small and medium-scale businesses. Business owners request loans to meet expenditures, such as day-to-day expenses, purchasing new equipment, or working capital for cash flow. Since the loans are small, they are usually easy to qualify for because they:
Require minimal paperwork
Do not require a high credit score
Are usually processed quickly
Small Business Loan Types
Depending on your budget, there are several types of small business loans to choose from. Each category has different interest rates and repayment schedules, as mentioned below:
Small Business Loan Type
Description
Small business line of credit

A line of credit works like a credit card. You can borrow money up to the credit limit and pay interest on it
Useful for people who are not sure of the exact amount of money they require

Merchant cash advance

With this loan, you borrow against your future earnings
The repayment starts on an agreed-upon percentage and repayment schedule

Startup loans

Best for entrepreneurs who require capital to cover the startup costs
The amount can range from $500 to $750,000 and has varied interest rates

Small business term loans

You get a lump sum that you pay back at a fixed interest rate
These loans are used to fund specific business investments

Microloans

Nonprofit or government organizations provide small loans of $50,000 or less
Ideal for business owners who don't require a lot of cash right away

Real estate loans

Real estate loans help you finance a property for your business

Working capital loans

Working capital loans are used to finance the daily expenditures of a business, including rent, salary, and other expenses

SBA small business loans

These are loans offered by the U.S. Small Business Administration
Best for business owners searching for a low-cost loan
These loans can take up to three months to get approved

Equipment loans

Equipment loans help entrepreneurs replace or buy equipment if a business is expanding
They can be easy to acquire
Where To Get a Small Business Loan
Once you choose the type of small business loan you need for your company, the next step is deciding how to get it. Here are some of your options:
Direct online lenders—Their prices are higher compared to other lending options, but the borrowing process is quick, and there aren't too many requirements
Commercial banks—Although banks can offer bigger loans, they have a demanding requirement process for small business loan borrowers. Banks require a good credit rating, and they have the advantage of giving lower interest rates
Community banks—Community banks are locally operated and smaller than commercial banks. They have an easy loan approval policy compared to commercial banks and do not focus solely on credit scores
Peer-to-peer lending sites—The P2P lending site acts as a middleman between the borrower and the lender. So, instead of a single lender, a group of investors lends the money to a business. This type of loan comes with high interest rates but is often easy to qualify for compared to other options
Bank lenders funded by the SBA—Some SBA lenders are banks with a complicated application process but with lower down payment requirements, low interest rates, and a longer repayment term
How To Qualify for Different Types of Small Business Loans
There are several terms and conditions that you need to comply with to qualify for a small business loan:
Build up your credit score—If you intend to get your loan, you need to up your credit score. In case your score is lower than what you need, pay off your debts in time, keep a low balance on credit cards, and pay all your bills
Understand the requirements—You must go through the lender's requirements and qualifications to increase your chances of getting approved for a loan
Develop a business plan—Show your lender how you plan to use and return the money. This can include the following aspects:

Purpose of your business
Reason for getting a loan
Market analysis
Payment schedule
Financial plans

Provide collateral if required—Some lenders require you to provide an asset as collateral to take out a small business loan
DoNotPay Can Help You Draft a Loan Request Letter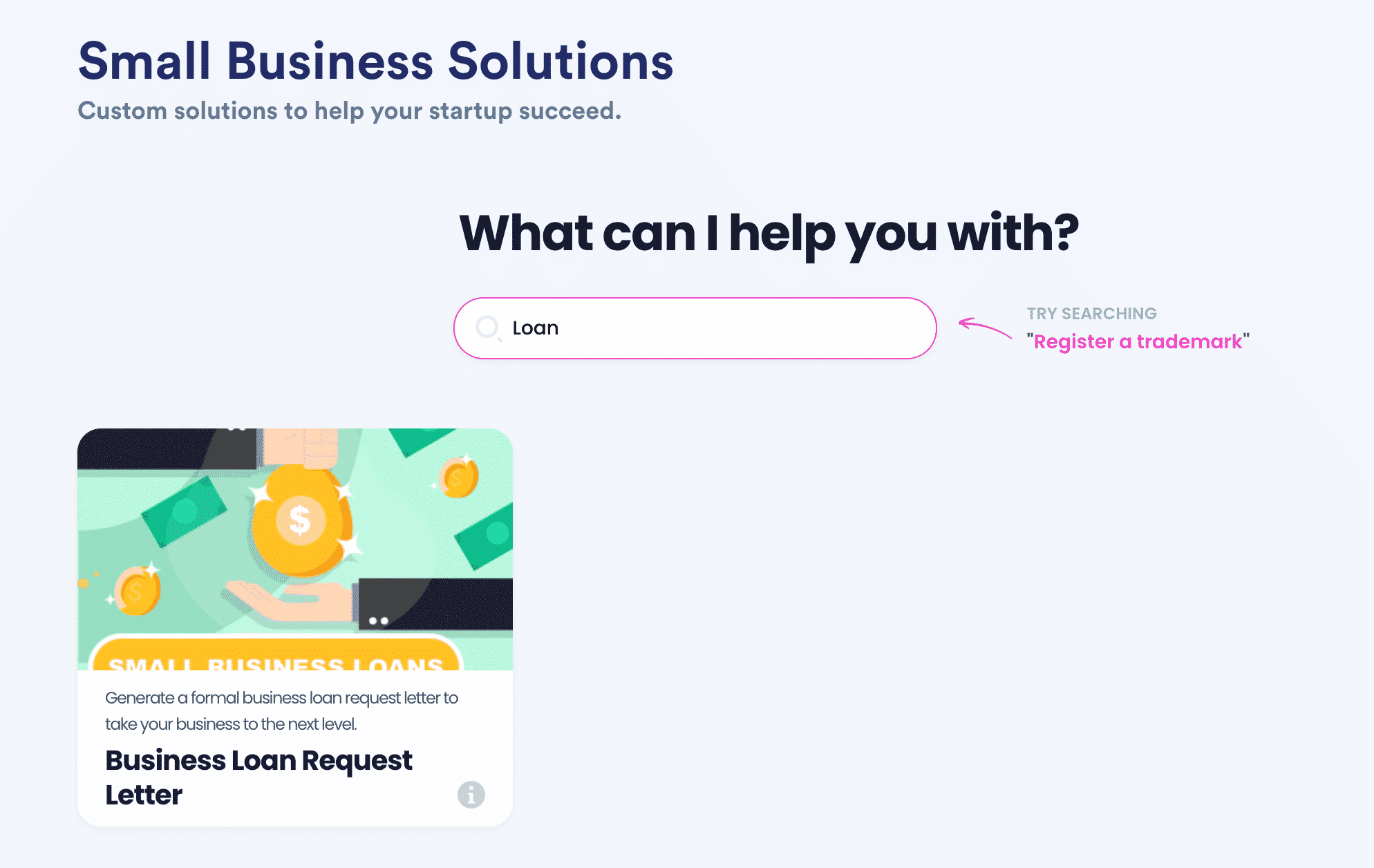 Have you decided on getting a small business loan from a lender but do not know how to draft the loan request letter? Worry no more because DoNotPay is here to help! Our AI-powered app can assist you in preparing a killer loan request letter in no time.
Here is what you should do once you sign up for DoNotPay:
Search for the Business Loan Request Letter tool
Collect and prepare credit scores and financial statements
Provide information about the loan you intend to apply for or let us help you find the perfect lender for your needs
Upload your documents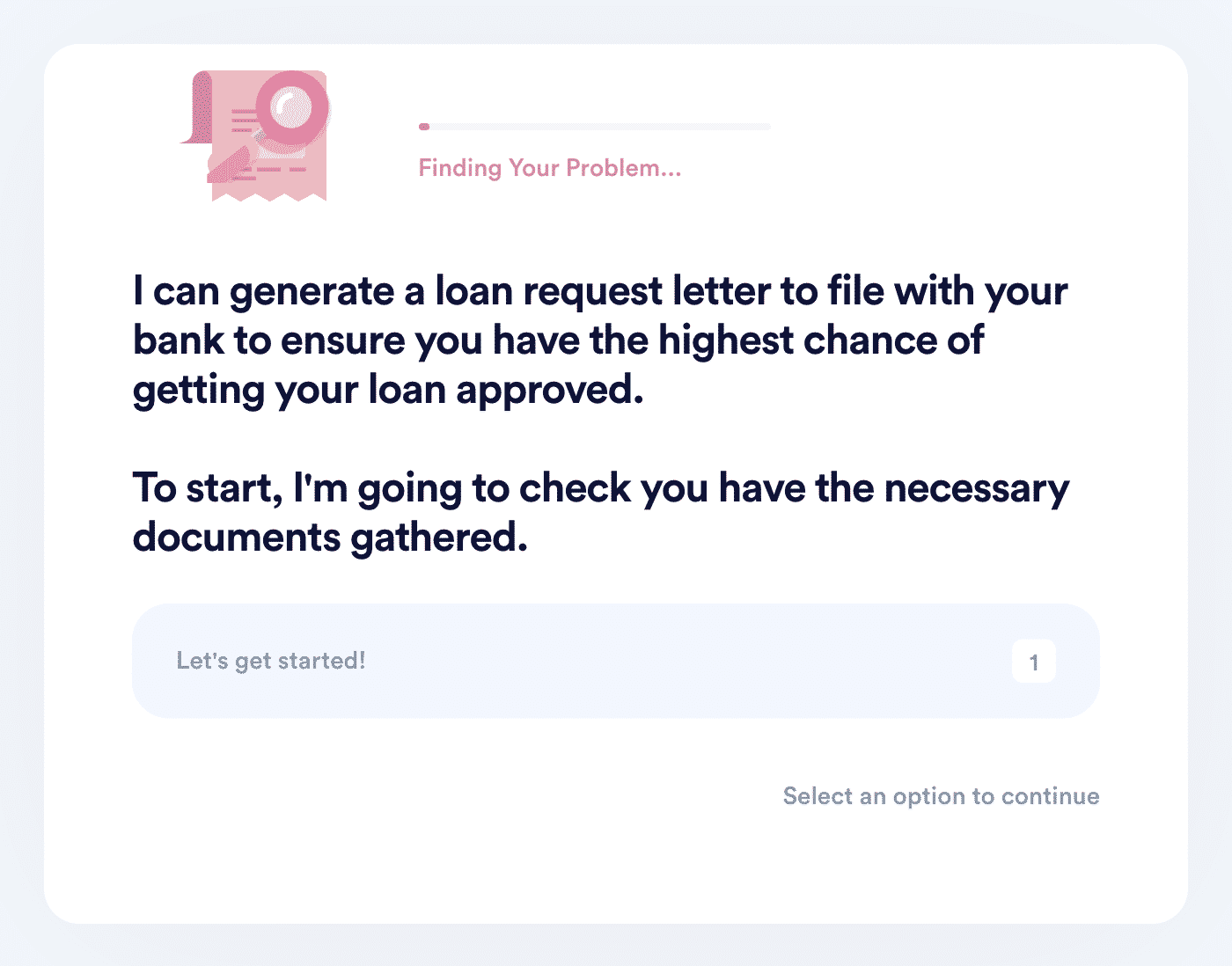 Our app will generate a customized loan request letter on your behalf that you can use to apply for the desired loan.
DoNotPay Has Everything You Need for Your Small Business
Navigating numerous business procedures can be overwhelming, especially if you don't have much experience. DoNotPay strives to make the situation easier for business owners, which is why we offer a number of simple-to-use products that can help you take care of various processes, including DMCA agent and Employer Identification Number registration, Privacy Shield program self-certification, and trademark registration and protection.
If you are not sure how to manage the filing of 83(b) election forms, DoNotPay has a solution that will automate the entire process and help you save time. Our app can even generate a convincing small business loan request letter for you. Don't feel like walking or driving to the post office to send the letter? Use DoNotPay to fax or mail any document in a matter of clicks!
DoNotPay Helps You Deal With Bad Clients
If you need help handling unpleasant situations with your clients, you can rely on DoNotPay. We have created various products to assist you in:
Making sure your business is free of negative, illegitimate online reviews—DoNotPay will analyze the review in question, estimate the best reason for reporting it, and report the review until it is deleted
Dealing with clients who breach the contract and refuse to pay—We will generate and send a demand letter requesting what's rightfully yours
Fighting unjustified chargebacks—Our app will create a personalized chargeback rebuttal document to help you keep your revenue
Resolve various business issues without wasting time or money—DoNotPay has got your back!