What Are the Types of Restraining Orders
It's a sad fact that people in the US are abused or taken advantage of every day. In most cases, the victims are women, children, and the elderly. In some cases, the courts will issue a restraining or protective order when experts believe the threat of physical harm is imminent and real, but what happens if you feel threatened and haven't got a lawyer or been to court?
Always remember that no one has the right or authority to abuse you, your children, or your parents in any way. If you are dealing with an abusive situation, you can seek help through a restraining order against the abuser. You do not need to hire an attorney to file a restraining order on your behalf.
What Is a Restraining Order?
Every state has its own laws and regulations regarding restraining orders and laws against domestic violence, stalking, and assault.
Here are some situations where you can get a restraining order:
Your former partner is physically, verbally, or psychologically abusive to you or your children
Someone has sexually assaulted you, a child, or an elderly parent
A former partner or acquaintance is stalking or harassing you
Someone is threatening harm to your property or business
Once a restraining order is filed, it prevents someone from:
Interacting with you in any way, or your minor children and pets
Entering your home or place of work
Causing property damage
Who Can Get a Restraining Order?
Family members usually seek an order as they have the strongest standing in the courts. But if you know someone who is being abused, you can file the request on their behalf if there are extenuating circumstances. Every state has different laws, and DoNotPay can help you sort through all the different state's rules, even consequences for violations.
One of the first questions victims ask is how long does it take for the order to be issued, and how long will  it be in effect? It depends on the circumstance, but some are issued immediately, and others within a day or two, and some can take several days. Again, it depends on how long the order remains in effect.
Are There Different Types or Just a One-Size-Fits-All?
For whatever reason, there's a lot of aggressive and threatening behavior in today's society. The courts recognize this, so there isn't a blanket restraining order for every situation. Every state has its own laws, and some cities and counties have extra layers of protection for residents.
Here are the main types of restraining orders in the US:
Emergency Protective Order (EPO) - Law enforcement officers issue EPOs when they are called to a domestic violence scene. These protect the victim from the abuser for about a week, which gives the victim time to file for a permanent  order.
Domestic Violence Restraining Order (DVRO) - After a domestic violence hearing is finalized, the courts will issue this order. The details are unique to each case.
Temporary Restraining Order (TPO) - These are in effect until a court date is set for a final hearing.
Juvenile Restraining Order - There are cases where someone under 18 is harassing or abusing someone else. You can take out a restraining order against such an individual if they are causing trouble for you or your family.
Dependent Adult or Elder Abuse Orders - Older adults can obtain restraining orders to protect themselves against abuse in care facilities or nursing homes. If the caretakers at the facility do not meet the standards of care, the restraining order establishes a legal record of what is considered abuse. Abuse may not happen in a facility, but just as easily at home. A third party can file for the order after they have gathered evidence of the abuse.
Workplace Violence Prevention Restraining Order - This type of order protects you from violence or harassment if you are being threatened while you're at work. Your employer can get an order on your behalf if an abuser is trying to contact you at your place of work.
Civil Harassment Orders - You can file for a restraining order even if you aren't related or close to the victim, but are aware of the abusive behavior. There aren't any criminal penalties for a civil order, but it does put the abuser on notice.
DoNotPay Can Help You File a Restraining Order
Another sad reality is that victims of abuse are often reluctant to seek a restraining order, and are intimidated by the court system and reams of paperwork. DoNotPay can take the initial burden off of your plate by helping you with these steps.
Find your state's rules, relevant authorities, and processes
Find the forms and documents you need
Help you the correct order for your state
What DoNotPay cannot do is create the restraining order, only the courts can issue an order.
Here's how to apply for a restraining order with the help of DoNotPay:
Search for relationship protection on DoNotPay.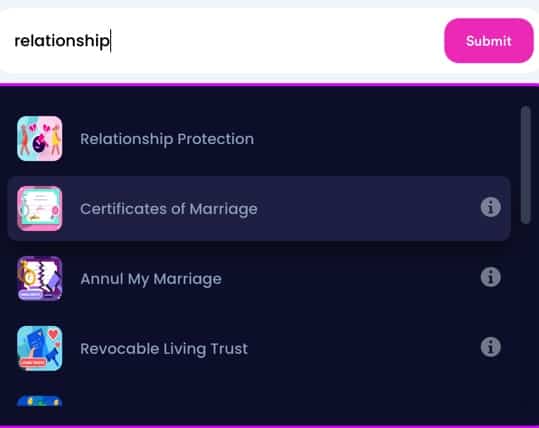 Answer a few easy questions on our File a Restraining Order product.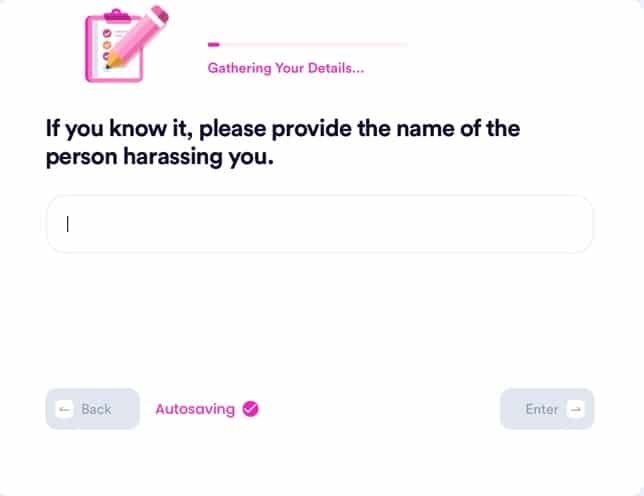 Submit the form and you're done!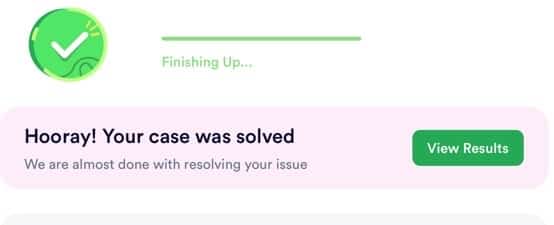 Check Your State Policy on Restraining Orders
There are restraining orders that are enforced in every state, while there are also some exceptions. There's nothing much worse than trying to get relief from your abuser, only to find out you didn't fill out the right request. DoNotPay can help you sort through your state's laws so that when you file for an order, you're using the proper paperwork.
What Else Can DoNotPay Do?
DoNotPay works all over the US and for hundreds of situations. DoNotPay can help you with the following: