All Types of Real Estate Contracts—How To Create Them in a Few Minutes
If you're planning on buying property, then you'll need to familiarize yourself with all the types of real estate contracts out there. You've come to the right place for this kind of information, but not only that—we can help you create these documents in a snap.
DoNotPay has a database of contract templates that you can use instead of hiring an expensive lawyer. If you don't know how to write a contract, we'll walk you through all the steps of creating legal documents.
What Is a Real Estate Contract?
A real estate contract is any type of legally binding document made between two or more parties. The contract covers exchange, purchase, or any other type of real estate transaction.  Real estate contracts are enforceable if they are in writing and signed by all the parties involved. This is required by the Statute of Frauds (SOF).
People make real estate contracts to protect all parties by allowing for legal action to be taken if any of the parties break the terms of the contract. Laws that deal with real estate contracts may vary from state to state, so you should check your state's rules before signing anything. You might need an attorney as well.
What Are the Requirements for a Real Estate Contract?
Certain requirements come with real estate contracts, and you can find them listed in the table below:
Requirements

Details

Offer

A party makes an offer by writing a real estate contract and presenting it to the other party

The other party might accept, reject, fail to respond, or make changes to the offer

Acceptance

The other party may accept the offer prepared by the first party by signing the document

The contract needs to have signatures from both parties

The original offer is terminated and stops being legally binding if the other party wants to make changes to the contract

The contract is terminated by the expiration date if the other party fails to respond

Consideration

Consideration is usually in the form of

financial assets

It is something of value in the real estate transaction that the parties exchange

Consideration can also be a promise to perform (pay)

Legal capacity

Both parties need to be eligible to enter into a contract

Parties mustn't be underage, mentally impaired, etc.

Legality of purpose

The contract must not call for illegal action
What Types of Real Estate Contracts Are There?
Check out four of the most popular real estate contracts:
Real Estate Assignment Contract

Power of Attorney
What Is a Purchase Agreement?
A purchase agreement is a contract signed by a buyer and a seller of a property. This type of real estate contract binds both parties to follow the terms of the contract. A purchase agreement is the most common type of real estate agreement.
There are three types of purchase agreements:
State or Association Purchase Agreement

General Purchase Agreement

Property-Specific Purchase Agreement
Real Estate Assignment Contract Explained
A real estate assignment contract is a legal document that real estate investors use to facilitate the sale of a property between a buyer and an owner.
The property owner will sign a contract with an investor that will give the investor the right to buy a home. The investor doesn't actually purchase the home—they only have the right to buy it. They can sell their rights to buy the home to a different buyer.
Lease Agreement—What Is It?
A lease agreement is a legally binding document between a landlord and a tenant, which defines the terms and conditions under which the tenant will use the property. This agreement must contain the following terms:
Duration of the lease

Rent amount

Pet policy

Payment methods

Security deposit amount
Power of Attorney in a Nutshell
A power of attorney is a legal document that authorizes your legal agent to decide on matters on your behalf. You might need the power of attorney contract if you're:
Mentally disabled

Hospitalized or have any other illness that stops you from signing the contract

Not present in the country at the time of the signing of the contract

The owner of several investment properties

An elderly person unable to sign the contract
Let DoNotPay Create Your Real Estate Contracts
There's no need to hire a lawyer to create real estate contracts when you have the world's first robot lawyer by your side! DoNotPay will generate contracts for you in three clicks.
All you need to do is sign up for our platform, and you'll be able to draw up any of these legal documents:
Business contracts

General Business Contract

Real estate agreements

Intent To Purchase Real Estate

Residential Lease Agreement

Quitclaim Deed

Other legal documents

Promissory Note

General Affidavit

Child Care Authorization Form
DoNotPay is constantly updating the list of documents we can generate for you, so check in with us, and you'll find what you need in minutes!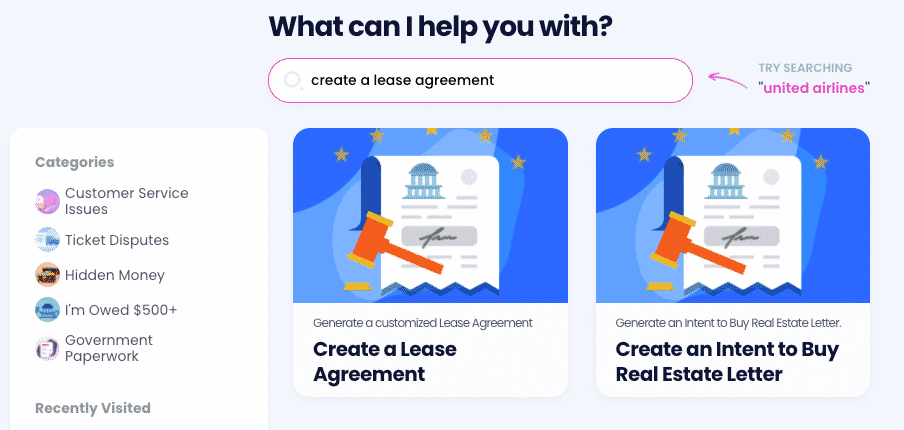 A Simple Guide on How To Create Real Estate Documents With DoNotPay
After you sign up for DoNotPay, you can follow the guide below to create your real estate documents:
Enter the name of the document you need in the search bar

Answer a few questions from our chatbot

Download the contract
Taking these three steps is all you need to do to have a well-written contract in mere minutes. If you need to get the document notarized, DoNotPay can take care of that, too!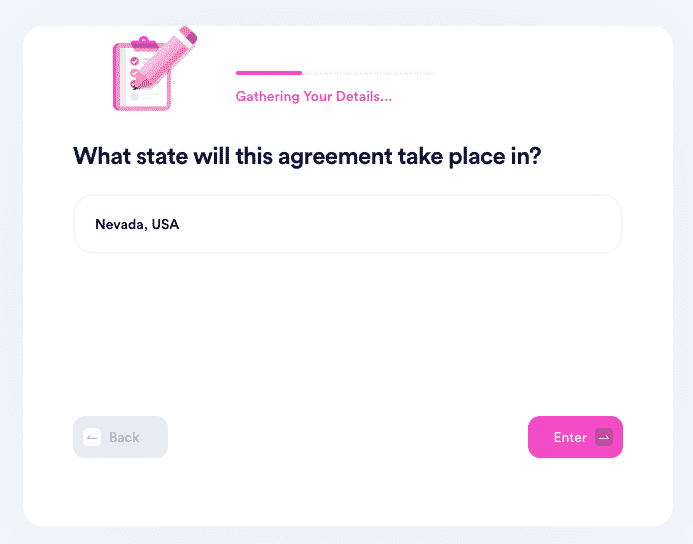 Explore DoNotPay's Products and Save Both Time and Money
Are you sick and tired of spending ages on the phone with customer support trying to get more info about how to return a faulty product and get a refund? Maybe you'd like to cancel memberships you don't use but can't find that unsubscribe button anywhere? DoNotPay can help you sort out all of these issues in a jiffy!
Contest parking tickets, claim your car warranty and insurance, schedule a meeting with the DMV, and handle your other problems through the same app on your tablet or smartphone. 
Getting access to public records or drawing up various legal documents with DoNotPay is child's play. 
That's Not All!
The first thing you'll notice when you open DoNotPay is that you can use our app for almost anything. 
Do you wish to enter raffles or sweepstakes? Are you interested in applying for paid clinical trials and earning some cash? Would you like to send mail without going to the post office? You're in the right place!
We will help you feel safe while browsing the Internet by assisting you in blocking and reporting spam emails, suspicious text messages, and pesky robocalls.