What Are the Different Types of Power of Attorney?
Before delegating some of your decision-making rights to a third party, you need to understand what types of power of attorney exist and what each of them entails.
Let DoNotPay help you create the most suitable power of attorney document for your specific needs. We have the relevant info, and our AI-powered app can generate the document for you in no time.
Different Types of Power of Attorney for Different Purposes
A power of attorney (POA) gives one or more persons the power to act on your behalf as your attorney-in-fact or agent. The power you give can:
Provide temporary or permanent authority
Be general or limited to a specific activity, e.g., the sale of your property, and revoked at any time—most U.S. states require a written notice of revocation
Take effect immediately after the document is signed or upon the occurrence of a particular event, e.g., when confirmed you cannot act for yourself because you are physically or mentally incapacitated
Granting decision-making rights to another person is tricky, and you need to understand what type of POA works for you.
What Are the Four Types of Power of Attorney?
Take a look at the following table showing different types of power of attorney you can opt for:
Types of POA
Information
General POA

Becomes effective upon signing
Stays in effect until you become mentally incapacitated or decide to terminate it (it's voluntary)
Needs to include what authority you are passing on your agent
Covers a wide range of powers, e.g., you can give a person the power to access and handle your financial accounts

Durable POA

Starts with the signing of the document
Remains in force for a lifetime unless you revoke it
Needs to specify that the agent's power stays in effect in case you are physically or mentally incapacitated

Springing POA

Begins with a specific (triggering) event, e.g., when you become incapacitated
Has to precisely specify the triggering event to avoid any confusion and legal problems

Limited POA
Defines specific powers you give to an agent, e.g., an agent can have the power to:

Buy and sell assets or carry out an investment strategy on your behalf
Sign the deed of sale for your property in your absence
A Durable Power of Attorney vs. Power of Attorney
While a durable power of attorney stays in effect even when you become incapacitated, a general or conventional POA does not.
A durable POA grants control of specific property, legal, or financial matters and can be:
A power of attorney for finances or financial power of attorney giving an agent the power to manage your financial and business affairs
A medical power of attorney—also called a medical proxy or healthcare power of attorney—allowing an agent to make decisions regarding your health care, usually in the case of debilitating medical conditions
All institutions will ask your agent to present a POA before complying with their decisions.
Financial and medical POAs can be drafted as one document, but it might be wiser to separate them. Financial institutions don't need your medical data, and medical professionals don't have to be familiar with your financial status.
A springing power of attorney defines the conditions when a durable POA comes into effect, including the:
Level of incapacitation
Type of triggering event
How To Prepare the Power of Attorney
You can create a power of attorney in the following ways:
Download a power of attorney letter template—Although online templates can be helpful, they are usually too general and require numerous changes. Make sure the template you find is in accordance with your state laws
Hire a lawyer—While this might be the wisest decision, it is also the most expensive one. You should inquire about the fees to understand if you can afford this pricey service
Subscribe to DoNotPay—Our AI-powered app can help you prepare a POA customized to your specific needs
DoNotPay Helps You Create the Most Appropriate Type of Power of Attorney
Why pay a hefty sum to a lawyer or use a template you must alter entirely? Our app helps you create a custom-made power of attorney in a few easy steps!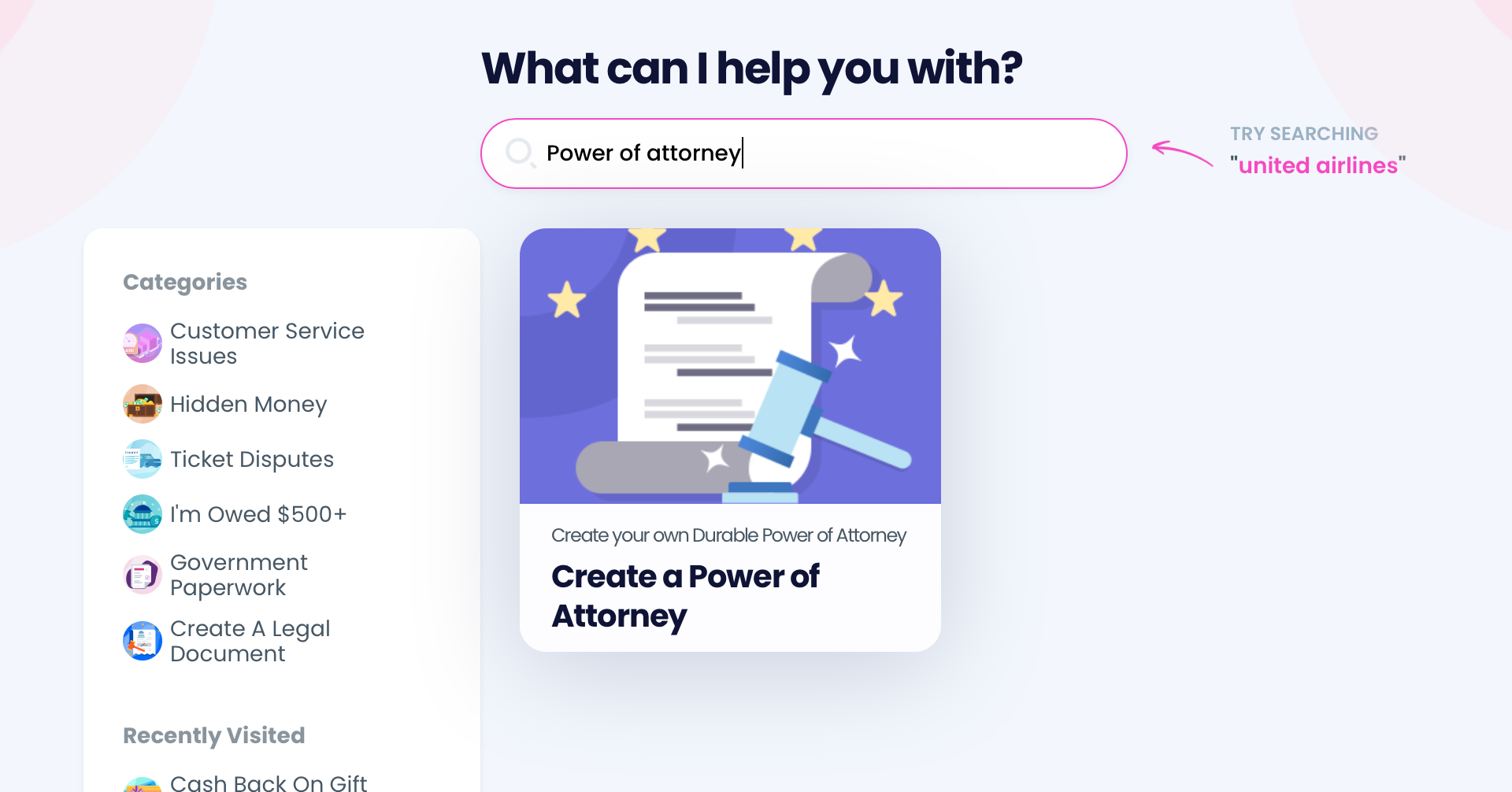 DoNotPay will ask a few questions regarding the powers you want to give to your agent(s). We'll use the info to generate the best document, so you and your agent can sign it immediately.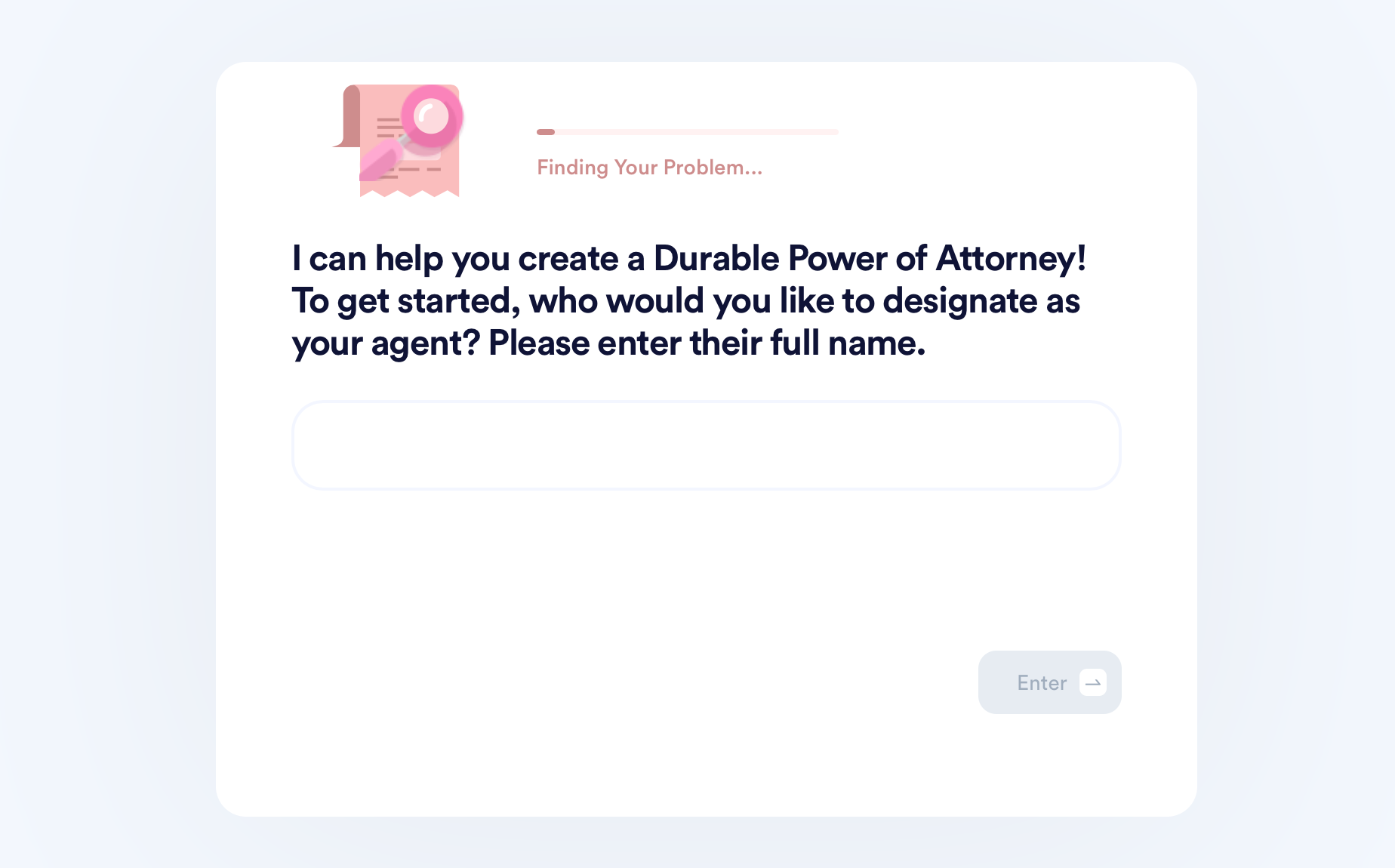 Open DoNotPay and:
Select the Power of Attorney feature
Answer our chatbot's questions to specify what powers you want to include in your POA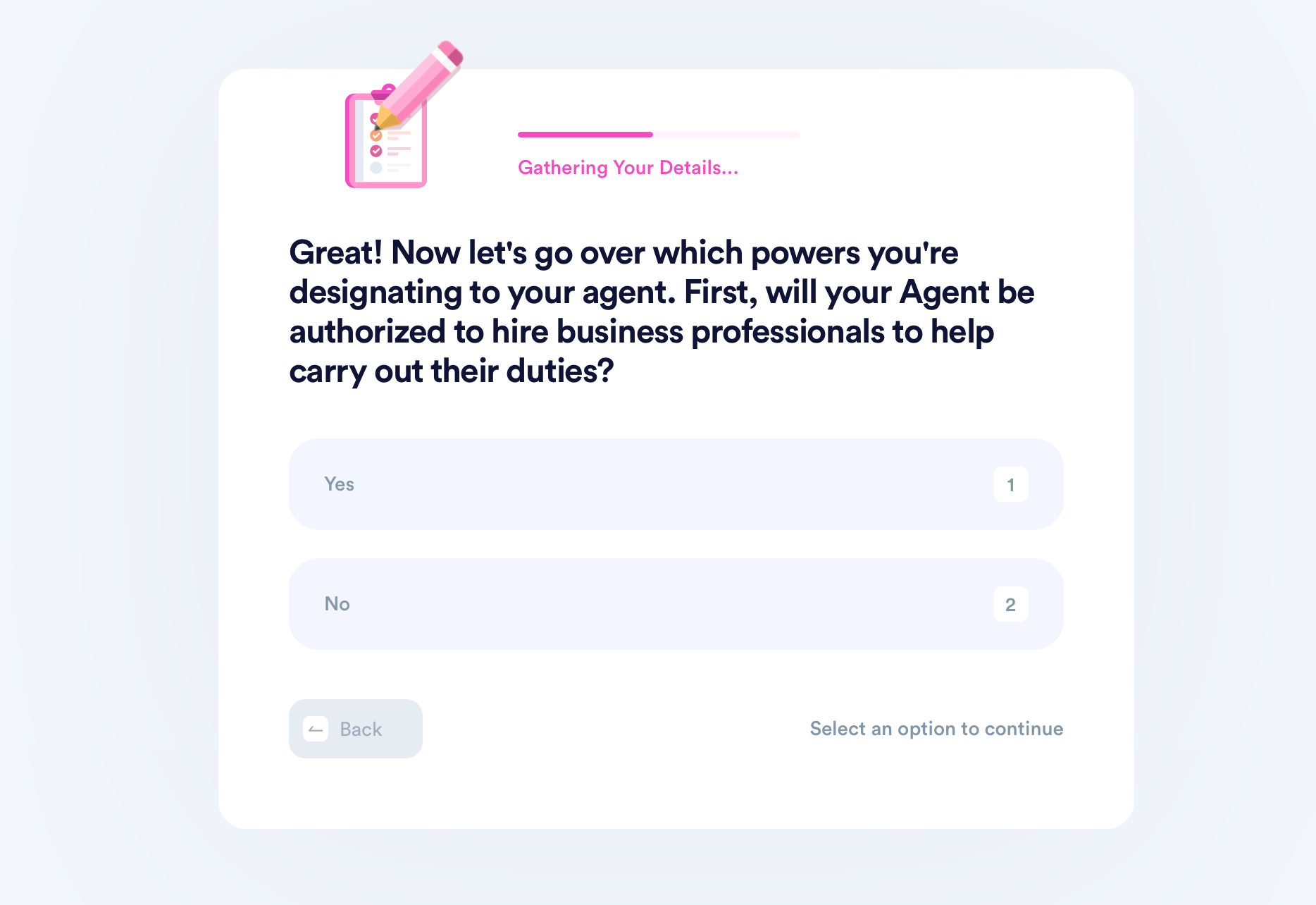 Once you finish, DoNotPay will automatically generate your POA. You will also get two important notices that you and your agent should read before signing the document.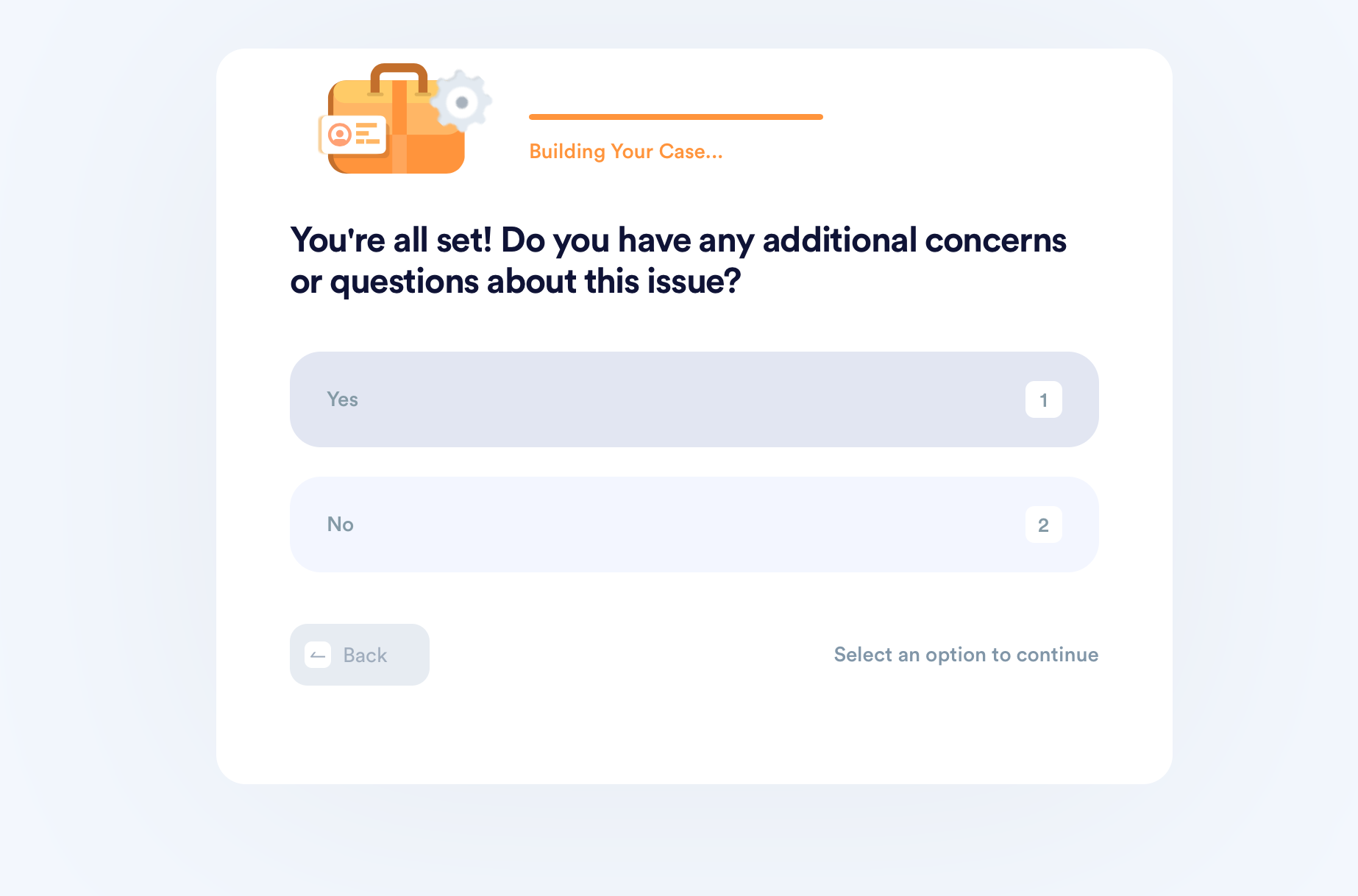 As many states require a power of attorney to get notarized, you can complete this activity in our app, too!
No need to look for notaries public, schedule an appointment, drive to their office, or risk your health meeting them face to face. DoNotPay will connect you with a power of attorney notary, and the process will be handled remotely.
Paying for Lawyers? We Don't Think So!
For an average Joe, any mention of legal terminology and complicated administrative processes is likely to cause a headache, and understandably so! Still, you don't have to jump the gun and hire expensive lawyers for the smallest matters.
It's the 21st century, and everything is automated. Why would it be different with bureaucracy? DoNotPay can help you draft efficient neighbor complaint letters, prepare you for a small claims court appearance, or create standardized legal documents and have them notarized online.
Our app is a great resource for fighting workplace discrimination, stopping stalking and harassment, protecting copyrights, securing compensation for victims of crime, and even reducing property taxes—all at a fraction of the price of traditional legal help.
Need To Do Some Penny-Pinching?
Whether you're saving for rainy days or a new gadget, DoNotPay can provide numerous options to save and earn more cash.
Do you need help with utility bills? Are you wondering how to get those few dollars left on your gift cards? Are you unsure about how to find your unclaimed money? Our app has the answers to all those questions.
With our assistance, you'll be able to enter raffles, start free trials with no risks, participate in lucrative clinical trials, or claim refunds for late deliveries!